The My Hero Academia CCG is a place where quirks and superpowers rule the roost, and in such a setting, there's no better way to jump into exciting battles than with the right deck.
If you're a fan of this incredible collectible card game, the Jet Burn expansion has something truly special in store for you – the Ochaco Clash Deck!
Ochaco Clash Deck: A Closer Look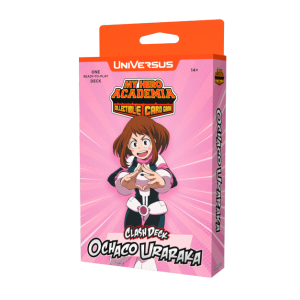 So, what's all the buzz about this Ochaco Clash Deck?
Well, it's not just another set of cards. This deck contains 51 cards, which includes 50 cards focusing on Ochaco's unique strengths and one character card.
Ochaco, also known as Uravity, is ready to bring her charm and powers to the My Hero Academia CCG table.
This deck offers a fantastic way to embody this beloved character and get to know her quirks and abilities.
But that's not all; the Ochaco Clash Deck also includes a learn-to-play guide and a paper playmat. Whether you're a seasoned pro or a brand new player, this deck is designed with you in mind.
The cards featured in the Ochaco Clash Deck are perfect for newcomers, ensuring that they can jump right into the action and have a blast!
Jet Burn: The Ultimate Expansion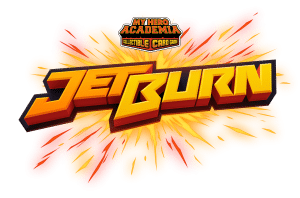 Jet Burn, the latest expansion for the My Hero Academia CCG, is making waves and taking the world by storm. With over 150 new cards, Jet Burn is an opportunity for fans, both new and old, to explore the ever-expanding My Hero Academia universe. The excitement surrounding this expansion is contagious, as fans eagerly await the chance to get their hands on these thrilling new cards. UVS games did a complete revamp on this set, read more about here – UVS Games: A New Era for Universus Collectible Card Game
The Ochaco Clash Deck is just one example of the exciting products Jet Burn has to offer. It's designed for fans who love Ochaco and want to harness her powers in their games. These decks are bound to be a hit among all My Hero Academia enthusiasts!
Where to Get Your Ochaco Clash Deck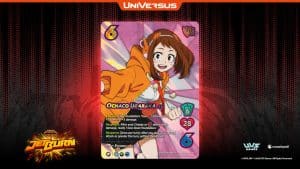 Ready to add the Ochaco Clash Deck to your collection? You can purchase it from here at the best prices!
Make sure to grab your deck while it's available and start your journey into the world of My Hero Academia CCG.
Whether you're looking to learn the game from scratch or simply expand your collection, the Ochaco Clash Deck is a fantastic choice.
The World of Jet Burn
Jet Burn isn't just about decks; it's a new beginning for the My Hero Academia CCG. With a host of fantastic products and cards, this expansion is set to redefine the way fans experience the game.
Want to participate in Pre-Release Competitions and win rare promo cards, follow this link – Unleash Your Heroic Spirit in RumbleRama MHA CCG Matches!
Learn more about jet burn and the best cards here – The Top 14 Best Jet Burn Promo Cards
See what the Jet Burn Booster Boxes are about – My Hero Academia Jet Burn Booster Box: Your Gateway to Heroes and Villains