My Hero Academia: Jet Burn is just around the corner, and I know that, like me, many other collectors are stressing over what products to buy and how to save money while maximizing returns. That's why we're creating a detailed guide on every product, starting with the Jet Burn Booster Box. So, let's dive in!
Jet Burn Booster Box
First things first, let's talk about the Jet Burn Booster Box itself. This box is like a treasure chest filled with 24 Jet Burn booster packs. Each of these packs is a ticket to a world of adventure, strategy, and maybe a touch of magic. Trust me; you won't be able to get enough of these.
Jet Burn Booster Box Goodies

Crack open one of these enchanting packs, and you'll find 11 cards waiting to surprise you. Here's what you can expect:
1 Character Card: This card is like the beating heart of your pack. It's where all your favorite heroes and villains come to life. Collecting character cards is like collecting pieces of the My Hero Academia universe.
6 Commons: You might think "common" means ordinary, but that's not the case here. These cards are versatile, and they're your secret weapon in building powerful decks and strategic combos.
3 Uncommons: Uncommon in name, uncommon in power. These cards are your key to crafting unique strategies and are the backbone of your deck-building adventures.
Rare, Ultra Rare, or Secret Rare: And now, the moment we all look forward to—unveiling the crown jewel of your pack. It could be Rare, Ultra Rare, or the most elusive of them all, Secret Rare. These cards are like gold nuggets in your collection.
Chrome Rares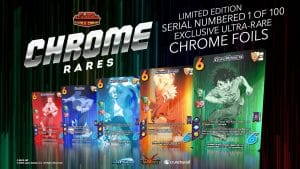 The Jet Burn set introduces Limited Edition Chrome Rares. These stunning treatments of character cards are like the crown jewels of your collection. They're like rare gems that make your decks shine even brighter.
Discover the Secrets
Don't miss out on the six different powerful Secret Rares hidden within Jet Burn. These cards are your game-changers, the aces up your sleeve that can turn any battle in your favor.
Artistry in Every Card
Jet Burn doesn't just bring cards; it brings art to life. The card frame treatments highlight the incredible artwork, especially on the rare cards. It's like you're holding a piece of the My Hero Academia world right in your hands.
Jet Burn is your chance to reunite with your favorite characters. This set introduces 17 new characters, including Hawks and Hood, for the very first time. With over 150 new cards, Jet Burn is the My Hero Academia party you've been waiting for.
So why wait, go ahead buy the booster boxes right now! – Jet Burn Booster Box
Recommended – Ochaco Uraraka Alternate Art from My Hero Academia: Jet Burn Revealed!