The Tsuyu Asui card, nestled snugly within the Jet Burn expansion pack, has been generating quite a frenzy in the world of My Hero Academia collectible card gaming.
The hype surrounding this card has been nothing short of impressive since its release.
In this article, we'll embark on a thrilling journey to unravel what makes the Tsuyu Asui card so extraordinary!
Origins

Tsuyu Asui, a beloved character within the My Hero Academia universe, owes her creation to the ingenious mind of Kohei Horikoshi, the mastermind behind this captivating series.
As a character, Tsuyu wields a unique Quirk known as "Frog," which allows her to exhibit amphibian-like abilities.
With her powerful and flexible tongue, she can perform acrobatic feats that most individuals can only dream of.
This distinctive and versatile Quirk makes Tsuyu an invaluable asset in the world of heroes and villains.
Trivia
Tsuyu Asui 's character design and demeanor are heavily influenced by the world of amphibians, specifically frogs.
This influence extends to her costume and overall appearance.  It's this fusion that gives Tsuyu her unforgettable and appealing character.
Illustration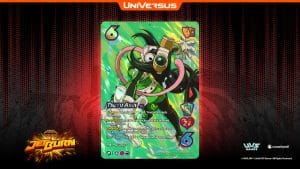 The Tsuyu Asui card boasts a breathtaking illustration that beautifully captures the essence of this remarkable hero.
In the image, Tsuyu stands in a dynamic pose, showcasing her acrobatic prowess. Her distinctive and powerful tongue, as well as her unique abilities, are on full display, revealing the depth of her character.
The pose chosen for this card exudes a sense of dynamism and excitement, making it a visual treat for every fan. The background is elegantly designed, complementing Tsuyu's character effortlessly.
The card's overall aesthetic is a testament to the artist's vision, encapsulating every facet of the character in a single portrait. It's no small feat to achieve such a comprehensive representation of Tsuyu Asui's character in a single card.
Value
As of writing this blog post, the Jet Burn expansion has yet to be officially released, leaving the value of the Tsuyu Asui card open to speculation.
However, we'd like to clarify that we're not astrologers with the power to predict the future. What we can offer is a knowledgeable estimate based on data and trends.
Our prediction suggests that the Tsuyu Asui card might be valued at approximately $40, which is a significant amount. To secure this card and add it to your collection, be on the lookout for its release. Acquiring this card could be a worthwhile investment in your My Hero Academia CCG journey.
Recommended – Ochaco Clash Deck From My Hero Academia: Jet Burn Revealed
Buy pre-built jet burn decks here – Himiko Toga Clash Deck From My Hero Acadedmia: Jet Burn
Buy booster boxes at the best prices – My Hero Academia Jet Burn Booster Box: Your Gateway to Heroes and Villains