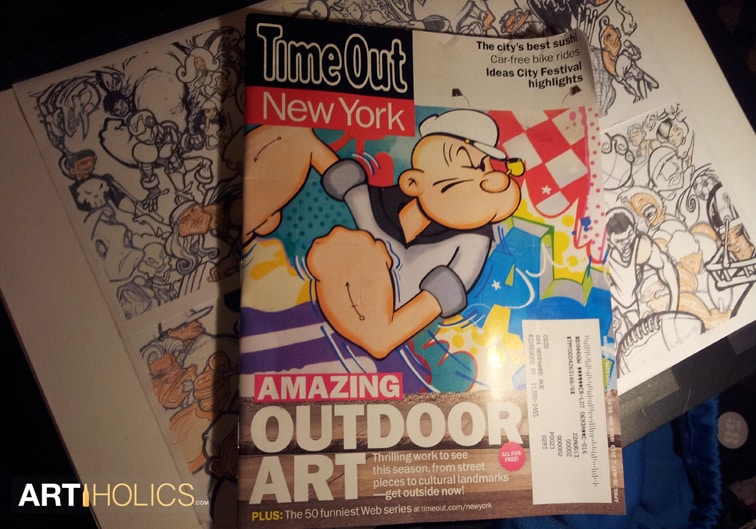 New York, NY – Thursday, April 25, 2013
The new issue of Time Out New York arrived in the mail yesterday and I was hit in the face with Popeye throwing fists, from the Houston Street Mural by John "Crash" Matos, I highly recommend picking up this issue if you are curious about public art, and street art in NYC. I knew this would be an interesting issue just from that cover, so I had to open it up and start breaking it down.
Inside the magazine the first story is about all the new outdoor art in the city like Studio Klimoski Chang Architects, Head in the Clouds, an installation piece constructed with 53,000 recycled milk jugs and water bottles filled with colored water (Curious how much you would get if you recycled them? $2,650 – just did the math).   Alexandre Arrechea's No Limits and French artist JR's Inside Out New York City which is a massive portrait as pavement project in Times Square.
The next article is about Iconic Public works, featuring famous pieces by Keith Haring, Robert Indiana, and Tony Rosenthal.  Followed by an article Top Spots For Street Art which mentions a bunch of venues including The Bushwick Collective, Centre-fuge Public Art Project  with a good plug for artist and friend of ours Danielle Mastrion and of course 5 Pointz.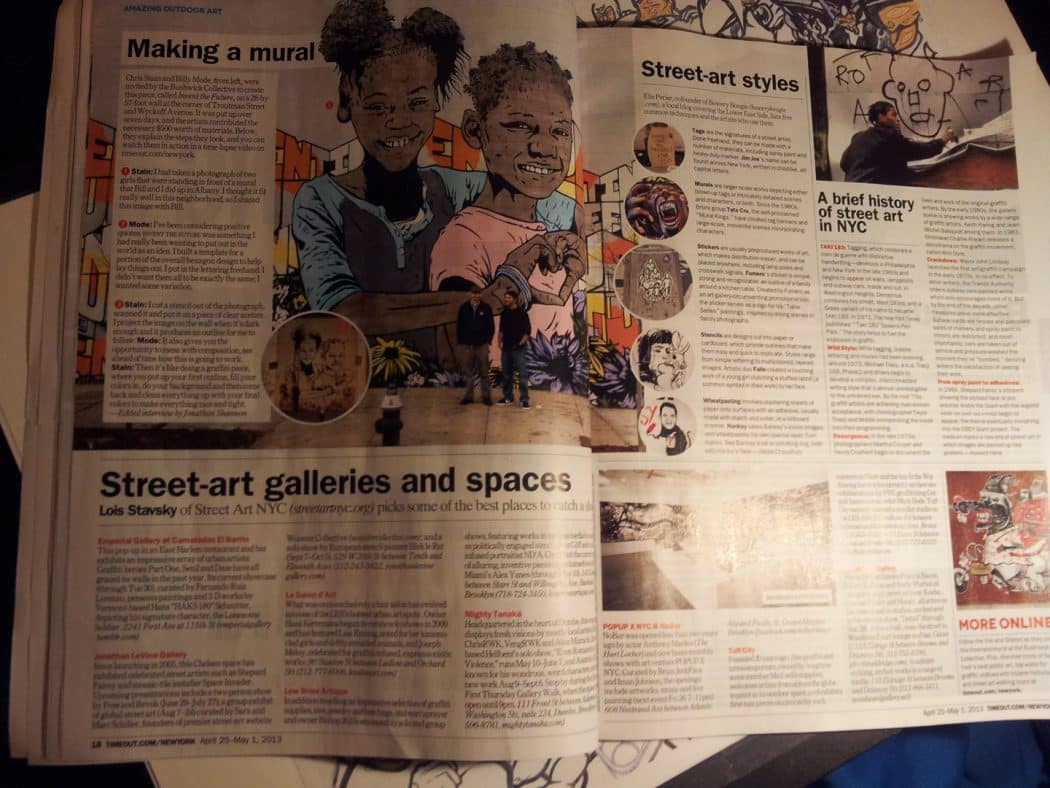 The next two page spread has Chris Stain and Billy Mode break down their process of mural making.  Followed by descriptions of the various street art styles, Stickers represented by a photo and description of a piece by our friend Fumero.
There is an article about the various street-art friendly galleries and spaces, including a few of my regular haunts Jonathan LeVine Gallery, Mighty Tanaka with shouts to artist Chris RWK, VengRWK (which I assume they meant H.Veng Smith), and Alice Mizrachi.   Le Salon d'Art is written up with a shout out to friend and fellow artist Joseph Meloy, the Vandal Expressionist himself.
Pick it up on newsstands this week around the city, and if you aren't into spinach eating sailors there is also an alternate cover with a giant metal circle – because that is also "an art."
Written by Cojo "Art Juggernaut"