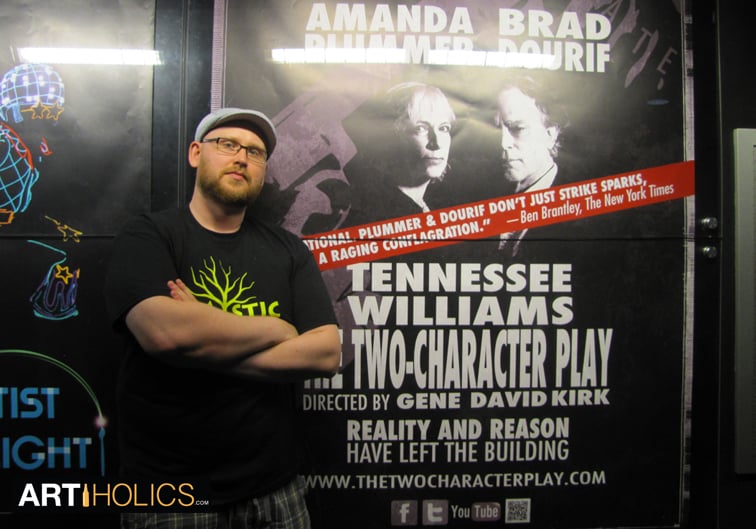 NEW YORK CITY – Friday, September 13, 2013
I was invited to go see two powerhouse Hollywood actors Amanda Plummer & Brad Dourif on stage in a very rarely produced theatrical performance written by Tennessee Williams titled THE TWO-CHARACTER PLAY.  The play is only running in limited engagement till September 29th at New World Stages 340 West 50th St. NYC.  We heald a contest to for two free tickets over the weekend, and the winner was Jemile Nesimi, so she and a guest will be attending the show on us.
But you are in luck, just for reading this blog you can buy tickets at a special reduced rate $59 tickets (Orchestra- Reg. $92.50)$44.50 tickets (Mezzanine- Reg. $72.50).  For more information, details are at the bottom of this article.  
Now let me try to explain a little about this play without getting to spoiler-y: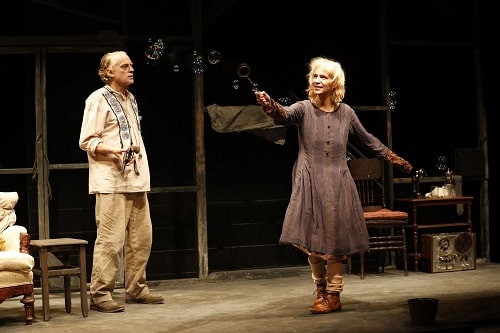 I don't want to give away too much of the plot, but like it's title suggests, there are only two characters in this play.  They are a Felice (Dourif)  and Claire (Plummer), abrother and sister whom are the leads in a troupe of traveling actors.  We find them in a theater in the dark, behind the curtain on a half constructed set just before the audience has filtered in.  Drunk, bedraggled, and possibly mad the sister learns that the entire cast has abandoned them for lack of payment.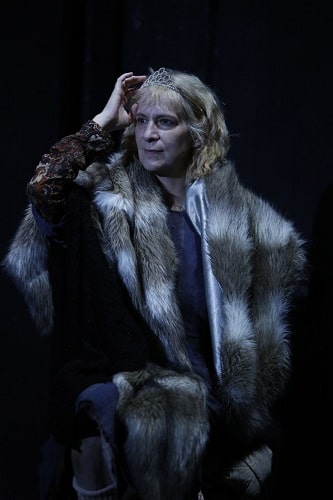 Only a few of the troupe's props have been shipped to the location before they ran out of money, so they must resort is to performing "The Two-Character Play." A long hated play the brother wrote, in which the characters play characters with the same names (presumably based on their own bizarre childhood- yet doesn't detract from the confusion).
This is essentially becomes a play within a play performed to the theatre audience (us)- but with the fourth wall haven been broken as we had seen that they are on the verge of insanity, pre-curtain opening, and that the play in essence has no specific ending, and that the sister dislikes the play so much as to intentionally skip scenes and dive fantastically into feats of on-the-fly improve, editing the play before her brother's and the audience's eyes.  The play becomes a disjointed wonder, as we can see the strings being pulled, that the other (imagined) audience cannot.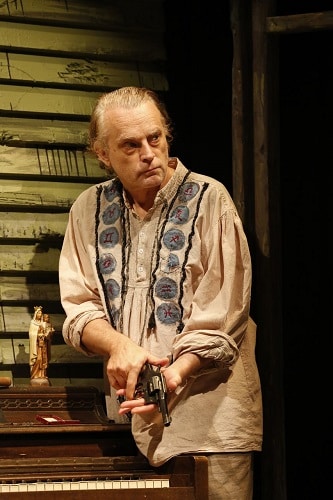 The story jumps between them acting the script of the play, and interacting outside of the script.  It's a mind-bending tête-à-tête which plays like a darkly comedic two actor version of Noises Off, if it were written by David Lynch and directed by Christopher Nolan.
You will recognize Amanda Plummer from her various character parts in Pulp Fiction,The Fisher King, and So I Married An Axe Murder.  She also just completed filming Hunger Games: Catching Fire, which is due to be released in November 2013 where she plays one of the Tribute veterans of games, back to defend her title.  She is AMAZING at playing crazy / borderline crazy.
One of the best scenes and lines to open any Quentin Tarantino films…EVER.
Brad Dourif is also insanely great.  You might remember him in the classic Academy Award Nominated role of  Billy Bibbit in One Flew Over The Cuckoo's Nest (see clip above), Grima Wormtongue in Lord of the Rings 2 & 3, the doctor in HBO's Deadwood, and as the voice of Chucky in all of the Child's Play movies.
The casting of this play couldn't be more spot on.  If you like plays you actually have to think about, and have discussions over, this is a show for you.
Richard Linklater's film Tape had a similar manic vibe to me, where minimal characters are in one room, and acting and writing are key, so that by the middle you actually fall into the character's neurosis and insanity.  Well done.
Written by Cojo "Art Juggernaut" Press Photos by Carol Rosegg
SPECIAL OFFER:
$59 tickets (Orchestra- Reg. $92.50)
$44.50 tickets (Mezzanine- Reg. $72.50)
TO REDEEM:
ONLINE: Visit BroadwayOffers.com and enter code CPRISE713 or JUST CLICK HERE.
PHONE: Call 212.947.8844 and mention code CPRISE713
Critic's Pick, The New York Times
"Sensational! Hilarious! Powerful!" -Ben Brantley, The New York Times
 "REVELATORY. Divine, crazy, straight from Tennessee. In a time of cookie-cutter theater, 'The Two-Character Play' stands out. Few can do cray-cray like these two. SUPERB!" -The New York Post
Tony Award winner Amanda Plummer (Agnes of God, Pulp Fiction, The Hunger Games: Catching Fire) and Academy Award nominee Brad Dourif (One Flew Over the Cuckoo's Nest, Lord of the Rings Trilogy, Deadwood) unite their white-hot talents for this highly anticipated production of Tennessee Williams The Two-Character Play.
Reality and fantasy are interwoven with terrifying power as two actors on tour – brother and sister – find themselves deserted by their troupe. Faced by an audience expecting a performance, they enact The Two-Character Play. Haunting, provocative, and often funny, The Two-Character Play is one of Tennessee Williams most personal and rarely seen plays.
Tennessee Williams The Two-Character Play
New World Stages / Stage 5 – 340 West 50th Street
thetwocharacterplay.com
CONTEST RESTRICTIONS: Offer may be revoked at any time and is subject to availability.  Not valid on prior purchase. Offer cannot be combined with other discounts or promotions; blackout dates and restrictions may apply.  This offer is valid for select seating to select performances 7/10/13 – 9/29/13. All prices include a $1.50 facility fee. Limit 10 tickets per customer.