This week we met the incredible director Jonathan Latona whose last featured movie just came out.
Please introduce yourself. Who are you and where are you from?
I am Jonathan Latona (30) Film Director/Writer/Cinematographer and I grew up in South Florida, born and raised around Ft. Lauderdale/Miami Beach, specifically, in a small area called Coral Springs in Broward County. It's a very large town with small ambition. Not many people who come from there have aspired to do much except have a family and live their life. My early life was my mom and myself, along with my dreams and ambitions. She worked as a social worker for a variety of different positions, most notably for Alzheimer's patients. Life was difficult. There were many discussions on what comes next, a thought that never occurred to me in high school. All I was doing was seemingly wasting time, participating in Drama Club and acting in the high school theater plays, which inspired me to go to acting classes where they were working off Eric Morris's technique of Method Acting (Meisner and Stanislavski based). I thrived in my extracurricular activities, which destroyed my school work when I was already a poor test taker. Eventually, after I couldn't get over a certain score in the SAT & ACT's, my mother and I moved to Wilmington, North Carolina, where I enrolled at Cape Fear Community College.
We needed a fresh start. My college life at Cape Fear was my beginning. Even moving from Florida—a feat I wasn't sure was possible— to a quaint state like North Carolina was a dream come true! I was finally out of a state that had nothing but what I thought was bad energy all around, and ended up in a place where art could potentially thrive. Upon arriving in Wilmington, it was still a hotspot for film & television. I was able to learn from the people who were veterans in the film industry who worked on productions since the 80's (which at that time was thriving in Television with CW shows like Dawson's Creek and One Tree Hill). My first semester in college was a joke. However, after that I started classes I wanted to take, like Film Introduction.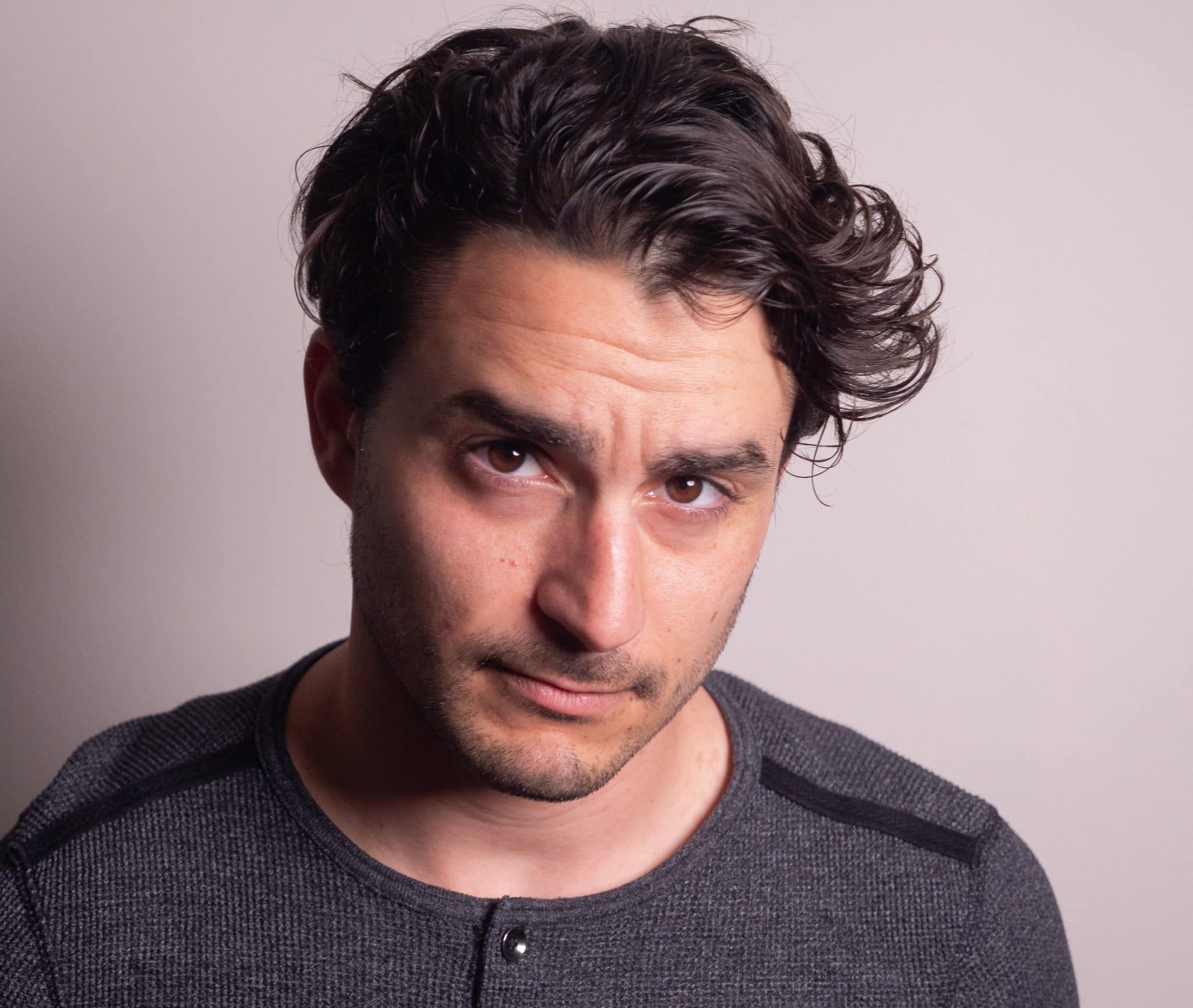 My first Film class with David Kreutzer was everybody's dream in a pseudo film school. There wasn't a degree course. There were only certificate options at the North Campus, which was away from the downtown campus; I was eager to go every day. The downtown campus was the campus. People who went to North Campus didn't do much in the school and would only see it as a chore. I actually wanted to be there, so I sat through the mandatory classes and got to the classes I was eager to take. By that summer, I started to take my schoolwork seriously and arranged to enroll in classes so that in the fall, I could take all film courses. At that point, I took film school seriously. I was the only kid in my entire class who took the Intro Film class so seriously that by my second semester I was recommended for an Internship to work as a Production Assistant on One Tree Hill. I got that position. My Internship was on Tuesday.
It was at the Internship that I was able to obtain a crash course in what the process was really like. After some trials and tribulations, like almost failing a semester and getting my first real camera, I was well on my way to making films. Somehow, some way, I was going to master this process so that I could make my own films someday soon.
Thanks to the help of my professors, I started filming local bands in the Wilmington area. This led to music videos, which led to short films in my early twenties.
What inspired you to become a director and writer? Was it always your dream?
Becoming an Actor was always the "dream" but I didn't really have an idea of what that meant until I started Drama Club in high school. Eventually, I realized that I was more in love with the filmmaking process and started researching filmmakers. When I moved from Florida, I realized that I could work on my own films. I would sit in the library at Cape Fear on cold nights when the sun went down, dark clouds overhead, reading about the illustrious careers of filmmakers I admired, like Martin Scorsese and David Lynch, among others. I would always gravitate towards those two extremes because I realized that you could tell epic stories, but still have artistic sensibilities. David Lynch has always done it for me, that mystery and awe encompassed in his films still hold up, even if they are surreal. In many ways, that's the point. You want the visualization to be memorable; otherwise what was the point of going to see the film in the first place? Movies growing up were all about the spectacle in beauty and art; they actually motivated you to think differently about the world. Movies are supposed to give you hope, something to look forward to. I didn't realize that movies were something that people could do, or that they were trying to do. I didn't realize that there was a way to look into how movies were made and see that they're very different from normal careers. When I shifted all my attention to making films in my early twenties, everything in my life changed.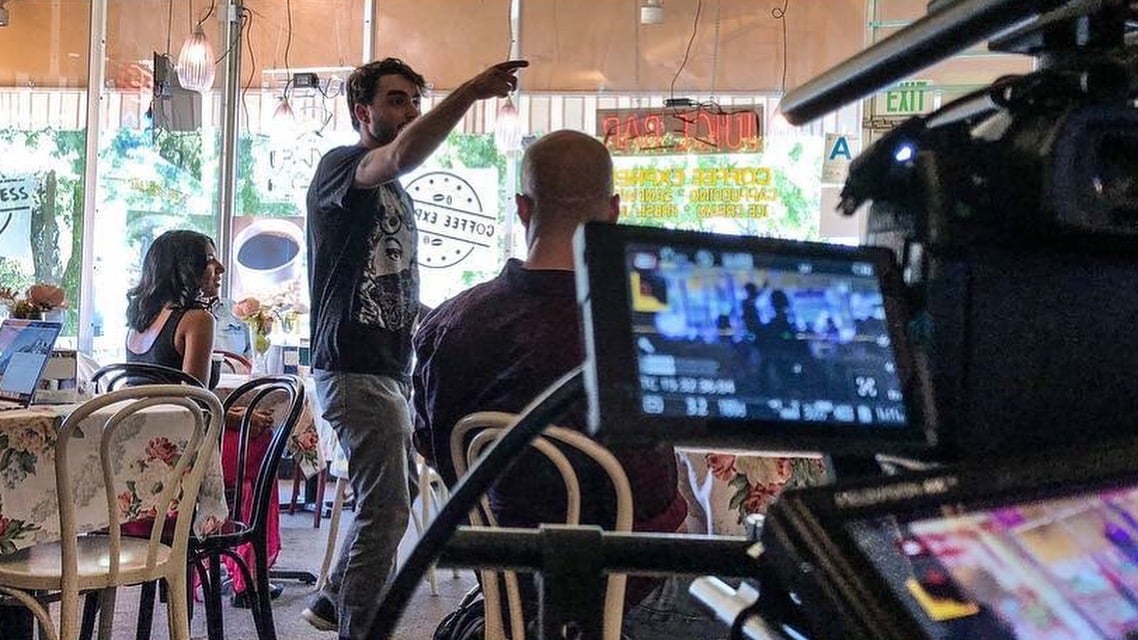 How do you develop your scripts? What is the inspiration for your scripts?
There have always been various ways I think about the scripts I'm trying to write, but today I think the best ones are the ideas that I constantly think about in my head, no matter how long they've been circulating. I think about 4 of my scripts on a daily basis, just so I don't forget. I am currently working on my second feature and have one more completely ready, and then there's the one that's partially written out, and another one in the notes phase (still). That's not to say I'm not busy working on those, but I'm keeping busy everyday. The inspiration comes from a million different sources, depending on the idea.
Your latest featured movie Doug just came out. Tell us about the birthing process of this film.
I met Doug Burch back in 2015. I had just moved to LA and a friend of mine told me I needed to meet this one guy who was "working all the time". I was told that he could help me find something related to a film job in LA. I worked as a camera operator on a commercial Doug was making about blow up hospital beds to be used in the field. Afterwards, we all got together and bonded over lunch. Eventually, Doug told me he was working on a feature film he was writing and was about to film it. I told him I wanted to work on it. Doug agreed to have me on board, and the two of us started filming his feature film THE LOST ONE in Long Beach at some hair salon. This was the beginning of our incredible journey together! One night, after watching the show LOUIE, starring Louis C.K., I got inspired to make my own film in that Cinema-Verite style. If Louie could do it, why couldn't I? One afternoon, I pitched Doug my idea of a fictionalized version of himself, navigating Hollywood as a once popular TV Actor turned into a Hollywood footnote sideshow of a character. Doug loved it. Over the next three years, I would write DOUG and go through countless drafts of the same story, repeating the process over and over again. Writing the same beginning, keeping the middle then trimming the fat, then rewriting everything, then salvaging and trying to find moments—little nuggets of gold that could follow. Little by little, the chips fell into place. After about 4 and a half years, I was able to present Doug with a draft of a film that would eventually be the version of the film we made. All in all, the script wasn't finished until the movie was shot, and even then, the editing process helped dictate the importance of every scene. I believe I kept most of the final draft intact, and added a few extra moments here and there that are "unscripted" yet have a place in the written world as outlines for improvisation. In many ways, filming this project made me think differently about all my other films before. I only now realize that a large bundle of that time was spent overthinking, overanalyzing elements that would never come to fruition. The pain I experienced writing DOUG was unlike anything I have ever experienced before. I was hurt. I was angry, going through a nasty breakup, trying to regain the strength to do things again. I knew that this was a new life, however, and one to take seriously. In many ways, DOUG was my thesis project. I never did get that degree.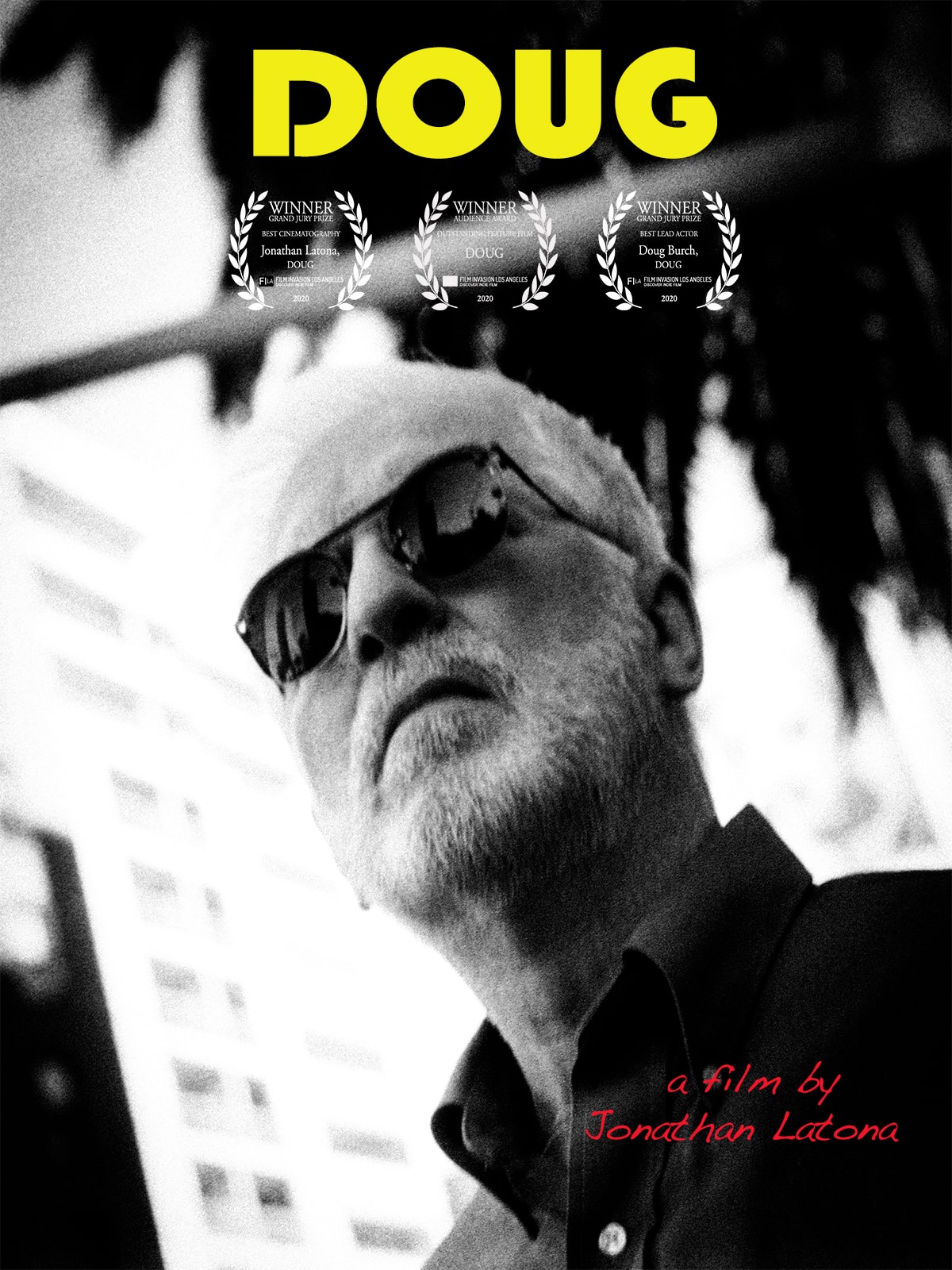 Now that DOUG is on Amazon, I can finally have something to tell people about and feel confident they'll give my film a chance. Every filmmaker stumbles through the trials and tribulations of getting their work seen by the public. It's impossible when you don't have a name actor, even more impossible when you aren't from money, or when you're doing everything yourself. DOUG is a very special project because it's one where I have to continue to unravel the steps of the process constantly, just to figure out how to make a better film. In the beginning, I would tell myself "I wish I did this, I wish I did that or I didn't forget this" but with DOUG, every decision was precise in the moment and exactly what I wanted. I never experienced that before.
Now with the film complete, I just hope that people can easily navigate through the streaming services directly to my film. I'm very proud of the film, I'm extremely proud of the fact that a Grand Jury for a Film Festival thought it strong enough that Doug himself can win Best Actor. That was a Win in my book as well. The film does exactly what I wanted it to do. I made the film I intended to make. In addition to that, getting my film onto Amazon was a lot like how one can get their film onto Youtube. There's nothing to it, no real strings attached. Just good old fashioned follow the rules and get your film onto a streaming platform. Amazon helps the filmmaker think differently about how they can present their film to their target audience, but how it spreads is purely on the filmmaker. Unless you have a distributor handling everything, or a sales company backing you up at AFM (American Film Market), then you're on your own. I know what I signed up for, my only hope is that people tune in and check it out. It's a long game. Until something better comes along, it'll always be the long game. I own my film. I can do whatever I want with it, and at the moment, handling it as an exclusive film you can watch for free with Amazon Prime, or buy from my website has taught me a lot about how I can market myself and my work as a filmmaker. Every step from here helps.
Since you have such a creative mind, what types of future projects are you percolating in your brain?
The projects I'm working on are always projects that relate to humanity, at some level. At the moment, I am not at liberty to say what exactly, just that you'll be pleasantly surprised.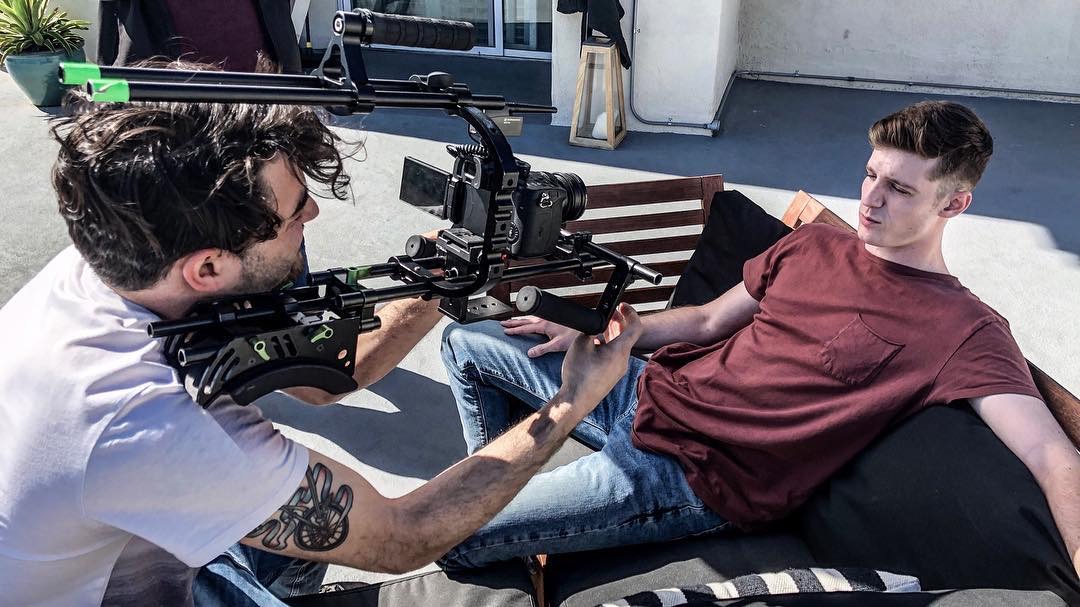 Has the pandemic impacted your career and, and if so why/how?
The Pandemic has not affected me in the slightest. I've been busier than I've ever been before. Not sure why. Maybe it's the timing, who knows. At the moment, I am trying to get as many opportunities I can as a freelancer and then continue, project to project and see what happens. I am currently open to collaborate on photo shoots, music videos, feature films someone else has written and act as a Cinematographer (in addition to my own work). The list goes on! The way I see it, I'm finally in this spot and was slowly gaining momentum just for the world to stop spinning? No way! I'm moving forward and can't let a Pandemic be a factor to slowing down. This is the perfect time to edit, get some writing done and work on creative projects. Somehow, some way. Art always thrives off the negativity. Imagine what an entire generation will come up with once this is over! You can see it now: Amazon and streaming services are flooding with content from all over the world. Independent voices are finally being heard now that the major studios have halted production. Time does not slow down. Neither will the Independent artist. This is the perfect time to get things done.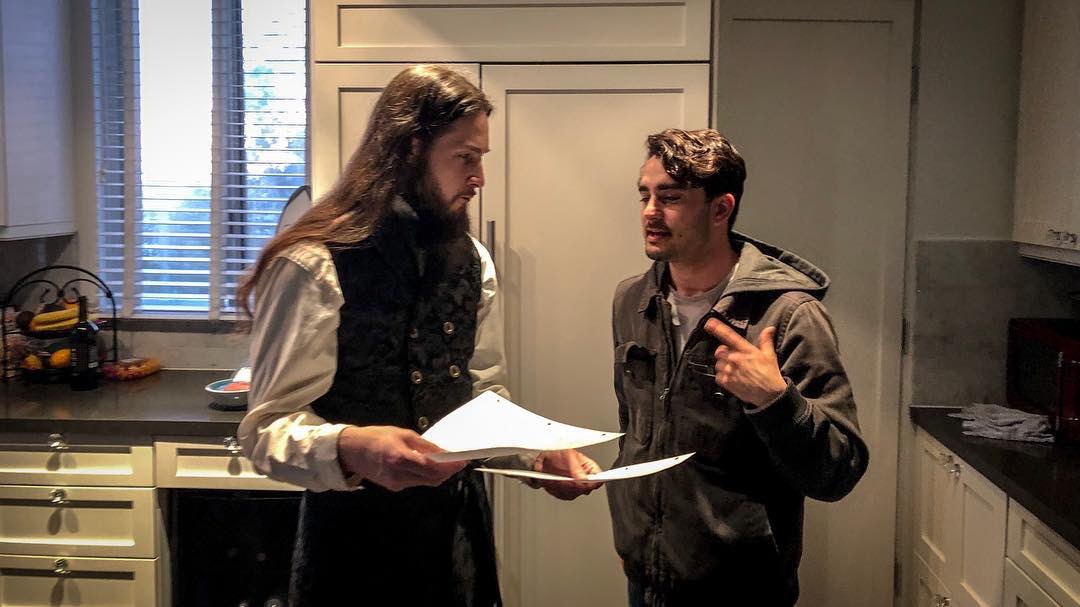 What is your time table for future projects?
I am currently working on my second feature called DESTINATION HOLLYWOOD. It will (hopefully) be done in 2021 but we shall see.
How has your work evolved over the years?
My work has definitely gotten more sophisticated over the years. I used to write stories that seemed pompous and arrogant. The ideas weren't anything special, filled with clichés and looking back, impossible to make yourself. It wasn't until I started making films on an every day basis that I realized you didn't have to be so complicated. Less is always more, and I was just starting to realize that in my mid-twenties. I floated my own ego after making several shorts that I didn't know what making a feature would be like. I wanted to make a film I had written in my screenwriting class; however the idea wasn't one hundred percent. In fact, it wasn't even well thought out. I acted in it (against my better judgment) and by the time I would be on camera, I would crash. You could see that on camera. It wasn't a smart idea for the performance aspect. Nobody ever saw any of the frames I was working on, but I managed to shoot the entire film. Later, I held a candlelight vigil and threw it all away. If only I knew then what I know now, right? That was a learning experience, and one that I'm still trying to perfect. It's an idea I will revisit, with a whole different outlook on the story and design. This particular one needs time to heal, and I have other ideas I can be working on. In many ways, I realize now is the time to get things done and act on your dreams. Better now than later in older age, when you can't do as much as you once thought.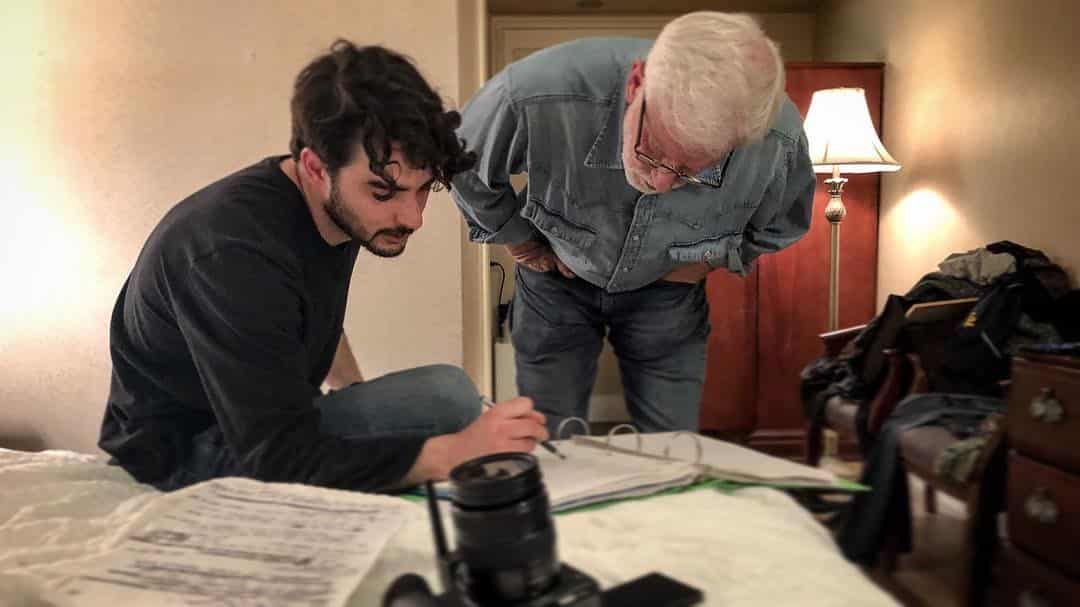 What do you see on the horizon evolving as director?
If I look hard enough, I might be able to see my future career. Right now, it's trying to produce one film at a time. At this rate, I should be okay.
How has the position of director changed over the years?
Over the years, my role as a Director/Cinematographer has become less hazy and more direct. I have learned how to have stronger communication, not only with actors but also myself. On set, everything becomes clear and the more direct I am with what I'm trying to achieve, the better for the actor's performance. I'm still learning. I feel this occurs project to project. That's the beauty of this craft: we can mold it to be however we desire. Filmmaking is all I have ever aspired to do in life, so I'm making the most of it. I'm discovering that there are no rules when it comes to filmmaking, film language and getting your idea out there. I used to think all my ideas were too surreal, now I'm realizing that they were too difficult to follow because there would be no real way to make that film. I would have to figure out what I can make, how I can achieve it and start filming. I didn't discover this until my third or fourth year in Wilmington, NC and by that time, life got in the way. Navigating through life until you are mature enough to make those hard-boiled, down the line decisions that the studios pay for is the key to making the dream a reality. I'm still learning, but I have a long way to go until I become that A-list director. I hope I get there. Until then, all I can do is continue making films the way I have been and hopefully, with enough word of mouth networking, I can finally make the one script festering in my head after all this time.
DESTINATION HOLLYWOOD COMING SOON
DOUG NOW ON AMAZON
IG: @Johnnyboyfilms