"Think out of the box". This concept might take us away from the visible existing concepts and ideas. Humans have been so used to facing challenges and struggling hard by following the toughest routes that they unknowingly ignore something useful which easily comes their way. When we talk about the artworks of Ana Schmidt, it is an important question to the audience: why has the easiest available concept of 'landscapes' vanished now? Can someone quickly name ten landscape contemporary artists of the 21st century? It's hard, isn't it?
Ana Schmidt is a contemporary landscape artist and an urban planning architect based in Bilbao, Spain, though she has also lived with her family in Bochum, Saigon, Bangkok, Barcelona, and now Bilbao; she has traveled across 25 cities around the world. This becomes an important role in what she brings into her works in both her professions. Ana has received a Master of Science in Architecture from the Polytechnic University of Barcelona and ARC Living Master from the Art Renewal Center. Ana has constantly studied the works of old masters from the history of art. Whether it's the color application, the idea of depicting the concepts, or even the techniques right from step one it looks like Ana has her hand over it very well and depicts her concepts, idea, and stories onto the canvases. Ana's skills of observation and capturing the realistic landscapes on the canvas in a beautiful painting might remind us of the 20th-century landscape artist Richard Estes.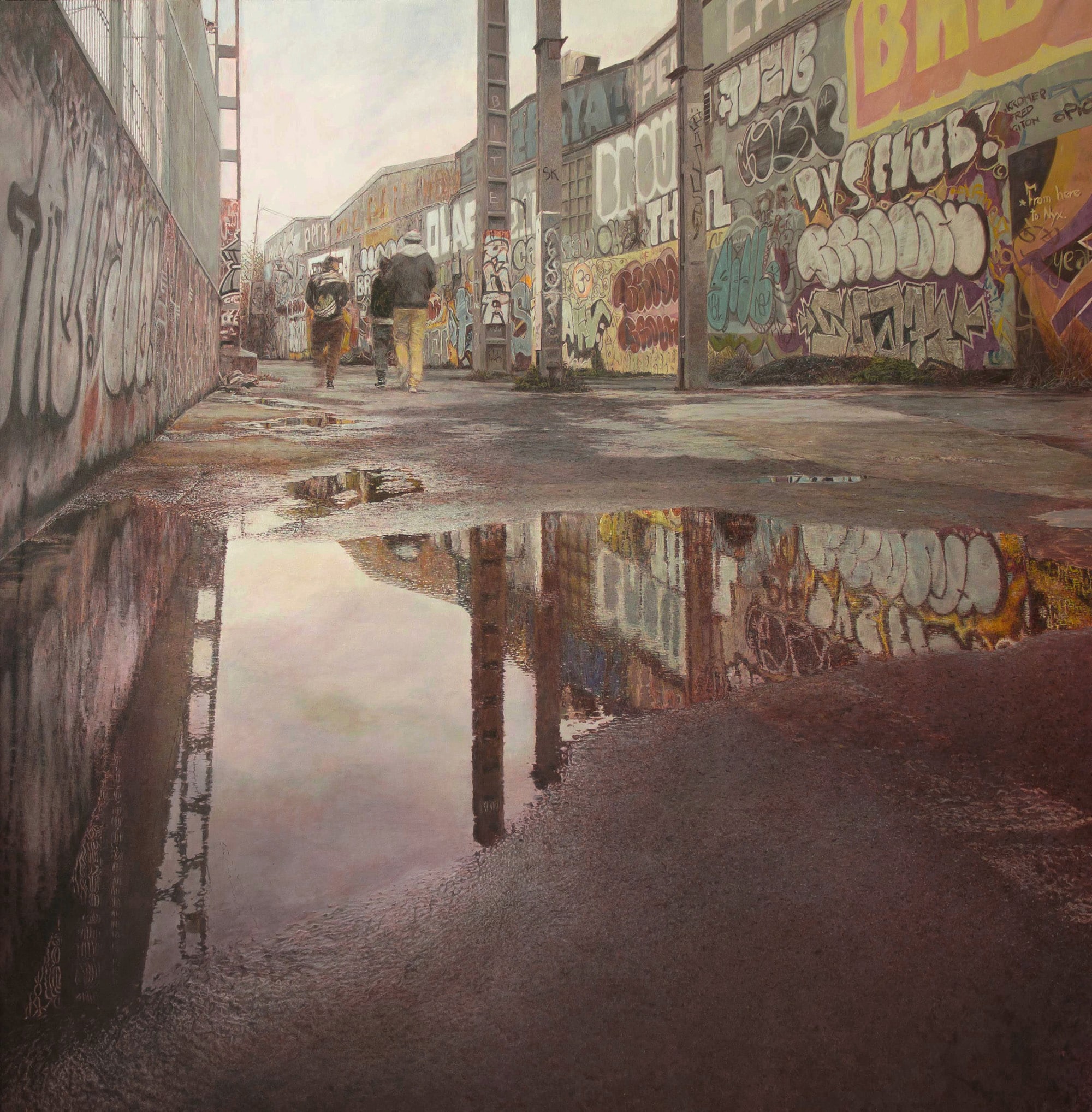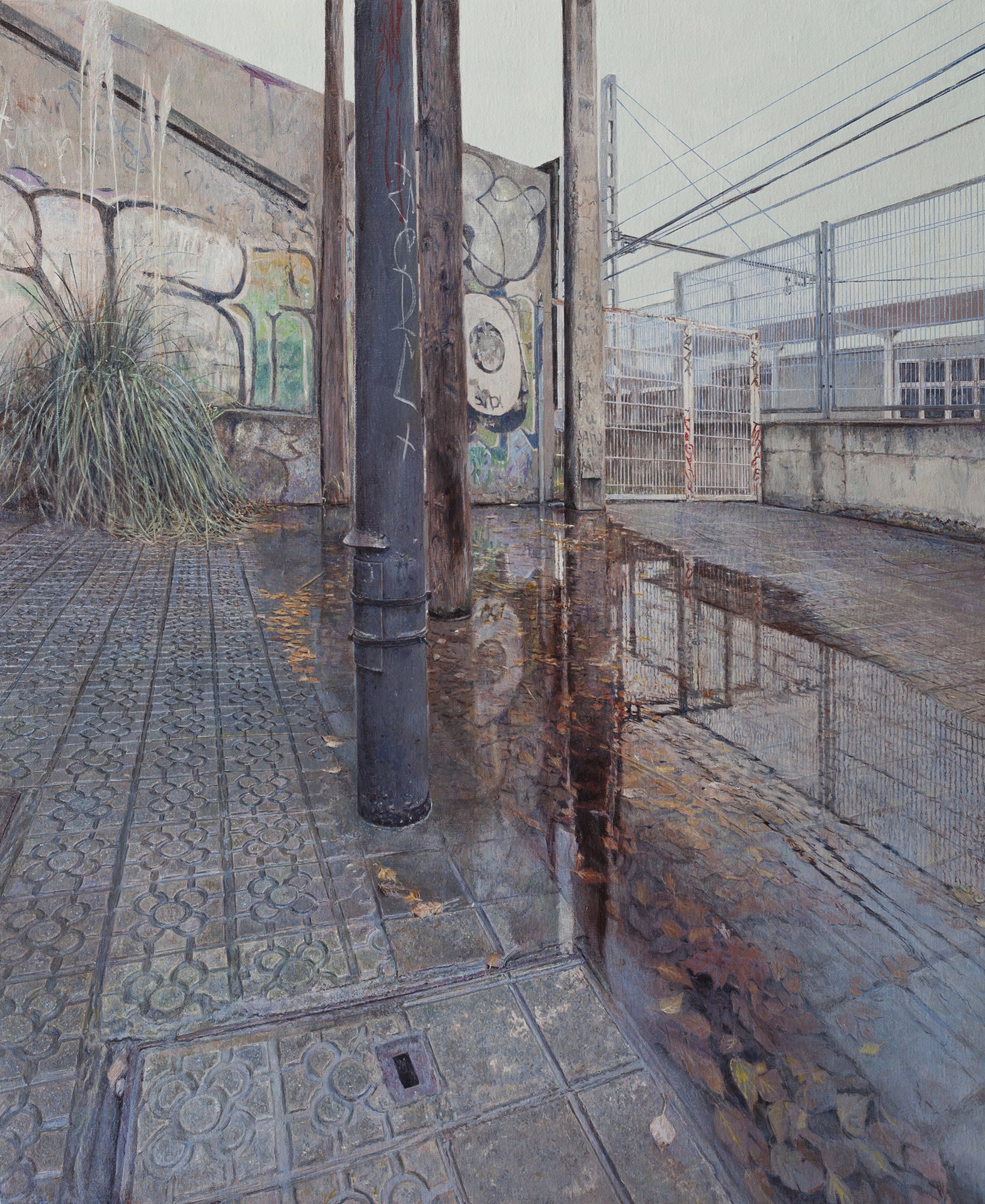 Well, Ana Schmidt is one of the artists of the present times who brings back the concept of landscapes and makes us realize the aesthetics of the thing which may be right in front of our eyes, called as "landscapes". Ana's command over creating realistic artworks captures the viewer's attention just in a single glance. Ana has exhibited internationally in different cities of the USA, Germany, Spain, and UK. She has exhibited her artworks at more than forty exhibitions. Ana's solo exhibitions include Mall Galleries, London, 2019, Arte Contemporanea Gallery, 2015, Rieti, Italy; Cervantes 6 Gallery, 2015; Oviedo, Spain; l´Occhio Gallery of Art, 2013, Venice, Italy; Torrene Areto Exhibition Space in Getxo, 2012; Spain and Basque Architectural Association in Bilbao, Spain, 2010. Ana has received multiple awards for her artworks, such as First Award at the Columbia Threadneedle Prize 2018 at the Mall Galleries, London, Second ARC Salon Award in the landscape category, USA, 2018, first and third Award in the landscape category, American Art Award 2017, USA, Third ARC Salon Award in the landscape category, USA, 2015, Acrylic works: Radical Breakthroughs Award, USA and won many more in Spain, Italy, and other countries.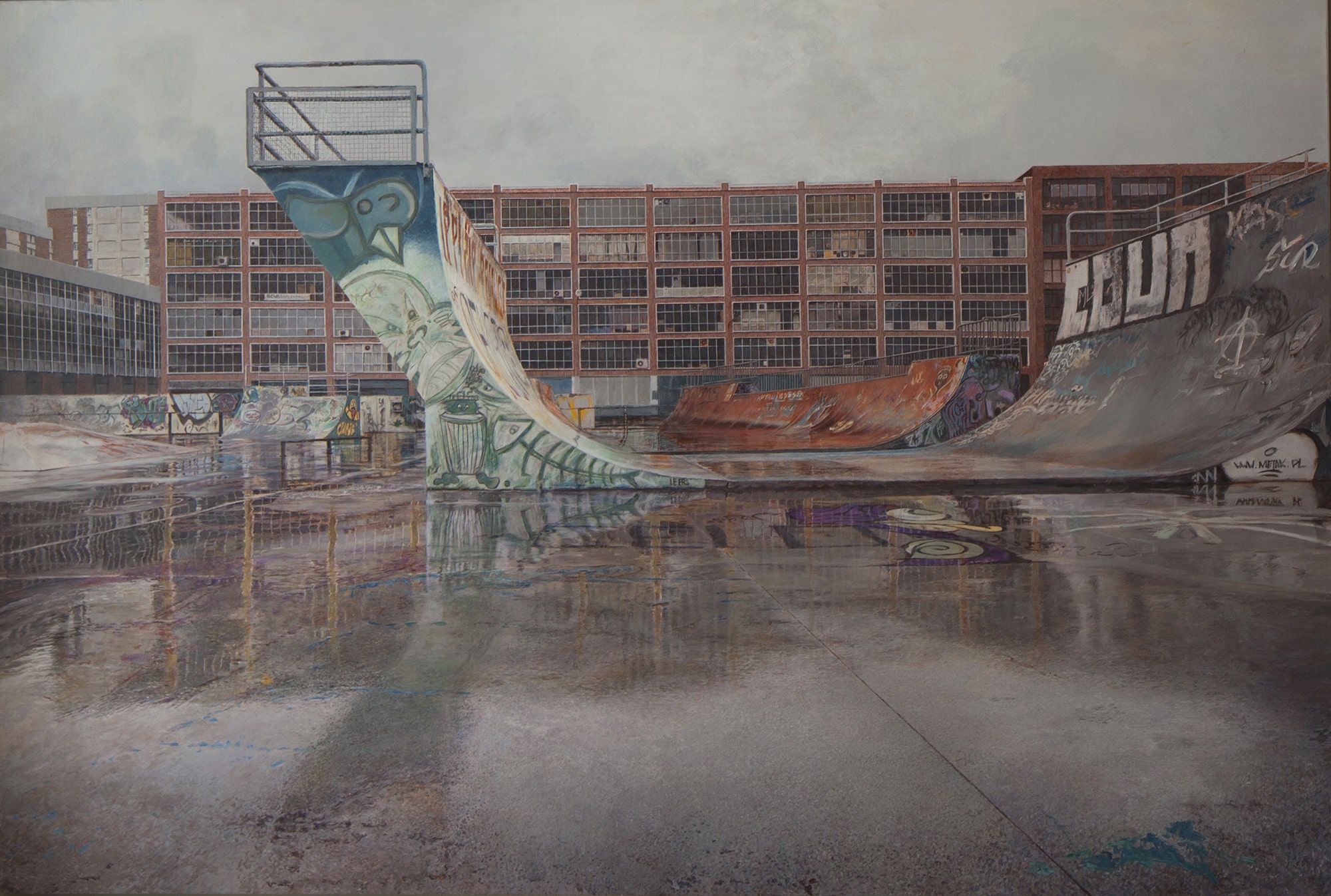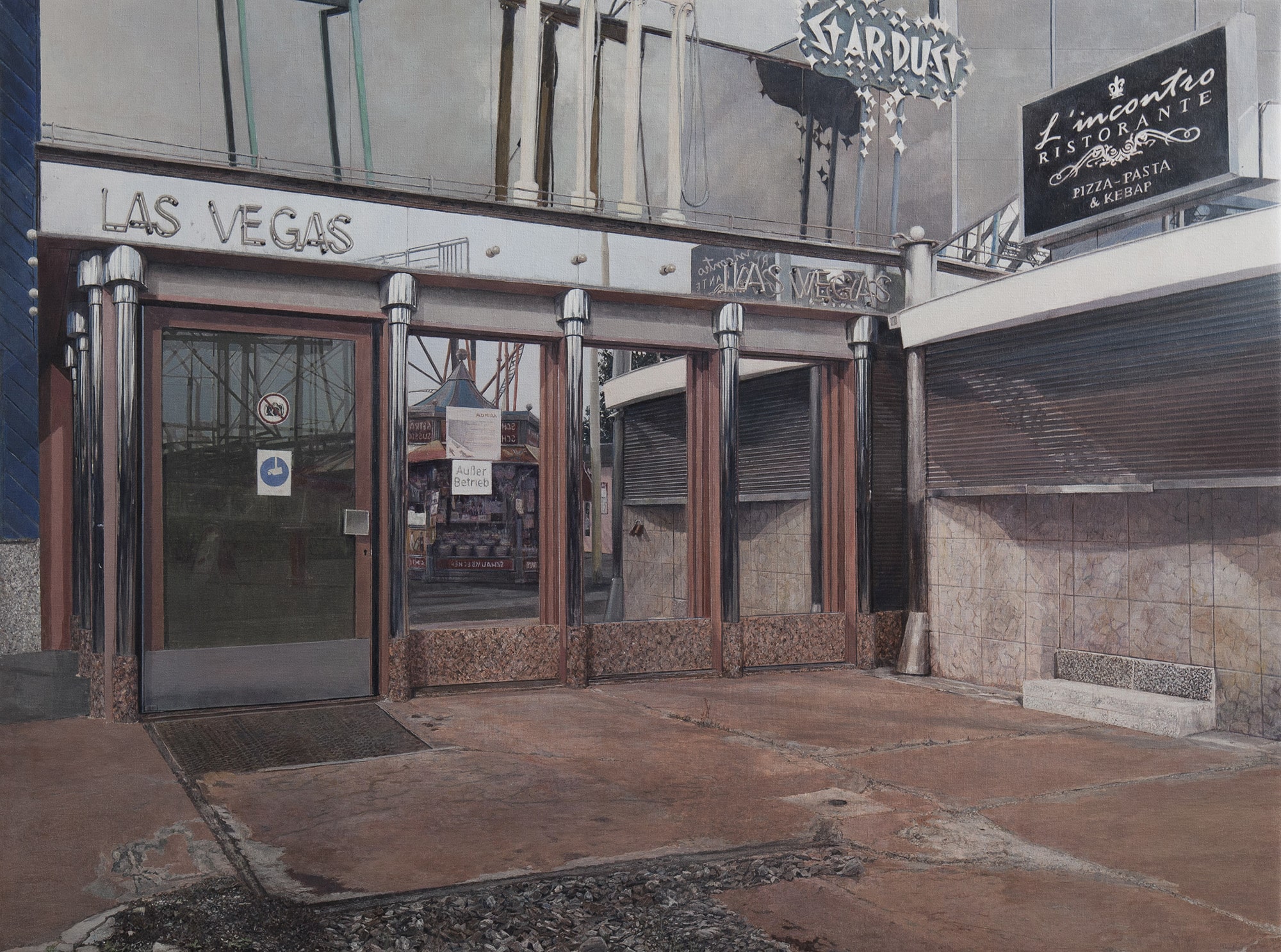 Here is how Ana describes her Landscapes; "Landscape can be seen as a throwback, but it is also a distinctly contemporary concern. As the historian Simon Schama writes in his book Landscape and Memory (1995), it is "a text in which generations write their recurring obsessions". This text continues to be written and reworked today in our cities and throughout the territory. The idea of landscape, whether approached in a literal way or a more esoteric view, is the common thread of my works. Sometimes it is a redesigned landscape, sometimes purely depicted: from human-height views to panoramas that represent entire cities; they offer a meticulous vision of the metropolis and question issues such as one's own experience of urban life, urban growth, economic inequality, etc. They embody the different realities in the contemporary city: "the banal and the impressive coexist in the same territory."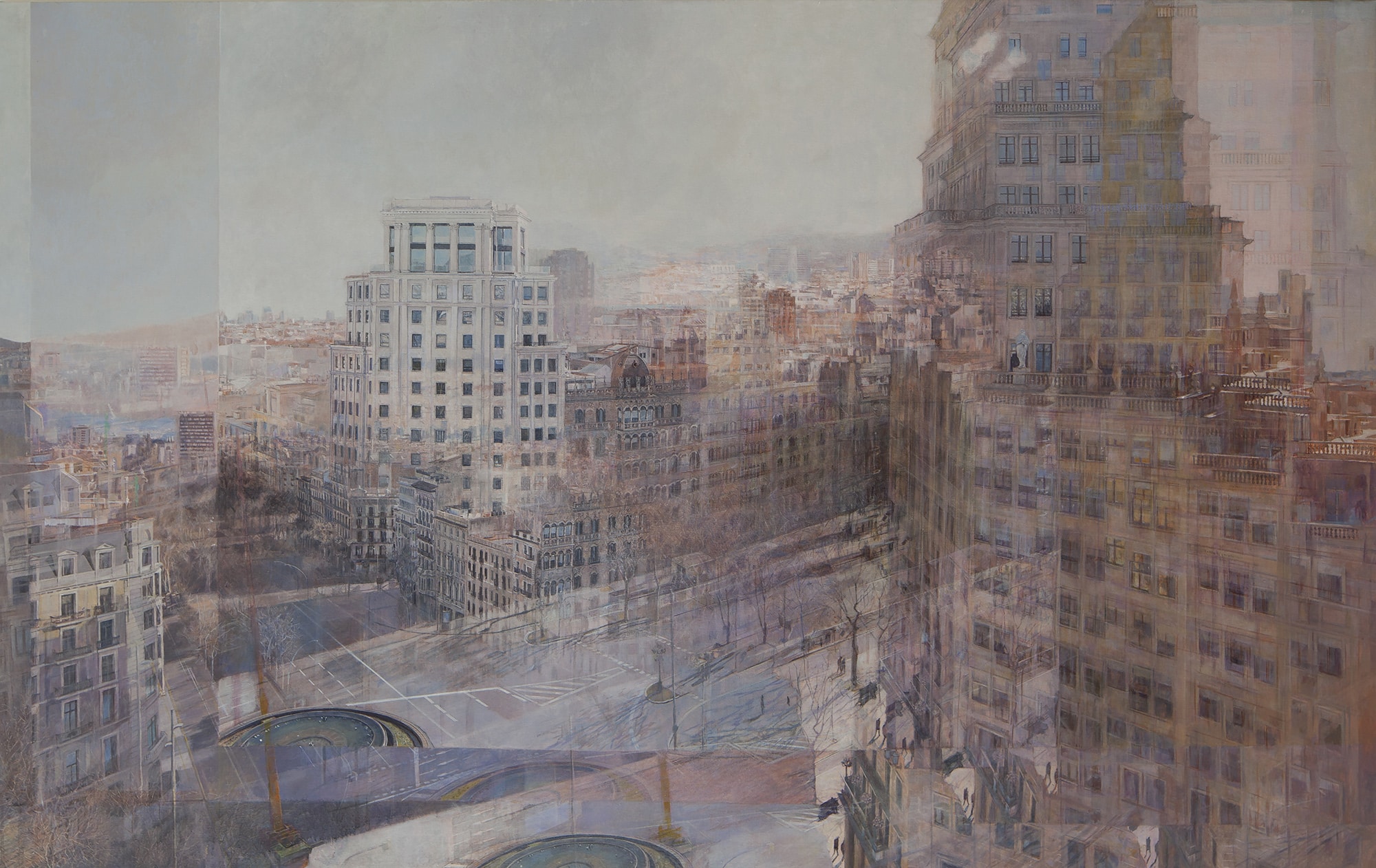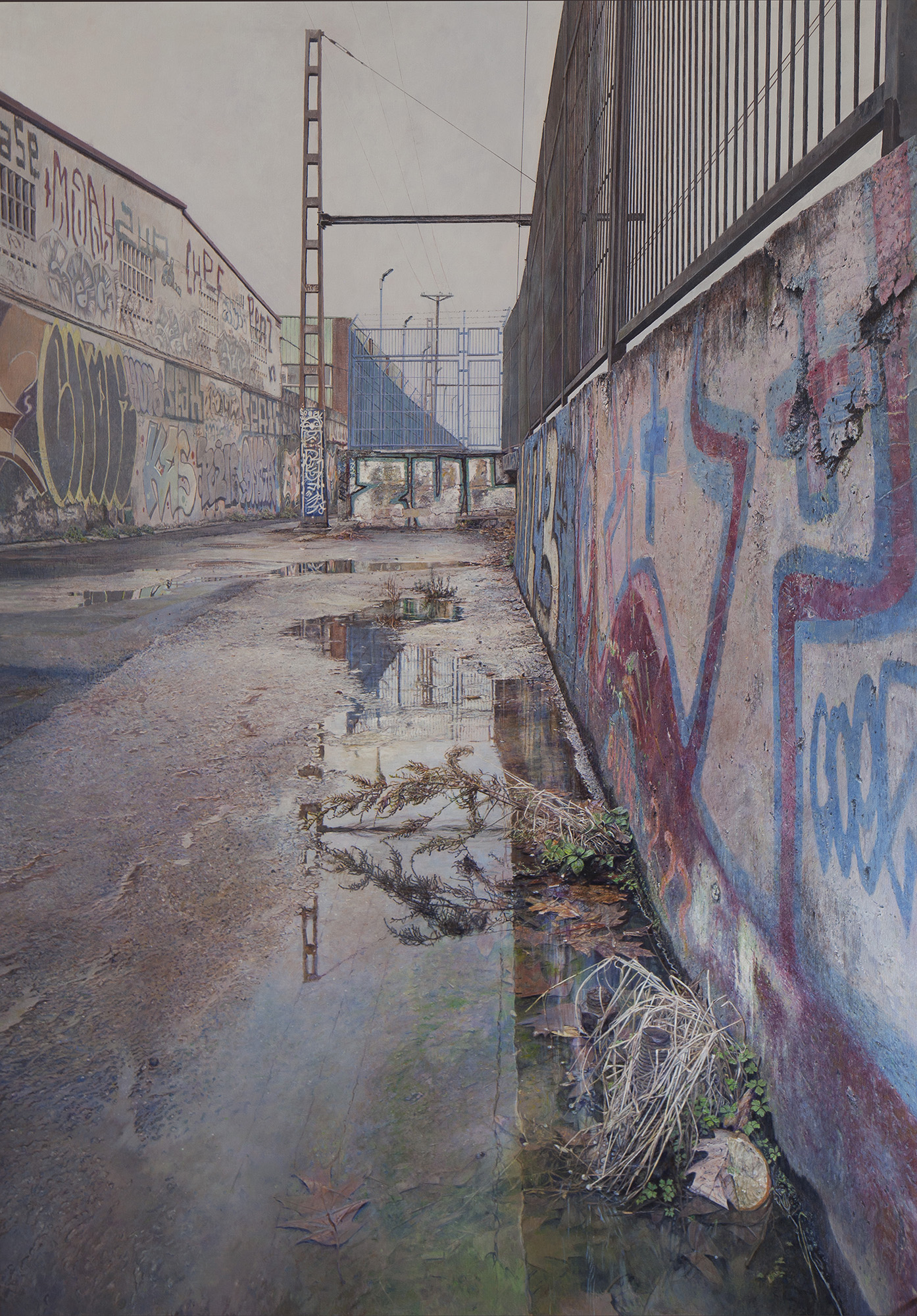 Ana talks about her profession as an urban planning architect concerning her theme of urban landscape paintings. Ana believes that architectural buildings have a lot to say about cultures, a reflection of society and traditions which she brings in her landscapes. Ana says, "Of course, my academic background and actual practice as an urban planning architect is at the base of the choice of these topics. Almost every landscape is a cultural landscape, is a place in which man has intervened and therefore is the reflection of a society, of its customs. The city is more than a physical structure. It is, among others, a state of mind, a moral order, a pattern of ritualized attitudes and behaviors, a network of human connections, and a body of customs and traditions with particular practices and discourses. Urban landscapes are, therefore, in addition to real environments, environments of signs that are constructed in the interaction between our own subjectivity and that of others, they are relational constructions. The city, the landscapes I paint are a metaphor of the human mind and condition."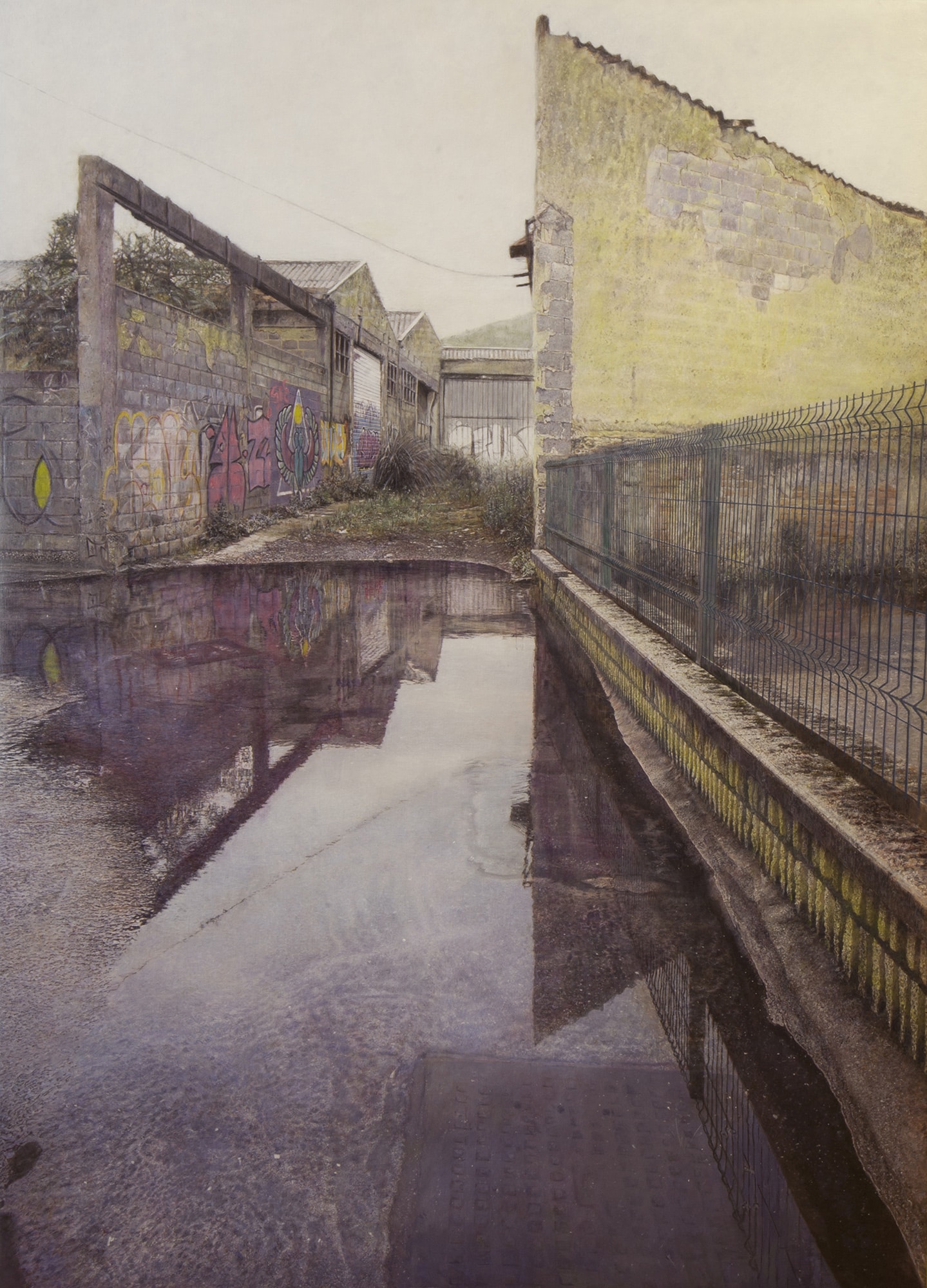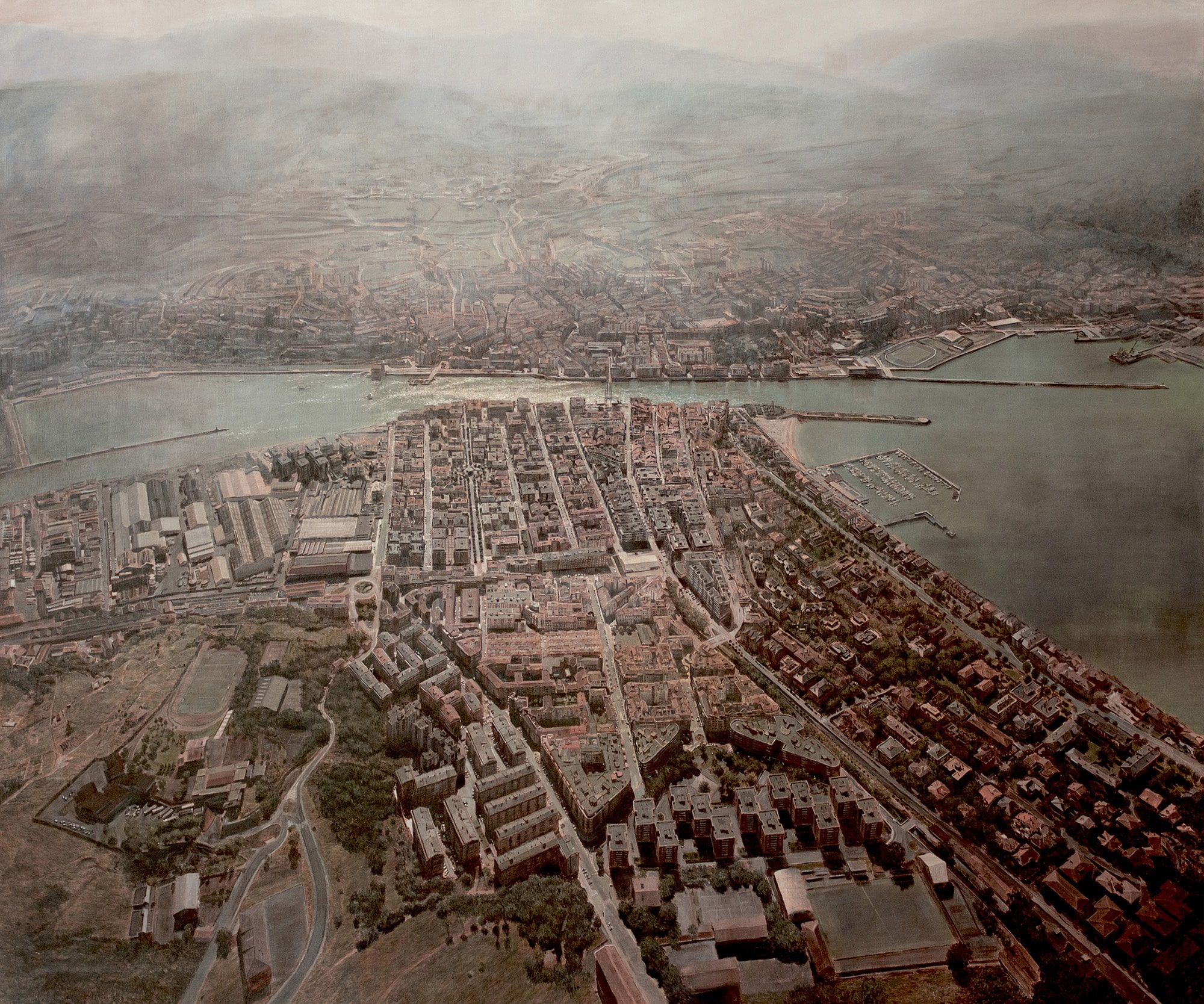 Ana feels that people are losing their roots with modern times. The spectacular urban marketing policies that have proliferated in the last years in almost any city are global. Nowadays, cities have icons, the marketing-icons that distinguish them, but these icons do not represent the identity of a place, of the people. On the other hand, planning policies create a confusing pattern at the fringes of the cities such as conflicts over land, complex highway connections that leave empty land, a new hybrid landscape, banal at times, but where people use it, stroll around and write their narratives and graffiti tags on the walls. Well, this present scenario seems to be visible in her paintings.
Well, if we observe closely there is more to Ana's realistic architectural buildings: the foreground and background consist of elements such as foliage, cracked walls, haze, puddle, objects which are used in day to day life, etc. These places are empty; it looks like a lot has happened here in the past, which brings in the memories, emotions, and feelings attached to it. As a viewer, there is a freedom to create our own stories while looking at the painting and imagine the moments one might have had in the past that reminds of different people, incidents, and objects. The time and people pass by but the land remains.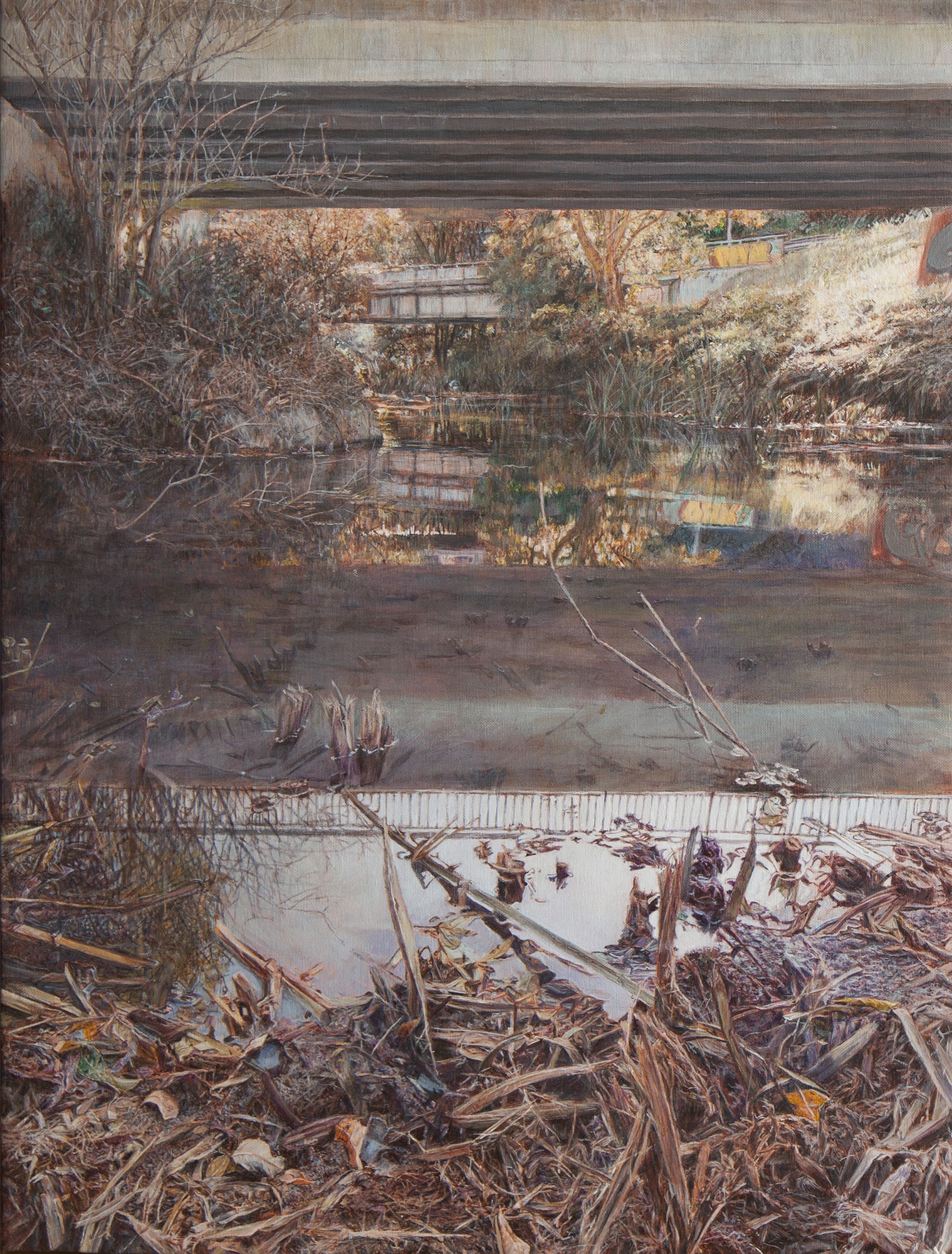 Talking about the medium and material, Ana works in acrylics on canvas. Well, at first glance the realistic landscapes seem to be in oils. Ana describes her painting technique when she says, "The technique is very similar to that of the ancient oil painting, although the drying process is different. I use a very limited palette to achieve my colors. Over a red-brown layer, I draw the motifs and paint them with a succession of layers, alternating the opaque layers with the transparent ones. I use a glazing medium to increase flow and to obtain a clear and transparent glaze. I use a wide variety of brushes and I apply the paint fairly diluted since in my paintings the stroke is not perceived." Ana's color palette also includes Prussian blue, cobalt blue, yellow oxide, and cadmium red.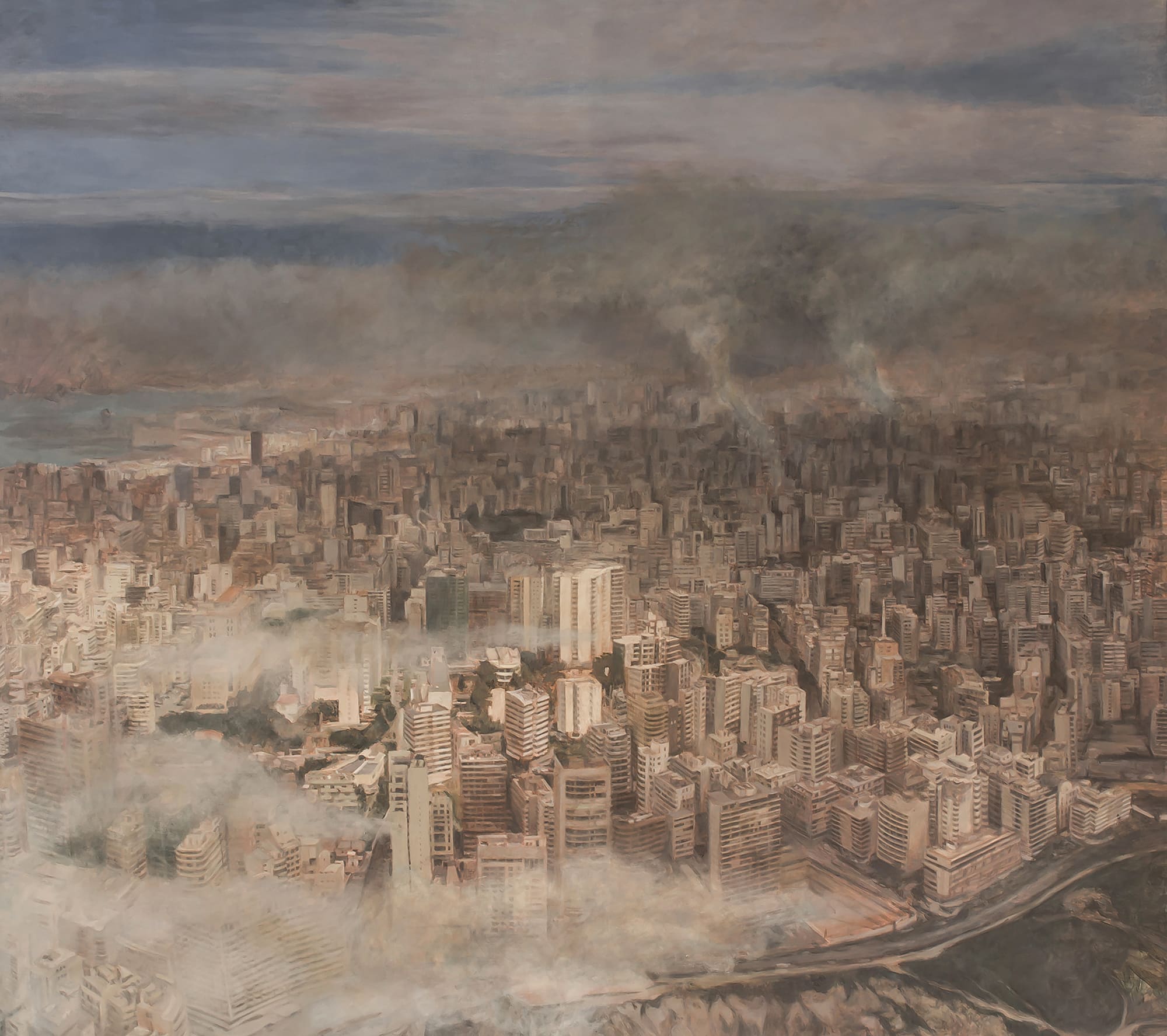 Ana Schmidt's paintings have been featured in many art magazines, which includes Catalogue The Columbia Threadneedle Prize, Figurative Art Today, Mall Galleries, Federation of British Artists, 2018, 13th International Art Renewal Center Salon Catalog, International Realism, ACC Art Books, 2018, Acrylic Artist Magazine, winter issue, Beauty amidst the ruins, 2016, Guía Leonardo, 2016, Arte y Libertad, XI 2016, Fine Art Connoisseur, Sept/Oct issue 2015 and Catalog NordArt 2015 are some of them. Ana has been working constantly on her upcoming projects, "I should have shown a selection of urban landscapes at NordArt 2020, but due to COVID restrictions, the event has been suspended and will be held in 2021. I am still working on new pictures related to this subject, the urban landscape. Nevertheless, I am also working out a new series, in which I want to recover the human figure as a central axis of the narrative," explains Ana.
It's not always important to go beyond what already exists to create something unique, as beauty lies in the eye of the beholder. Landscapes will always stay an integral part of every human's life since that's the only place where he is born and spends his entire life.