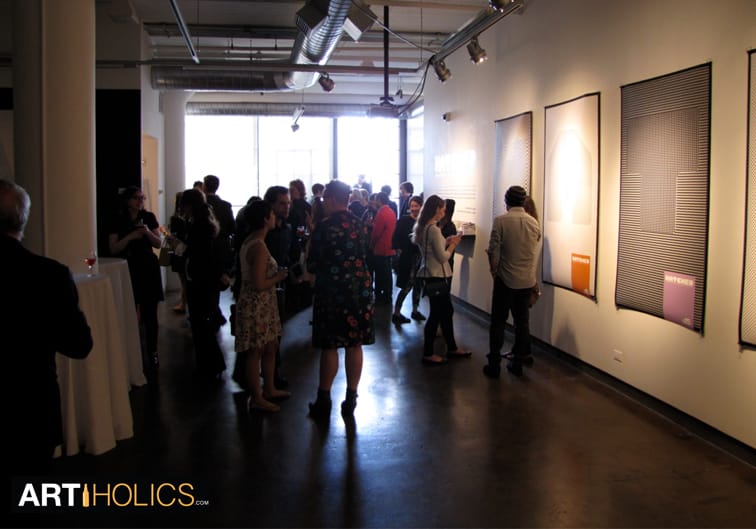 New York, NY – Friday, May 10, 2013
A few months ago I was asked by The School of Visual Arts Alumni Society to be a panel juror to decide who of the BFA cartooning, illustration, graphic design, and animation majors would receive scholarships in order to complete their final theses.   I watched dozens of reels and paged over at least 100 portfolios and eventually the other jurors and I decided on how to break up the $30,000 in scholarship funds we had at our disposal. (Read it here)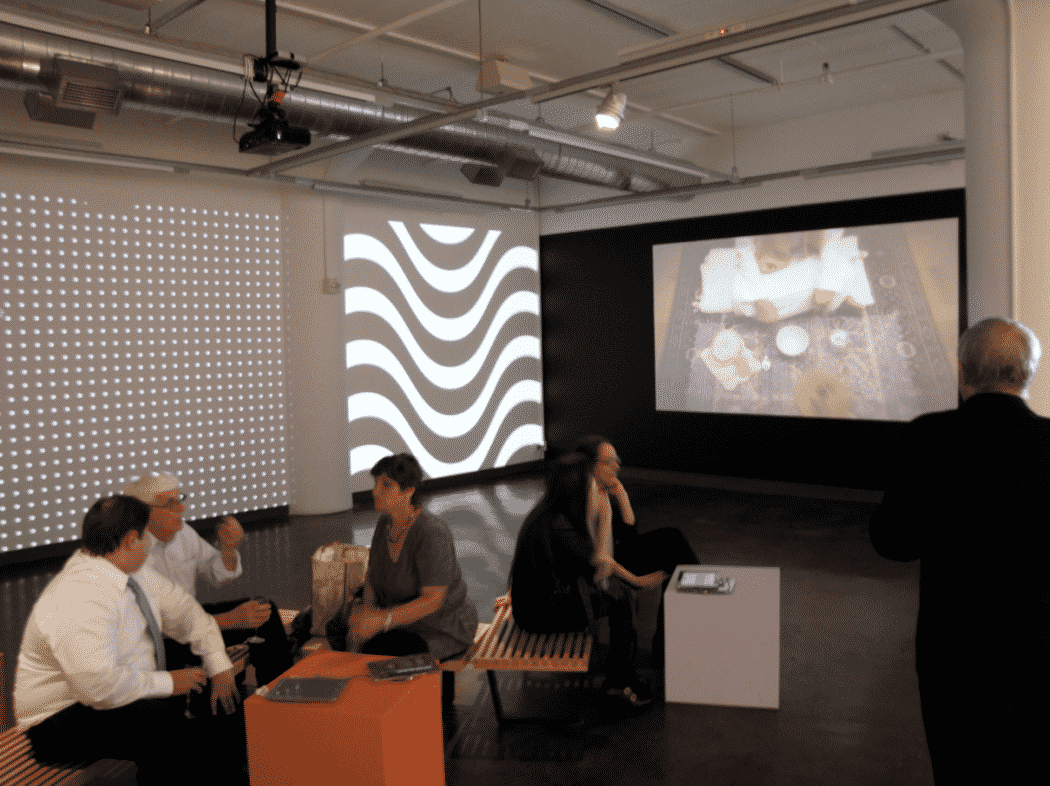 Well, as the students are now graduating today, the school threw a last hurrah for them at the Visual Arts Gallery on the 15th floor of a building on 11th Avenue and 26th Street in Chelsea. Wine, beer, bread, nuts, and veggies were served. It gave the jurors a chance to mingle with the scholarship recipients, to see how they used the money, and to see that (hopefully) it helped them complete their projects on time.
It would also give them a chance to relax a bit before their big night in at Radio City Music Hall where they will kick off their paint covered art student sneakers, and slap on their  paint covered art world shoes.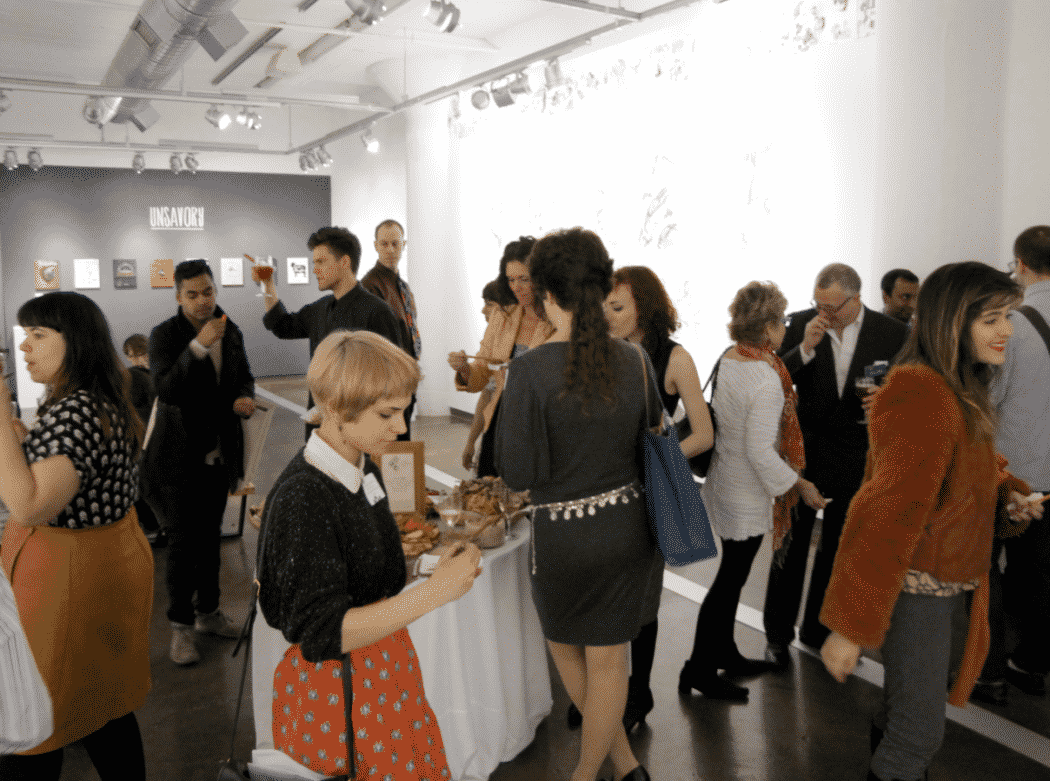 As there were two bars, the gallery in the middle where there was food got the most traffic.  And although you couldn't eat or drink outside, it was easy to abandon a glass for this view.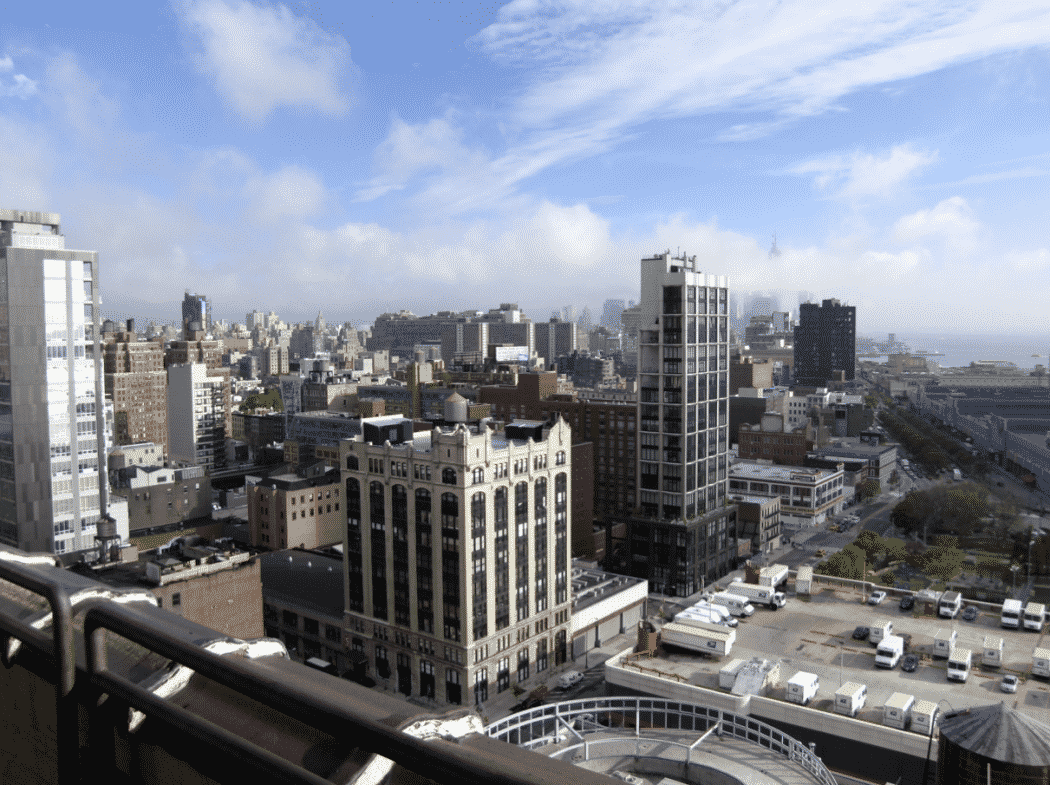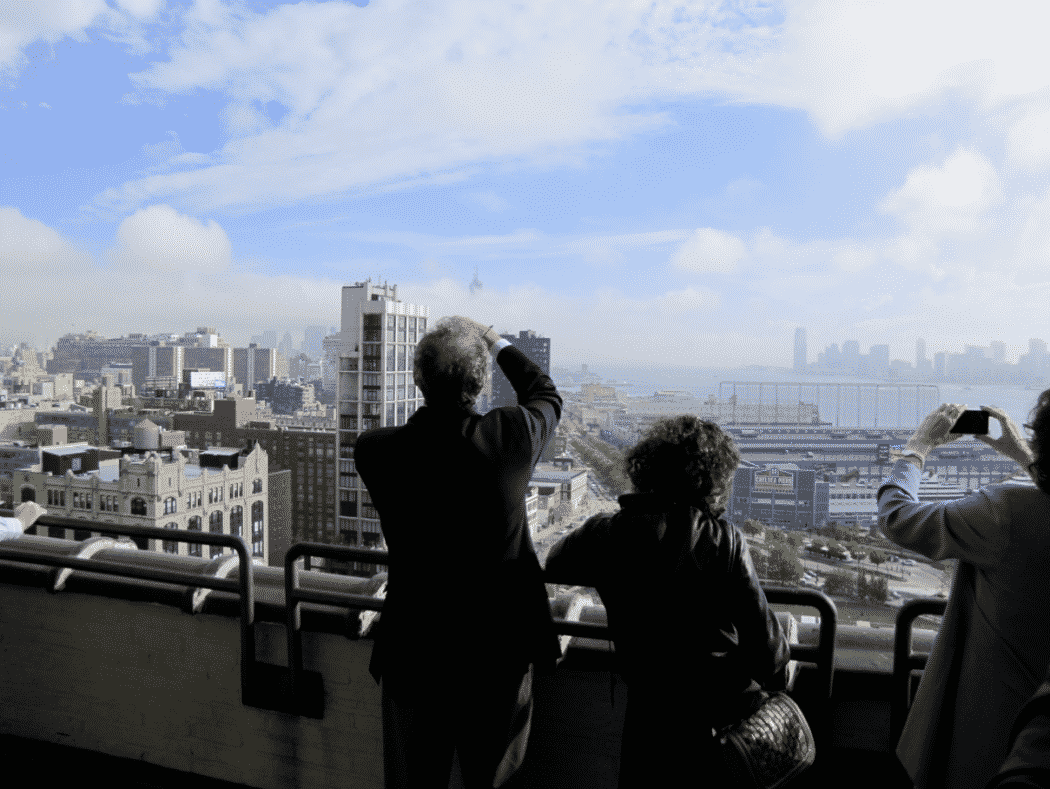 I wasn't the only one taking pictures as downtown as the buildings were covered and uncovered by a low flying cloud.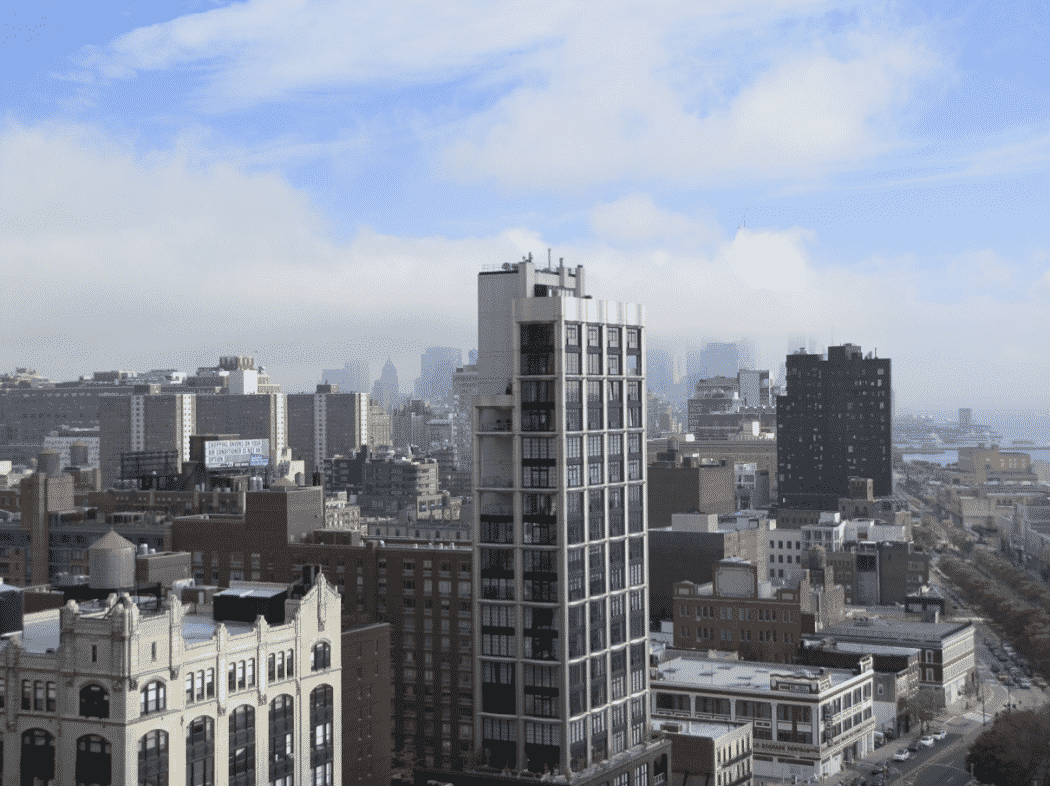 Since there aren't many tall buildings on the West side, you can see clear down to The Freedom Tower, if it wasn't so foggy down there.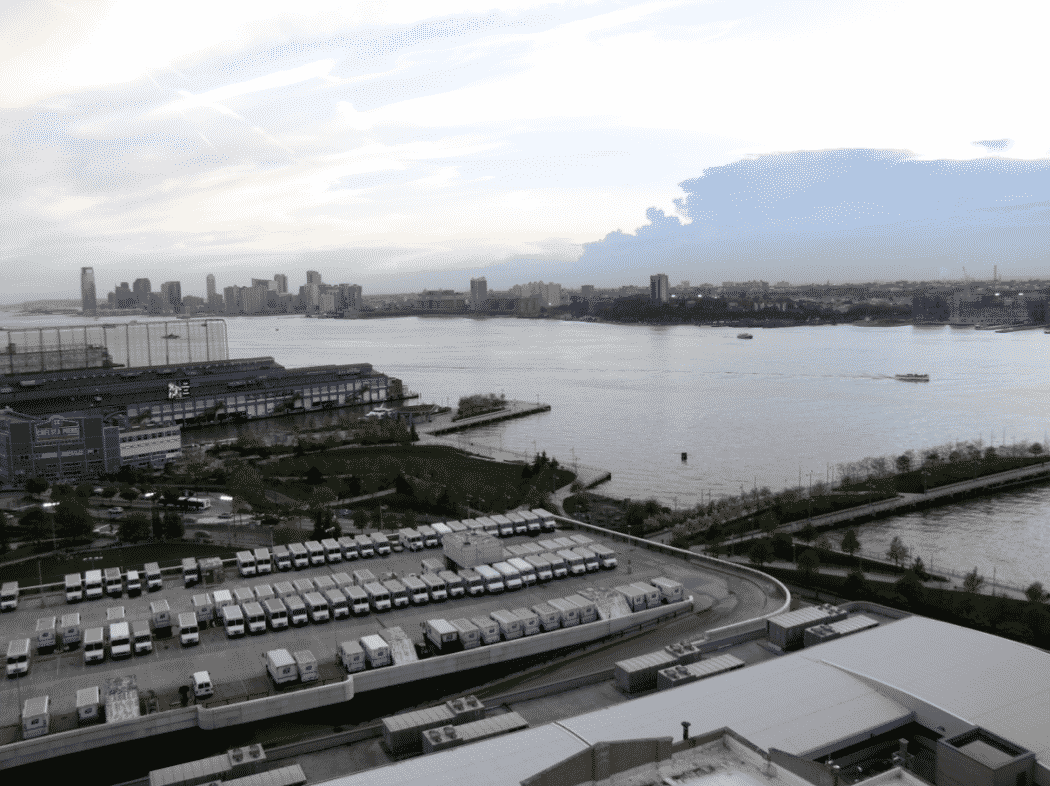 The view of Jersey isn't so bad either.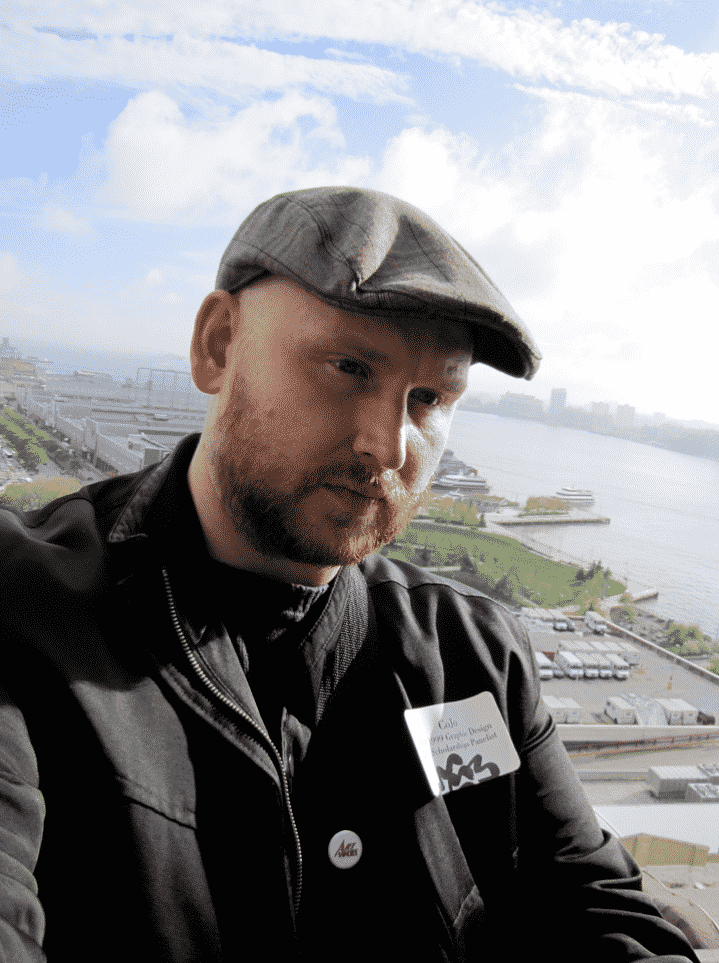 I had to grab a self portrait while I had the chance, the entire outdoor balcony soon filled with all the scholarship winners as the Alumni Society wanted to take a group photo on a ladder while the students stood on a platform in front of a brick wall.  If you have a skyline like that, why not turn the camera towards the brick wall, yeah, that's the ticket!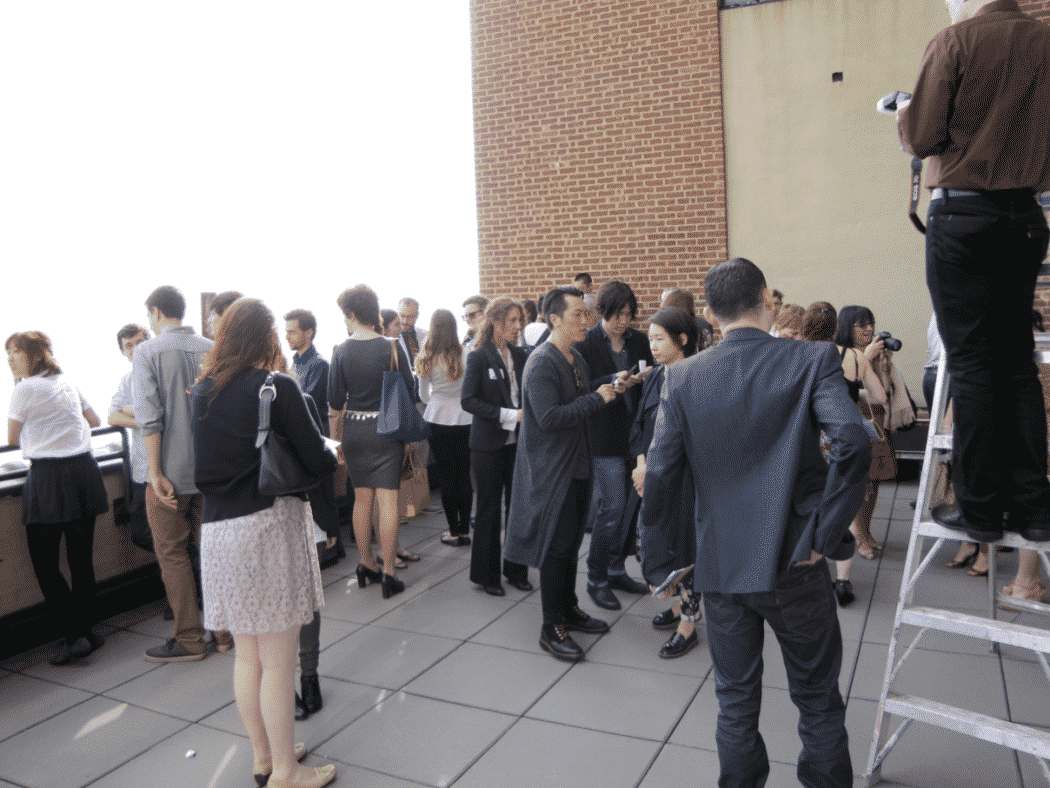 A little chaotic at first.  A woman actually came over and grabbed me saying "Good, you are tall.  That's easy, we'll put you right in the back."  To which I had to break it to her, that I had already graduated over a decade ago.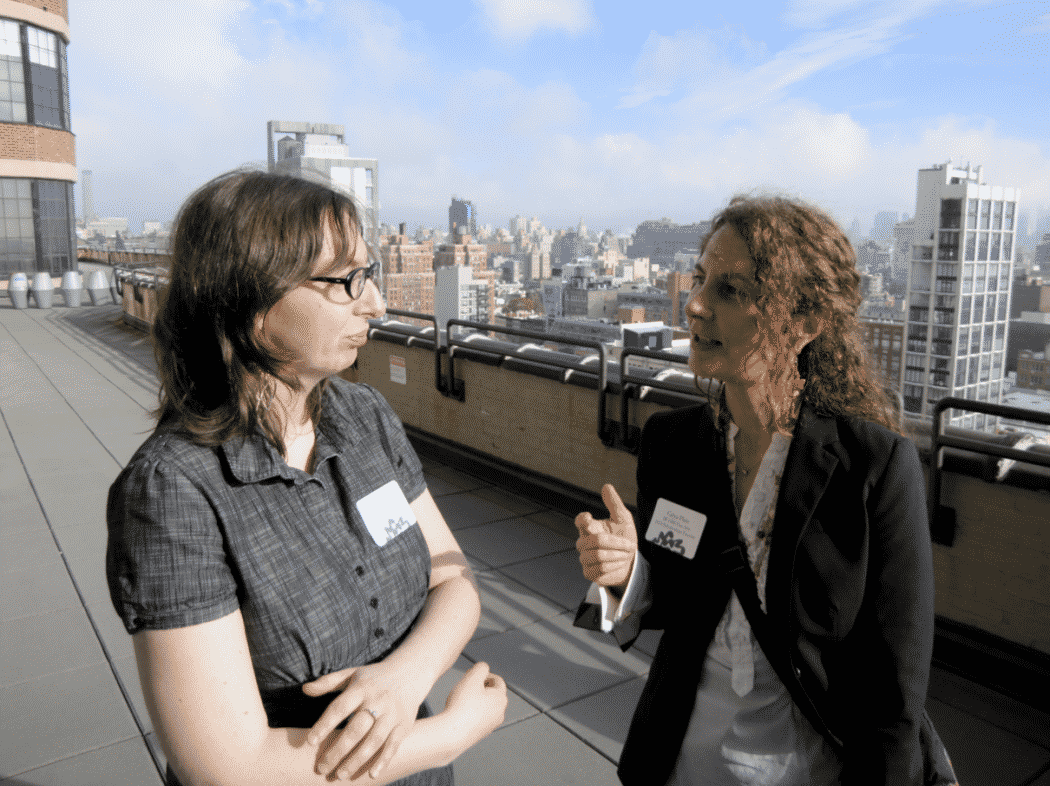 I ran into fellow alumni and panel jurors Marguerite Dabaie and Catya Plate.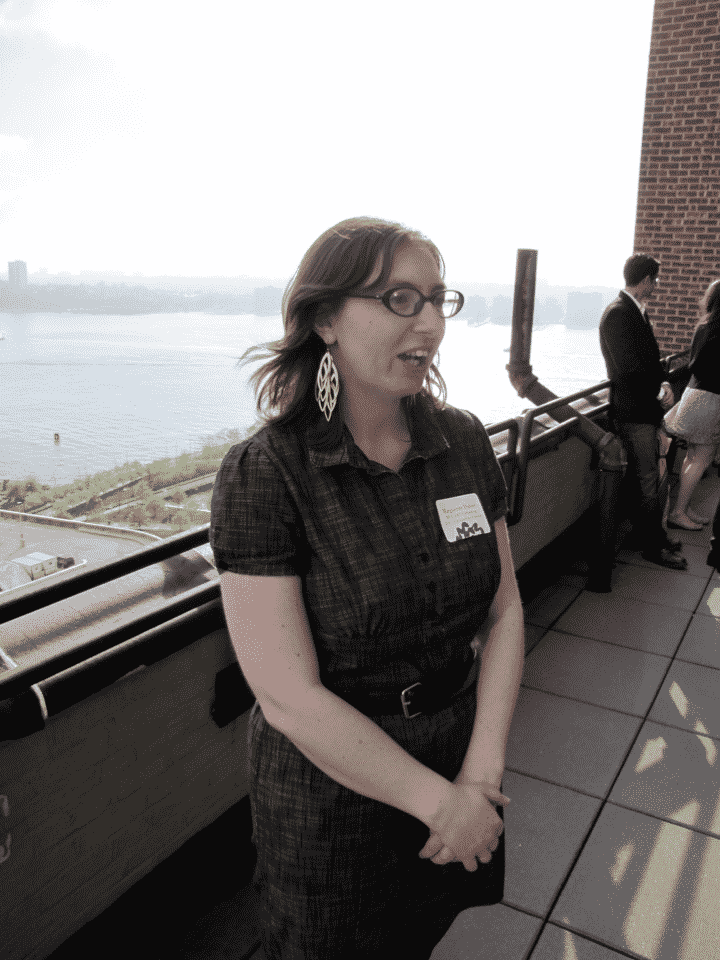 Cartoonist Marguerite Dabaie.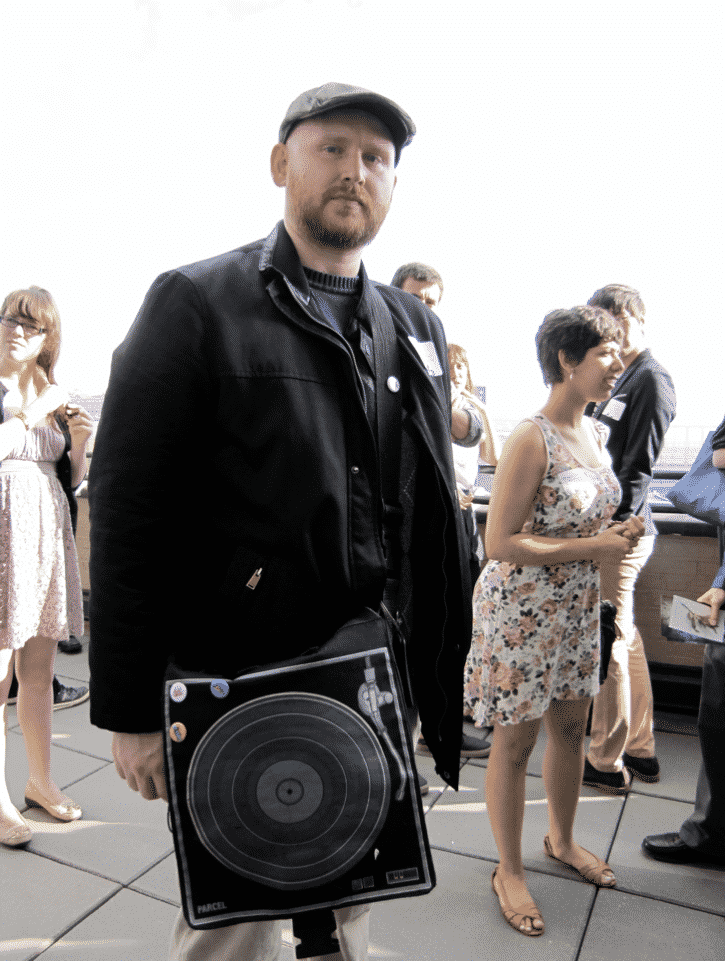 Myself, photographed by artist Catya Plate.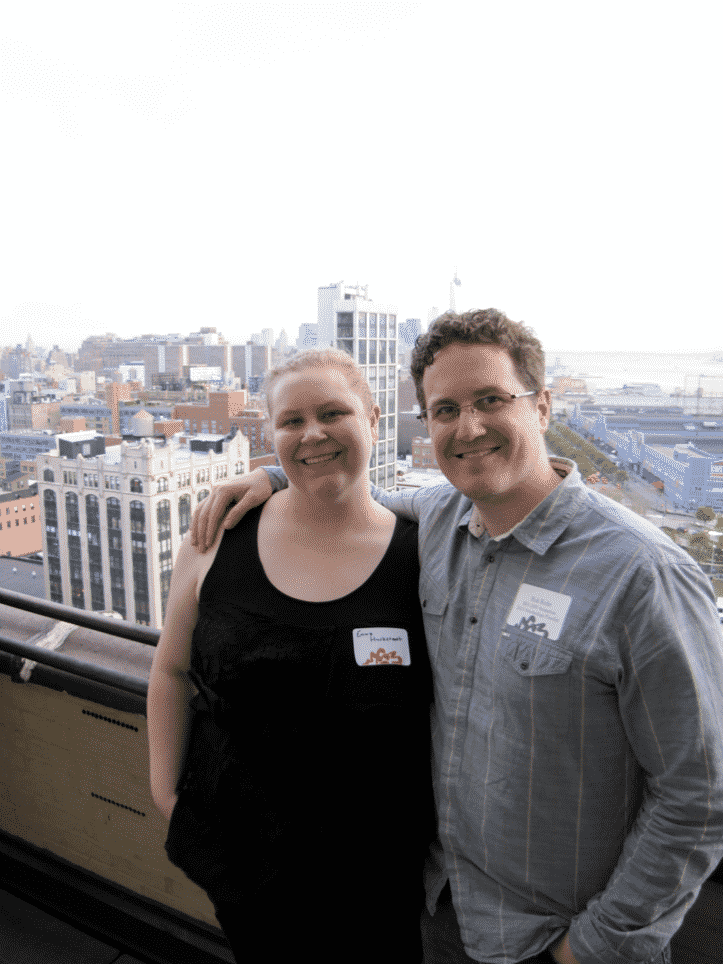 Fellow Juror, Nickelodeon animator Rob Kohr, and his sister Emma Huckstadt, who was actually one of the graduating class.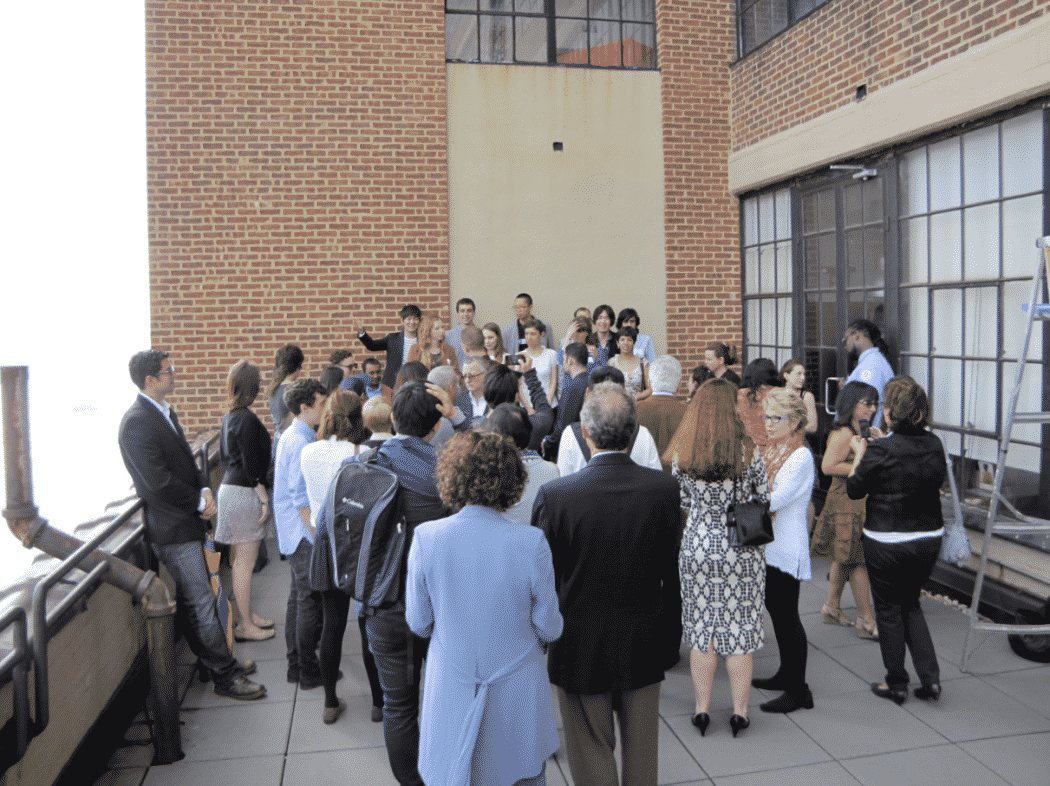 They finally started getting everyone loaded onto the riser platform.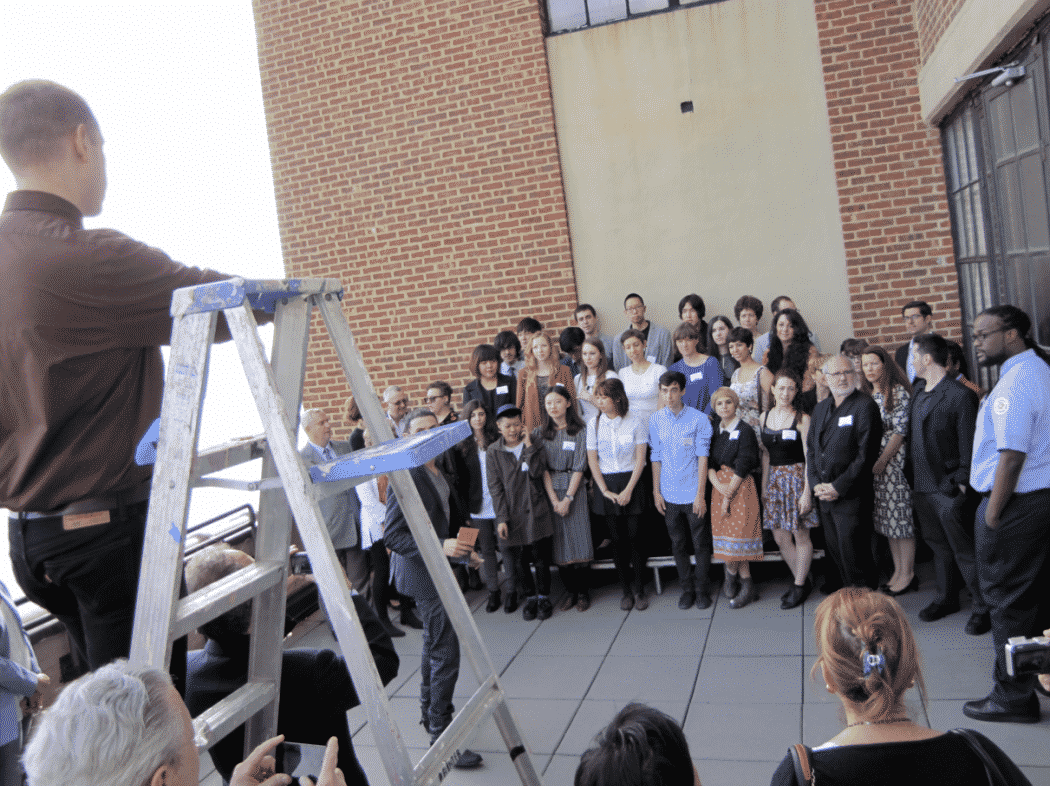 Congrats scholarship winners and congrats to the graduating class of 2013.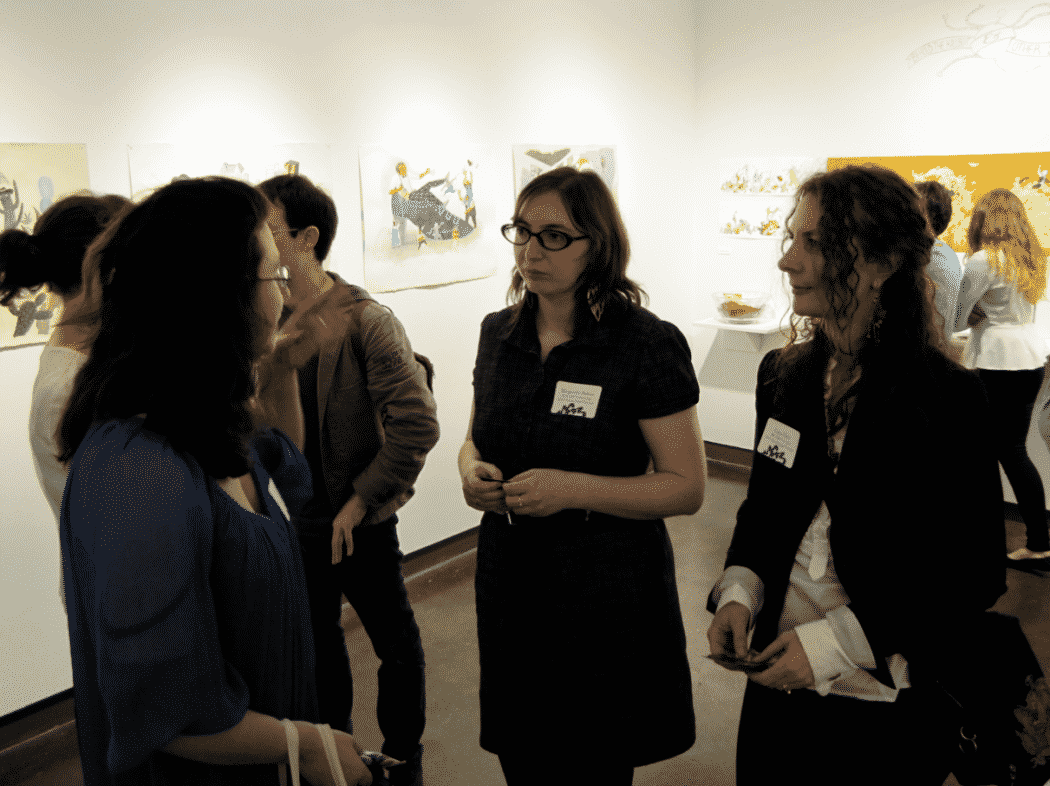 After the photo me and my fellow alumni jurors went back inside to get our drink on talk to some of the student artists whom we had awarded the money to, to see if it helped them, and if they got their projects done on time.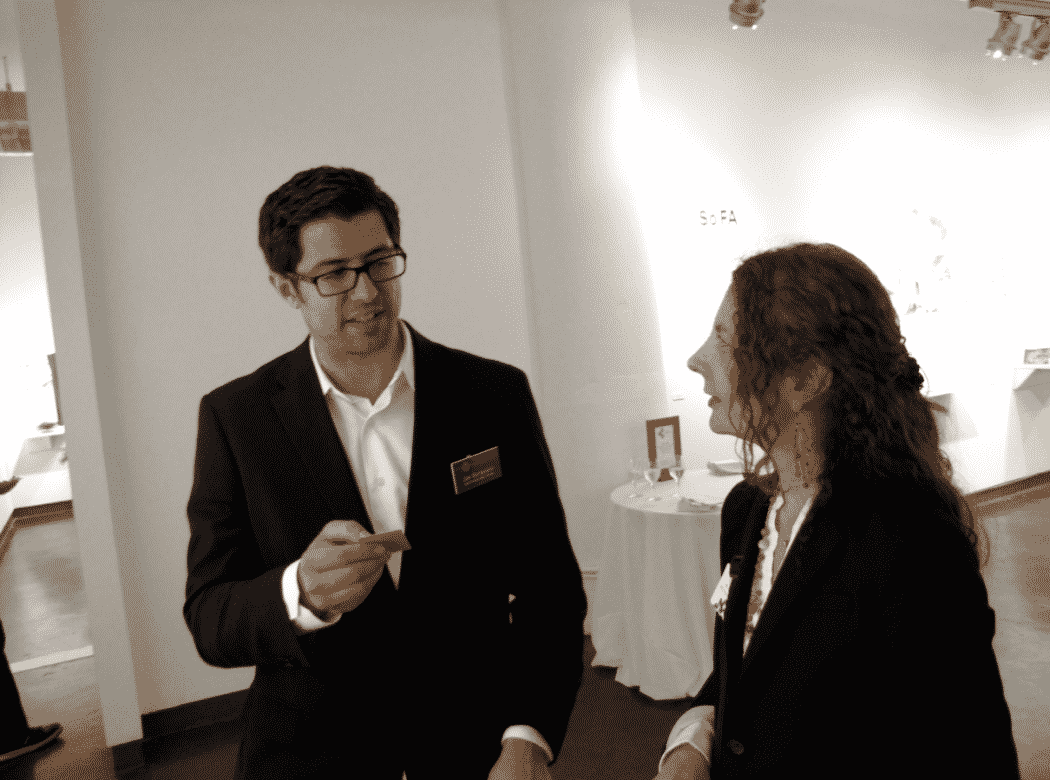 Animator and founder of Nathan Love, Joe Burriscano talks with Catya Plate.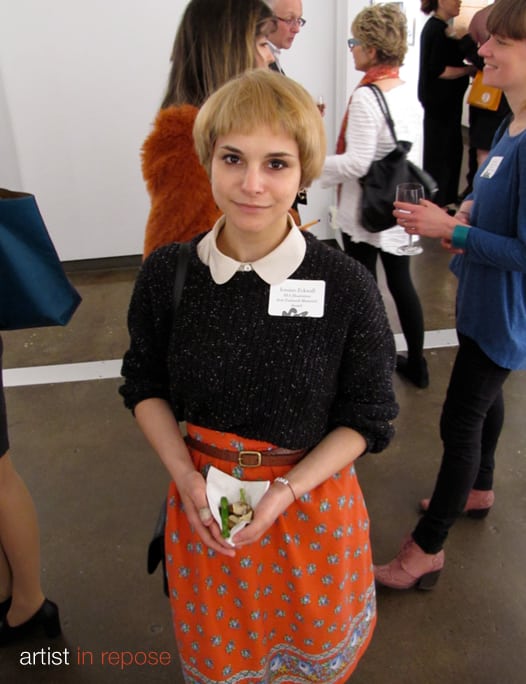 Jensine Eckwall was granted the Jack Endwelt Memorial Award.  I fought for this one because she has a beautiful traditional illustration style, and I remember that Jack was a traditionalist.
My first week at SVA as an illustration major we were being introduced to the program by Jack Endwelt, and in the Q & A portion I raised my had and asked how soon into the program we would be learning how to illustrate using the computer.  He looked kind of offended and said not until third year at least.  I switched majors to computer art that afternoon (before switching to Graphic Design a year later).  And I turned out doing mostly illustration, painting, and writing.  Wtf?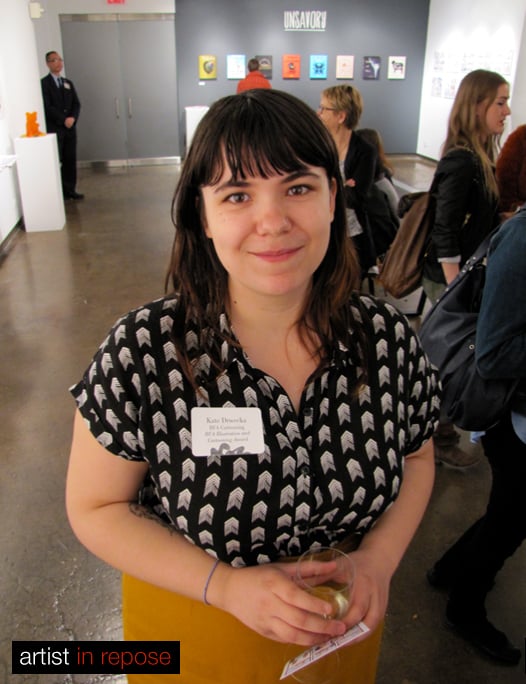 Kate Drwecka is a sequential comic book artist with a black & white comic that takes place after a wake.  Depressing stuff, but that's the stuff graphic novels are about, they aren't for kids.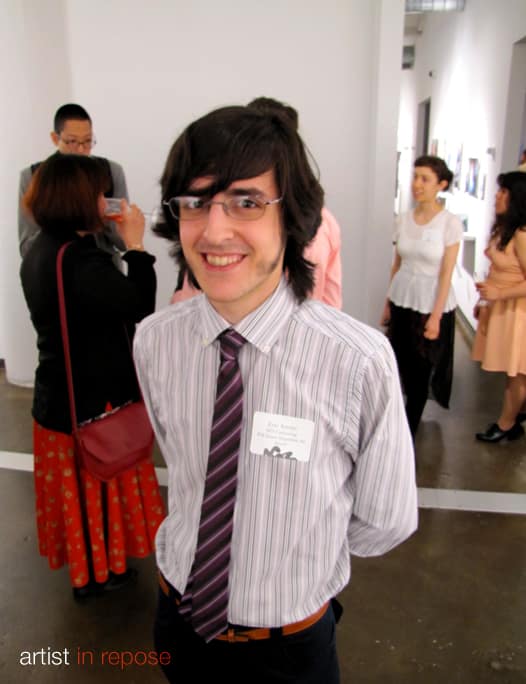 I was happy to be able to give the Will Eisner scholarship to Eric Arroyo.  His sequential comic takes place in 1970s San Francisco, if a giant robot with an Afro were fighting crime had a real interesting use of angles and framing.  Stuff Eisner would have enjoyed.
I spoke with him about referencing San Francisco in the 70s.  He said he's taken trips there, as well as researched photos of the city in that time period, as well as intensely researching Google street view to see how the city is laid out block by block (why didn't that exist when I was in school?).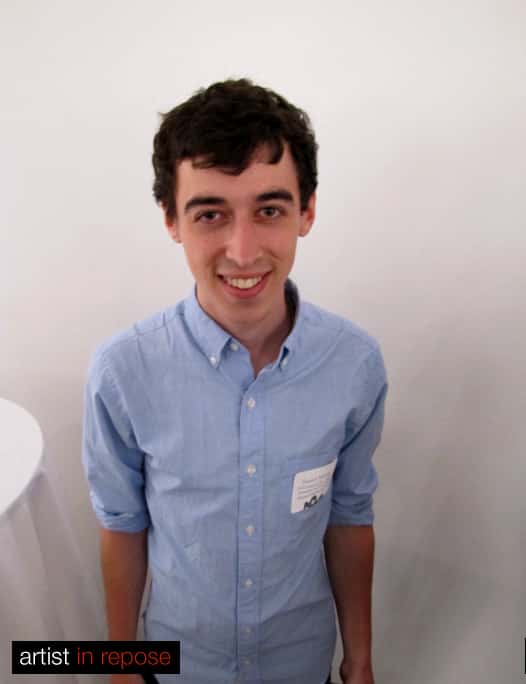 Daniel Solomon is an animator who we helped fund his thesis animation titled "Lightning Larry."
Here is his finished animation.  Eventually I will have samples of everyone's work in this article, and links to their work, but I wanted to get this up ASAP.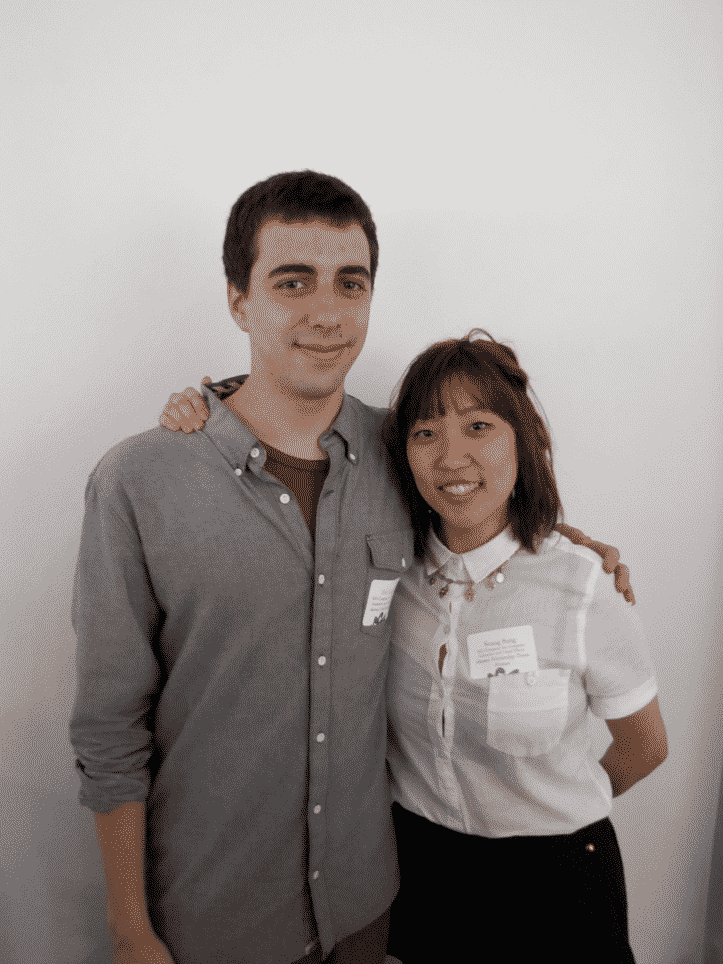 The animation team of Eric Cunha and Seung Sung.  They were working on a 3D animation called "Marcel."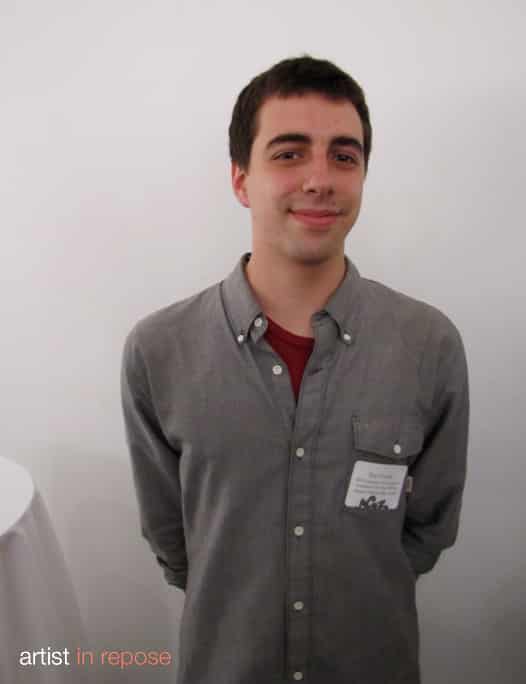 It was my favorite of the 3D animated films, and I could tell from the earliest stage that it was going to be killer.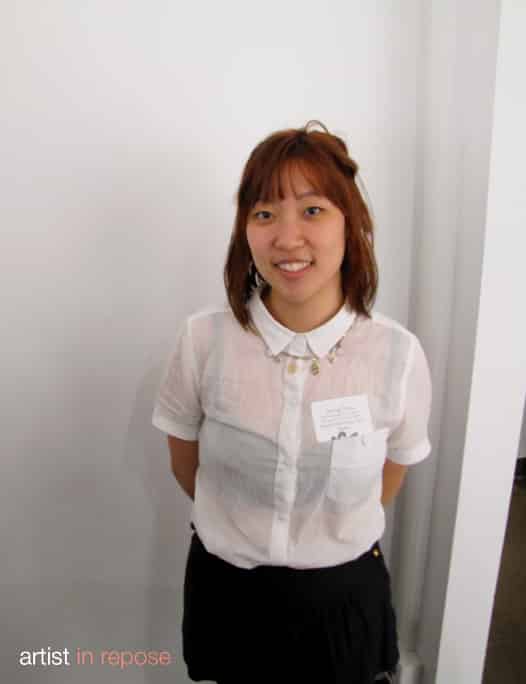 The colors, character design, fluidity of movement, and the story were all great.  I can't wait to see and post the finished product.  This was the only animation I actually had my girlfriend come into the room to watch, and it got audible laughs even in the rough form.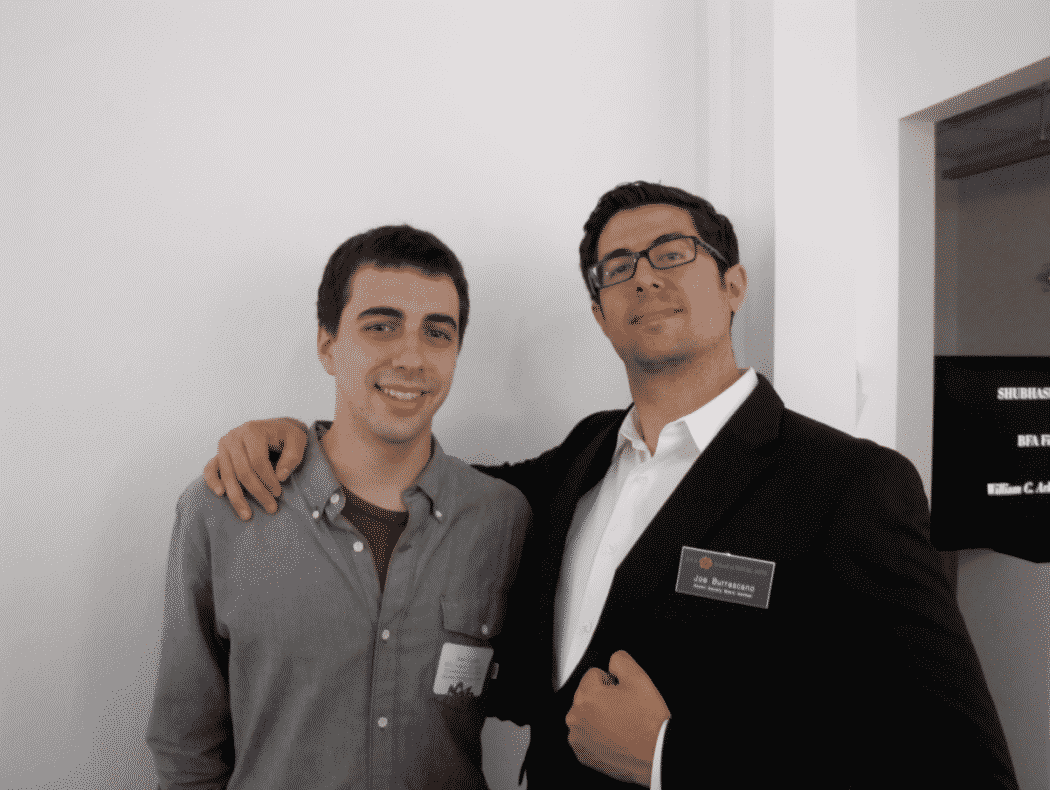 Joe Burrascano was their professor and you can tell (even though he's posing mockingly) that he's proud of them.  When I asked Eric Cunha if he ha business card Joe quickly said, "I don't want them to have business cards, I don't want someone else to try to steal them!"  He actually hired both Eric and Seung to work at Nathan Love.  Not bad at all.  Full disclosure, Joe was a year behind me in school and he actually modeled for me for an illustration project my senior year.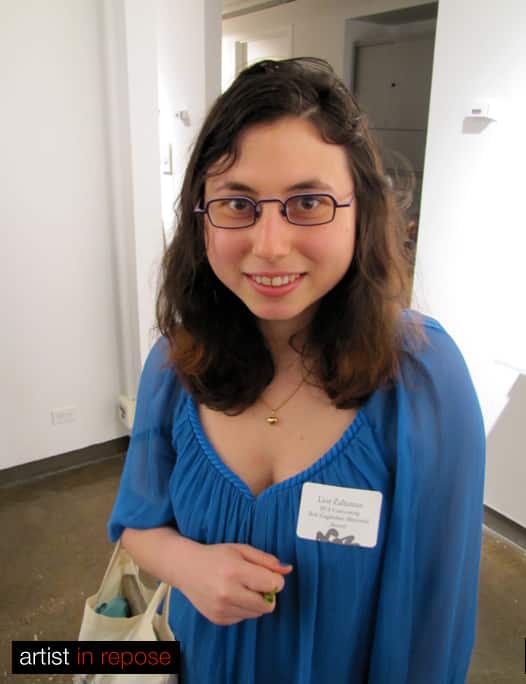 Lior Zaltzman another sequential artist working on a graphic novel.  She didn't get it finished by the end of the semester because she got hit by a car a few weeks before the deadline. "No excuse, I want you drawing during your bed rest!" I said jokingly.  She actually was so thankful about the scholarship that he said she is going to have to mail us copies of the book when she gets it finished.
Lily Padula is an illustrator with a line art style who is now using the money we awarded her to make copies of her finished portfolio to be able to shop it around to potential editorial clients. I gave her some sage advice about the process.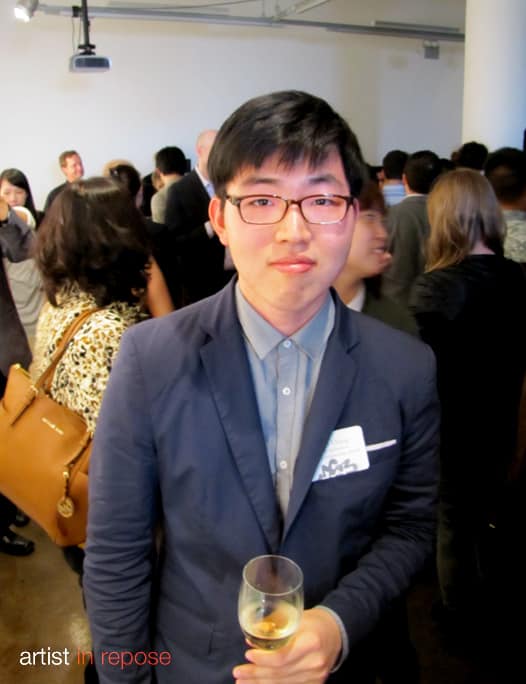 Minje Chung was working on a really cool traditional line drawn animation.  Unlike the other animators he was a one man team.  His drawings were really good and the animation was super fluid.  His angles looked killer too.  He didn't get it finished in time for the Dusty Awards.
After meeting the people we had given scholarships to, the doors opened to honor students.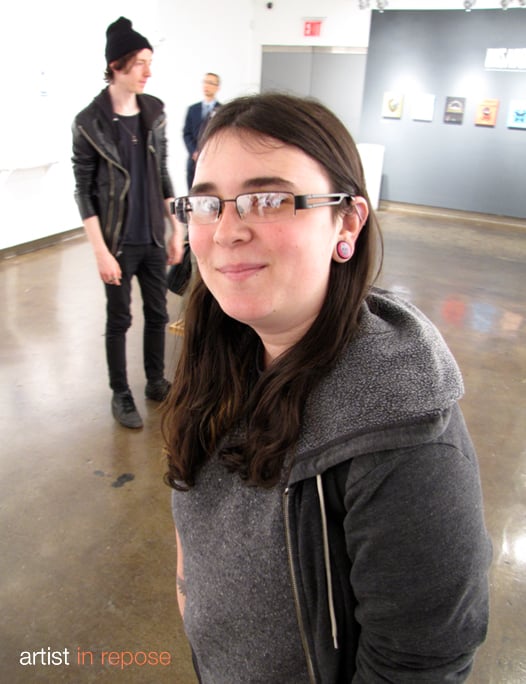 Loren Parisella is a traditional photographer who still shoots on film, and only in black and white.  She documented her house for her final thesis.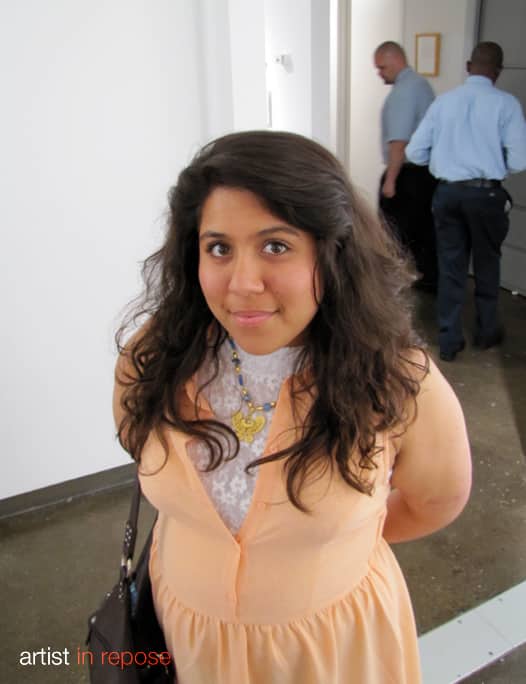 Estefany Molina is another photographer who is working on a long project.  For years she has been documenting the elderly couple she lives with who are holocaust survivors who are now very old and beginning to expire.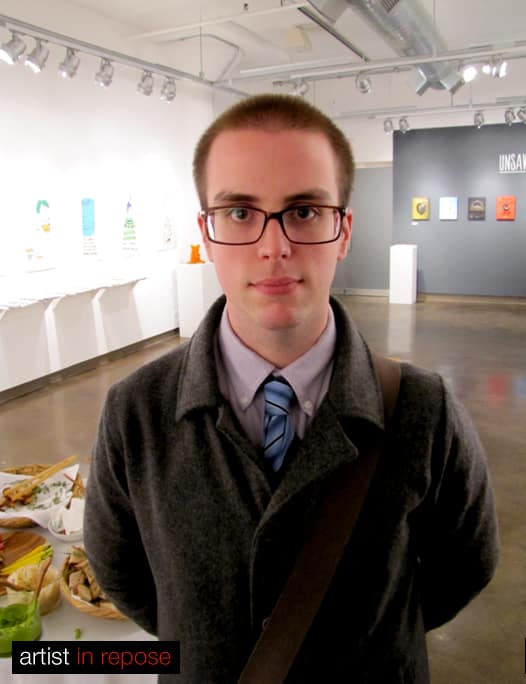 Christian Wilbur is another photographer who is just now entering the real world  photography arena.  I do not envy any of these kids.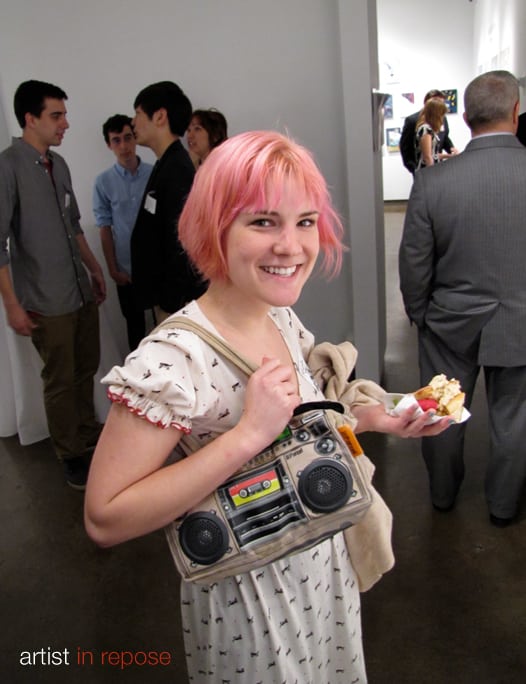 Artist Kristin Kemper is smiling like that because I just told her that she is wearing one of the Parcel bags I designed.  I still see them on people from time to time.  She said she has two of them, this on has working speakers and her sister got it for her at the Virgin Megastore.  Another picture to add to the RANDOM PARCEL SIGHTINGS TUMBLR.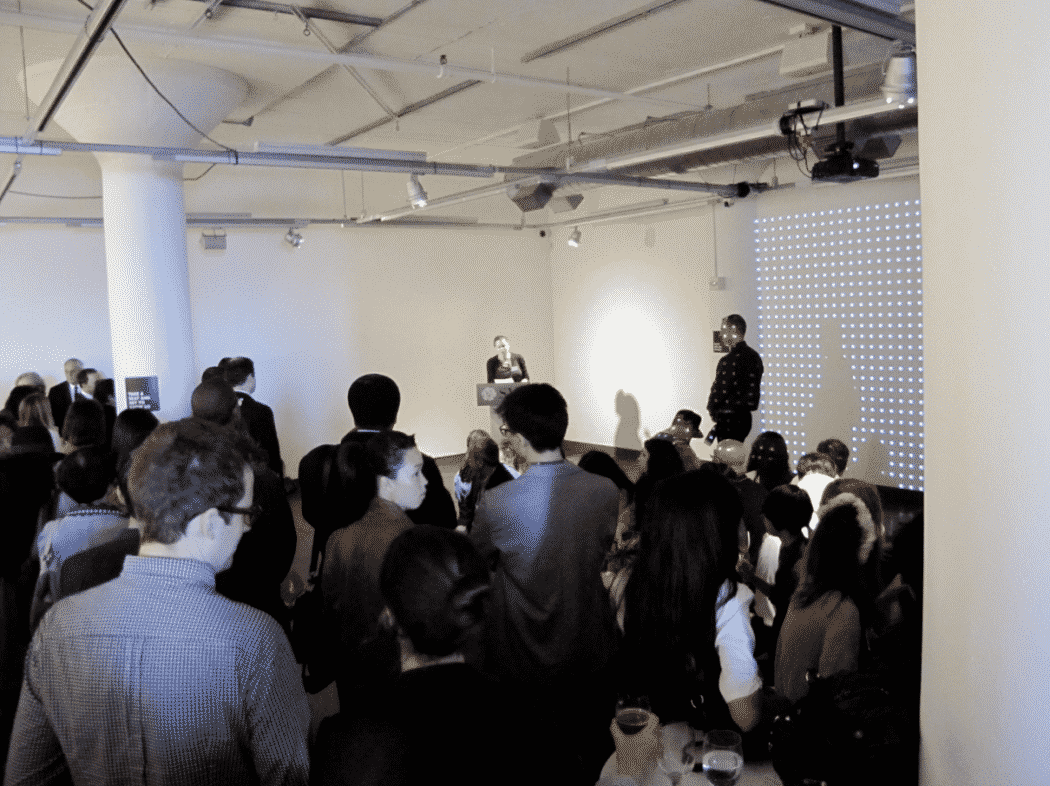 And now to introduce the president of SVA, David Rhodes for a few brief remarks.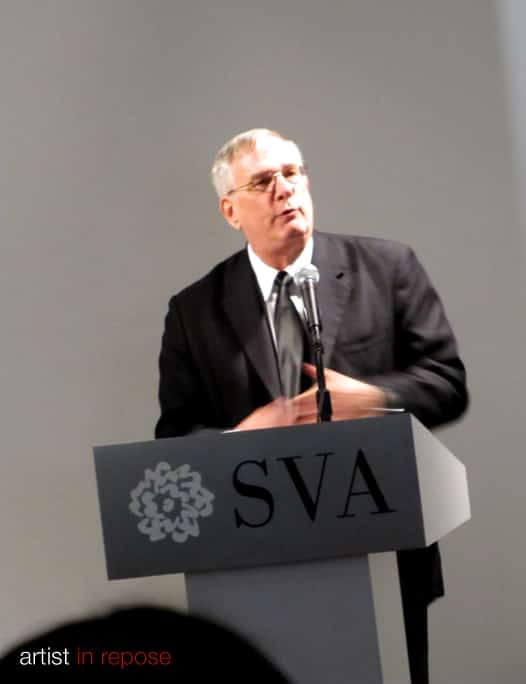 School of Visual Arts President David Rhodes took the podium.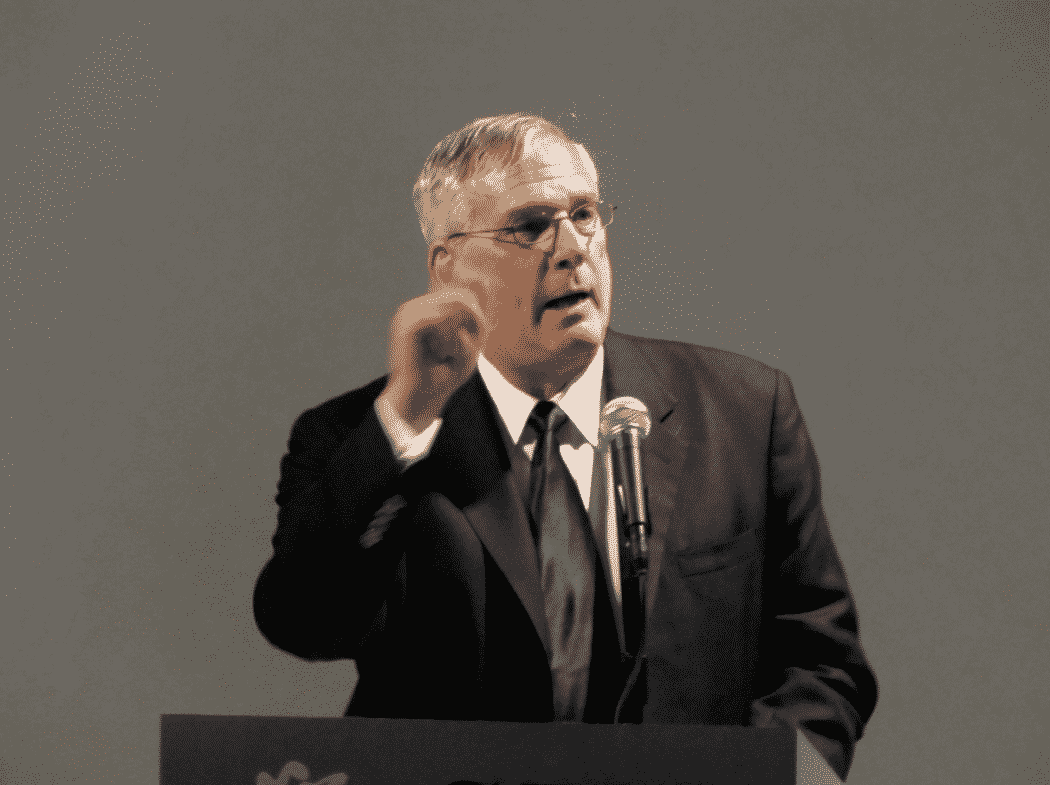 He talked for less than five minutes.  To which the kids around me murmured to each other "That's it?"  and "so…that's why we came here, sooo I guess we can leave?"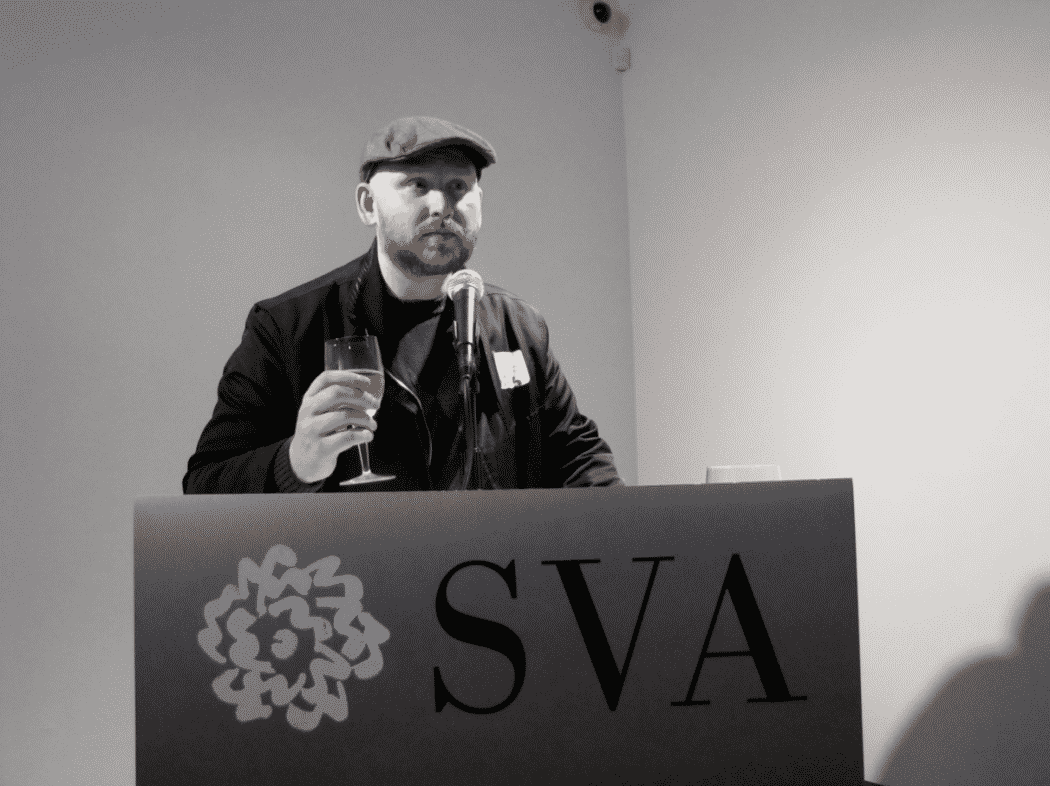 Being pretty fucked up at this point, I wasn't going to let those little a-holes get away with that shit.  I rushed the podium the second Mr. Rhodes left the stage, almost bumping him into the photographers in the process.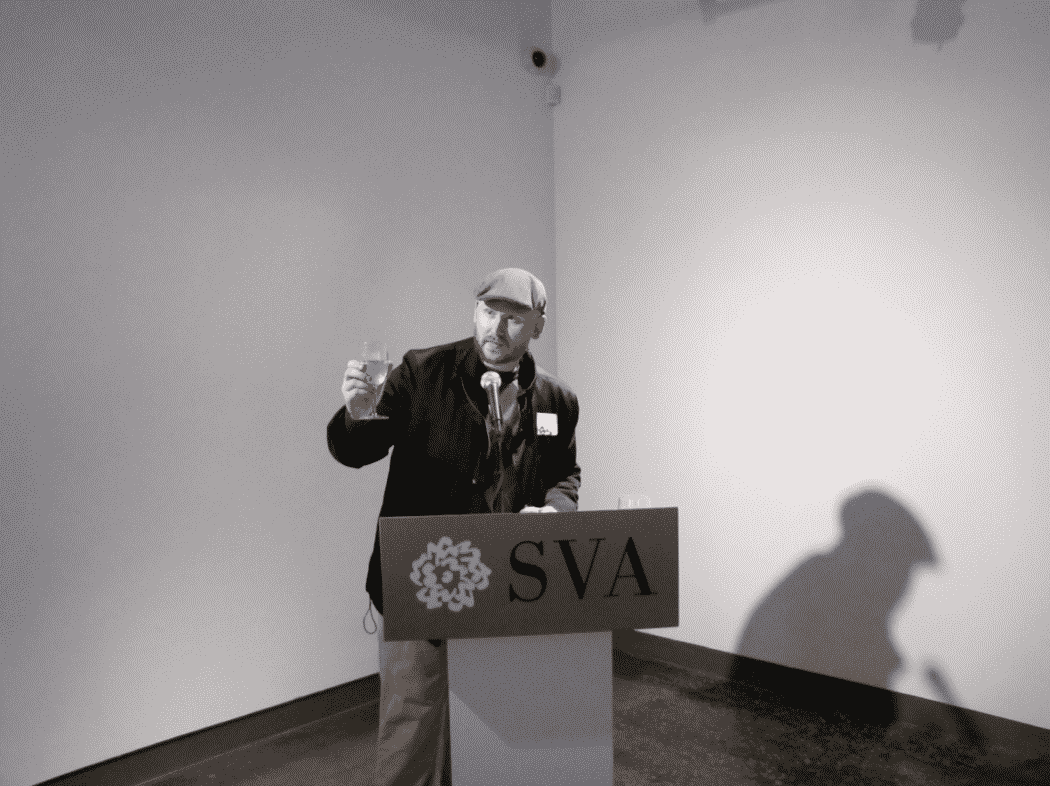 I made a toast to the class of 2013, "Except for the little pricks who talked shit about David Rhodes' 'brevity.'"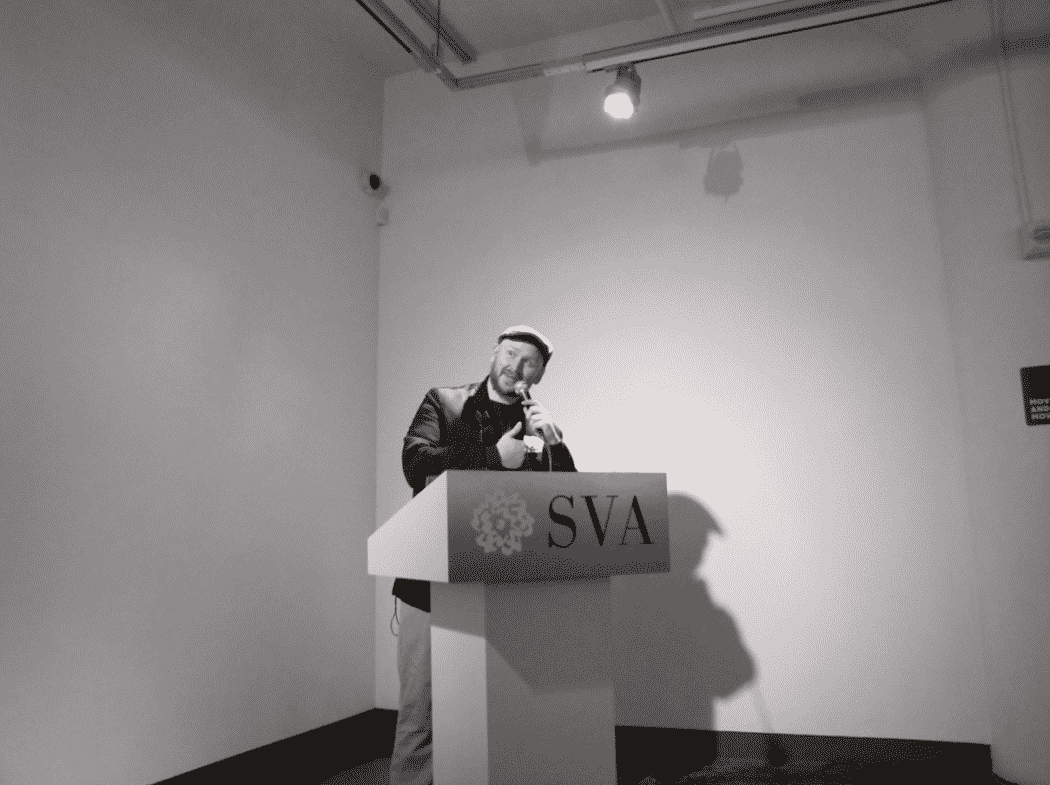 Taking the microphone off the stand, I launched into a few anecdotes. "Can we talk candidly here, we are among friends. Today you are students, tomorrow you will be like me, alumni…Or is it an alumnis?  I'm a little smashed, can you hear me in the back?"
" I remember graduation day, you are excited, you drink a few too many coffees the night before, you can't sleep."
"I highly recommend not to drink ANY coffee or ANYTHING with laxative properties tonight or tomorrow morning.  Tempting I know, but you don't want to 'SHART' those rented robes up, you know what I'm sayin'?  Also, when you get to Radio City Music Hall be sure to keep your grubby mitts off of the Rockettes.  Those are ladies, they are classy.  Something you would know very little about.  I'm' talking to you 'soooo I guess we can leave' douche.  You like this bullshit?!  I can fillibuster you assholes all night, NOBODY LEAVES, NOBODY GRADUATES!"
"THIS IS FOR PRESIDENT RHODES!"
"SAN DIMAS HIGH SCHOOL FOOTBALL RULES!"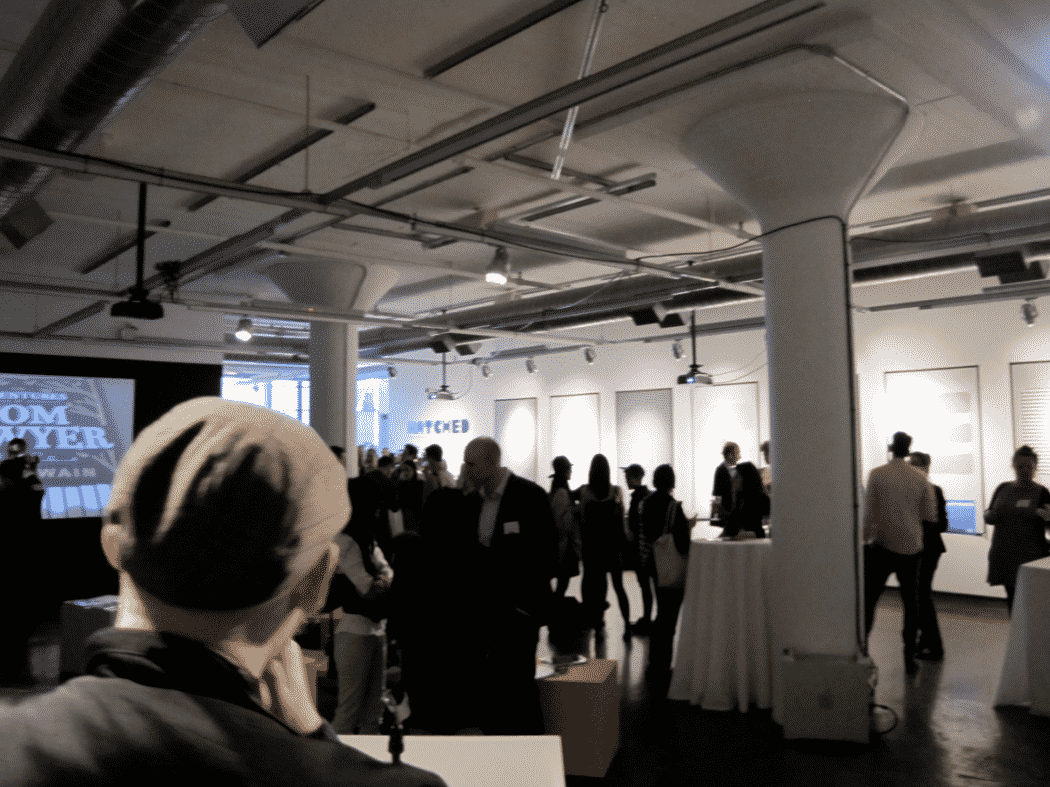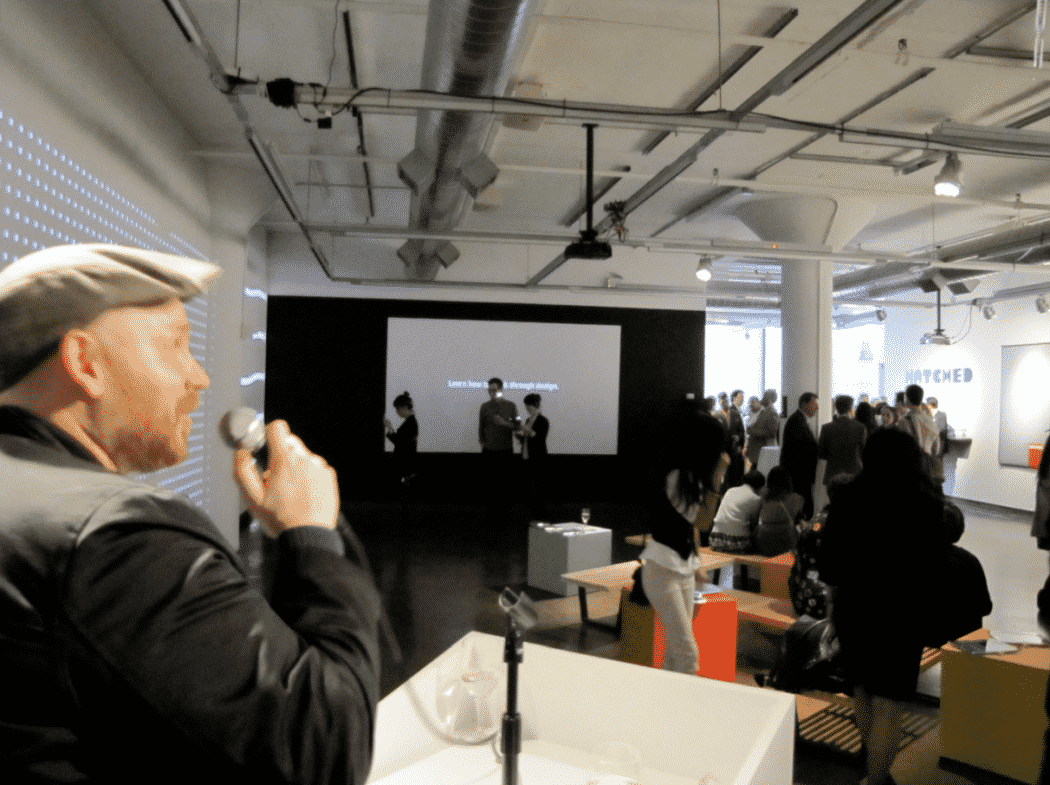 I'm just kidding of course,  none of that really happened, as you can tell from the last two shots, the mic wasn't on, and we were just fucking around with these pictures at the end of the night.  Photos by Joe Burriscano upon my drunken insistence that it would be funny.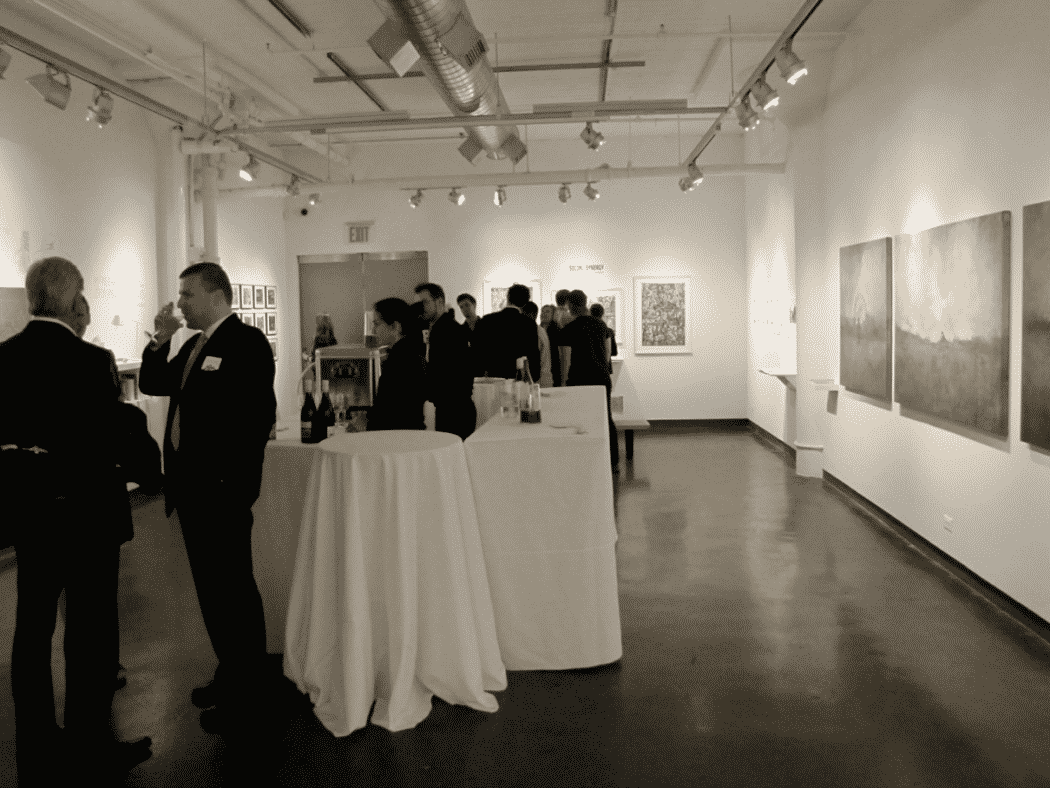 As the party started to wrap up, and the place started to clear out I walked around the galleries and got a few pictures of the MFA artwork on the walls.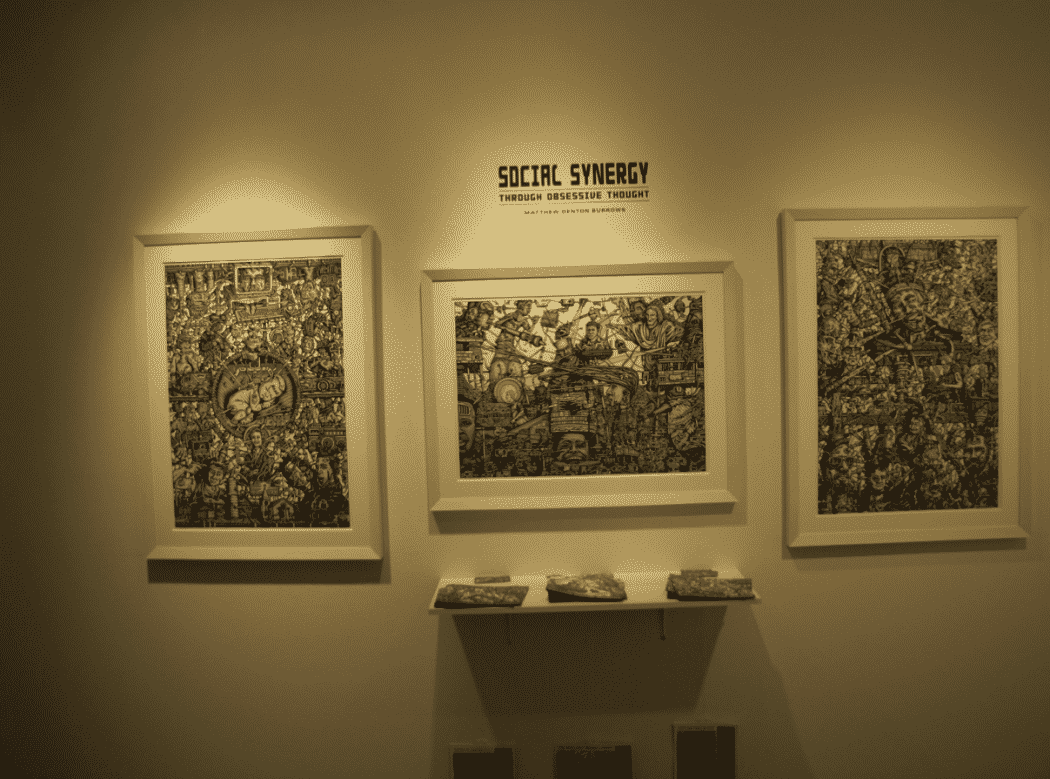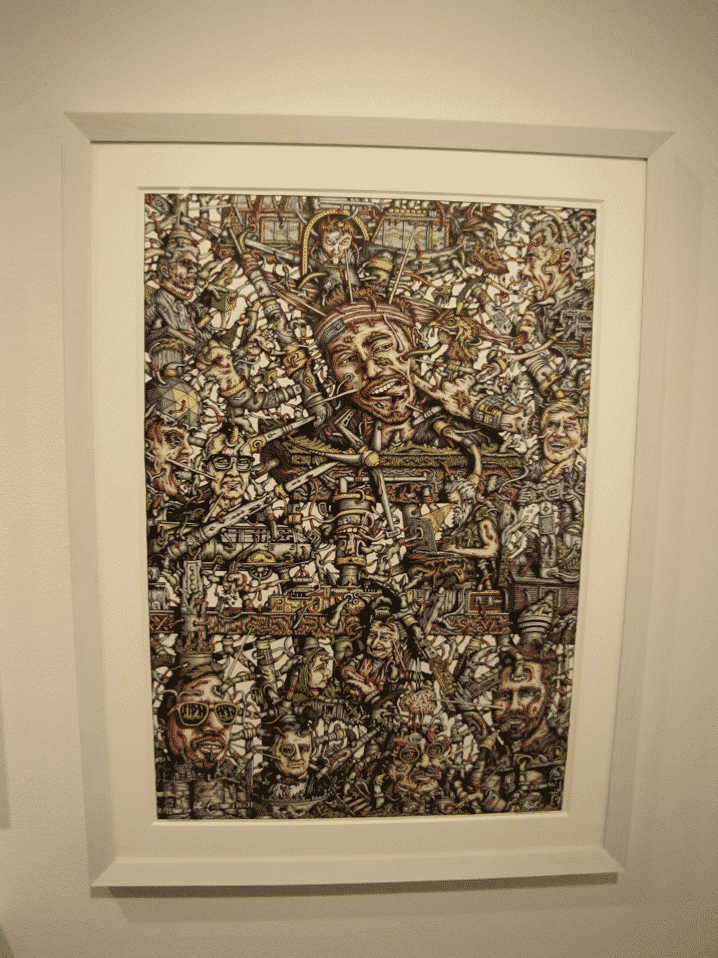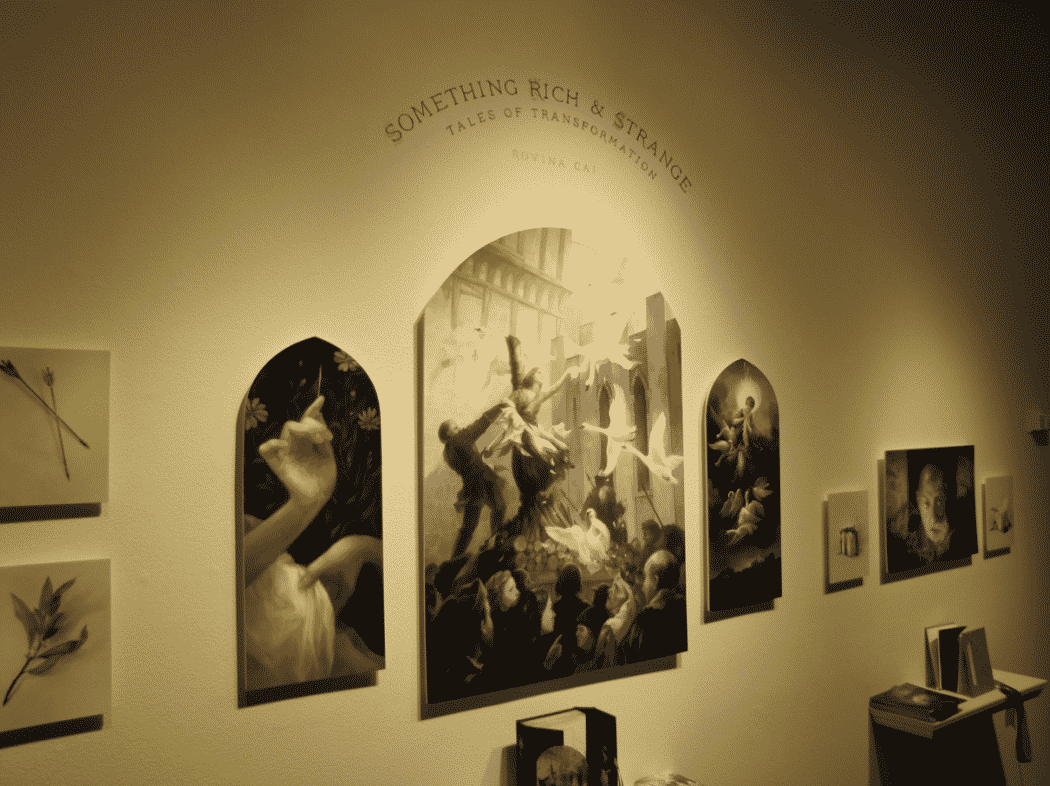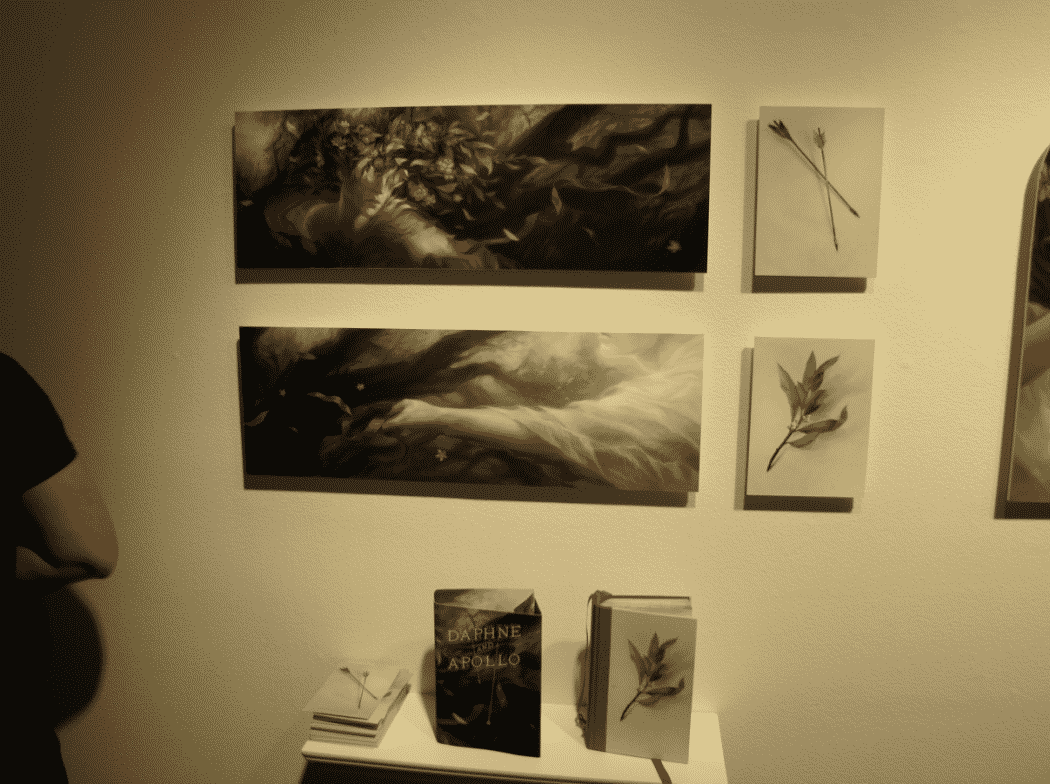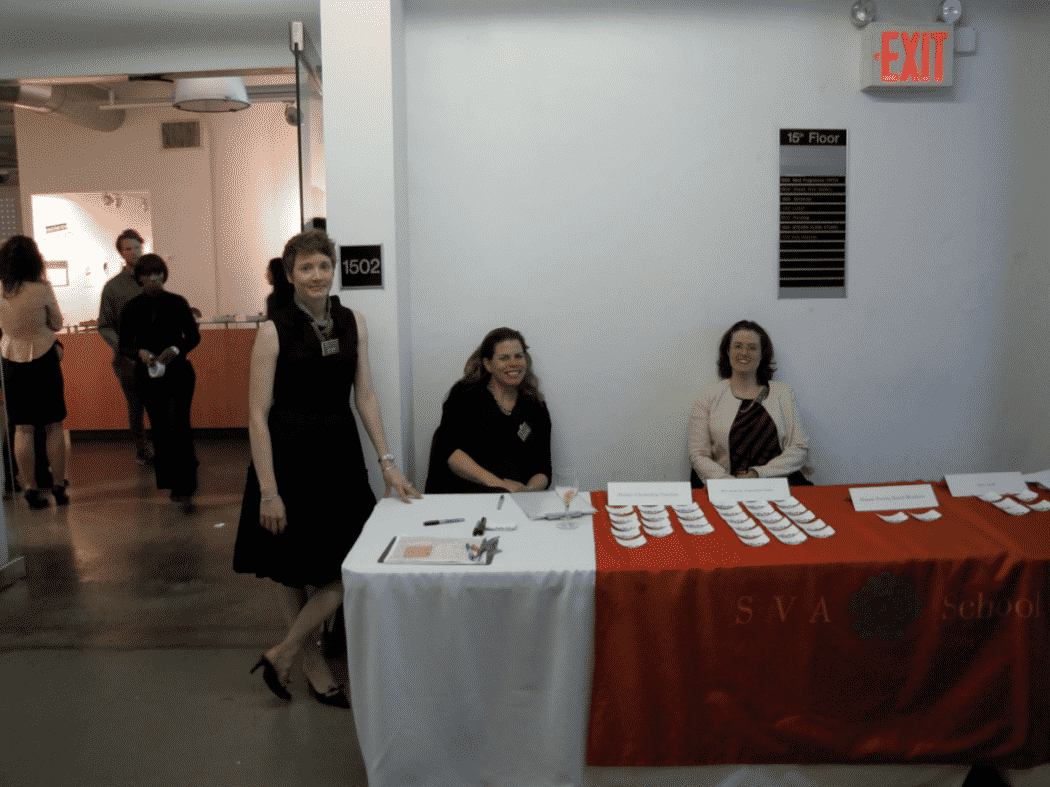 A final shot of the SVA Office Of Alumni Affairs at the front check-in table as the elevator doors closed, and I was off into the night.
Written by Cojo "Art Juggernaut"