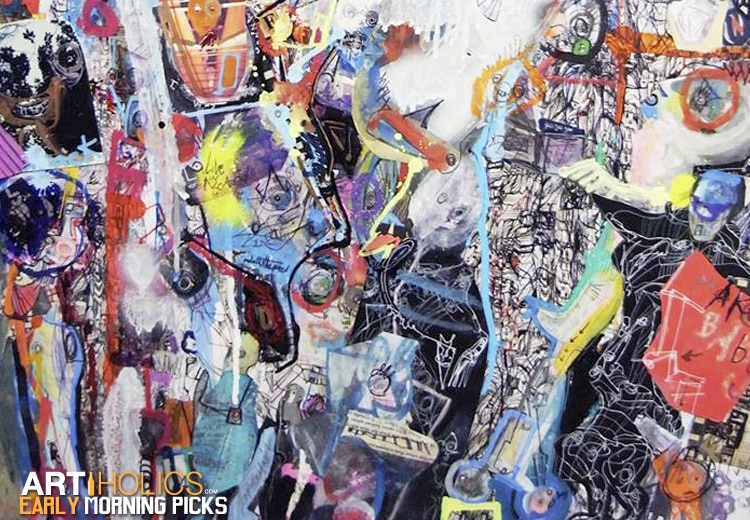 Michael Alan's fourth exhibition at Klemens Gasser & Tanja Grunert Gallery at 33 Orchard Street (NYC) from Sunday, January 12th through Sunday, February 23rd.
The opening will be from 6pm to 8pm on Sunday, January 12th
Michael Alan
The Energy Reader
The paper, the canvas, fabric, whatever media the artist chooses to focus on becomes the energy reader. Knowing or not knowing going into the work, he or she, the artist, is capturing energy, let it be emotional, observational, global, or by the forces that be it is transferred into the piece contained and ready for reading. Just as "Mechanical Mechanisms" that exist within our society read the frequencies of our existence. The paper or canvas is the litmus test.
People identify, don't identify or want to identify with art. Consciously or subconsciously they are reading energy. How much? Which kind? The energy is in the work to be shared and to express everything or nothing. The artist could talk about color or concept or feeling but what people are truly engaging is the energy of the work. The strength that makes work begin is energy.
Our time is moving fast, everything is changing at rapid speeds, the emotional read of the universe is off the charts. Our culture is not defined, our leaders are lacking. Our time is now.
For Michael Alan, art is a combination of harmonious opposites, close observation, catharsis, a means of communication and a radical juxtaposition of dimensional elements. He challenges everything: figurative concepts, compositions, media and movements, including his own. Exploring the ambiguity of time and history, Alan's work focuses on crossbreeding and the relationship between destruction and creation.
Michael Alan was born in New York in 1977. His work has been featured in 7 New York solo and over 200 group exhibitions. His work has been discussed in over 200 publications, books and media sources, including The New York Times, The Huffington Post, Bomb Magazine, Art 21, Marie Claire Italia, Art+Auction, The New York Post, Fox Channel 5, The Village Voice, Time Out New York, and Hyperallergic among others.
In addition to his work as a multimedia artist, Alan is the founder and director of The Living Installation, where human beings are transformed into unique, living art objects.
—
Art Art Art +Activism + Productivity x 10000000000000zillion
Michael Alan Alien
www.michaelalanart.com