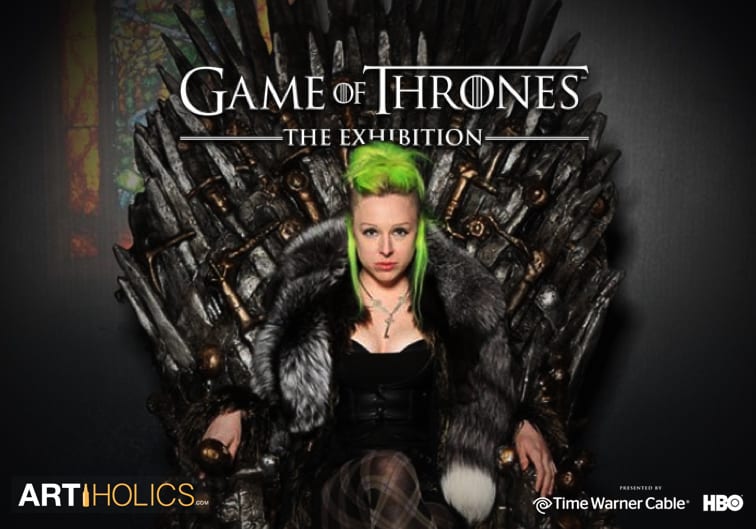 New York, NY- Wednesday, April 3, 2013
HBO has a stick up their ass in the shape of a dragon, and they really want you to know about it.  If you've seen The History Channel's Vikings, and thought to yourself "This feels like Game of Thrones, but without magic or dragons", or if you've seen The Hobbit, and thought to yourself "Hey, this was a small book, I should be seeing some dragons by now!"  But the only dragon you've seen thus far is Peter Jackson draggin' his ass to get Smaug some screen time.  Your wait is over, HBO assures you, this season on Game of Thrones they are going to deliver you what you have been missing, some muthafuckin' dragons.
The first Adverts I saw for the new season of Game of Thrones popped up in the subway stations a month ago.  They reminded me of something I saw in a previous HBO ad buy, maybe for The Sopranos, or one of the other big properties of yesteryear, so I didn't really give it a second look.  The posters looked like this- and they bought out ENTIRE subway stops of wall space with just these posters.
It wasn't until I happened to walk past this giant billboard by NYC's Port Authority that I had to stop in my tracks.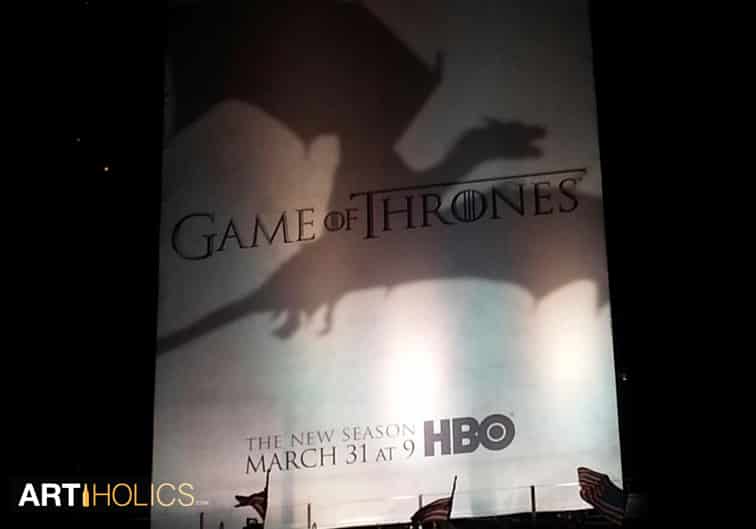 It was at night and I figured that they must have brilliantly rigged a bat-signal style shield over the spotlight to create the shadow of a dragon which I assumed would only be visible at night.  But this might not even be the case, because the dragon shadows were starting to pop-up in daylight hours.
On the side of the HBO building in California.
Across two pages of the New York Times.
It wasn't until my friends on facebook started posting pictures of themselves sitting in the Throne itself that I truly understood how much HBO was pushing all in.  It seems HBO and Time Warner Cable has a free traveling Game of Thrones Exhibition, which launched last Wednesday with appearances by Jon Snow, Sansa and Arya Stark.  It is currently still in NYC until April 3 (Today!).  It is free and open to the public, if you don't mind a 3+ hour line.
My friend and fellow artist Antoinette Johnson (who you see in the photo at the top of this article) attended the Exhibit on Easter Sunday, the day of the season premier, and took a bunch of photos.  I caught up with her last night online to get the scoop.  The rest of the photos were taken by Antoinette Johnson.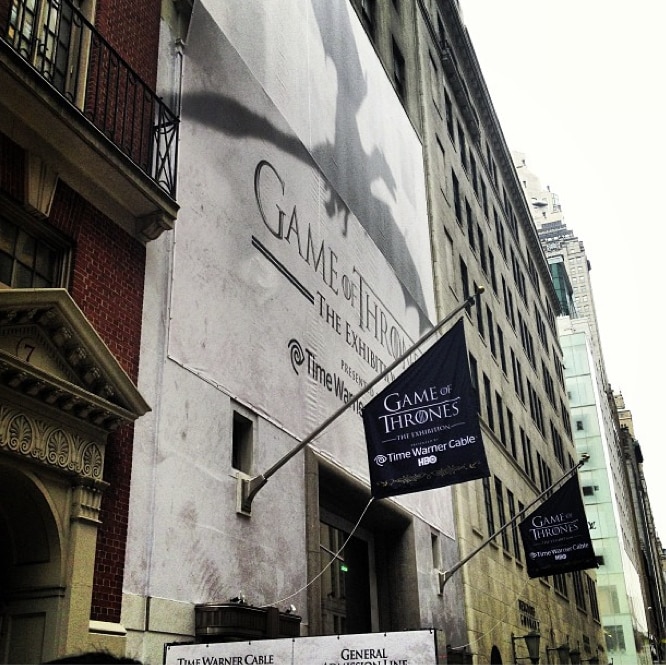 "We were in line for about 3 hours, but the people in line were really cool."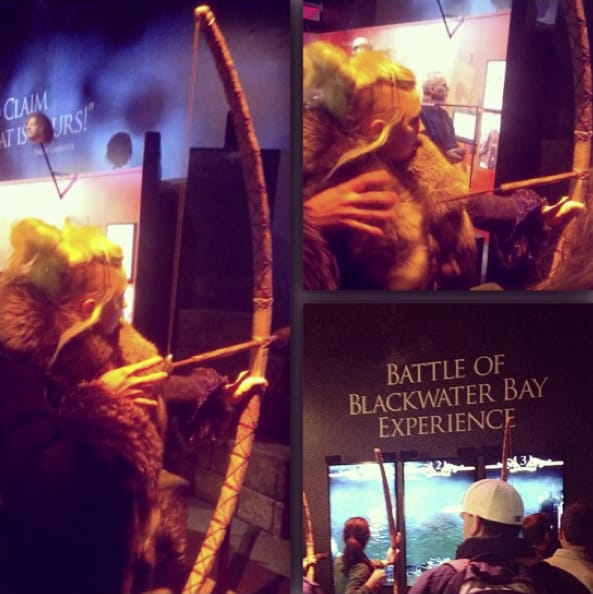 "Blackwater experience was like a updated yet medieval version of Duck Hunt…..and I'm a big fan of Duck Hunt :)"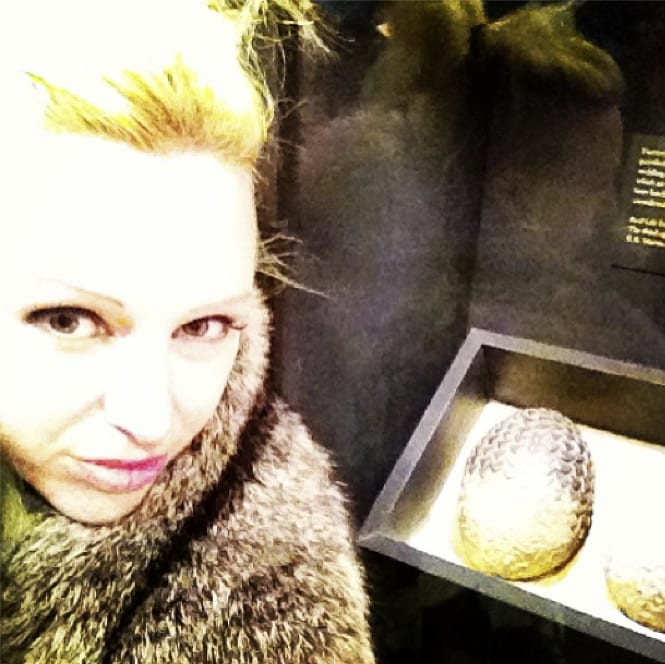 "Dragon eggs!! Happy Easter!"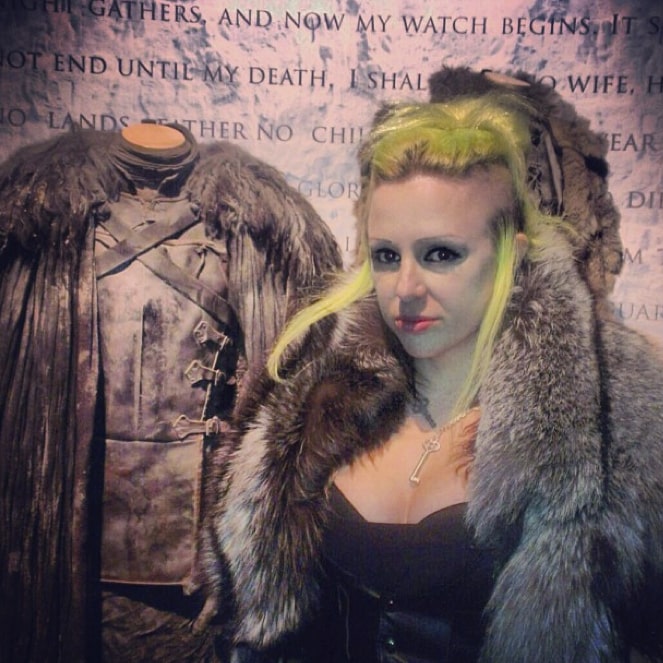 "#gameofthrones #costumes #jonsnow #thebastard #cloak"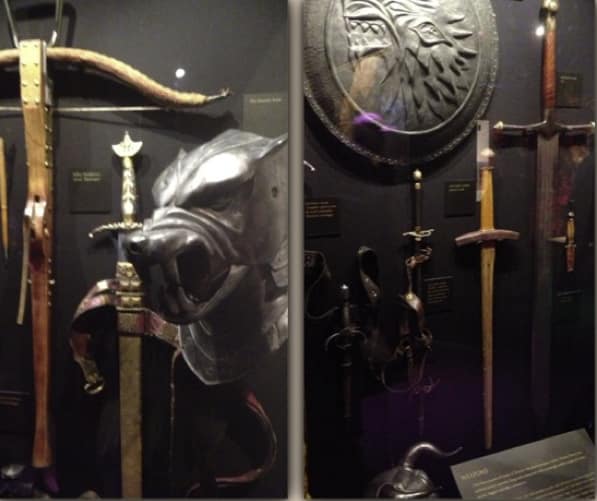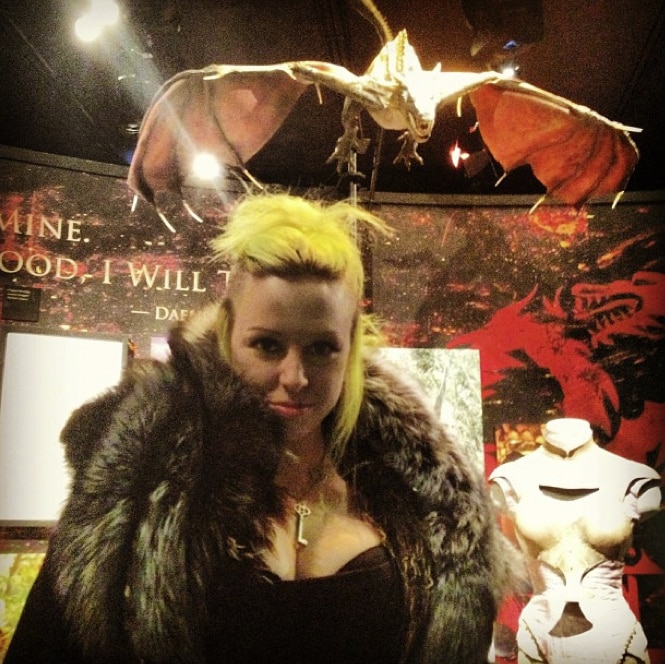 "The costumes with the dragon were worn by the Daenerys Targaryen character."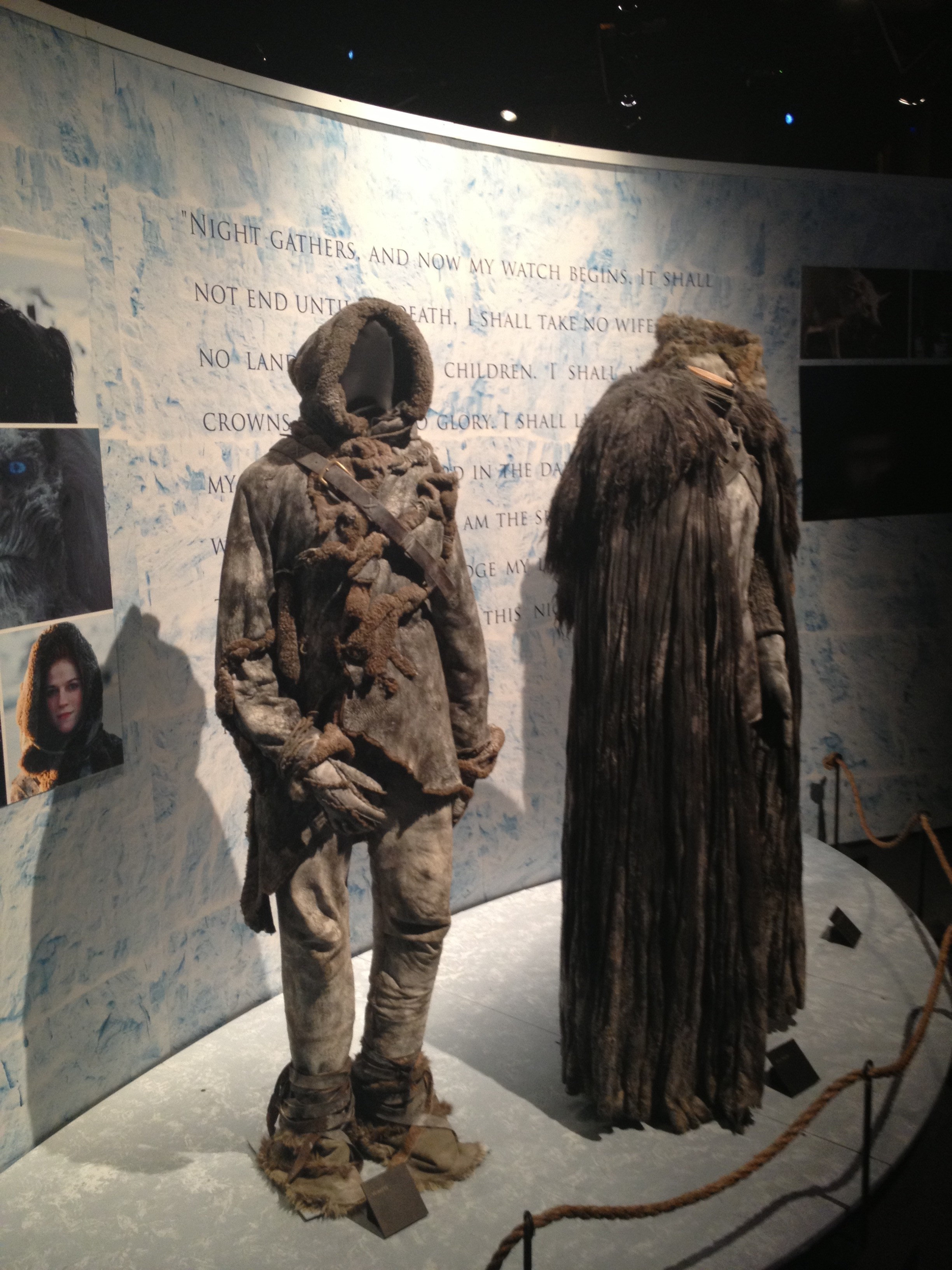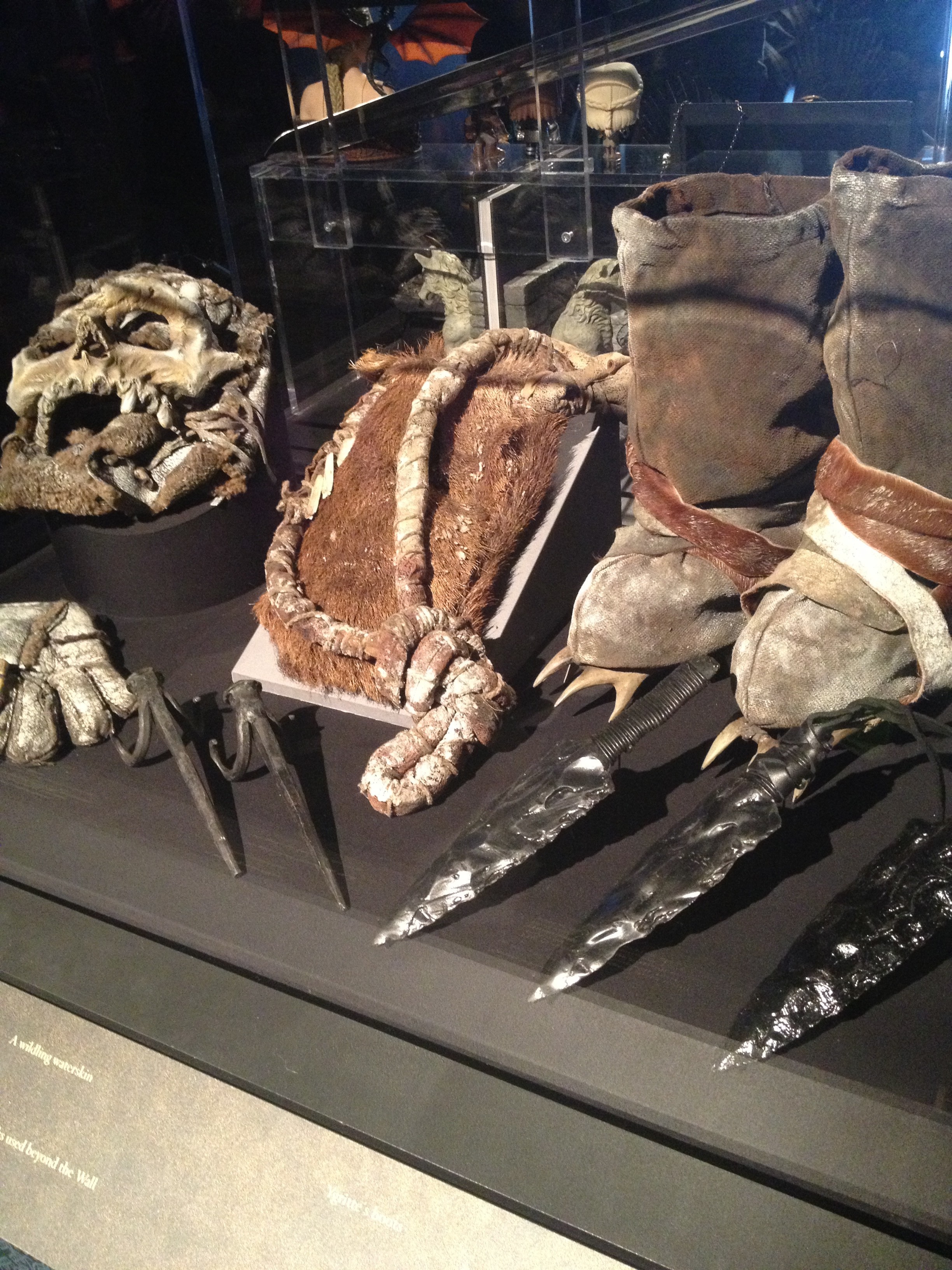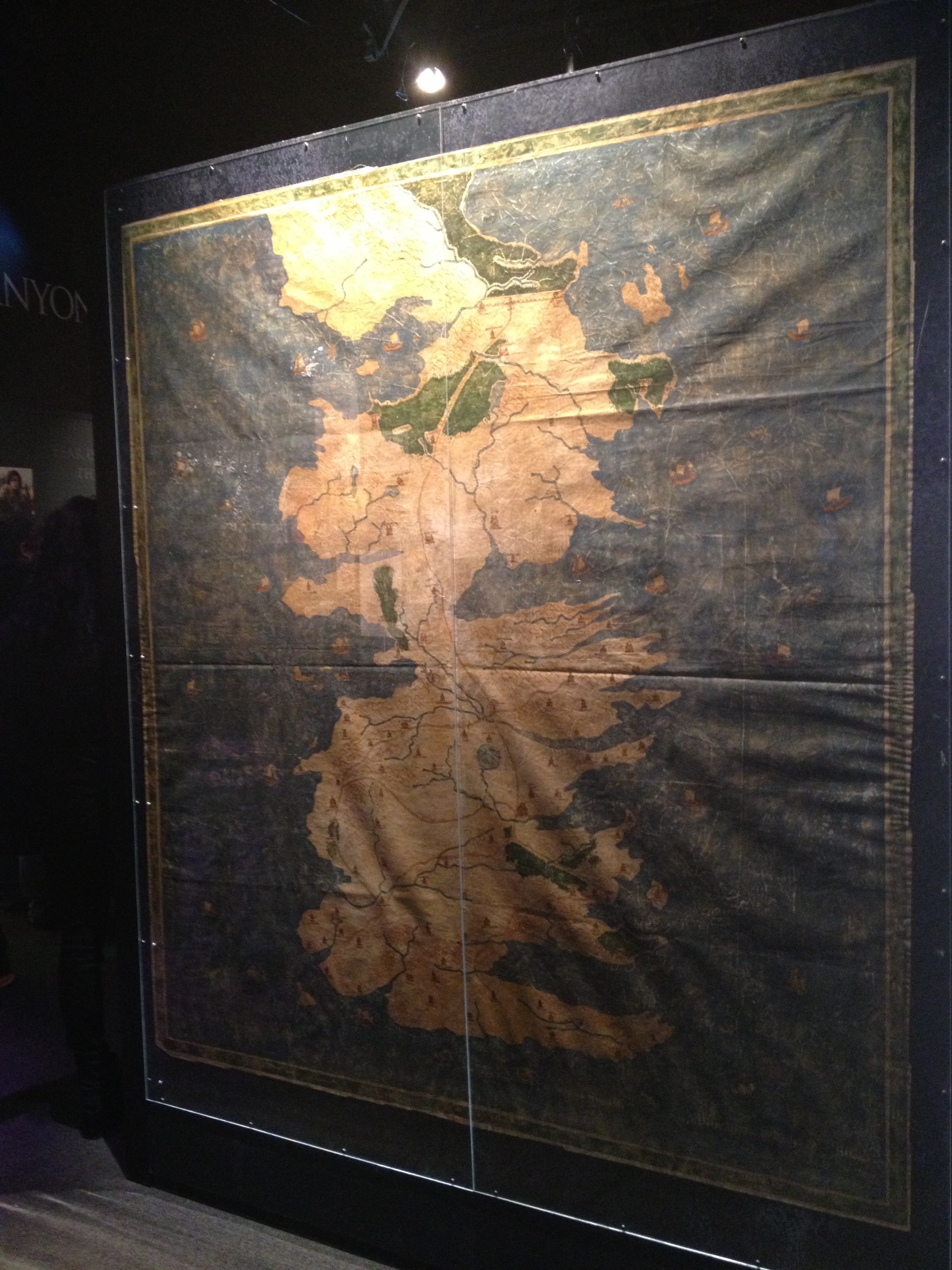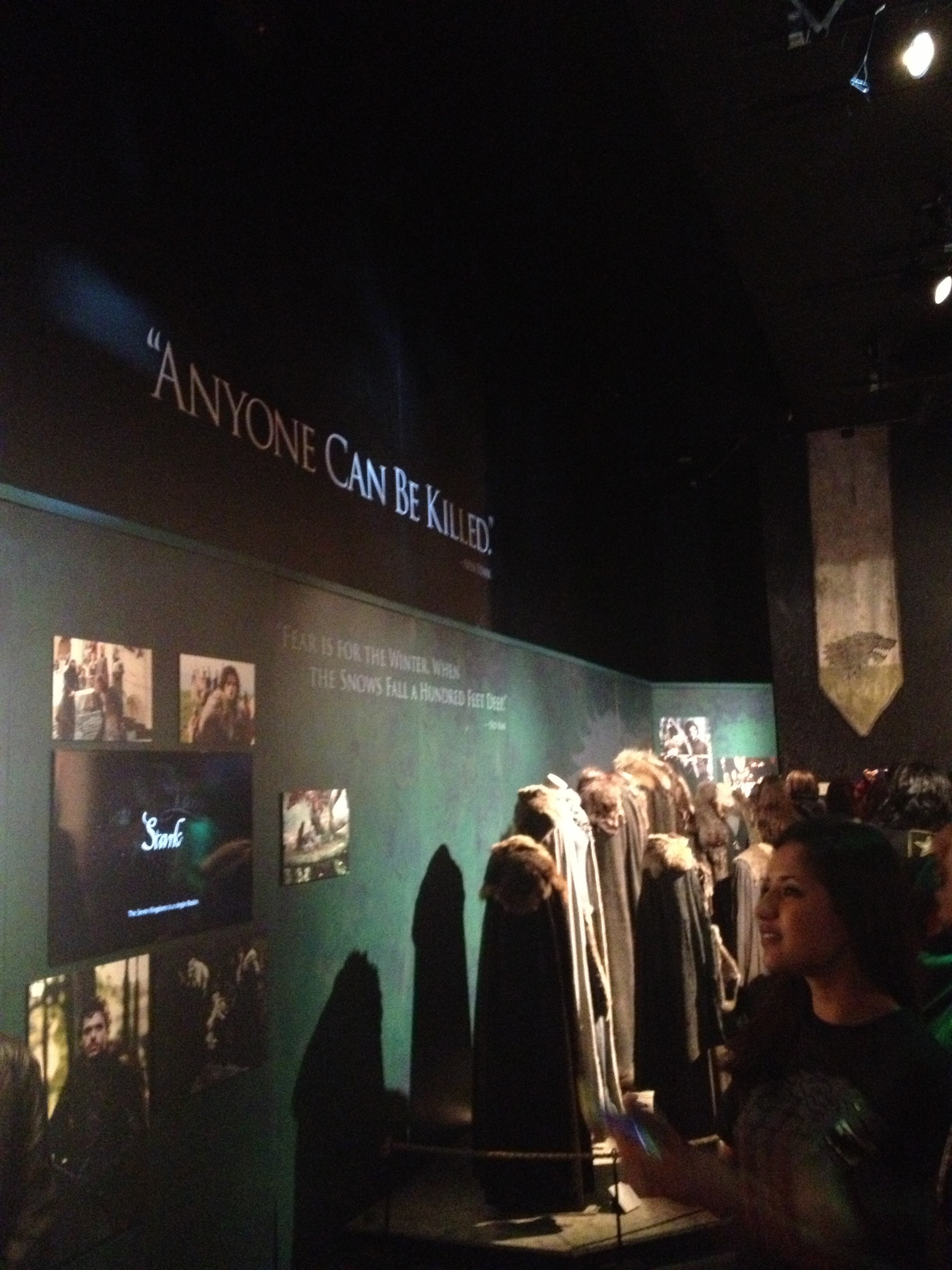 "There were a lot of props. It was a bit small but still and awesome show, it was well worth the wait."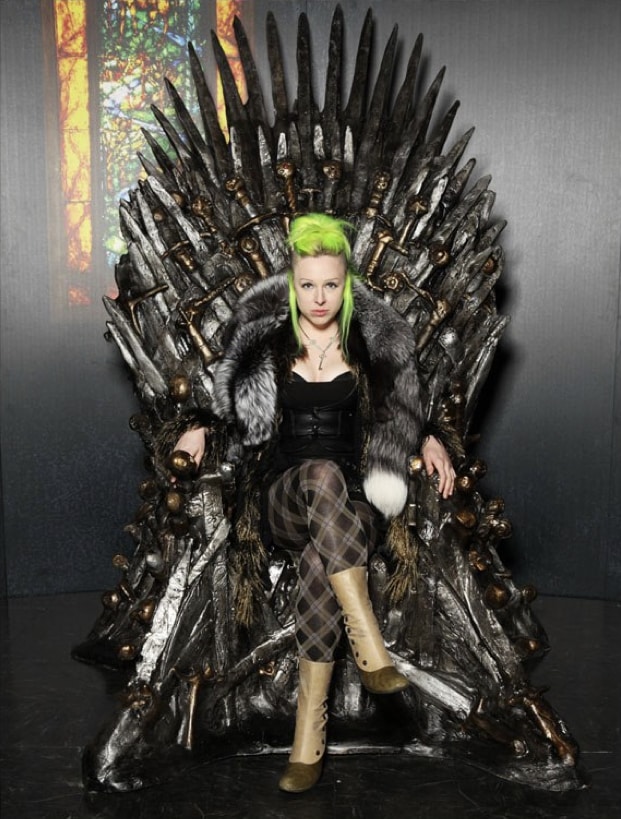 "It might have been the real thing, but I think it was a replica."
Thanks Antoinette.  HBO seems intent on on stealing away that AMC's Walking Dead, 9pm Sunday night audience.  The last season of G.O.T. ended with a zombie army, and started with a zombie battle, it's a no brainer- oh, and did I mention they also have dragons.
Written by Cojo "Art Juggernaut"

Special thanks to Antoinette Johnson.  You can view her work at Antoinette Johnson, and you can read past articles about her on ArtSucks.com by visiting her page on ArtistinRepose.com