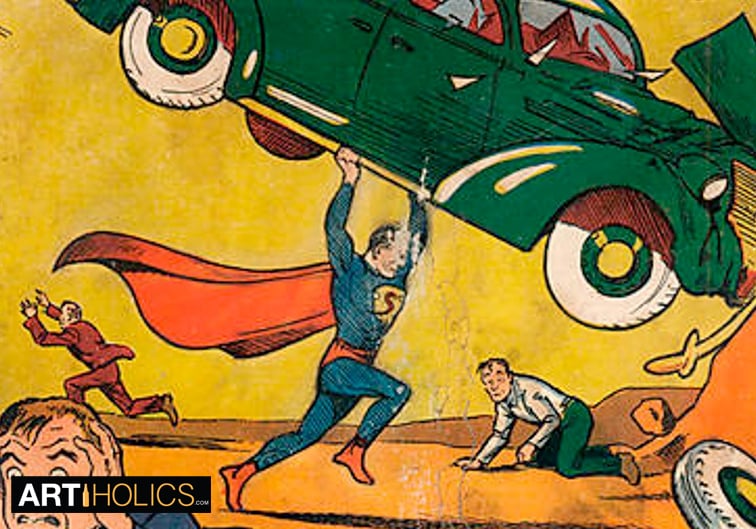 New York, NY – Wednesday, May 22, 2013
Look!  Behind your walls!  Faster than a speeding bullet, more powerful than a locomotive, able to keep your home from leaking heat in a cold Minnesota winter, also able to leap tall buildings in a single bound! It's a bird, it's some insulation….it's SUPERMAN!  No shit, the first appearance of Superman in 1938's Action Comics no.1 (AKA, the RAREST COMIC BOOK EVER) was found behind a guy's wall while renovating.
According to an article on Gawker a man named David Gonzalez bought a ten thousand dollar house in Minnesota, and when he was doing some repairs to a wall which had been lined with old newspapers, he stumbled upon the MOST VALUABLE COMIC BOOK in existence being used as insulation.
Up until this point there have only been a few prized copies of this book still surviving in the world (estimated 50- 100 copies), the most highly prized and graded is the nearly pristine copy actor Nicholas Cage sold at auction for $2,161,000 in 2011.
Finding this comic in your wall is the comic book equivalent of finding the lost da Vinci.
The article goes on to mention that he's now selling it at auction online and the bidding is over 100 thousand dollars and rising, and that it would have been worth a lot more if his in-laws hadn't accidentally ripped it in an argument, decreasing the value of the book by $75,000.
"They got all excited and tried to take it," Gonzalez told the Star Tribune. "I understand it's something cool, but told them: 'You don't have to act so rude. I brought you in to show you, don't grab it.'"
That's one motherfuckin' expensive game of tug-o-war.
Written by Cojo "Art Juggernaut"