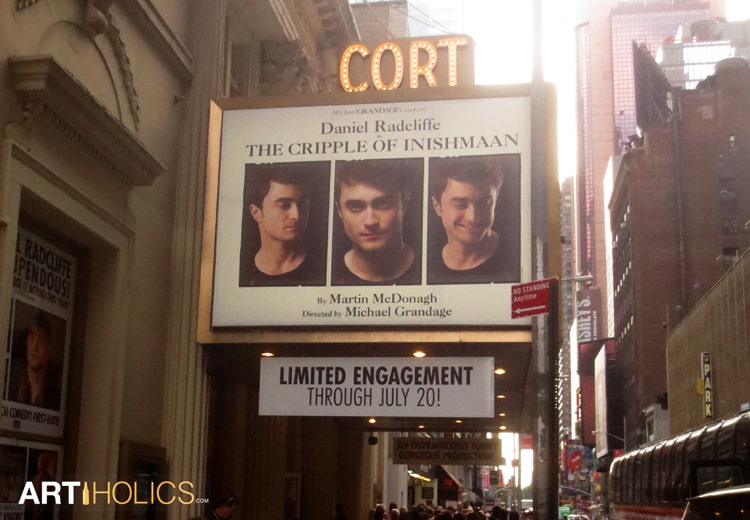 New York – Sunday, July 13, 2014
The Cripple of Inishmaan, at The Cort Theatre on Broadway (now in it's final week, closes JULY 20), is performed by a very talented ensemble. The writing and production are brilliant, it might not give you what you want, but it gives you something incredible.
In the short attention span era of entertainment and media consumers, this play entertains. Irish playwright Martin McDonagh crafted hard hitting, funny, and roughly loving dialogue that keeps everything moving at an excited pace.
The twists aren't predictable, the dark humor works well. The audience reacts with both uproarious and uncomfortable laughter, sighs, and gasps. It is a play that is especially suited for the quick paced, quick witted New York audience whom come to this Broadway show. Of course, we are the city that perfected the slam and the come back.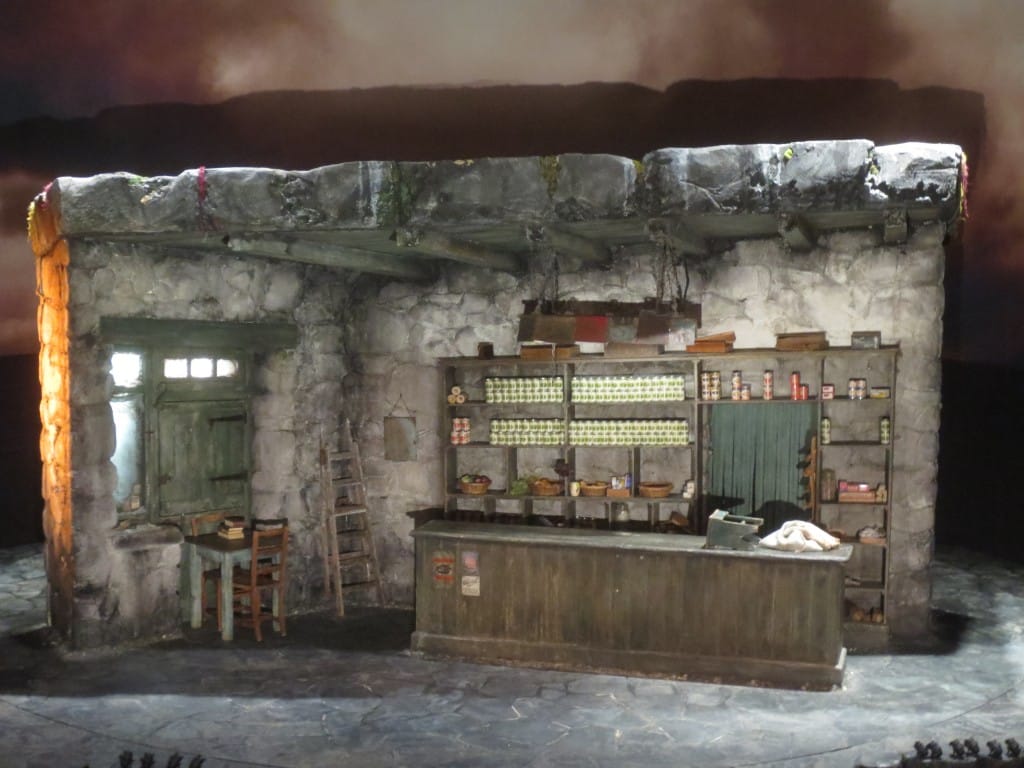 The play centers around the hopes and dreams of a boy who is only known for being the town cripple. He isn't staring off among cows, as the towns people always say, in their loving slander. Billy spends time among the cattle, reading books to get away from his fussing aunts.
But in this town everyone sees what they want to see. They downplay Billy as a simpleton, even though there is nothing wrong with his mind, as the town doctor keeps trying to remind them of. The daily pass time is the ceaseless gossip of the towns people. However, Billy is a sharp witted young man, he makes it to the filming of a movie on a neighboring island, a journey that takes him to seek fame in Hollywood.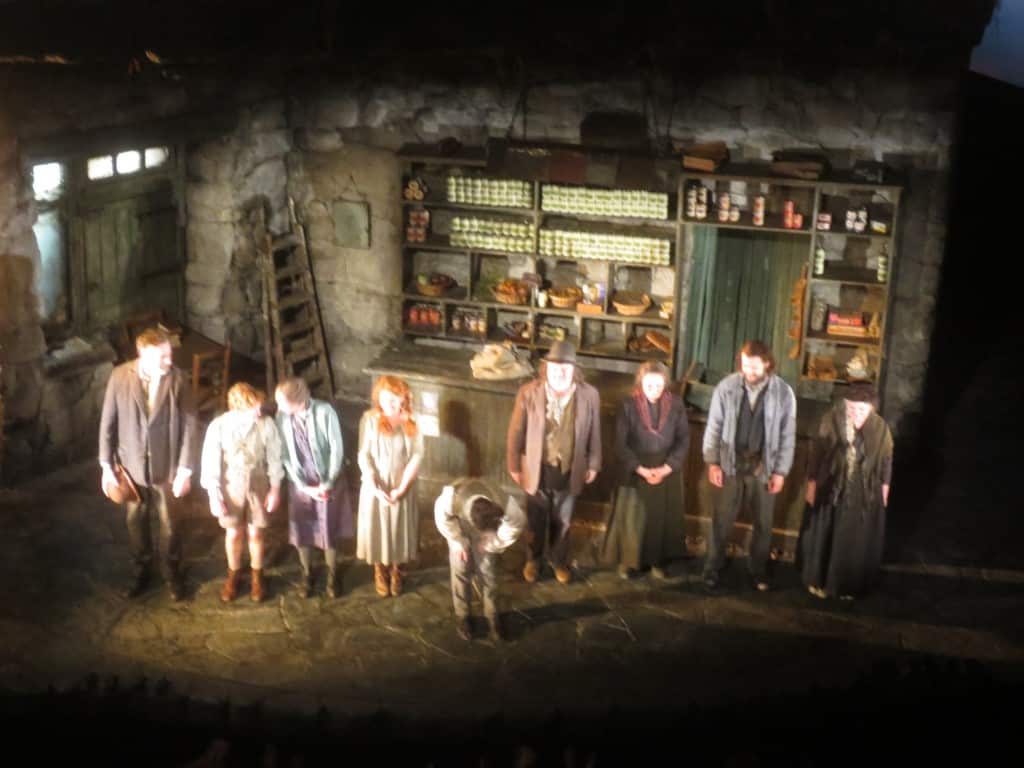 Daniel Radcliffe delivers a nuanced performance that is intense and heartfelt. Radcliffe proves to be a very devoted and versatile actor. You feel the strength of his masked sorrow during the most dramatic scenes. In a particular gut wrenching lonely episode, his body language conveys such pain, it's ridiculous to realize he does this eight times a week. A revolving set keeps the dramatic pace going, with no interruption for curtain calls or scene changes.
There is a real connection that comes through all the actors portrayals. Even on a Tuesday matinee, everyone puts out their best. The gossiping Johnnypateenmike (played by Pat Shortt) who takes his payment in eggs for the long-winded "news" that he provides, turns out to be the most altruistic person at heart. The banter between the aunts amuses. The harsh-tongued, but protective adopted Aunts played by Ingrid Craigie and Gillian Hanna, come across as the people in life whom you know so well. The people with a wry sense of humor reserved for private company and close family, whom love you so much, that they kind of hate you if you don't need them. There is so much well crafted timing and delivery of dialogue, it makes you think "Oh no, she didn't". Only someone whom loves you so much, could get away with such sneering remarks. This is great writing.
The Cripple of Inishmaan is a supporter of The Trevor Project, the leading national organization providing crisis intervention and suicide prevention services to lesbian, gay, bisexual, transgender and questioning (LGBTQ) young people. A portion of the proceeds from the question and answer talk back night goes toward The Trevor Project, whom Radcliffe has been a long time supporter.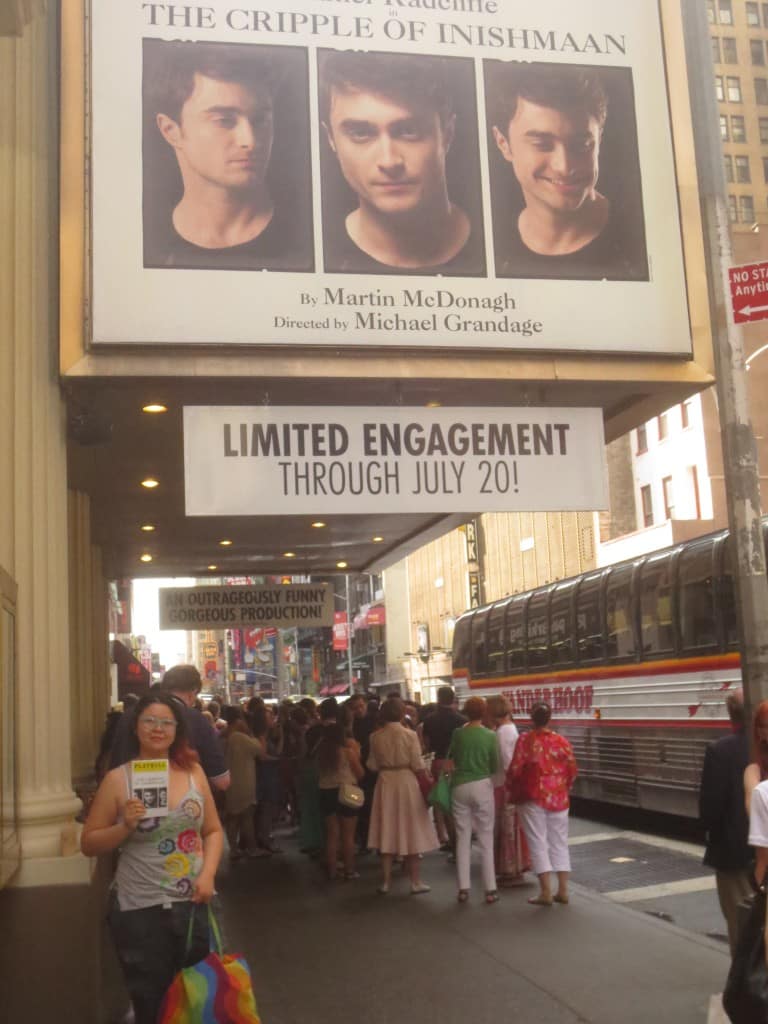 Author pictured above.
Written and photographed by Betty T. Kao