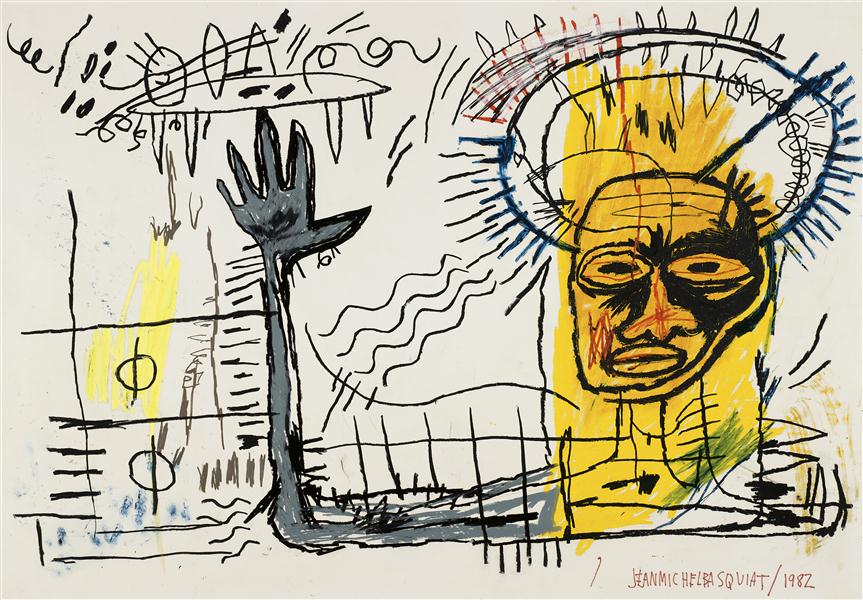 LONDON, Thursday February 14, 2013
"Can you hear me now? . . . Good."  Deceased street art legend turned fine art 80s phenom aka "The Radiant Child"  Jean-Michel Basquiat's "Untitled" (1982) a pastel, oilstick, colored crayon and charcoal drawing on paper sold for $3,015,138 in a somewhat controversial art auction call in London last Thursday.
An international phone flub between a prospective buyer and the Phillips auction house caused the piece to go unsold, expiring at $2.5 million.  Rough waters for Alexander Gikes, Phillips's new British auctioneer.  It was his first day on the job after replacing long time gavel master Simon de Pury.  The auction shifted gears to sell other works, but in an odd turn, Gikes re-offered the Basquait drawing ten minutes later.  Long enough for the phone connection to be reestablished.  This time around the piece sold for an astonishing $3,015,138, the evening's top lot price.
Some other notable artists with work on the auction block were Cecily Brown, Nate Lowman, Mark Grotjahn, Christopher Wool, Andy Warhol, and Jean Dubuffet. The combined sales total for the night was $15.2 million.  Let's hope future turns at the gavel will go more smoothly for Gikes, but with numbers like that, seems he's on the right path.  Now if only technology would comply!
Jealous you didn't get to bid on this piece yourself?  If you are in the market for your own Basquiat, and have several million dollars set aside for home improvement, make a trip to NYC where there is currently a fantastic showing of his work at Gagosian's 24th Street Gallery.  Show runs February 7 – April 6, 2013
Written by Cojo "Art Juggernaut"
View the FULL CATALOG  of the  Phillips Auction.
Visit the NYC Exhibit:
Jean-Michel Basquiat
February 7- April 6, 2013
Gagosian Gallery
555 West 24th Street
New York, NY 10011