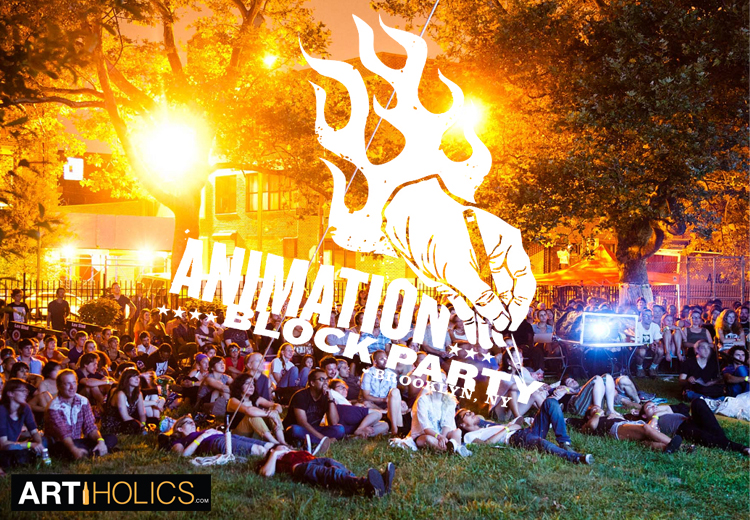 New York City – Tuesday, December 17, 2013
It's no secret that the animation scene in NYC is one of mostly underground, freelance and "edgy" (though an overused word)… and if you didn't know that yet, now you do. The other thing about NYC that I'm sure you already know is that it's overflowing with film festivals. The thing it has precious little of is "animation specific" fests.
Enter Brooklyn's Animation Block Party. The 11th annual Animation Block Party film fest is now open for submissions. It features prizes, such as software from Toon Boom, Digicel, Dragonframe, and more. The real prize though are the eyeballs. Many of said eyeballs are in the heads of content and ad scouts that are looking for creatives. Many more eyeballs are owned and operated by animation pros in the area and beyond that you really should know.  Let's not forget to mention that it gets great press in the New York Times, Wall Street Journal, Gotham Magazine, etc.
Animation Block Party is networking for people who hate networking, and a film fest for people who hate film fests. It's loose, but organized. Fun, but professional. In NYC, but in Brooklyn. It's a plus on all fronts. Click the link to submit your film now! https://animationblock.com/submit
If you're not into the presenting thing just yet, this Thursday (12/19) at BAM (the Brooklyn Academy of Music) you can check out "Late Night Work Club & Friends" presented by Animation Block (Admission is $13).
"Late Night Work Club" is what NYC animation does best. It's a group of Indie animators coming together to create an anthology of short films under a single umbrella concept. There was no crowd-funding campaign, no mysterious benefactor… just animators creating as they do. Their first compilation was titled "Ghost Stories" and will screen at 8pm followed by a Q&A hosted by Animation Block's Casey Safron, with a panel discussion including animators Jake Armstrong, Caleb Wood, Sean Buckelew, Charles Huettner and Scott Benson.
Finally, if you're STILL not sold on all these goings on — the after party starts at 10:15pm at Pacific Standard in Brooklyn.  Drink artistically.
Written by Stephen Brooks
(photos via animationblockparty2012 on  flickr)