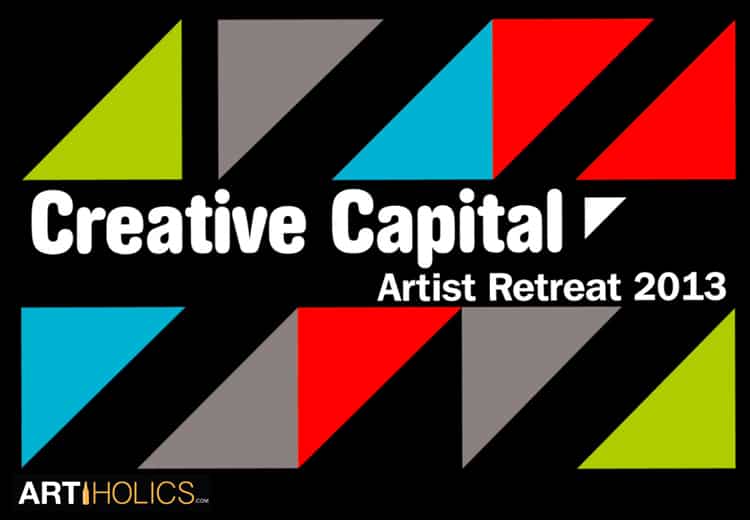 New York City – Monday, December 16, 2013
The good folks at Creative-Capital.org have offered Artiholics.com an exclusive (one day) jump on publishing videos they shot of their 2013 Creative Capital Artist Retreat. It's a rare glimpse into the artist's creative processes, as the peel back the cover to reveal the inspiration behind their work, as well as what they have learned and how they've grown as artists along the way . These videos have not been made public, so you can only see them here on Artiholics. I sat down and watched a bunch of them, and picked some I think might be of interest…
Jen Bervin
Jen Bervin (2013 Literature Creative Capital Awardee) presented her project "The Silk Poems."  In her experimental book "The Silk Poems" she wants to "explore the cultural, scientific, and linguistic complexities of silk, mending, and the body on nano-imprinted silk film.  The pages will be combined into a transparent book, a single small sheet, with every poem present, that can be read / projected with fiber optic light." – Jen Bervin
This video includes a clip from a TEDx talk by Fiorenzo Omenetto, a Professor of Biomedical Engineering at Tufts University who is researching biomedical silk.
Read more about this project here: creative-capital.org/projects/view/744
Degenerate Art Ensemble aka Joshua Kohl and Haruko Nishimura
Degenerate Art Ensemble (2013 Performing Arts Creative Capital Awardee) presents their project "The Predator's Songstress."   They make "Performance work inspired by punk, comics, cinema, nightmares, and fairy tales.  Driven by the power of live music and our own style of visceral movement, theater and dance." -Joshua Kohl
Find out more about their project here: creative-capital.org/projects/view/775
Patty Chang
Patty Chang (2012 Visual Arts Creative Capital Awardee) presents her project "The Wandering Lake."  She talks about some of her earlier performance based work, and it's evolution into borderline surrealist documentary video instillations, which led to her "The Wandering Lake." 20th-century explorer Sven Hedin coined the term the "Wandering Lake" to describe Lake Lop Nur in western China when he was commissioned by the Chinese government in the 1920s to find a modern silk road that was accessible by car.  The Wandering Lake is a video installation based on Patty Chang's journey by camper from Europe through Central Asia to China with staged performances along the way.
Learn more about her project here: creative-capital.org/projects/view/708
Simone Leigh
Simone Leigh, sculptor and video artist (2012 Visual Arts Creative Capital Awardee) presents her project "What's Her Face."  She uses sculpture to interpret how a belief system might be transferred from one object to another through sculpture.
Find out more about her work here: creative-capital.org/projects/view/714
Connie Samaras
Connie Samaras (2012 Visual Arts Creative Capital Awardee) presents her project "Edge of Twilight/Tales of Tomorrow" at the 2013 Creative Capital Artist Retreat.  Watch as she talks about her "Edge of Twilight" photos of an all Lesbian Retirement community, which of course led her to her current work, creating a lesbian time travel video.
Learn more about her project here: creative-capital.org/projects/view/728
Wakka Wakka Productions
Wakka Wakka Productions (2013 Performing Arts) presents their project "Made In China."  Wakka Wakka are puppet makers and puppeteers, who have received awards for "sophisticated puppet theatre". Named after a phrase Fozzie Bear makes when a joke doesn't go over very well, their uncomfortable delivery could have used a little better timing.  Captain Kirk would cringe at these uncomfortable pauses.  Somebody must have told this guy to Sloooow down, and enunciate- and he took their advice and multiplied it by 10.  Ben Stein talks faster than this guy in Ferris Bueller's day off.  Spoiler, it takes 2:26 to see a single puppet.  Once it gets to their reel, then it takes off.  The puppetry is pretty damn cool.  The puppet show they got a grant for "Made In China" is political.  "A dark musical comedy, about the complicated relationship between the US and China."
Find out more about their project here: creative-capital.org/projects/view/788
About The Creative Capital Artist Retreat
The Retreat is the centerpiece of Creative Capital's artist services. The 2013 Retreat in Williamstown, MA, was our largest convening to date, bringing together 350 artists, arts professionals and arts advocates. This four-day event included presentations by 86 artists on their works-in-progress, consultations and networking events, and focus sessions on key issues in the field. Peter Sillen (2005 Film/Video awardee) and C41 Media interviewed Creative Capital staff, artists, consultants and supporters at the Retreat to learn more about the transformative experience of the Retreat.
Published with permission by Creative-Capital.org
Written by Cojo "Art Juggernaut"