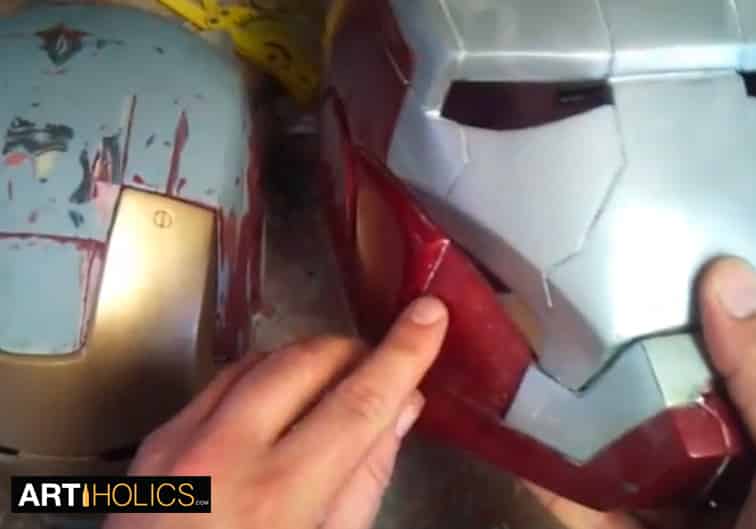 New York,  NY – Tuesday, May 21, 2013
One of the amazing things about the internet, and about YouTube in particular, is that there are a lot of artists and craftsmen out there willing to film "how-to" art tutorials and put them online FOR FREE.  Skills that have taken a person decades of trial and error, education, interning, and apprenticing to acquire.  The knowledge which you formerly would have to have taken the same long path to achieve is now just a YouTube search away.
If you aren't looking to spend 100 grand getting your Masters Degree in Fine art, but you do want to have the same (or better) skills as a master craftsman, YouTube Art School is for you.  Today's lesson, how to FABRICATE IRON MAN'S ARMOR:

There is a whole community of people on YouTube building IRON MAN armor right now, sharing tips and tricks, as well as their progress along the way.  Anthony Le is by far the cosplay god of IRON MAN building. Are you a skinny nerd who wants to get this kind of attention at a comic convention? Time for you to build an IRON MAN SUIT.
You can see "Master Le" has made a few versions since his original.

Including War Machine.
As well as Iron Patriot.

Jay May makes his helmets out of fiberglass.
Now there are a few approaches you can take to making your Iron Man suit.  A lot of people on YouTube go the "Hollywood Prop" route, making it out of light materials made to simulate metal such as fiberglass, plastic, or cardboard.
Jay May also teaches you how to build a rudimentary vacuform table in your garage, to mold your various IRON MAN parts out of plastic instead of fiberglass (which is how the helmets are made because it's easier to hinge).

YouTube User Jay May has not only designed IRON MAN and War Machine IRON PATRIOT helmets, he has also added the electronics to make the faceplate open automatically while wearing them.

How to use a Pololu chip to make the IRON MAN faceplate open.
Jay May created a tutorial on the mini Maestro 6 channel by Pololu. The computers behind the IRON MAN electronics within the hardware like servos, switches, LED lights and some programming features. Most of Jay May's videos were uploaded in the past week, you can watch him build the suit in real time by FOLLOWING HIM ON YOUTUBE.
Building a suit shouldn't cost you a fortune if you are good at improvising. James Bruton built this IRON MAN flux capacitor ARCH REACTOR out of dollar store parts.

IRON MAN's palm with a hole for the repulsor ray. James has uploaded a series of 5 videos just devoted to sculpting and fabricating IRON MAN's hand armor
James shows step by step how to 3D print your IRON MAN fingers. This was uploaded a week ago, he probably has a few more videos yet to shoot as he finishes fabricating the fingers.

IRON MAN boots.

So how do these stack up to the real props used in filming? I would say, they need a little battle damage. Show us he's been in a fight or two, not right out of the box shiny new. Other than that, amazing craftsmanship. If you've seen IRON MAN 3 (spoiler alert) these guys have A LOT of new source material to build upon, 43 different suits if I remember correctly? That's a lot of trips to the dollar store.

Being that it's a full body suit of future armor it seems like a herculean task, but if this 16-year-old kid can make one in 20 weeks, why can't you?

Don't have a computer to 3D render for you?  You can always start it with clay.
Written by Cojo "Art Juggernaut"