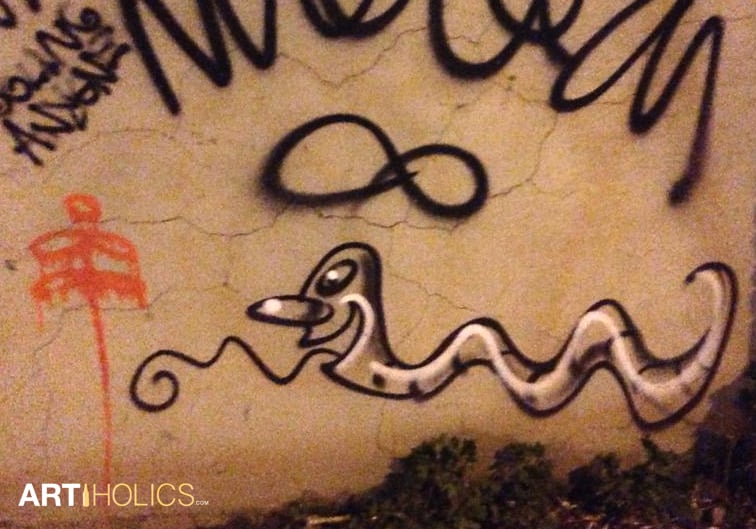 New York, NY – Monday, April 22, 2013
One of NYC's own living art legends, Kenny Scharf was arrested in Williamsburg / Bushwick, Brooklyn late Friday night for spray painting a black and white cartoon drawing of a snake in his signature style on private property (pictured above).  Kenny is a contemporary of Basquiat and Keith Haring.  One of the last of a dying breed of graffiti artist-cum-art stars of the 1980s.
Prior to this weekend, his most recent stint in a New York Prison for Graffiti charges was 30 years ago.  The now 55-year-old's initial post on facebook after his his prison stay was of the image above with the caption:

"Just Spent 20 hours in 2 Brooklyn jails for this."
-Kenny Scharf

I broke the story in this article on ArtSucks.com, and in the 9 hours since that posting the article has been read thousands of times by people in 44 countries, shared over 900 times, and liked over 335 times on Facebook.  It has been sourced in articles on Animal New York, Gothamist, Bushwick Daily, and Papermag and retweeted, forwarded, and stumbled hundreds of times.  Thanks for sharing everyone!
UPDATE: Day 2:
ArtSucks is becoming a 10-year-overnight-success, as the article is only a few clicks away from  500 likes.  The story is spreading, and a whole bunch of new sites have picked it up:  GalleristNY, Mass Appeal, Juxtapoz, Fecalface, Blouin ArtInfo and coolest of them all The Huffington Post because they gave us major love by just reprinting the title and first two paragraphs of the article and sending traffic directly to the site with a Read the whole story : Art Sucks.
Because they used my words verbatim, I can now add The Huffington Post to my writing credits.
CLICK HERE TO READ THE INITIAL ARTICLE ON ARTSUCKS.COM.
I spoke to Kenny Scharf recently and conducted an exclusive INTERVIEW WITH HIM this evening- read it here.
Written by Cojo "Art Juggernaut"