Wall cling is a part of the My Hero Academia UniVersus set and features Tsuyu Asui!
The My Hero Academia Card Game managed to surpass all the expectations the fans had from the game. The card game is loved by the fans of the show and the TCG community as well. Thanks to the show's strong characters, the cards featuring these characters are really popular collectibles right now.
The first set to be released was the My Hero Academia UniVersus set, which features a lot of great cards that any collector would like to have in their collection. Apart from the cards that are being sold via booster packs and other products, there are certain cards that you can't buy.
I'm referring to the promotional cards that are being released right now. The Promo cards for the 2022 Regional License Exams have gone viral. One such promo card from the event is Wall cling featuring Tsuyu Asui. The card is trendy, right now, and is demanding a massive price; let's shed some light on the card, its illustration, and its current and future value!

Origins
Wall cling features the famous hero Froppy, whose real name is Tsuyu Asui. She is one of the students in the infamous Class 1-A of UA High School, training to be a Pro Hero!
As her name suggests, her powers allow her to mimic a Frog's abilities. Her quirk grants her to enhance her swimming abilities, hoping at a large distance, extend her tongue, sticky legs and hands, and more! Tsuyu is a very reserved person most of the time Even though she isn't very talkative, she gets enough screen time to make her a beloved character from the show.
Trivia
The Wall Cling promo card is a part of a set of 6 cards given out at the event. Every person got one of the 6 promo cards. The cards feature various students from Tsuyu's class with excellent illustrations, as you can see above. These cards are rare and are demanding a high price right now.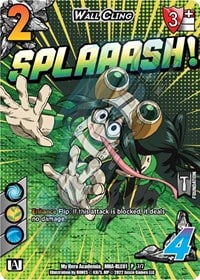 Illustrations
Froppy on the Wall cling card can be seen in her Frog-like pose, hopping around with her enormous tongue hanging out. The card looks almost like a comic book page and makes excellent use of the hero's outfit colors to make the card look genuinely one of a kind.
Value
As of writing this article, Wall cling is being sold for a whopping $170 on reseller sites. This goes without saying, but the price might fluctuate depending upon the card's condition and the time you're reading this.
The card undoubtedly looks excellent and would increase the value of any collection. As it is one of the first promo cads to ever be released for the My Hero Academia Collectible Card game, the value is bound to hold around the current levels, making the card a good investment.
Recommended – Himiko Toga XR from My Hero Academia Crimson Rampage