Twisting Azure Inferno XR is a part of My Hero Academia Heroes Clash Set!
The My Hero Academia Heroes Clash expansion is out, and it has been doing rounds on the internet, just like many CCG fans had predicted. Since its inception last year, the MHA CCG has garnered a massive fanbase unlike anything else. The quick rise to fame of the MHA CCG can be attributed to the sheer popularity of the anime.
Since its first release, the MHA CCG has given us a lot of great cards that will be cherished for years to come!
One such card is the Twisting Azure Inferno XR from the latest expansion, Heroes Clash. It is one of the most highly coveted cards from the set, and we're here to decipher why this is the case. We will take a look at the origins of this card, some fun trivia about it, what the illustration represents, and most importantly, what the value of this card is!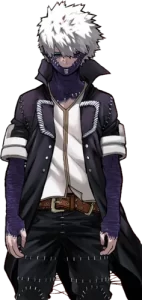 Origins
Even though a villain, Dabi has always been a fan favorite, and rightfully so. He's a cool guy overall, doesn't stress too much, and handles every situation with composure; too bad his on the wrong side.
His quirk is pretty much visible in every image of him; the blue flames you see are his quirk. Another distinctive feature that Dabi has is his burnt body, no one knows the cause of it as it has not been discussed in the anime yet, but it will be in the future.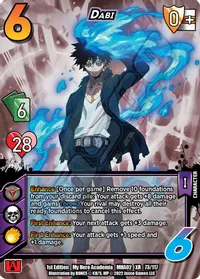 Trivia
MHA CCG hasn't released many Dabi cards, as Dabi doesn't play a significant role in the first few seasons of the anime; he's just there as a side character. But with this limited screen time, he has managed to garner a fan base.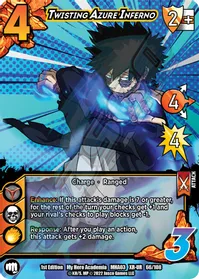 Illustration
The illustration on the Twisting Azure Inferno XR is what makes it such a unique card. Dabi can be seen in action, about to whip out his blue flames, about to engulf some hero in an ungodly amount of heat.
The background matches the outfit and quirk of Dabi, bringing all the elements of Dabi together in one single card.
With cool character design and great illustration, the Twisting Azure Inferno XR is just a complete package.
Value
As of writing this blog post, Twisting Azure Inferno XR is being sold for around $30 across reseller sites. The card indeed commands a decent value at this point and might continue to do so in the future. This is the best Dabi card we've seen, so it carries some weight in the community.
Recommended – Aggressive Clash XR from My Hero Academia Heroes Clash