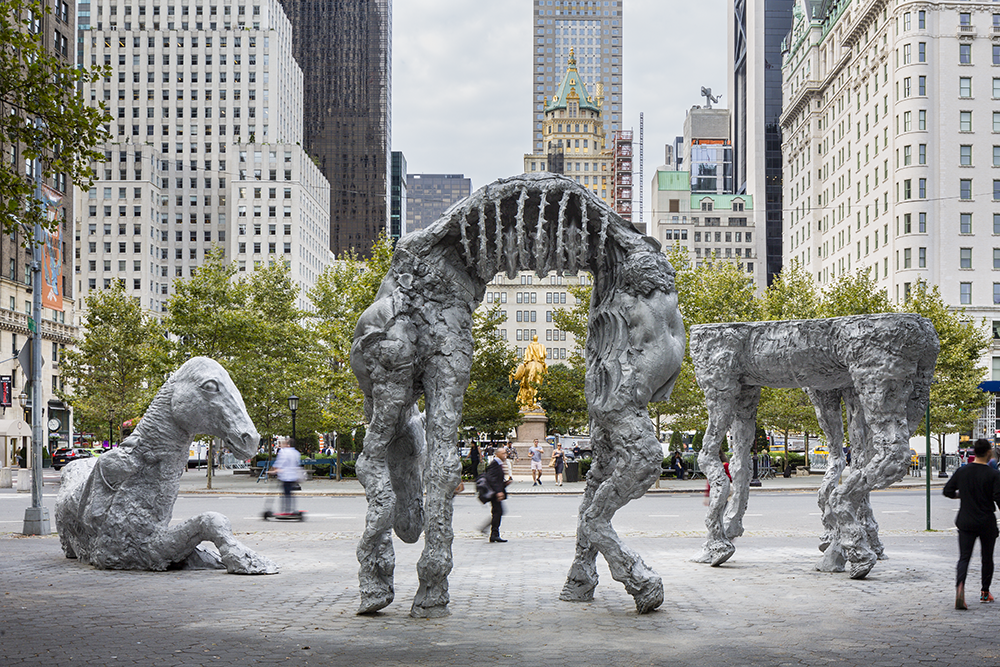 New York City is a vibrant and dense city, full of life, colors, and forms. A city known for its love of art in all expressions and ways. Artists and creators find in New York City an open space to showcase their talent, that openness and invitation to create are what makes New York City a reference in the world and a destination for many artists and visitors who want to experience and see the world through the eyes of those who have a story to tell.
A beautiful and special place is Central Park, right in the middle of Manhattan, a space that has allowed New Yorkers and guests to experience nature in the middle of this concrete jungle. Central Park is there to offer all its visitor a space to breath, to walk and to decompress from the intensity that this city can embody. Central Park is also an open space and an open canvas for many artists to present their work to the world.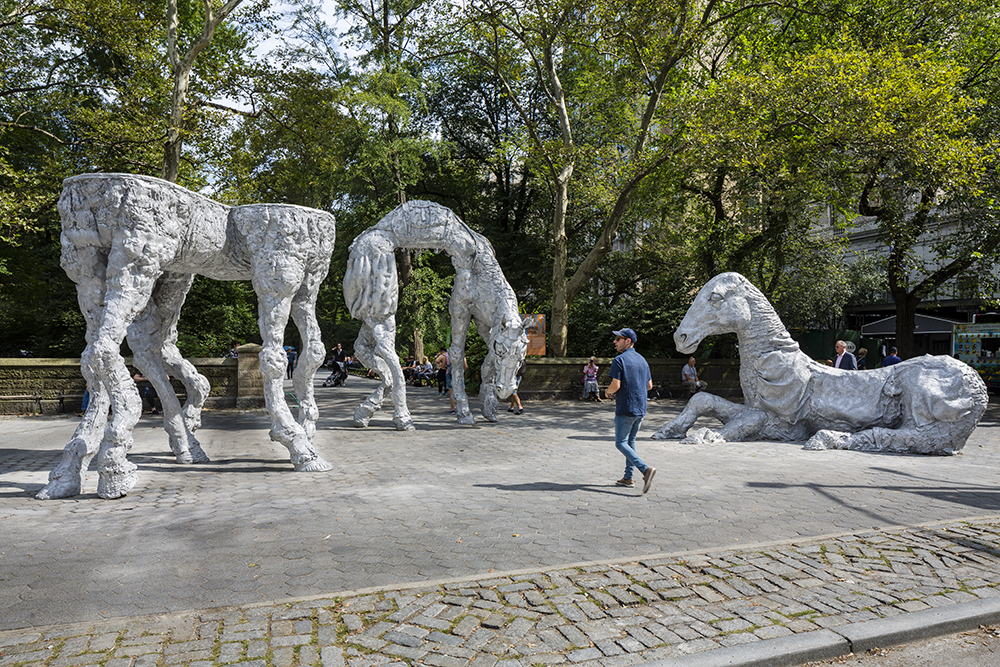 The Horses is a remarkable art installation located in the Doris C. Fredman Plaza in Central park, curated by Public Art Fund and the curator Daniel S. Palmer. The Horses is an impressive artwork of three aluminum horses, created by the well-known and respected French artist Jean-Marie Appriou. The massive sculptures raging from 16 feet tall to 16 feet long are outstanding installations that evoke those whimsical and poetic figures that can be found in magical stories.
Appriou was inspired by the horses-drawn carriages that are one of the many attractions found in Central Park and by August Saint-Gaudens's gilded monument of William Tacumseh Sherman on horseback, located in the area. The Horses are magnificent sculptures, carved in clay and foam models, cast in aluminum and full of textures emulating muscles, metal plates and in some places like fabric. One horse is seated, the two others are standing but their location it's made to create a feel of a scene or scenario.
Public Art Fund curator said about the artist in the public art fund press release, "Jean-Marie Appriou's unconventional approach to sculpture is almost alchemical, His craftsmanship is informed by a deep knowledge of the historical lineage of sculptors that have preceded him. At the same time, Appriou's equine sculptures are otherworldly, evoking the silent majesty of horses with nuanced sculptural details that flicker between narrative and poetry."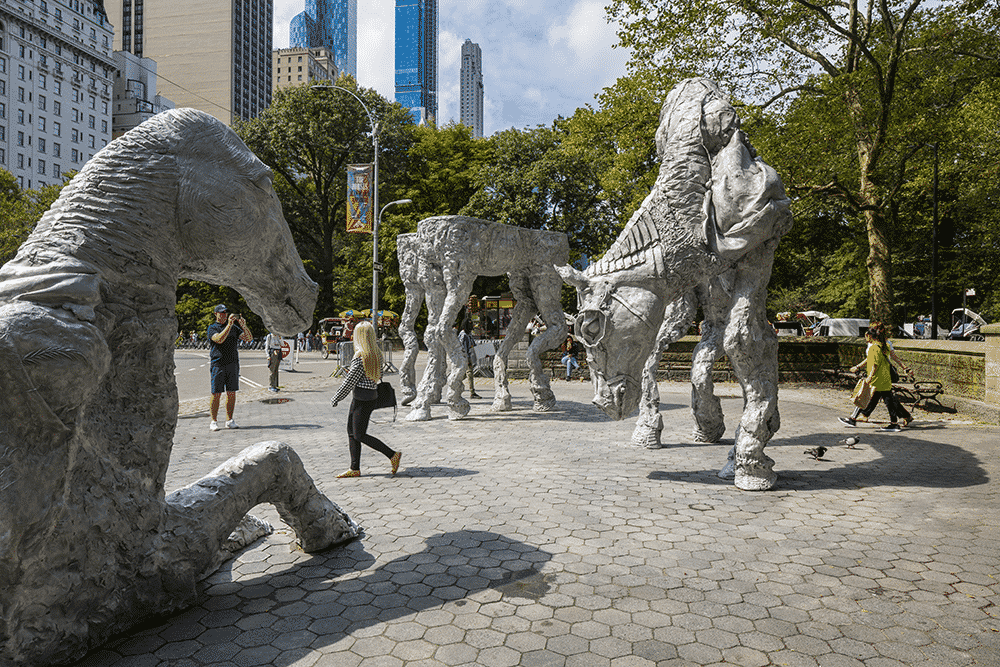 The Horses are sculptures of a mix of human and horse form, giving the viewers the experience of being in front of mystical creatures, encouraging the visitors to see beyond what their eyes see and into what their imagination see. The Horses installation is also an active experience, where people can walk under the standing horse, or around the others to see all of their details and touch their textures, an activity that creates a distinctive experience.
The installation is a beautiful artwork that invites all visitors to use their imagination and to find the magic in the creation and is a suitable art piece that asks everyone to experience the charmed that Central Park offers. Art could be a special way to see the world, with curious eyes and with an open and creative mind, and that is the perfect attitude to go to Central Park and see and discover all its beauty, secrets, and artistic elements.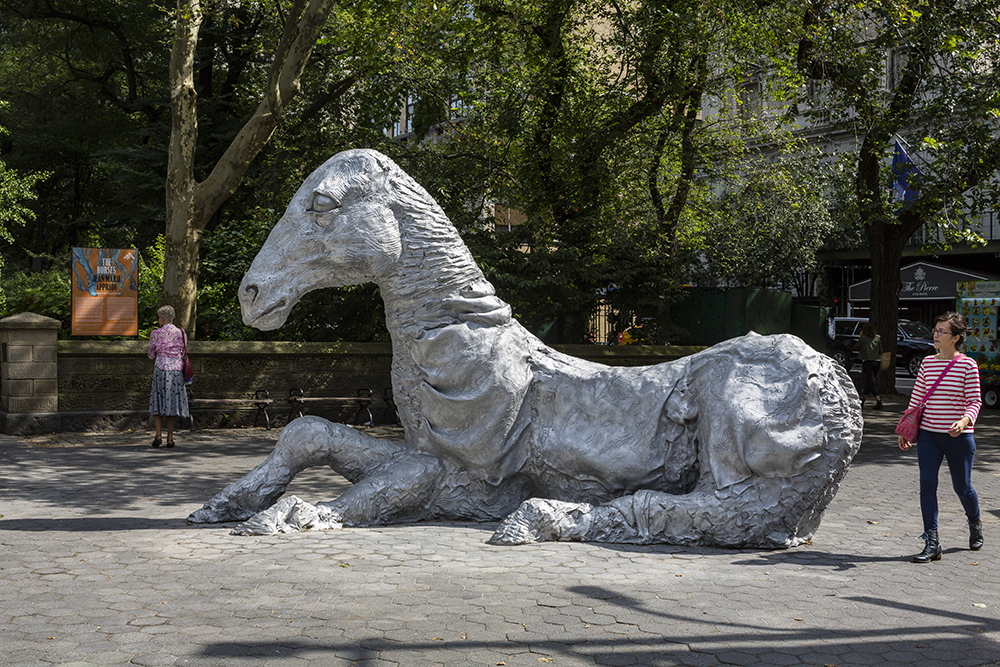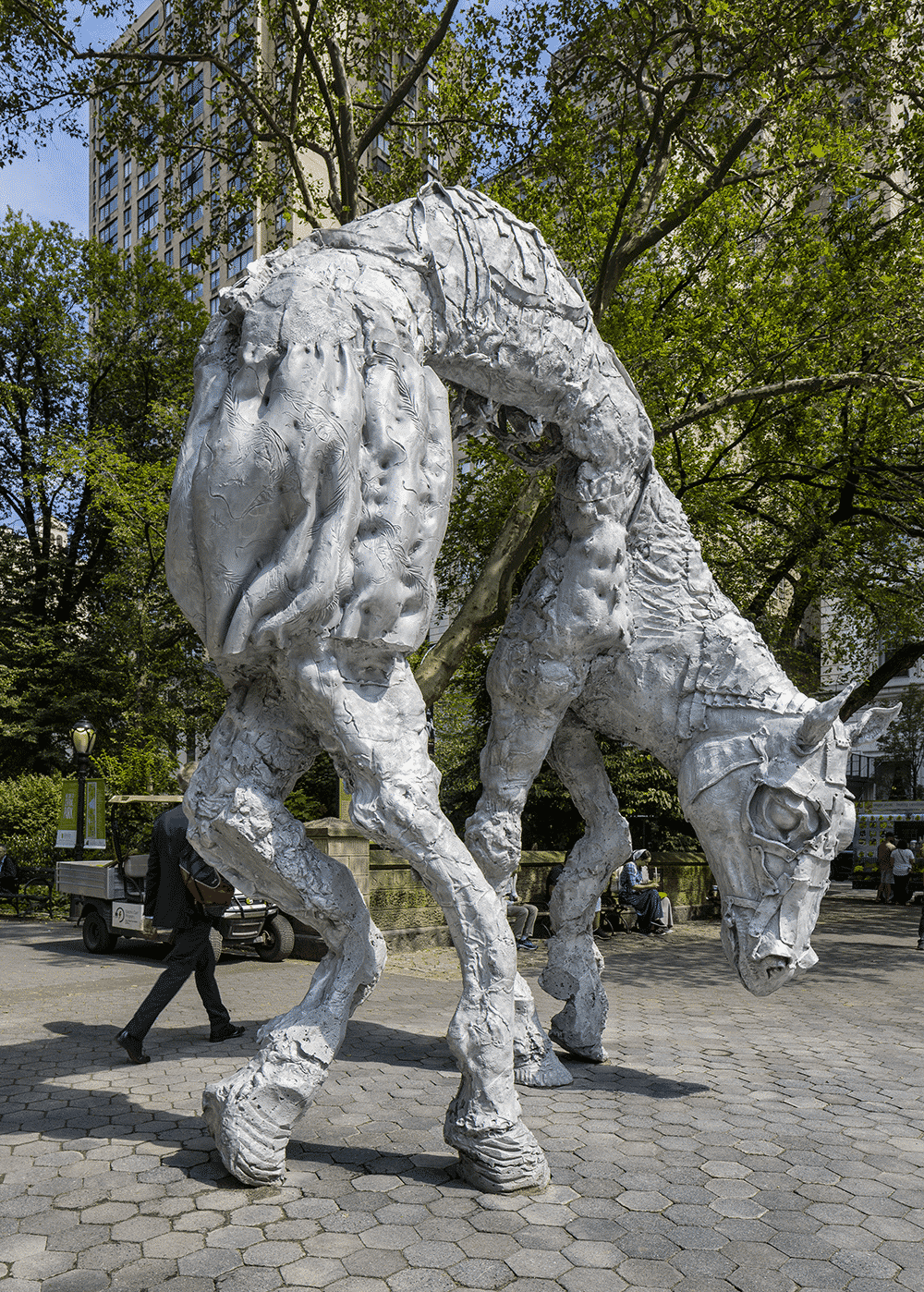 The world is living in a new reality, where social distancing, face mask and proper hygiene are part of the vocabulary, a new reality in which parks and open spaces are now the perfect and safest places to visit and to spend time. For New Yorkers and tourist now days Central Park has become not only an essential point in an itinerary but also a must visit to fulfill the artistic need, to calm the anxious mind and to enter for a moment in a new and simple reality full of nature and art. The Horses and this type of art exhibits give people the chance to practice art in a safe and fun way.
Public art is a great way to enjoy and satisfy that artistic necessity in any day, but most important during this time when people are not only facing isolation and health concern but also economical concerns. Now creativity is a key not only to create art or to find it but also a way to enjoy time, families, and friends. New York is a place that offers many forms of public and accessible art to its residents and guests. The Horses installation is an example of that artistic vain that is part of the essence of this city.
The Horses will be on display at Doris C. Freedman Plaza, 5th Avenue at 60th Street, until August 2020.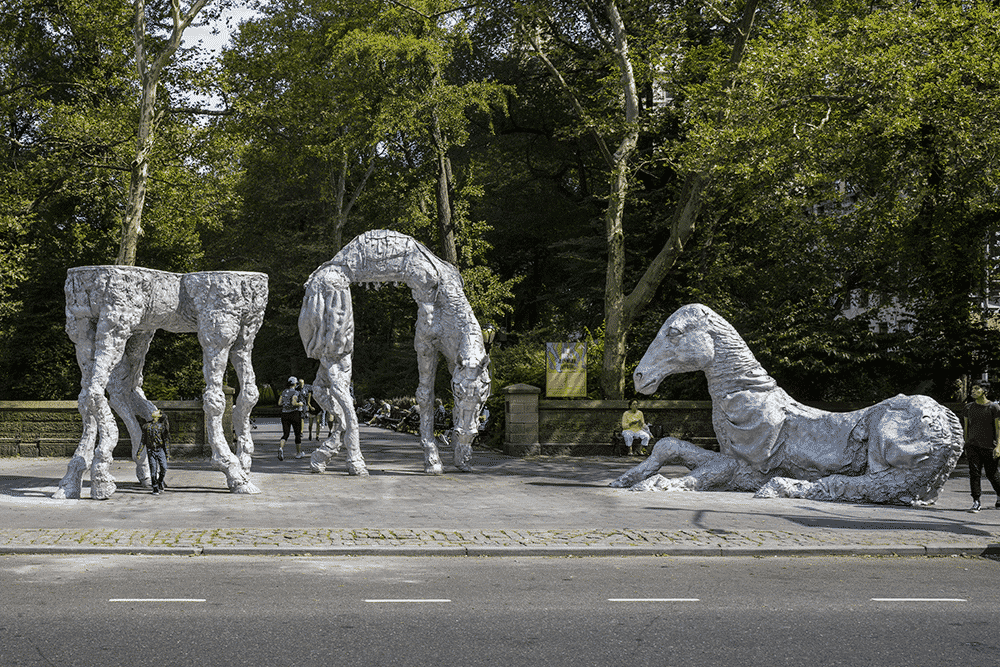 Jean-Marie Appriou, The Horses, 2019, Cast aluminum, courtesy of the artist and CLEARING, New York/Brussels; Galerie Eva Presenhuber, Zürich/New York
Presented by Public Art Fund, Doris C. Freedman Plaza, Central Park, Sep 11, 2019 – Aug 30, 2020