New York – Monday, January 19, 2013

When proposing a building design, an architect will draft a realistic architectural rendering.  This is a fiction, the illusion of a 3-D concept model of a building which only exists on paper.  This sort of rendering makes it easier for a client to "picture it" as a finished structure in relation to the existing architecture and being a physical fixture in the world around it as very little is left to the imagination.
If you are an entrepreneurial mogul such as Jay Z setting out to launch and brand a previously unknown Cognac, you find yourself with a unique challenge. How do you go about giving something that didn't previously exist in the marketplace a chance to compete with other high-end alcohols, all of which already have a strong foothold on the nightclub's coveted top shelves?
Aside from paying top dollar for that shelf placement, you can also skew your advertising with some fantasy. You realistically render it into reality.  Place the liquor in an atmosphere in which your product "should" exist.  A beautiful photograph of the largest musician in the world sitting in his massive Tribeca penthouse with a $6,850,000.00 view, wearing a $4,000 Tom Ford suit, smoking a $45 cigar, while admiring his print of Basquiat Untitled (1983).
This "Insta-cred" elevates the alcohol to the level of all that is around it, as we (as well as products) are judged by the company we keep. It's validated as an intrinsically high status liquor because of its dominant placement in a world of previously validated status symbols.
So with this in mind, let's come up with a further proposition. You are Jay Z.  You love the fine art world, are a collector of the arts, and seek acceptance by the upper crust fine art elite as an artist.  You feel like the modern day Basquiat, like the modern day Picasso, yet you aren't garnering any fine art respect.
You would like to be dually embraced as an entity that exists outside of the "Mtv Rap World" as well as continue to be looked upon by rap fans as somewhat of a god among men.  How do you bridge the gap between a hip hop performance and performance art?
By using the business model of selling an unknown Cognac to a high-end consumer. The key would be to craft a narrative that places you into a position of power as a reputable performance artist.  A lot of art world players would have to be precisely aligned "in the same picture" to give the illusion of uniformity, so that your product — in this case "Jay Z" himself — is not only integrated into the fine art performance art world as a supporting element, but as a powerful entity with dominant placement (the glowing bottle in the foreground).
Throughout this new album Magna Carta Holy Grail Jay Z sings about the various art pieces he wants to own, or currently owns.  If you want to build an art collection of that scale, it would total slightly less than $500 Million dollars, which if he had his heart set on it, he could buy up all the pieces he mentions and still have $500 Million left in the bank.  There are some things money can't buy, and apparently art world Insta-cred isn't one of them.  Let's examine in detail.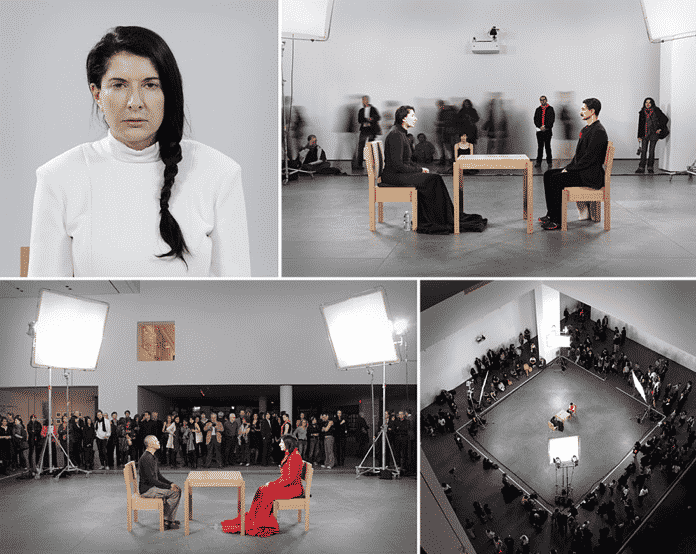 Because this song is so fine-art-centric, Picasso Baby director Mark Romanek is quoted as saying he was directly inspired by the documentary The Artist Is Present. The film chronicles Marina Abramović 's retrospective at MoMA which was highlighted by her daily "duration performance piece" whereupon she would sit facing members of the public one-by-one, making a lot of them cry.  The artist was present, and you were eye level, an equal.
To "sample" this performance (with a few tweaks) and jump into duration performance art piece without having previously existed in the fine art performance world takes balls, but if you have a nice warm glowing bottle- it's part skill, part psychology, part who you know, and a lot of creative fine tuned editing.
A few months ago the Internet blew up because Jay Z was in Chelsea secretly filming (not so secret to the art world twitter heads) a six hour performance art piece at a small white wall gallery reminiscent of the Marina piece- and Marina was invited. This was edited down to a 7-minute (11 minute with credits) "Performance Art Film" aka Music Video which "isn't a video." Watch the HBO film Picasso Baby (above), and as you do, think about Jay Z's positioning, posturing, and the way it's cut.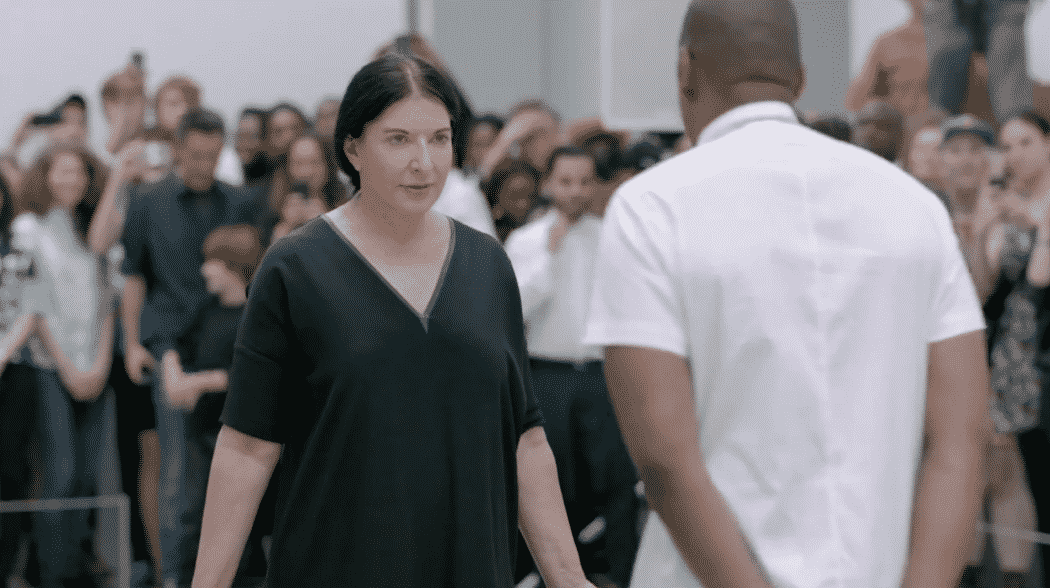 As the performance was going on in real time, the internet buzz from people watching the vines and reading the live tweets were mixed between "this is an amazing piece of performance art" and "this isn't art."
A musician on a stage in front of an audience is performing, and Jay Z is a hip hop artist, so yes, this is performance art… if you do it in front of 60,000 people (his normal audience size) or 60, it doesn't detract from the art of performing, so I don't see what the beef is.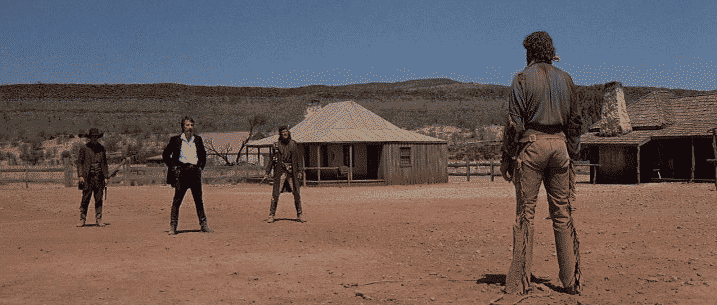 You might have thought you were coming to view or participate in a performance art piece, but you were also unwittingly invited to a sparring match. A shootout at high noon.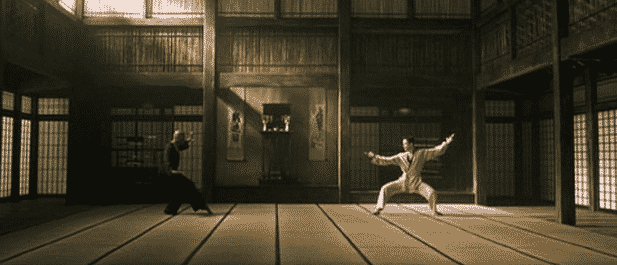 A Matrix duel in a white dojo, and tough luck, you are Morphius- oh, and you have to sit on a bench…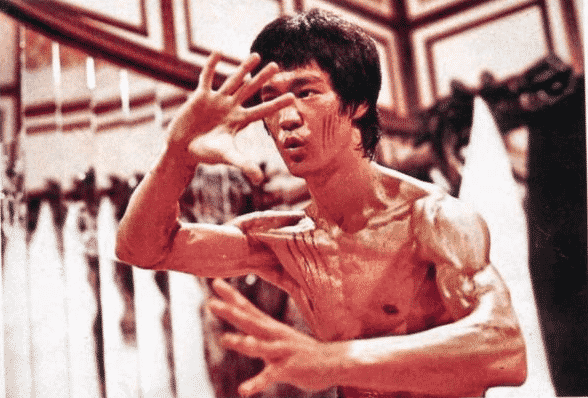 …against Bruce Lee…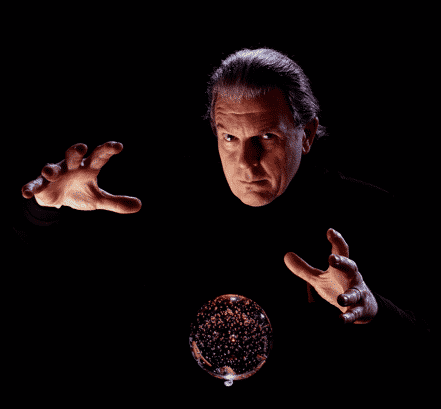 …with slight of hand skills.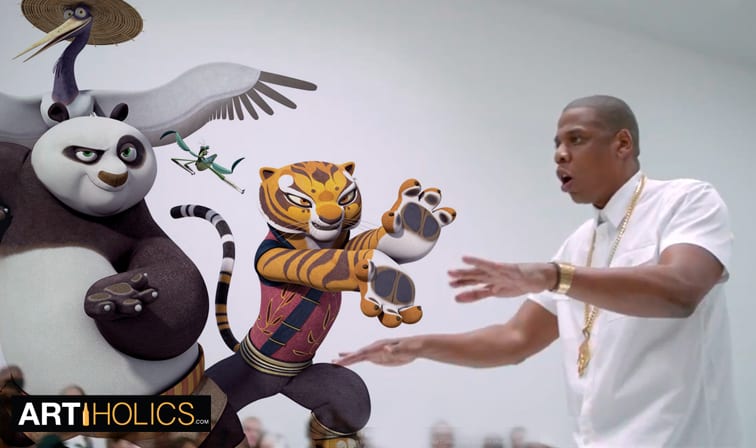 I've got 99 Problems and Marina ain't one.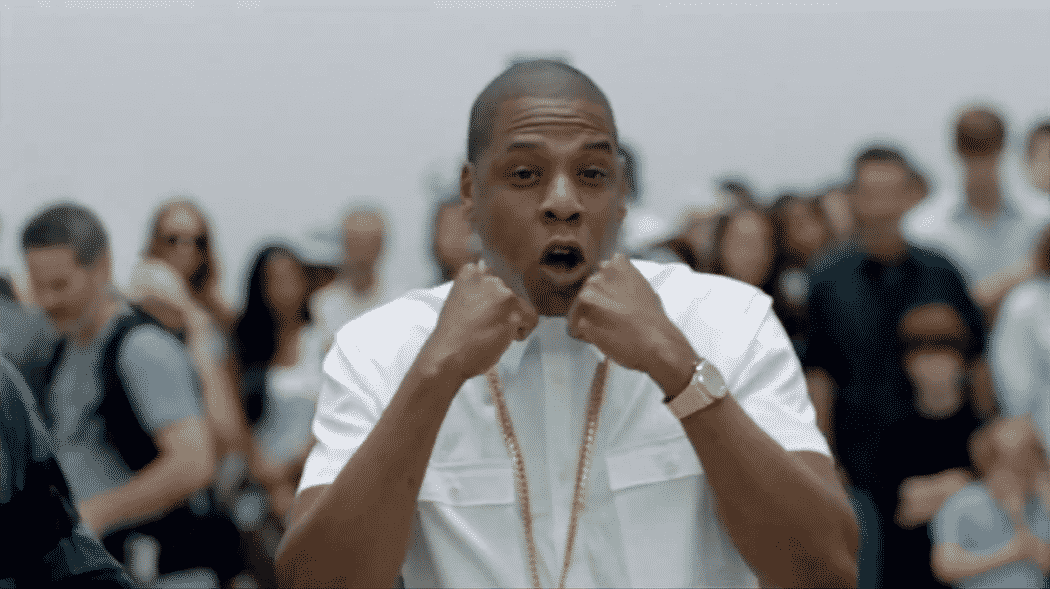 and fists…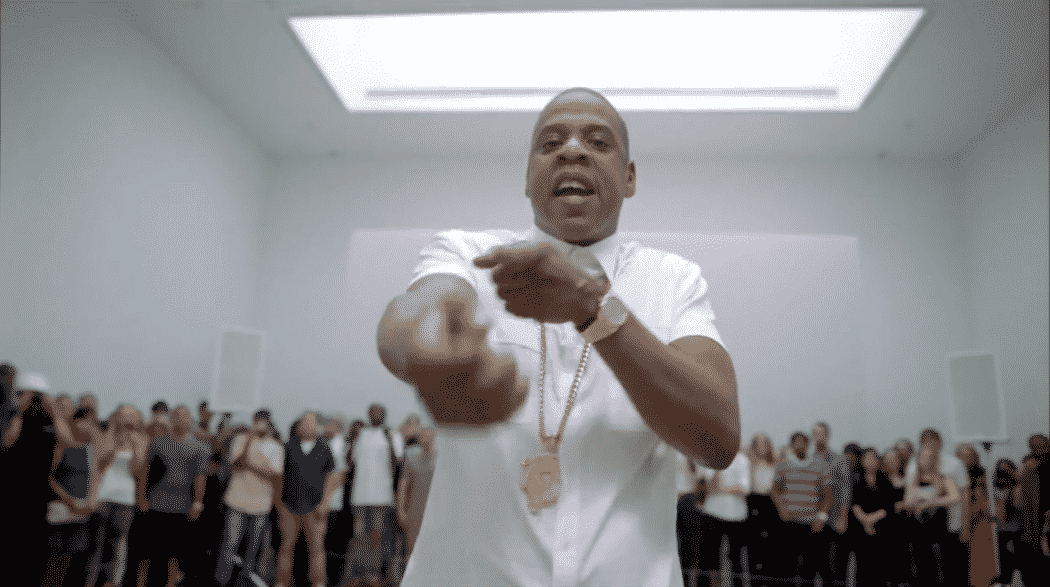 …forming invisible guns… you are no match.  Because you aren't the cowboy in the white hat, he is, and you also don't have a voice. There are a lot of people with pure white shirts in the crowd, but he never squares off with any of them. There is a lot of subliminal shit happening here.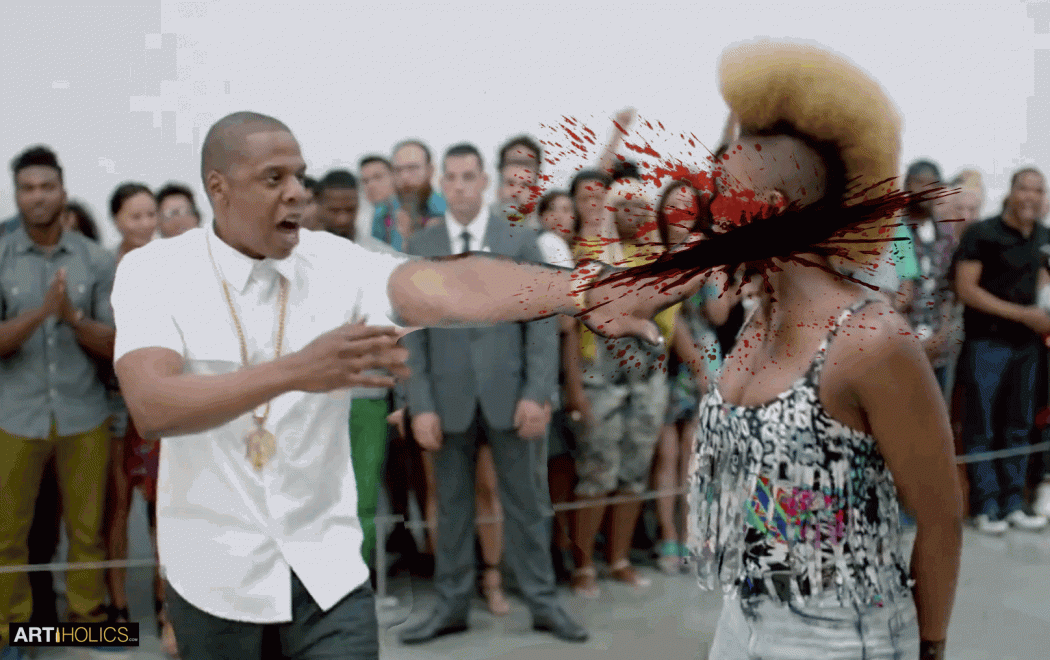 A one-sided rap battle in which you have literally no chance of winning or even anything close to looking superior.  Not because you are an inferior artist, but because you don't get a chance to defend yourself.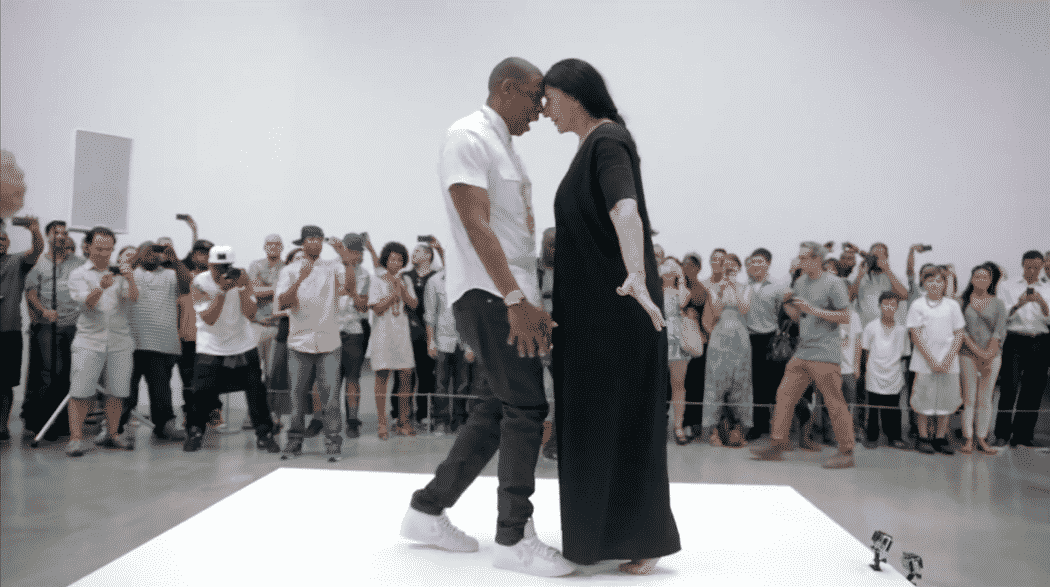 If you have ever seen 8 mile, or watched any Rap Battles on Youtube, you will have noticed that the protocol is very much the same as this performance.  One rapper gets the opportunity to get up in the other rapper's face, tearing them down with rhymes as an audience reacts.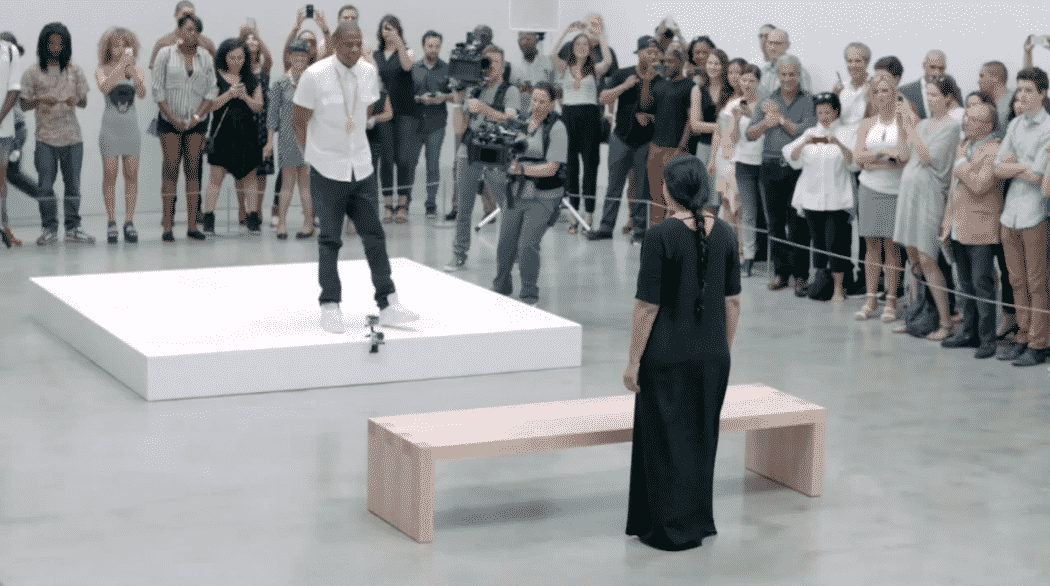 They have to just stand there silently and take it… but the beauty of the rap battle is that the person taking the punishment gets a chance to retaliate with their own rhymes, while the initial rapper takes his turn remaining silent as the audience reacts.  Not so in this case, as the only one with a mic is Jay Z.
Was this a duration performance?  Yes.  Was it one where the artist stands above you, yelling down at you from a white pedestal, directly into your face,  in an all white room, wearing white, while you sit there and have your reaction filmed from multiple angles and by dozens of smart phones? Yes again.
I wondered about how Marina might have felt in accepting the invitation to be upstaged at a performance which would be ripping off her own performance, knowing it would be edited.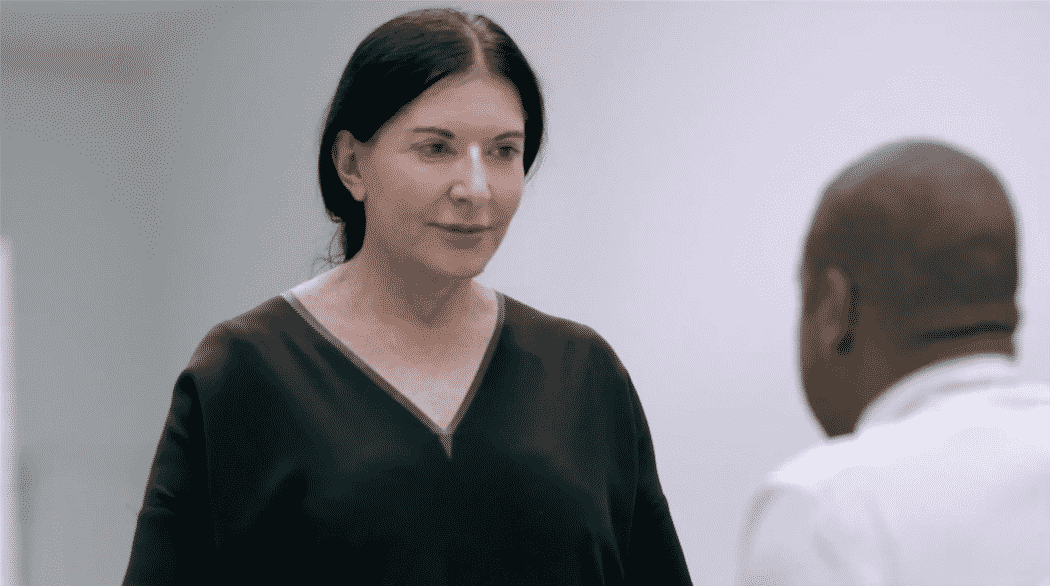 There was a lot of subliminal psychological stuff going on in this film, to position Jay Z as an authority figure in the fine art high-brow performance art world.
For one, the constant battle for height with Marina.  We reduce our height to show subordination to others and increase height to gain status.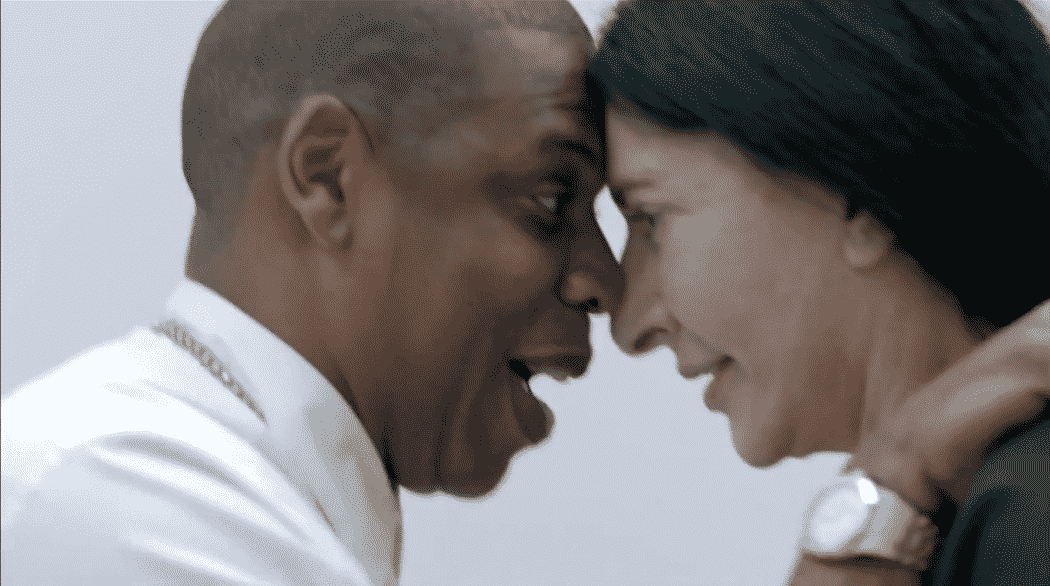 Shaking a finger "no" at her, and laughing when she pushed her face on his… very weird shit happening.  I'm really breaking this down, probably too much, but 6 hours was edited to 7 minutes. These exact seven in this exact way. Pretty sure they thought about every second of footage.
In editing this tight, there are no accidents or misplaced frames.
I'd imagined Marina might have felt something like the former The Police front man Sting to P.Diddy.
Do you remember when P.Diddy and Faith Evans did a tribute song to the Notorious B.I.G. and they "sampled" Sting's I'll be watching you, with "I'll be Missing You?"
Later, after there was no signs of this going away, Sting showed up on stage in a (If you can't beat em' join em') appearance to sing the hook underneath Puffy literally talking over what was once his song. Although it appeared as though Sting refused to change the lyrics from I'll be Watching You to I'll Be Missing You, it still seemed to be giving P.Diddy the OK, even if it was reluctantly.
Marina looks like Sting.  This is her world, but Jay Z is more famous.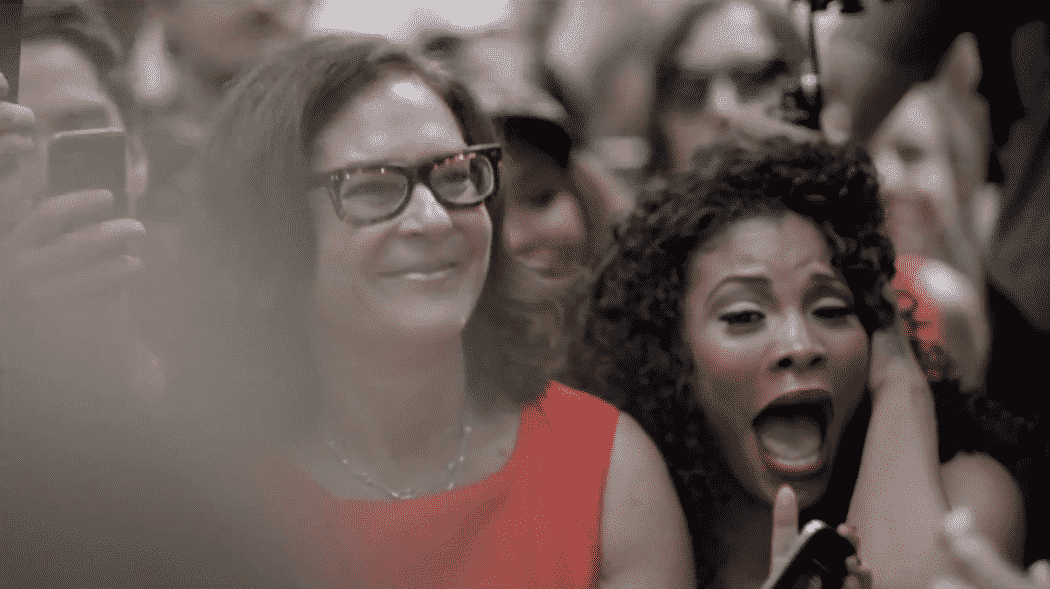 It seems like people were kind of enamored.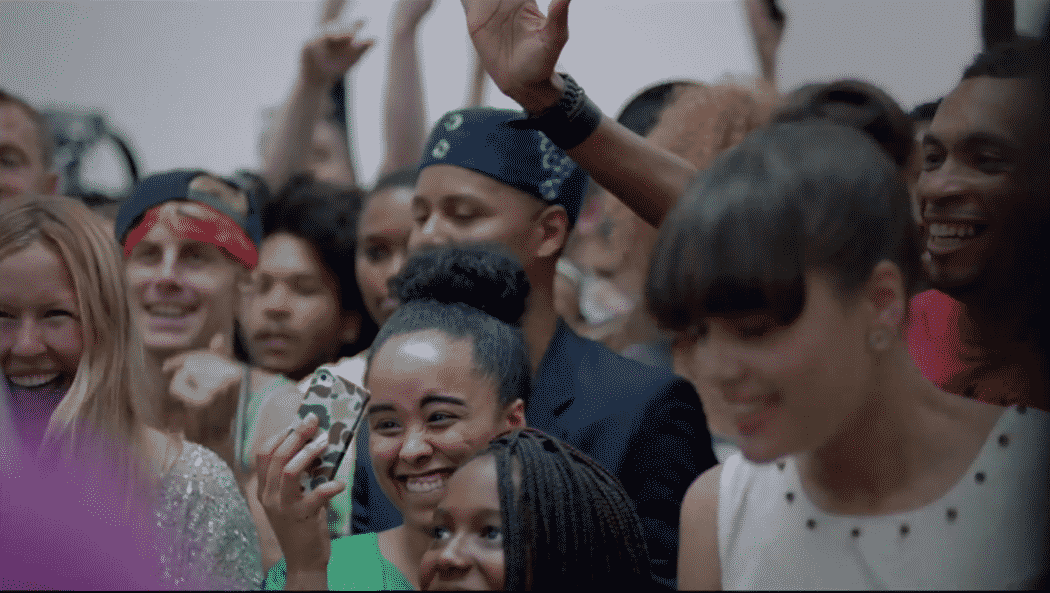 Some people danced and played along, others were being beat down by shadowboxing and words being thrown in their face.
You know when you are on the subway and those groups of 3 kids with a boombox get on, and they start the music super loud and then start spinning around the poles, doing flips and stuff very close to you, where they almost hit people?  It's the proximity that makes it uncomfortable, and if you embrace it and let yourself be impressed, you will be part of the show, but if you bury your head in your phone and don't want to participate, it becomes more awkward.  And when you look awkward, you get dominated.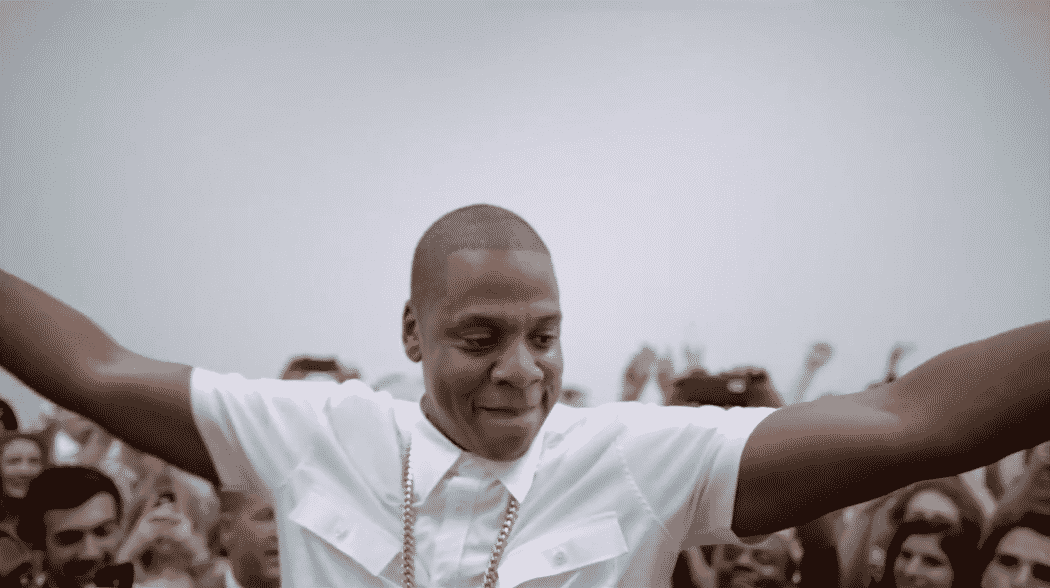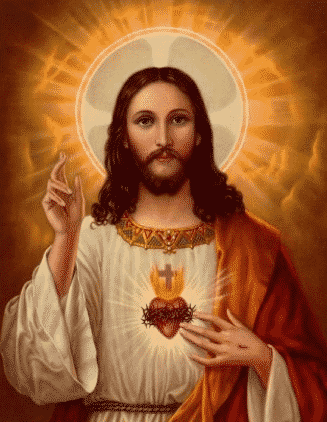 Jay Z came off looking like Jesus Christ walking into the room giving out gold bars.  Yes, if he wasn't famous nobody would give a shit about a guy talking in rhyme about what art pieces he "wants to line his castle" with.
Yeah, the discomfiture is probably what sets it apart from being a rap concert. Plus having all those alpha art-world personalities in the room and basically making them sit on a bench.
The balls behind the concept: I'm going to rhyme talk at your face, about how I want to own artwork – really loud, and you will sit there awkwardly, and this is art.
Were they swept up in the moment? They felt like they were special, because they were invited to be there, and in the room with one of the most famous musicians currently on the planet.  Like the Marina piece, they got to look into his eyes and connect.  They got to be performed to one-on-one.
Actors, film makers, painters, gallerists, art critics etc..
It is a very strange little art video, and there is a lot to be learned behind the psychology at play here. To put it in the rap musician mindset… If I sign with a record label that already has a lot of big named acts on their label, that makes me legit, and makes me on their level, a big name act – so when Jay Z throws these big performance artists into his video and they dance around with him, it's fake legitimacy. But since they are into it, do they in fact make it legit?
I did like that there is a line in the song about him being the next Jean-Michel, and that's one of the only lines where you don't actually see him saying it. That would be too pompous a line to come out of his mouth on camera, and he felt that, and edited appropriately.
All this said, I think Jay Z is a genius.  To say he isn't  an artist is absurd.  When it comes to marketing, making hit music,  and the business of art – he is on par with Andy Warhol.  Andy once said:
"Being good in business is the most fascinating kind of art. Making money is art and working is art and good business is the best art." – Andy Warhol
Jay Z has got that part of the art game on lock.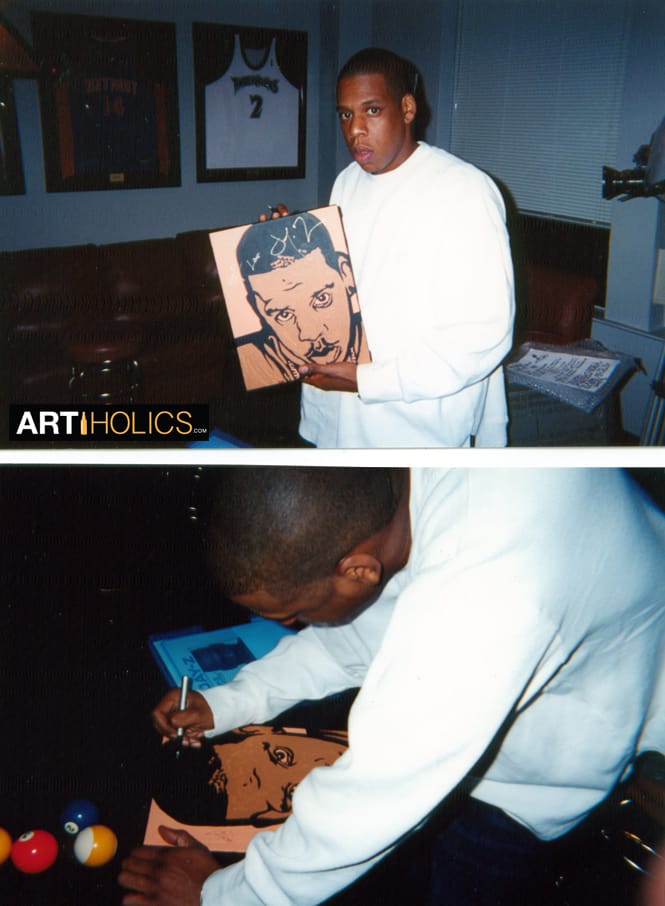 I would like to think I am absolutely in no small part a bizarre subliminal catalyst for Jay Z's interest in being a part of the fine art world.  He would never remember it, but back when I was doing a lot of artwork for The Source, Vibe, and other hip-hop magazines in my youth I collaborated with him on an acrylic portrait for a LIFEbeat The Music Industry Fights AIDS celebrity art auction (see above and then read).
This was twelve years ago (2002) and he was already huge at the time, but this was long before he was anything like what he has become today. So in some small unmemorable way, I helped get the ball rolling.
Yeah, I don't really think so either.
P.S.
In other strange and unrelated news I also drew his wifey for Rolling Stone as the final RS portrait of Destiny's Child when they announced their break-up.  I wonder if she has that in a scrap book somewhere.
 Written by Cojo "Art Juggernaut"