The Sylveon V is a part of Pokemon Brilliant Stars, released in February 2022!
This blog post will try to shed some light on the beautiful Sylveon V, one of the most coveted TCG cards in the latest expansion. We will cover all the aspects of the card that ties into its value; this will help you better understand the card and what the future holds for it.
So without further ado, let's get right into it!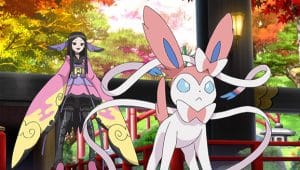 Origins
Sylveon is one of the first Pokemon to be introduced to the main series games with the fairy typing. It has been a fan favorite ever since, and the love for this adorable Pokemon shows no signs of fading.
The Pokemon is known to have a divine aura that makes those hostile to it numb and makes them feel god in its presence. But don't let this cuteness distract you from what this Pokemon can do. It bravely charges at every dragon-type Pokemon it sees.
It was dubbed the dragon killer a few years ago, and rightfully so, this Pink dog is the strongest eeveelution there is.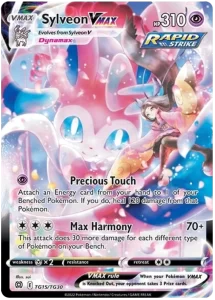 Trivia
Apart from the Sylveon V, the expansion also added the Sylveon V Max to the TCG, one of the most coveted cards in the expansion. Both cards have a similarity; both feature the fairy trainer Valerie in them. This just adds more value to the card.
Illustration
The Sylveon V Max has some of the best artworks we've seen in a while. Eeveelutions tend to get more attention when creating V Max cards, so there are a lot of beautiful Eevee cards out there. Still, the Sylveon V Max somehow manages to be one of the best.
Thanks to Megumi Mizutani, who illustrated the card and made it one of the most coveted ones in the expansion. The illustrator is also responsible for the above-shown cards! The Sylveon card also features Valerie, who is known to be a fairy trainer. Her gorgeous looks combined with the cuteness that the Sylveon brings; make this card one of a kind!
Value
Now that we've taken a look at why the card has its appeal, let's look at some numbers. When writing this blog, the card price is hovering between $20-40, depending upon the site you check on and the condition of the card.
The card has started to gain some momentum, though its uniqueness stems from the full art design it has and the addition of Valeri. People have begun to add this one to the collection quickly, which is why its value is starting to rise. It was eventually being sold for $15-20.
So it won't be a bad idea to have this special card in your collection.
Recommended – The art of Pokemon: Sylveon V Max from Brilliant Stars!