Tenya Ida Chrome Rare is a part of My Hero Academia Heroes Clash Set!
The My Hero Academia Collectible Card game blasted onto the TCG scene last year and has only grown in popularity since then. MHA is probably the best shounen anime on air right now, and fans love the show's characters. MHA is of the few shows in which the side characters get as much air time as the protagonist!
Due to this, the many different characters in the anime are also popular in the CCG, as every character has a diverse fan base. There have been two sets from the CCG, the base set and Crimson Rampage, the first expansion, with a third set, Heroes Clash, on its way.
The set will feature a new rarity in the form of Chrome Rares, and the Tenya Ida Chrome Rare is one such card. Ever since it was revealed, it has been amassing considerable hype, so we decided to get to the root of this hype by shedding some light on the card's illustration, the origins, some trivia, and most importantly, the price point!

Origins
Tenya Ida is the class representative for 1-A and probably the best student in the entire school. He was brought up in a noble house; almost everyone in his place was a hero, not just a low-level hero, PROs. Tenya wants to honor his family's legacy and will go to any means necessary to do so.
Due to his elite upbringing, he may come off as nit-picky and brash, but he's a very straightforward person, it's just that he gets hyper at times as he wants everyone to follow the rules.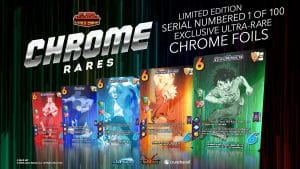 Trivia
The Chrome Rares are the best rarity we've had so far. There will only be 100 Tenya Ida Chrome Rares in the first edition release, and the same goes for every other Chrome Rare. Each card will have a number ranging from 1-100, making each card even more unique!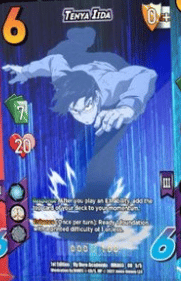 Illustration
The Tenya Ida Chrome Rare features Tenya in a dynamic pose, about to rev his engine and push the ungodly amounts of thrust it produces into one of his enemies. The illustration itself is excellent, but when a Chrome holo foil is added, this card's beauty increases exponentially!
All the Chrome Rares look like meta cards, unlike anything else we've seen so far!
Value
As of writing this blog post, the card's value is unknown as the chrome rares have not yet entered the reseller markets. But if the past entries in the CCG are anything to go by, the card might go for around $200-500, depending on the number of cards in the market.
But then again, this isn't set in stone and can very well be more or less than the amount we just gave.
Recommended – Shoto Todoroki Chrome Rare from My Hero Academia Heroes Clash