Eijiro Kirishima Chrome Rare is a part of My Hero Academia Heroes Clash Set!
The My Hero Academia CCG has surpassed every expectation the fans had set for it. Since its release a year ago, it has only grown in popularity. The first set, UniVersus, followed by the first expansion, Crimson Rampage, solidified the CCG's place in the card-collecting community.
And now, with the release of Heroes Clash, it looks like the MHA CCG is here to stay.
The hype surrounding this new set is immense as it is introducing a new rarity in the form of the Chrome rares. As of now, five different chrome rares have been revealed, and the Eijiro Kirishima Chrome Rare is one such card.
So we decided to shed some light on the illustration this card boasts, its origins, some trivia, and also the possible price point it may have.

Origins
Eijiro Kirishimaalso known as the Red Riot is a student in the most prestigious hero training high school, UA. He studies in class 1-A and is one of the strongest heroes in his class. He is the embodiment of the alpha male chad we see on the internet nowadays. Often referring to things to concerts as Manly or Unmanly and always leaning on the former.
He's a loyal friend and often can be seen competing with his Class 1-B counterpart, TetsuTestu.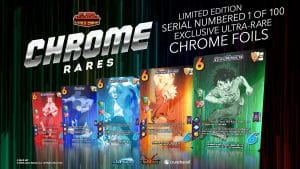 Trivia
The new rarity introduced in Heroes Clash is unlike anything else we've seen in the CCG. These Chrome Cards are numbered from 1-100, and that's because there will only be 100 such Chrome cards released in the first edition of the new expansion.
So the scarcity of this card is on an insane level!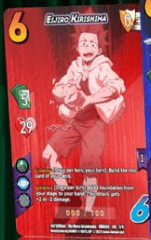 Illustration
The Eijiro Kirishima Chrome Rare shows the hero Red Riot in a not-so-great illustration compared to the other Chrome Rares. The Deku Chrome Rare or the Bakugo Chrome Rare have dynamic images in which we see the heroes about to attack, which we don't see much in this one.
Still, the card's Chrome Foil makes it stand out from the rest as its metallic finish is enough to make any fan forget about the mid-imid-illustration
Value
As of writing the blog post, the Chrome Rares have still not entered the reseller market, which puts us in a pickle because we know how to predict the price from no real-world metrics.
So we will be taking the price of the earlier CCG cards to predict what price this Eijiro Kirishima Chrome Rare might go for. And based on that, the price might be in the range of $100-200.
Recommended – Tenya Ida Chrome Rare from My Hero Academia Heroes Clash