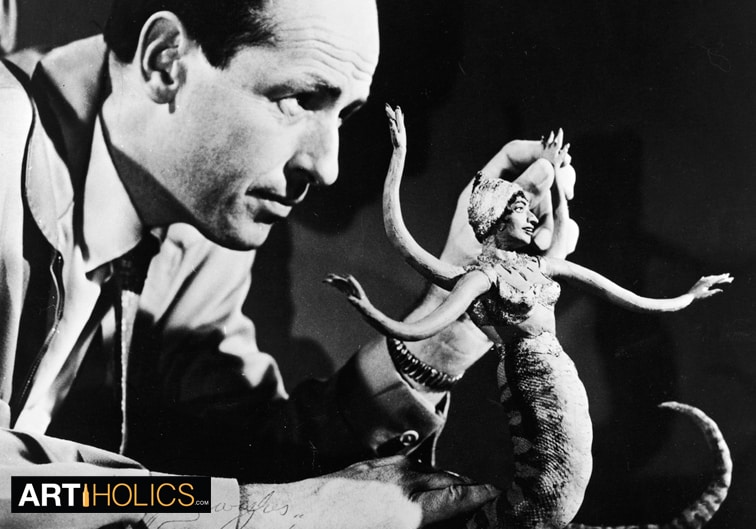 London, England – Tuesday, May 7, 2013
Today a legend in stop-motion animation died.  Ray Harryhausen's stop motion model animation not only influenced Steven Spielberg, James Cameron, Peter Jackson, and George Lucas, but basically breathed life into an art form which would have otherwise not have gotten a second wind.
According to Deadline.com
Harryhausen's fascination with animated models began in the early 1930s after watching Willis O'Brien's creations in King Kong with his childhood friend, the late Ray Bradbury. He began his lifelong adventure in filmmaking with his own home movies that featured his first attempts at model animation. His genius was in bringing his models to life, becoming characters in their own right. His other major works include Mighty Joe Young (1949), It Came From Beneath The Sea (1955), 20 Million Miles To Earth (1957), Mysterious Island (1961), One Million Years B.C. (1966), The Valley Of Gwangi, (1969), The Golden Voyage Of Sinbad (1973), Sinbad And The Eye Of The Tiger (1974) and Clash of the Titans (1981).
Think of all the stop-motion effects in Movies and and TV shows that would have never been invented if the stop-motion tradition hadn't been carried on into color film.  Gumby,  the Noid, The California Raisins, South Park, Robot Chicken, I could go on and on.
"The Lord of the Rings is my 'Ray Harryhausen movie.' Without his life-long love of his wondrous images and storytelling it would never have been made — not by me at least." -Peter Jackson
Ray's influence is vast, and he will be missed.
Written by Cojo "Art Juggernaut"