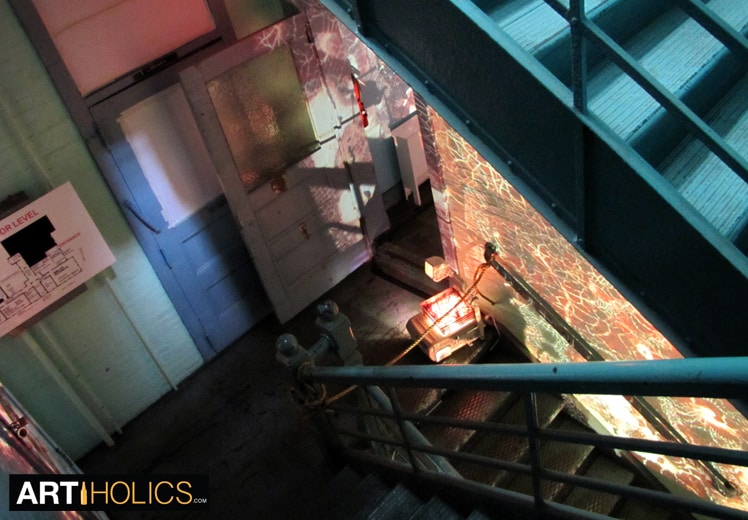 New York – Saturday, March 8, 2014
This year the first of the Armory Arts Week press previews was for  Spring / Break Art Show in an old school house (called The Old School) in Little Italy. It's a cool step away from the traditional art fair because it not only focuses on the curator as key, but also has a hard-on for "new media" art, which means you will be seeing either video or projection art in almost every room, and if no video there is usually some auditory component.
Sometimes it is fun to be surprised by art, going into a show without knowing any of the players is like going to a movie not just without any spoilers, but also having no knowledge of the plot or cast. That was my experience last year when I first attended Spring / Break 2013. I was a blank slate. Having never been to the fair previously I was green to the rundown elementary school layout. It seemed disjointed and reminded me of a cross between PS1 and the random dilapidated school buildings turned solo artist exhibitions you see at the Governors Island Art Fair.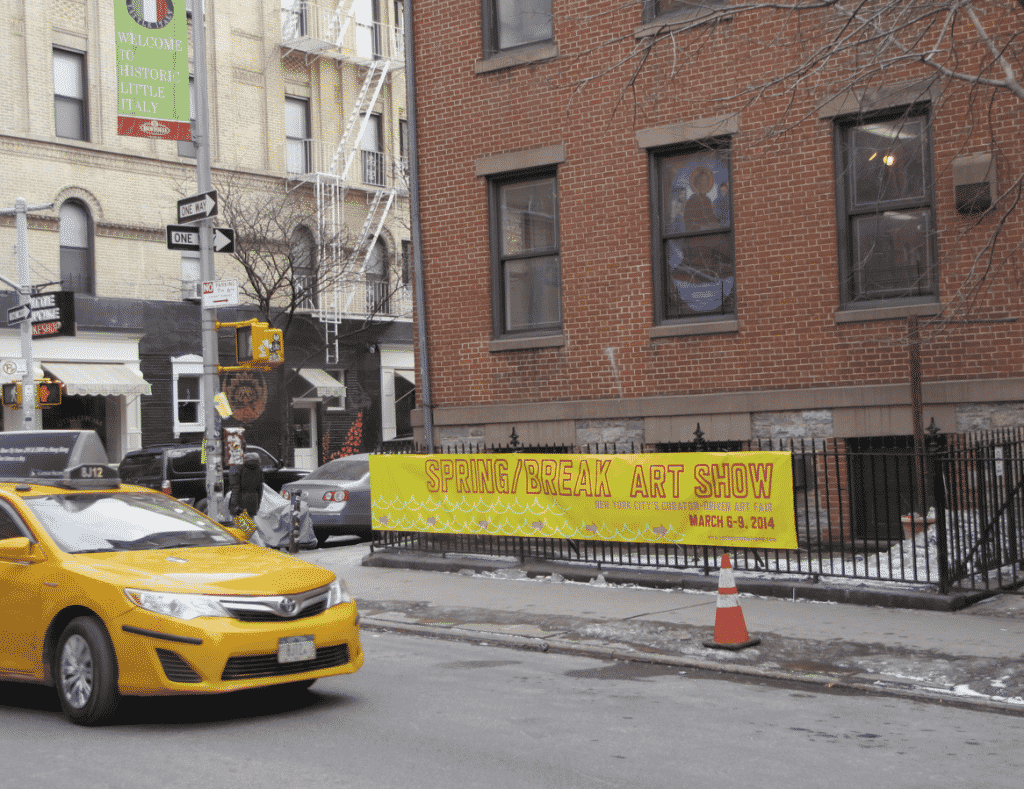 This time I settled right in. I knew some of the artists and curators personally ahead of time and was able to more easily identify the work.  It was fun to see how each curator played with this year's theme for the fair PUBLICPRIVATE.
Entering the building and checking in I wandered into the first room which had an eaten away pillar which reminded me of the box from Frieze except made out of garbage.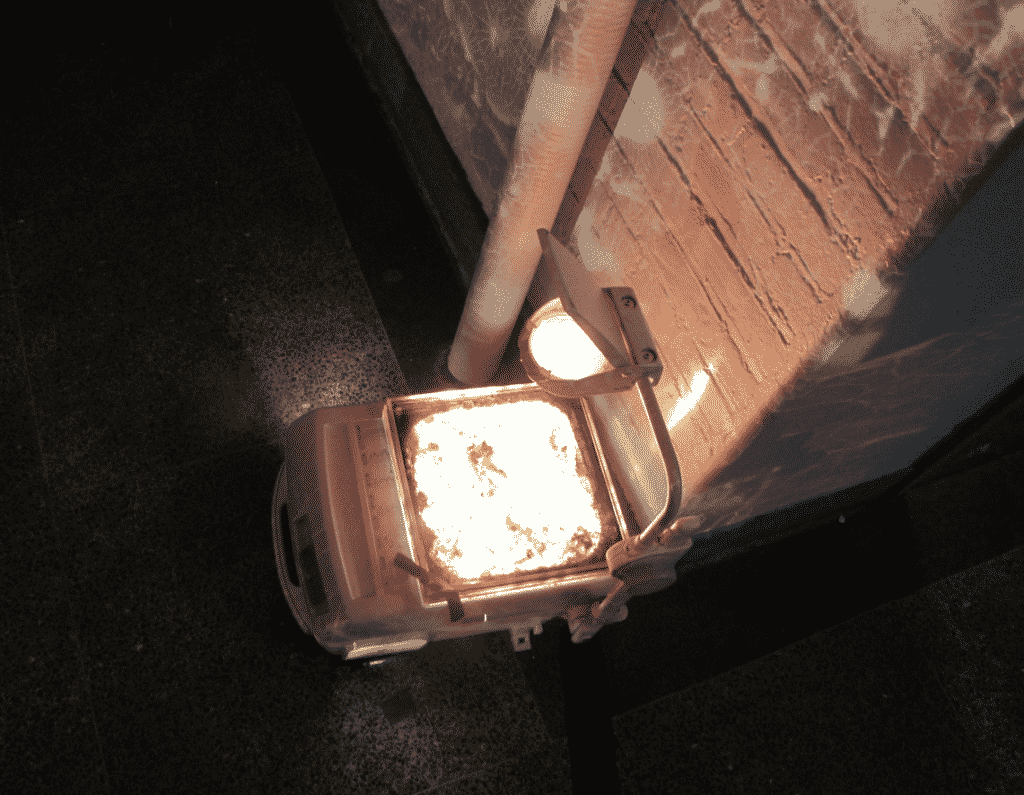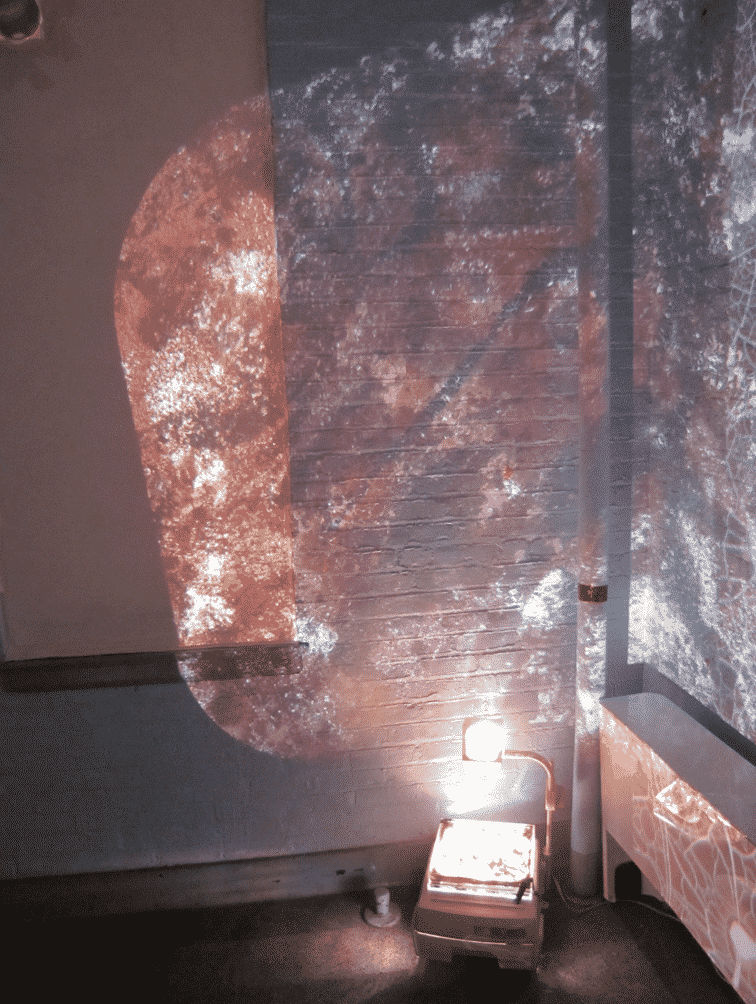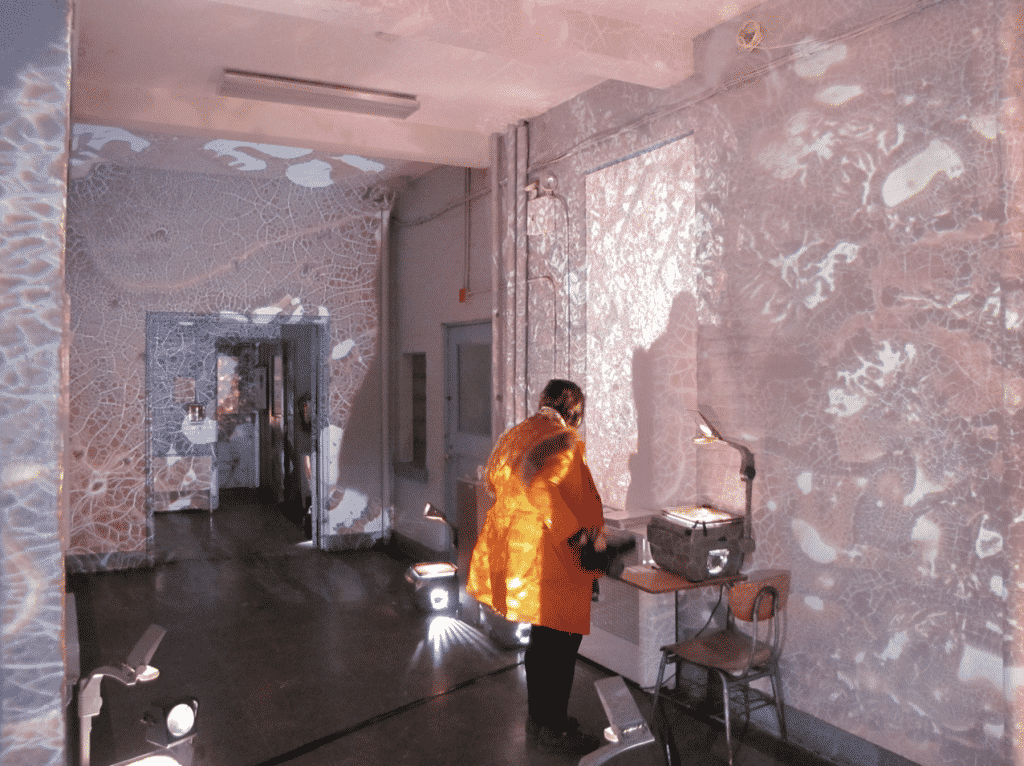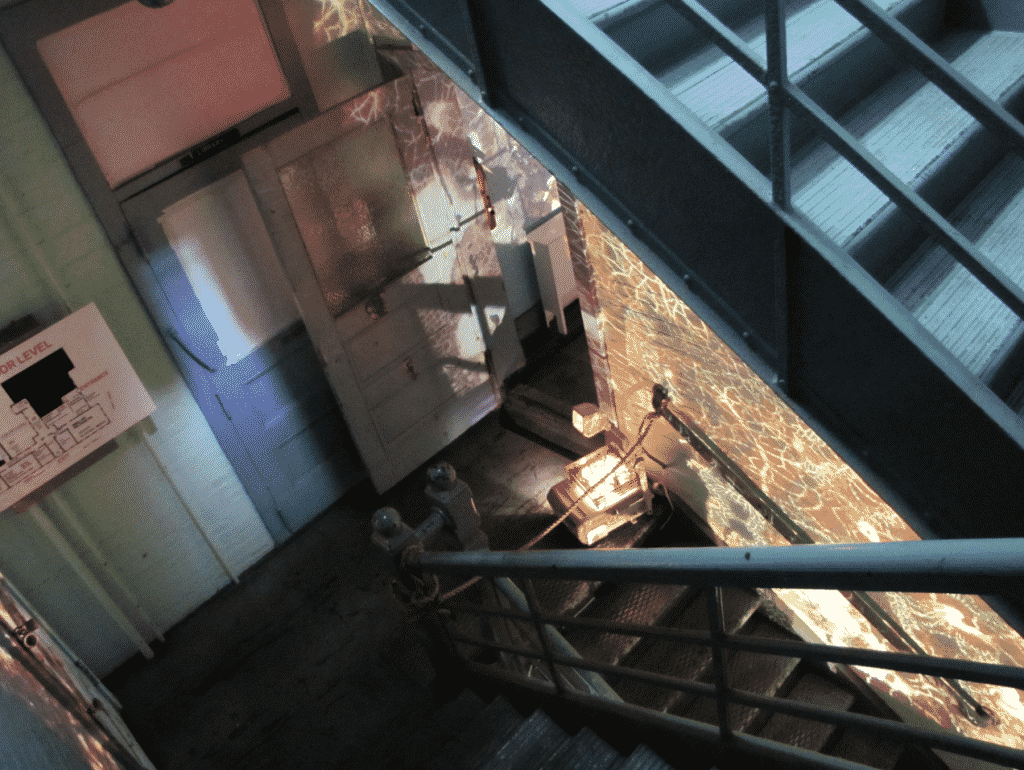 Passing through that room I encountered a hallway full of blood illuminations by Jordan Eagles I have been to several Jordan Eagles blood shows when he worked in solid form, but these 13 projectors really filled out the space with a hemo-glow. Curated by Tracy Causey-Jeffery.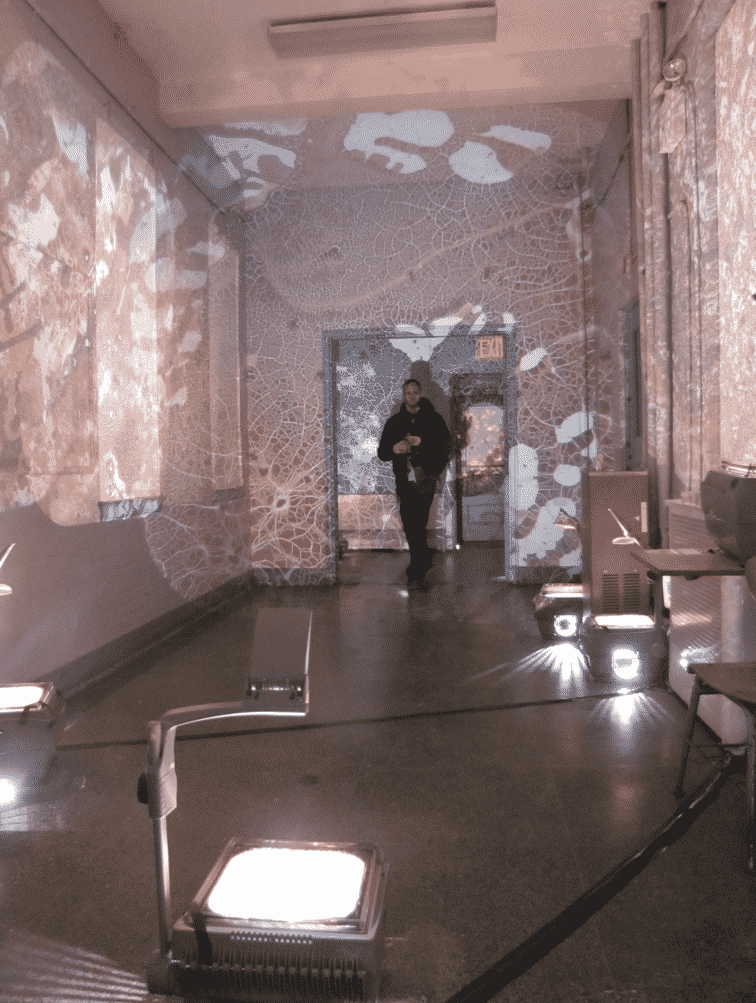 Jordan walking through the corridor.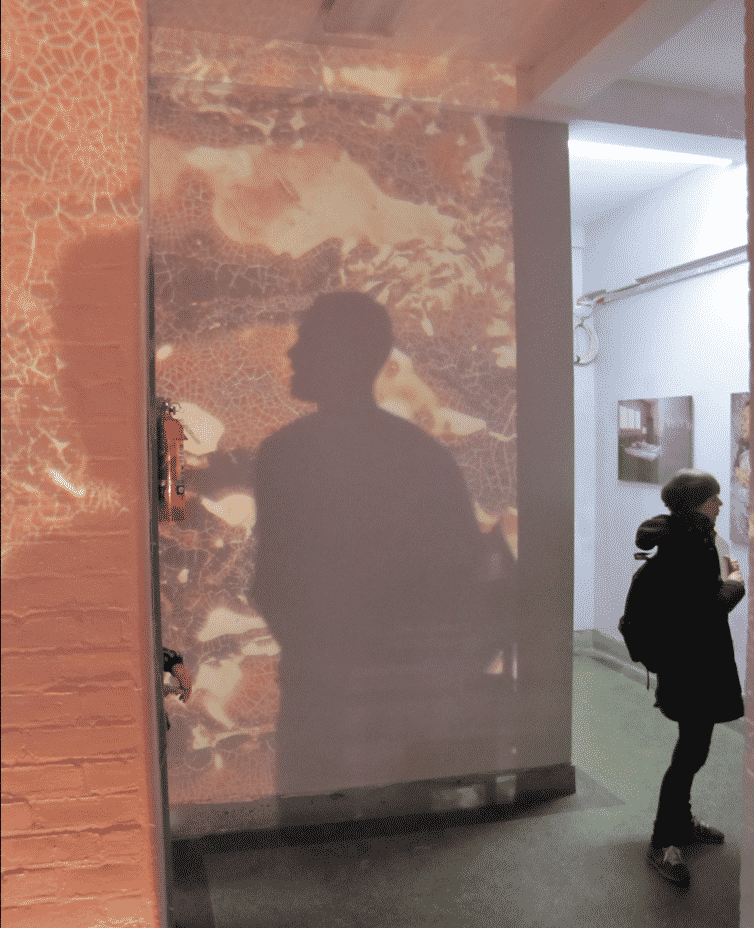 Jordan's silhouette in blood.
Ducking out I spun around when I heard my name called. It was art writer / curator Benjamin Sutton. I had seen some of his install pics on Facebook and instantly recognized the room he curated by the unmistakable ceiling cats by artist Caroline Wells Chandler.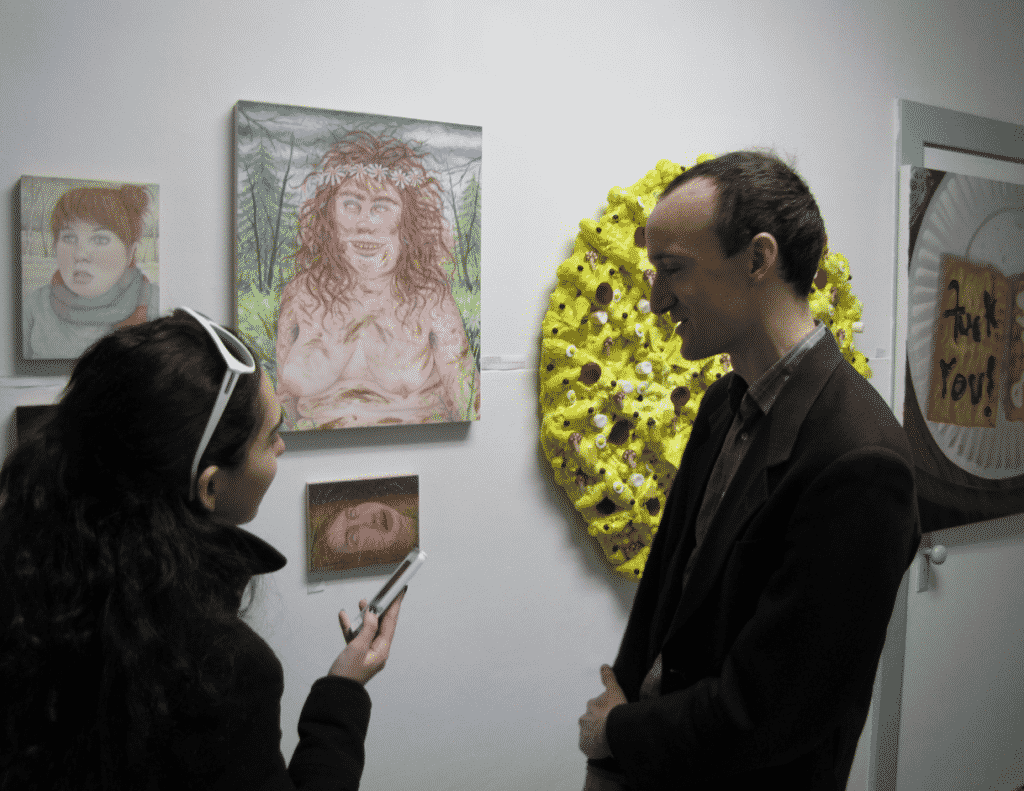 Benjamin getting interviewed by Samantha Katz from Whitewall Magazine.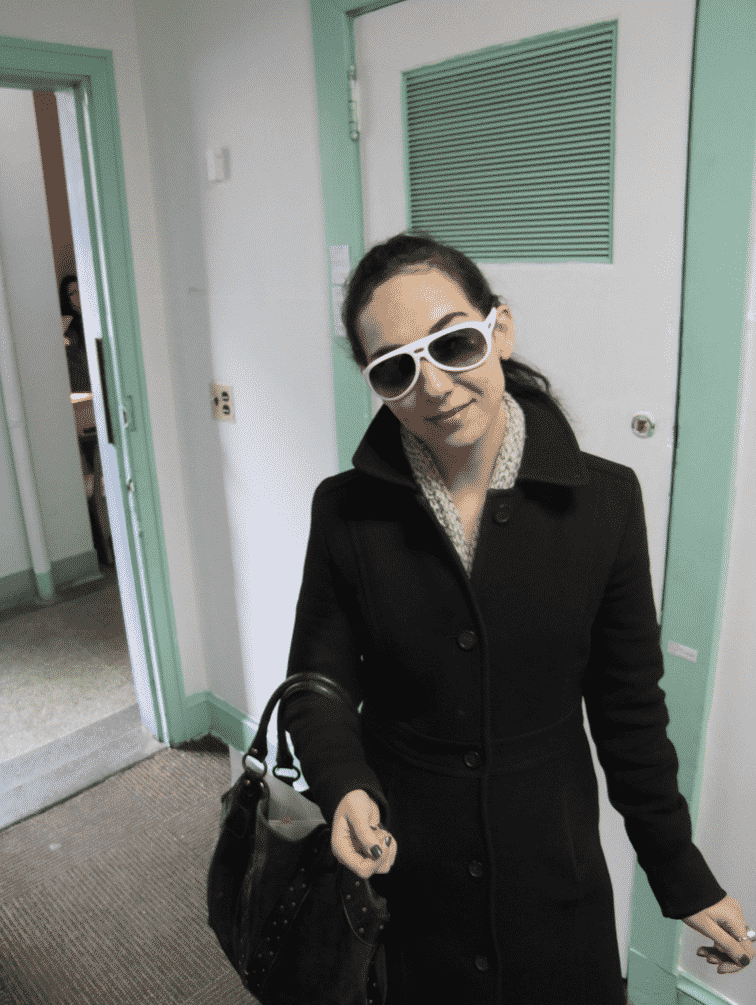 Samantha Katz.
The piece that was his starting point for building the show was this grotesque sculpture "Selfie as a Chocolate Chip Cookie," also by Caroline.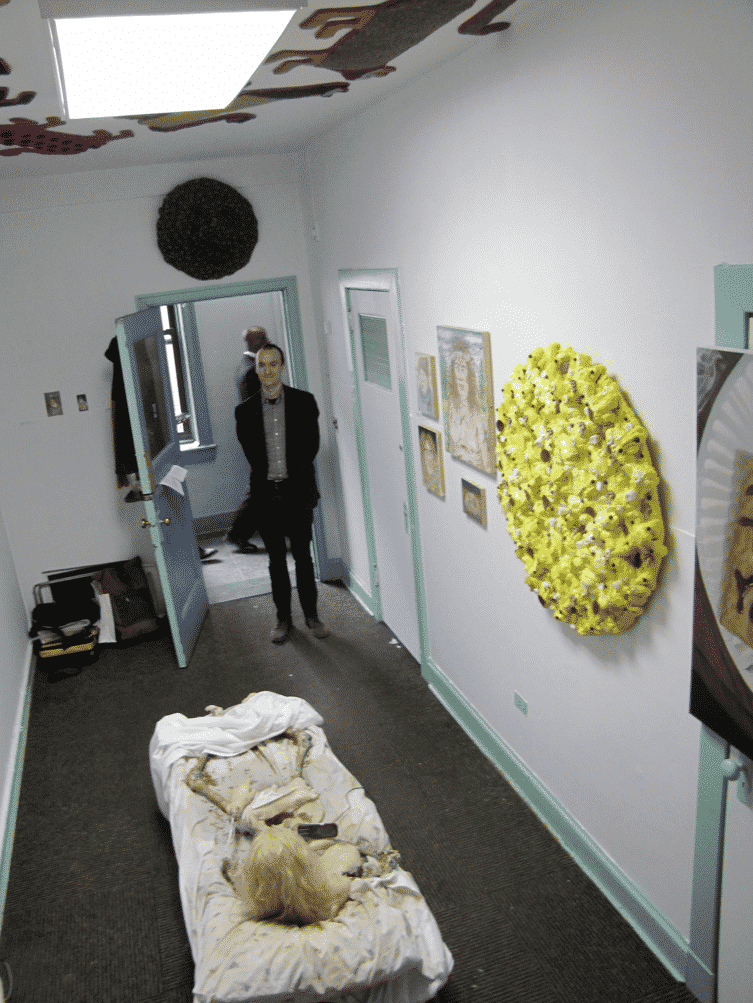 I climbed up on the radiator to get this shot.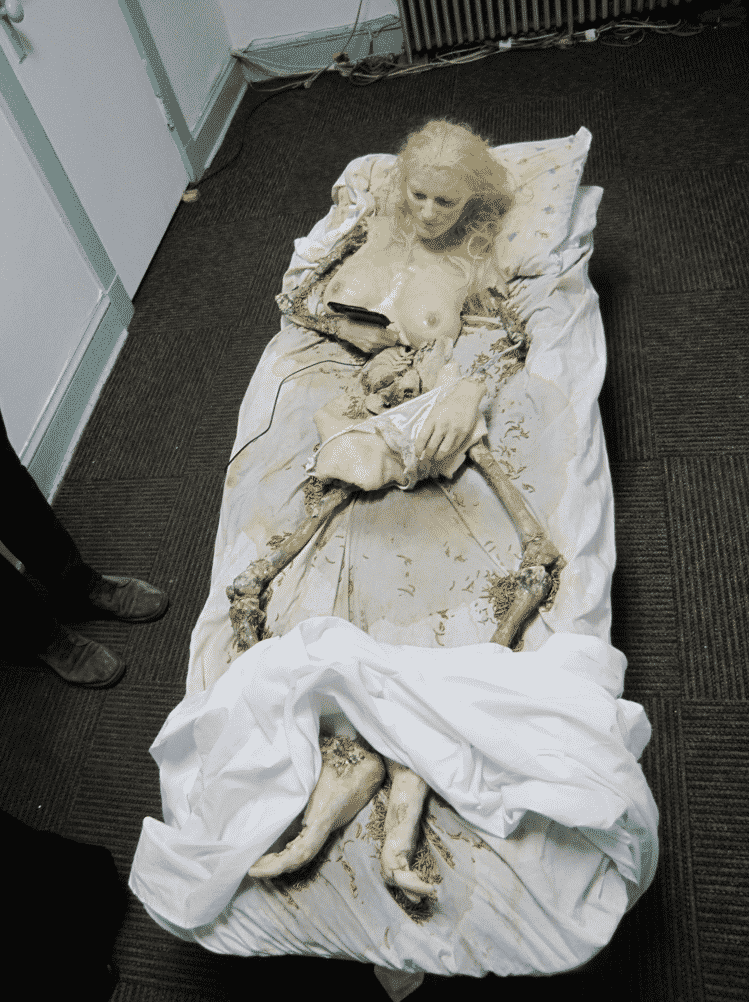 "Rule 34; Charm" by Sigrid Sarda. Made with real maggots dipped in gold, wax, real human bones & hair.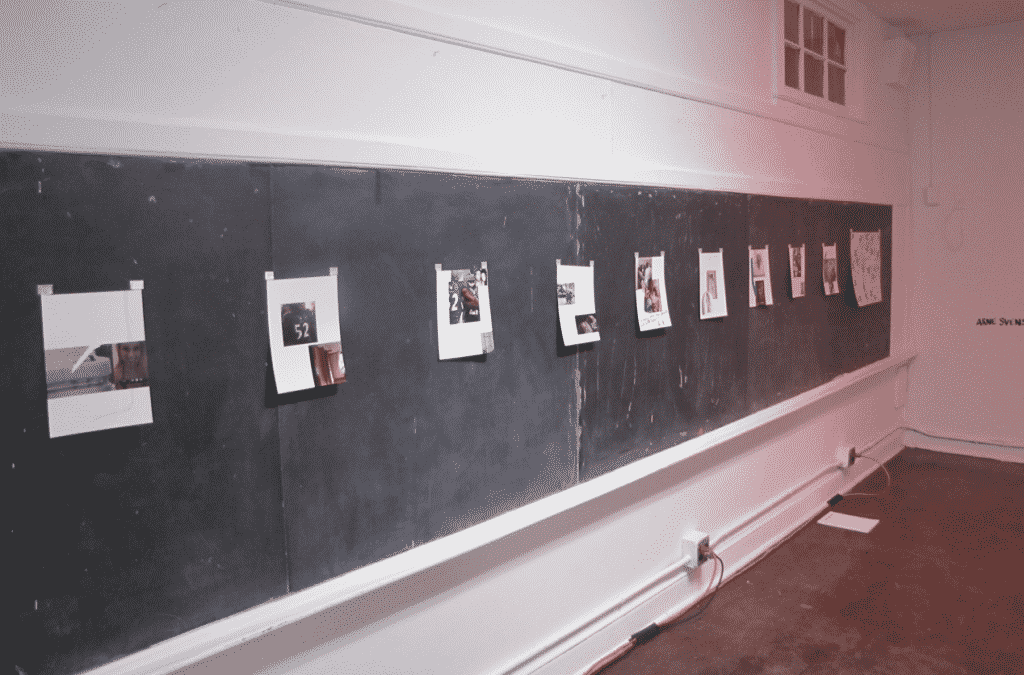 This room was curated by Jessica Hodin, The director of the Bleeker Street Arts Club.
Jessica jumped behind this transparent piece.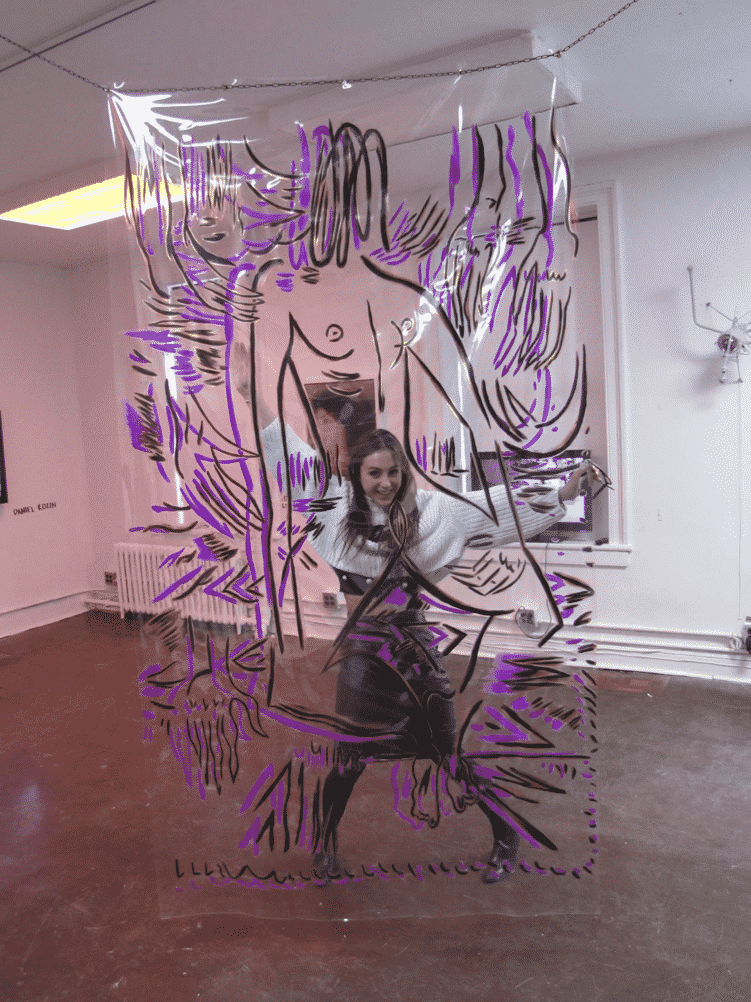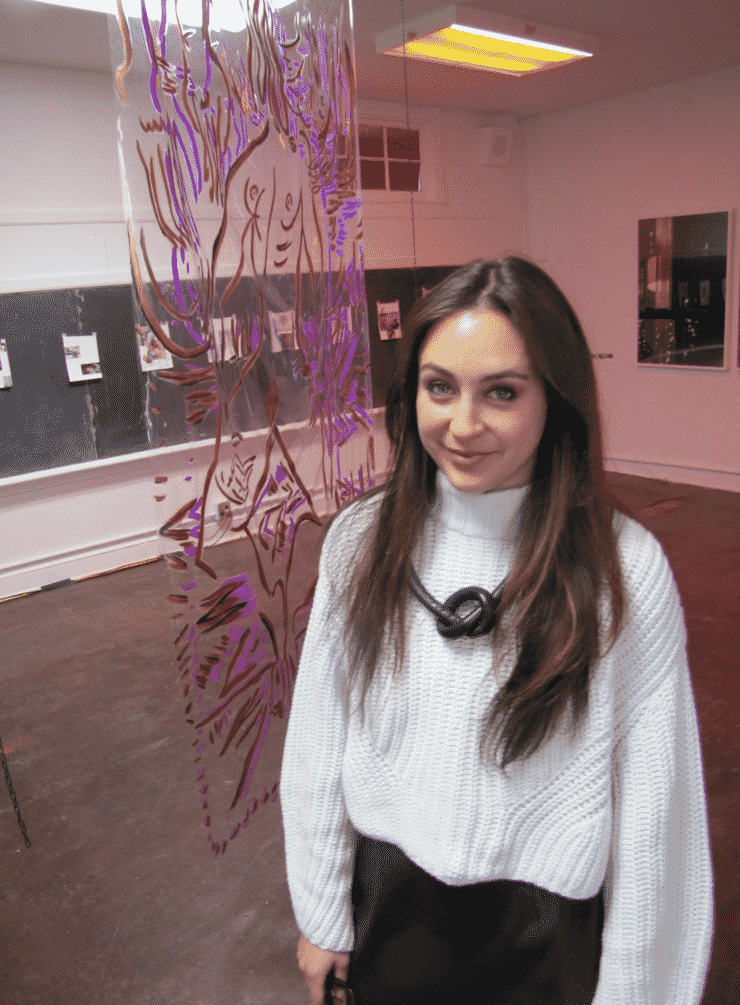 Jessica Hodin.
Assistant Director of Bleeker Street Arts Club, Anita King.
They have a new show titled FEELING HUMAN, with an opening reception this Sunday, Mar 9, 2014 from 1-4pm featuring some artists from this exhibit. 305 Bleecker St., NY NY 10014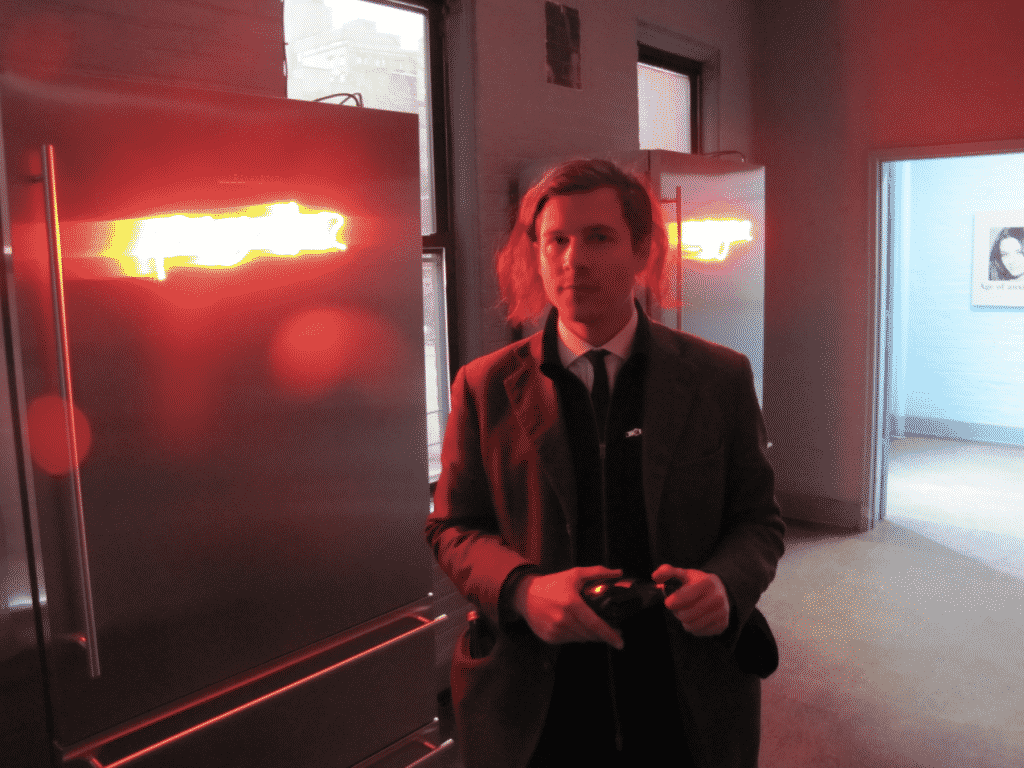 Artist Lucas Zallmann poses with his fridges.
You open them up to find metal dildos and books.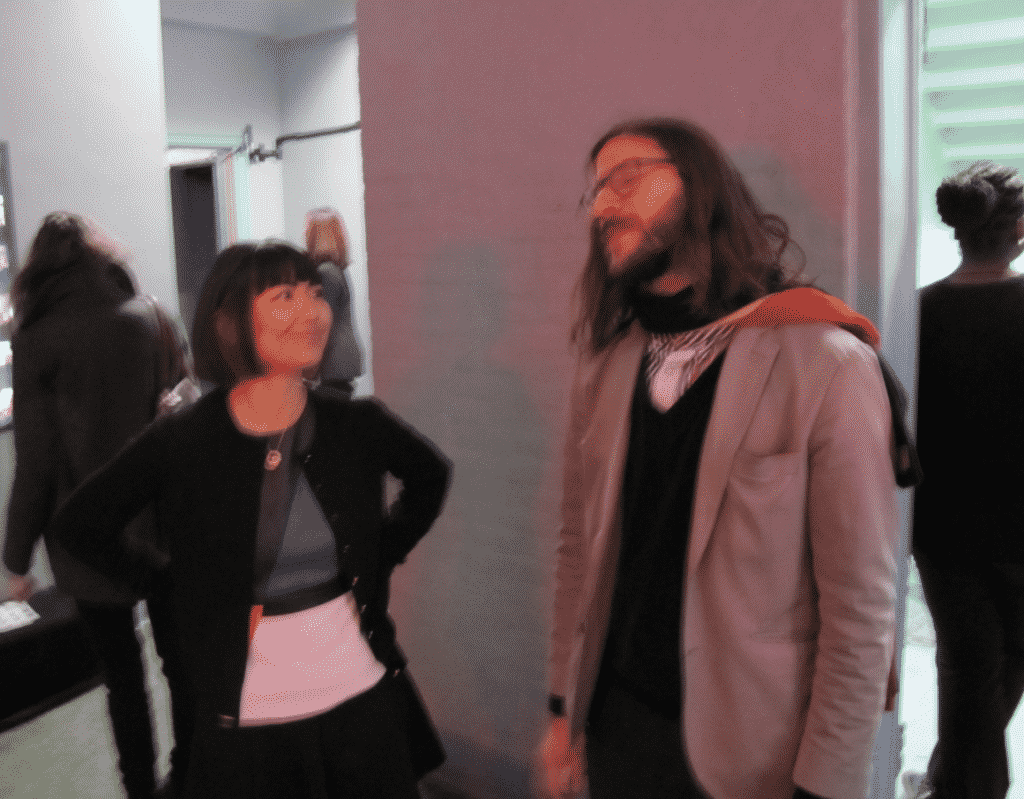 Curated by Wills Baker and Sarah Sulistio.  Sarah is seen here talking with Spring/Break Co-Founder Andrew Gori.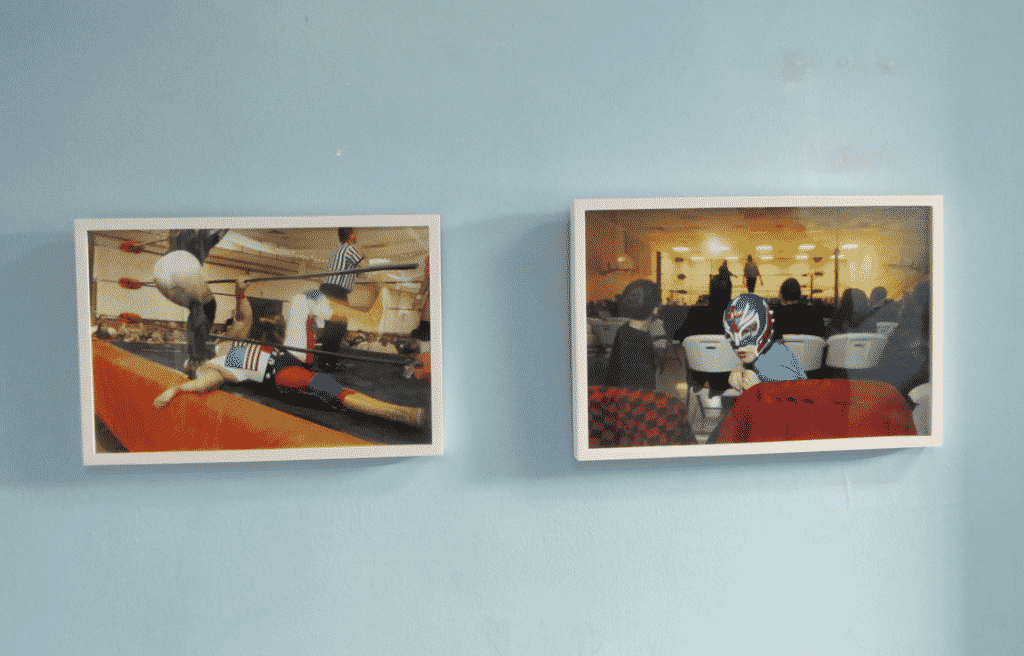 A few photos by Carl Gunhouse.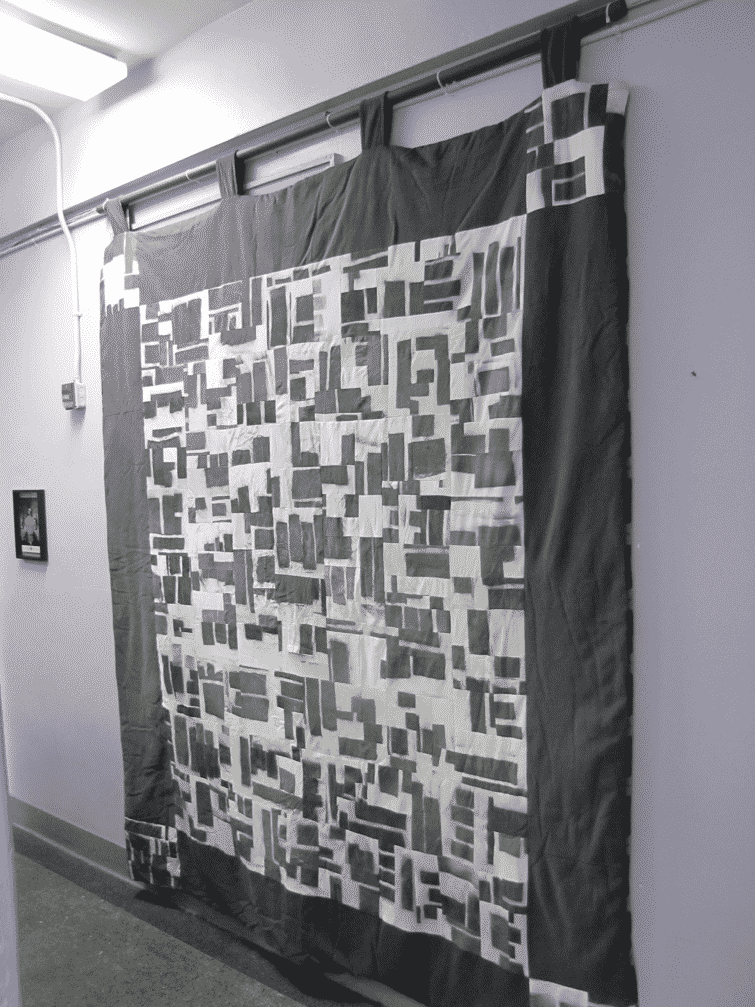 A piece by Jacob Rhodes from Field Projects.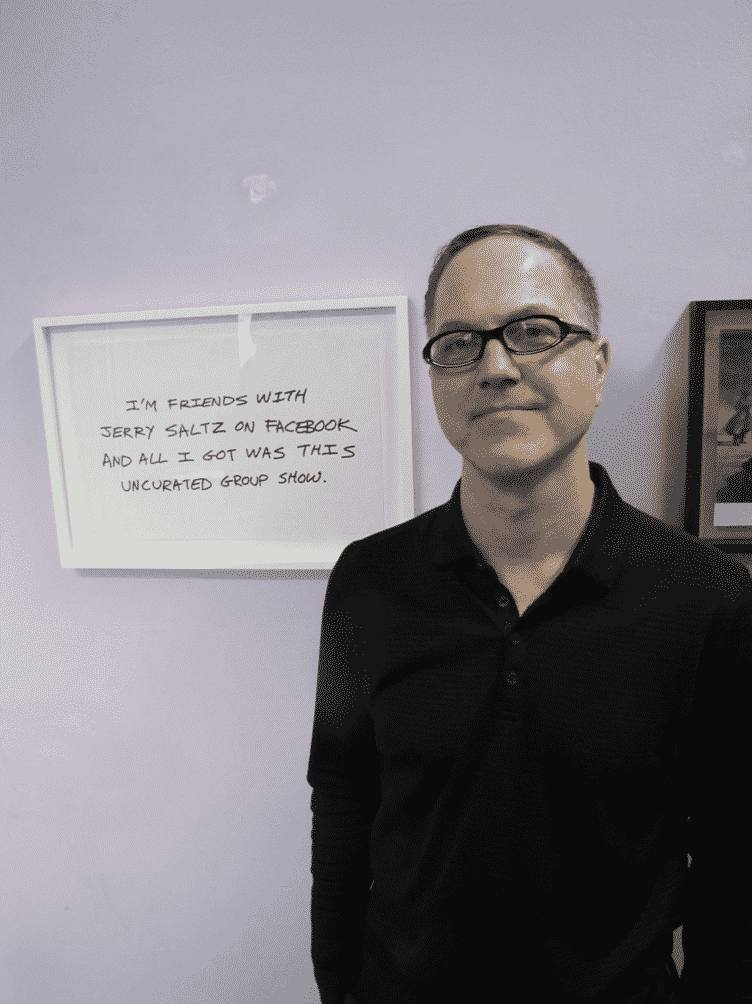 Curated by Chris Bors seen here with an original piece of his own.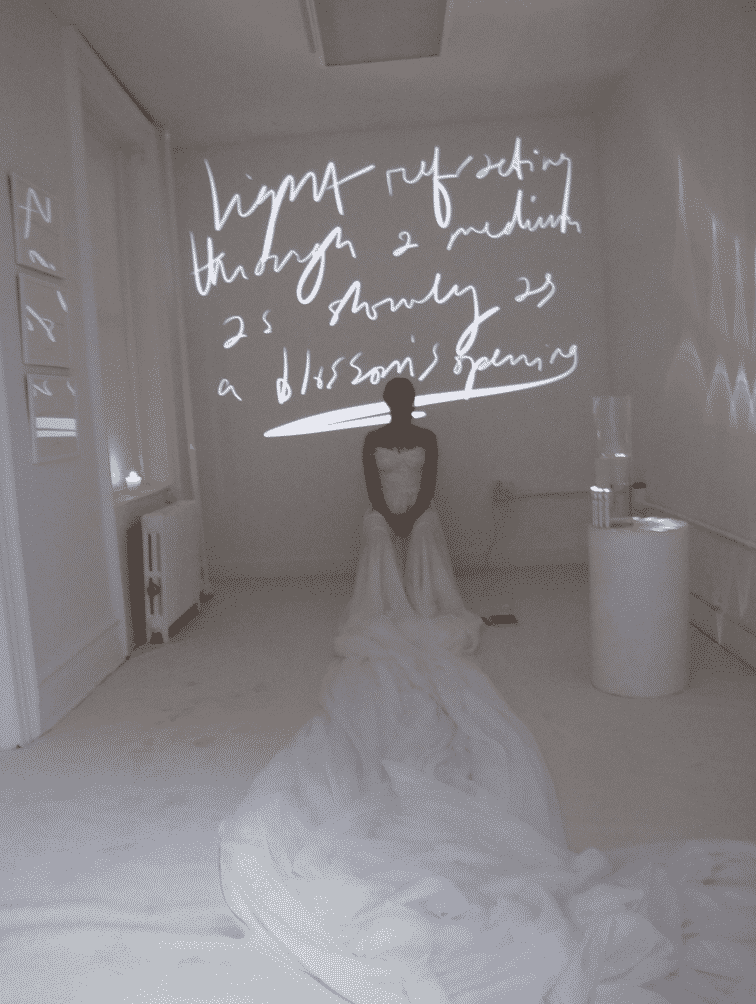 Lia Chavez performing Luminous Objects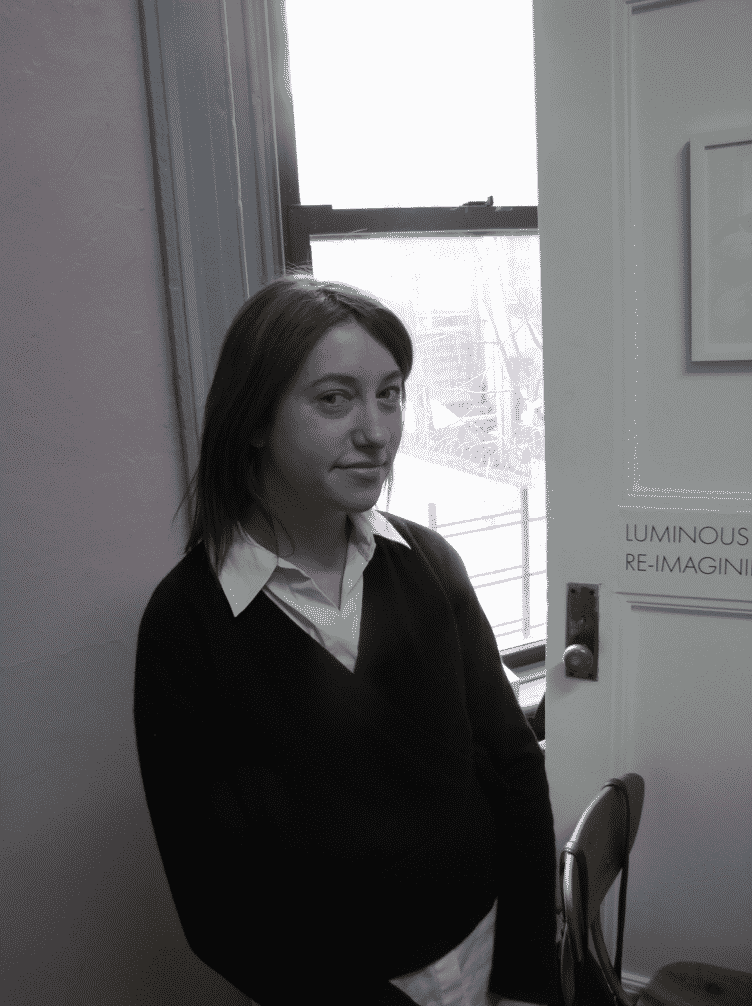 Which is curated by Tali Wertheimer, seen here, who is opening a new gallery called TWO RAMS on March 16th.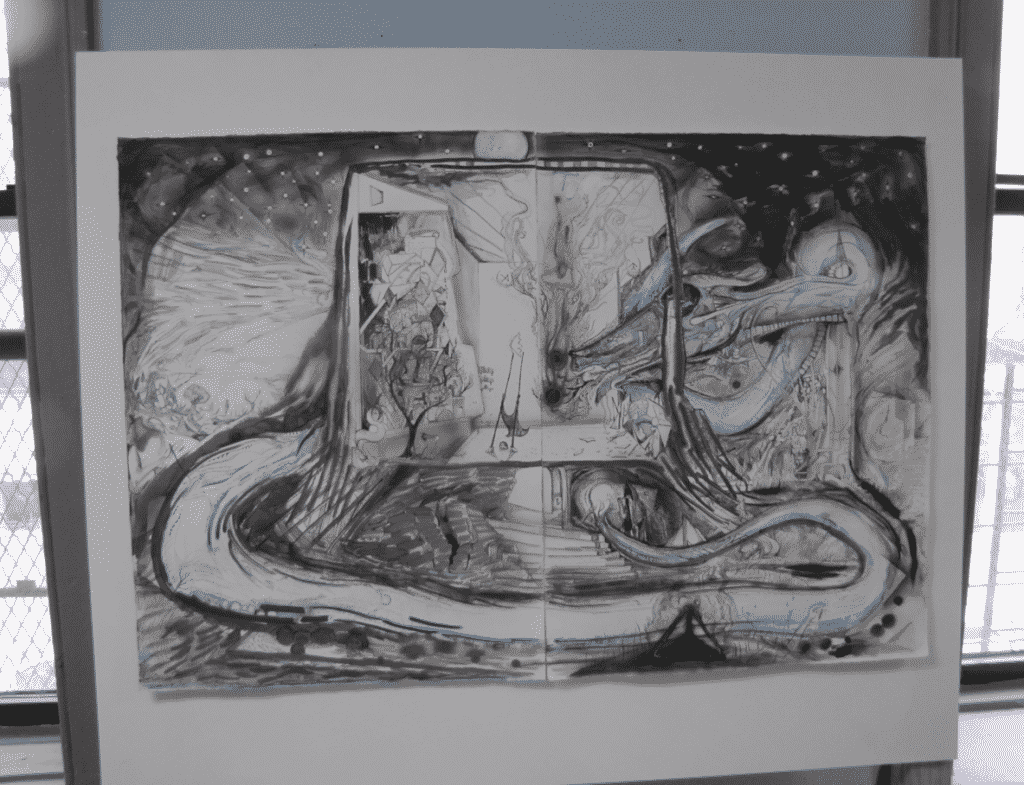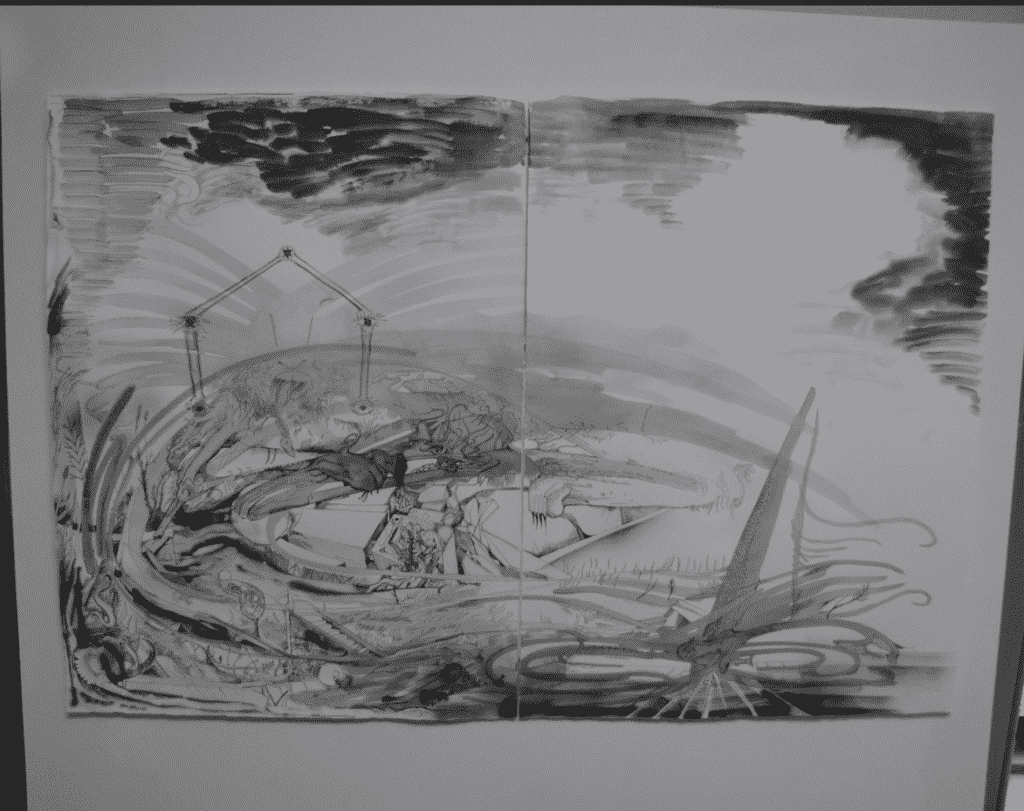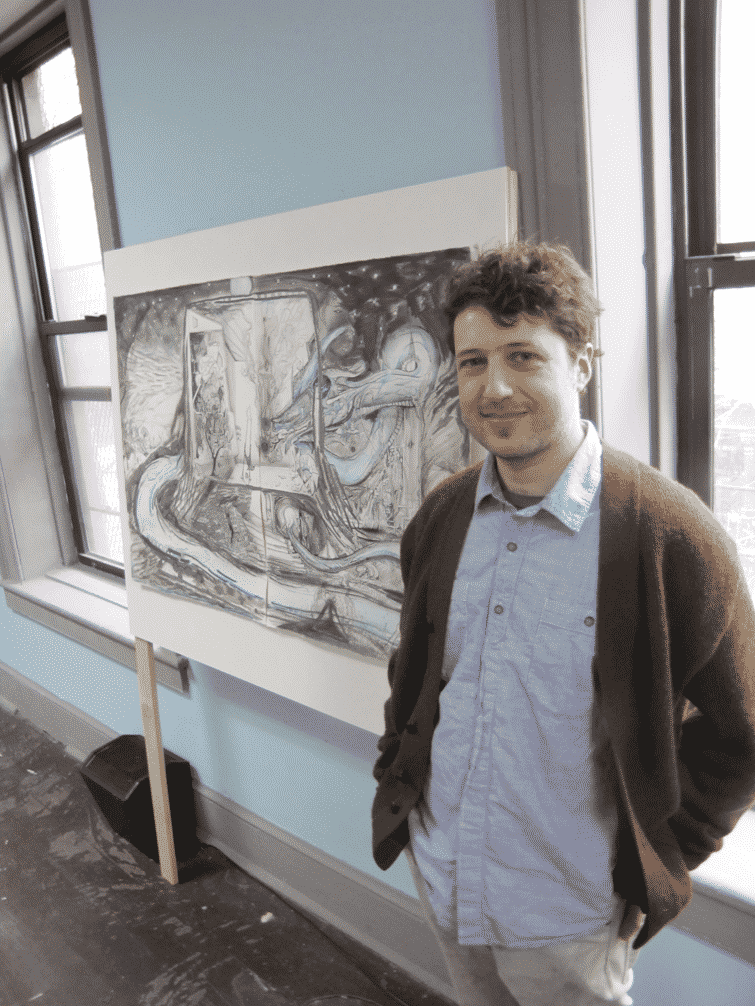 Artist and curator Max Razdow standing in front of one of his drawings.  I met Max last year when he had his own booth at Volta NY.
Curator Kari Adelaide.
Artist Jesse Bransford and his drawing experiment based on rolling a RPG die titled "Dice Drawings Set Five."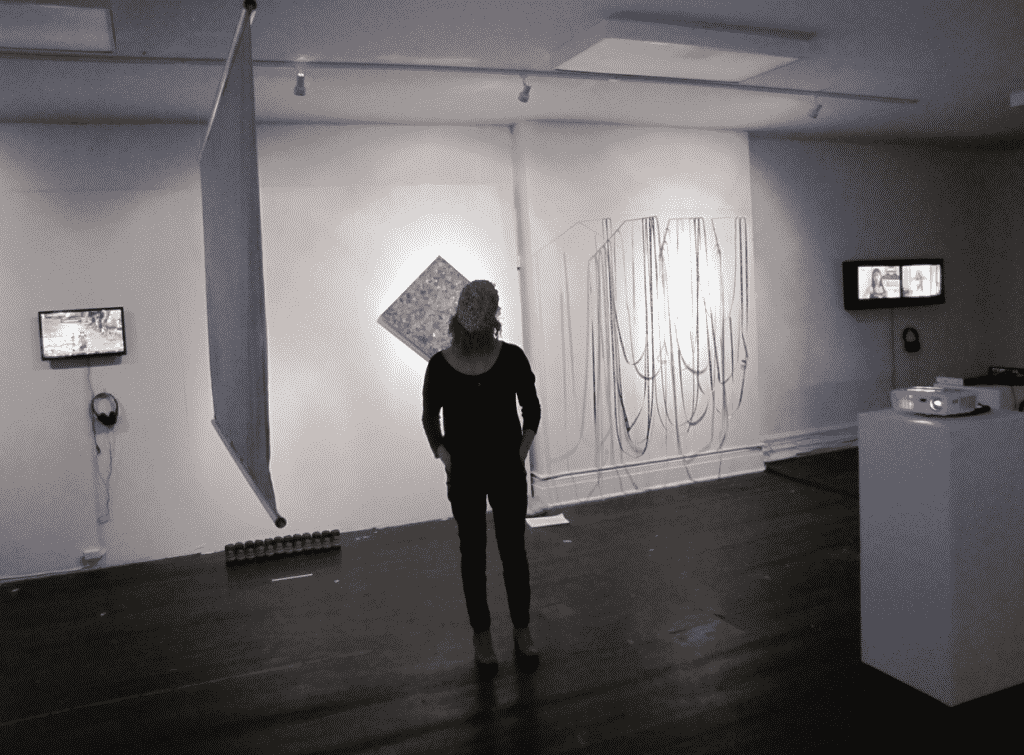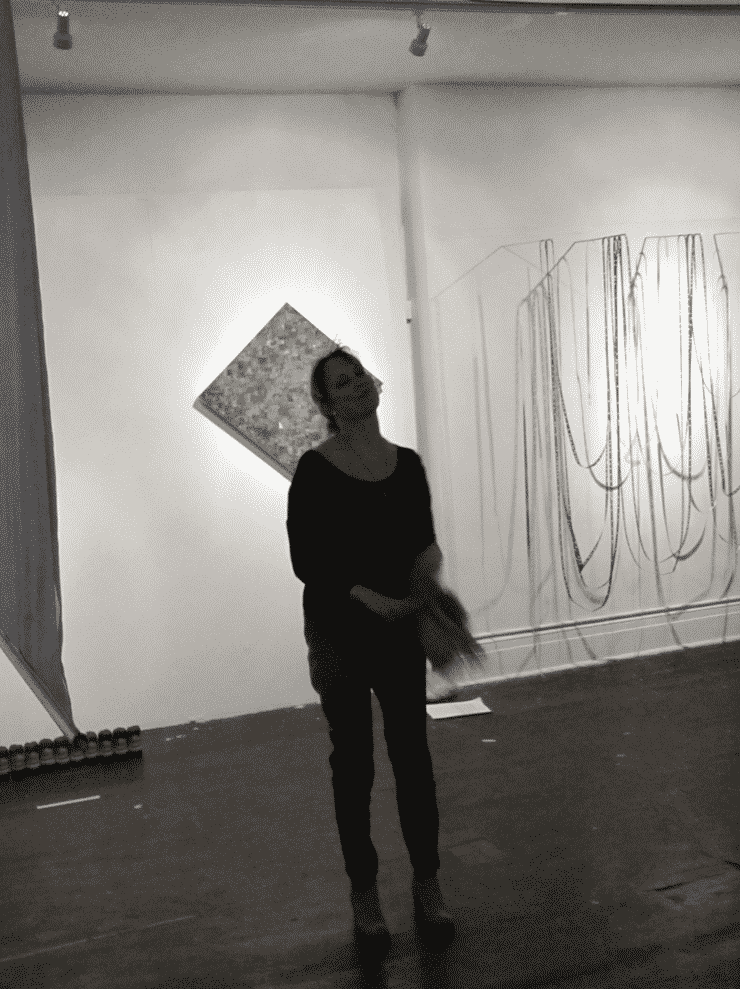 Singing Bruce Springsteen with a mask on, mask off, show is over.  Crystal Curtis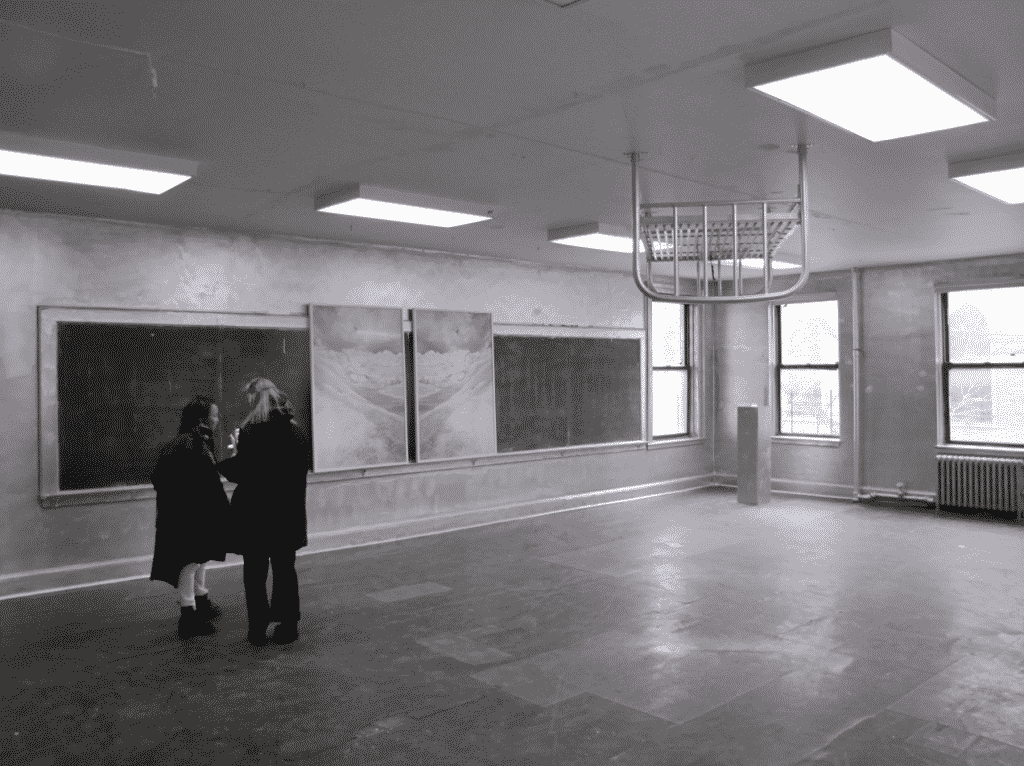 Group Show curated by David Alexander Flinn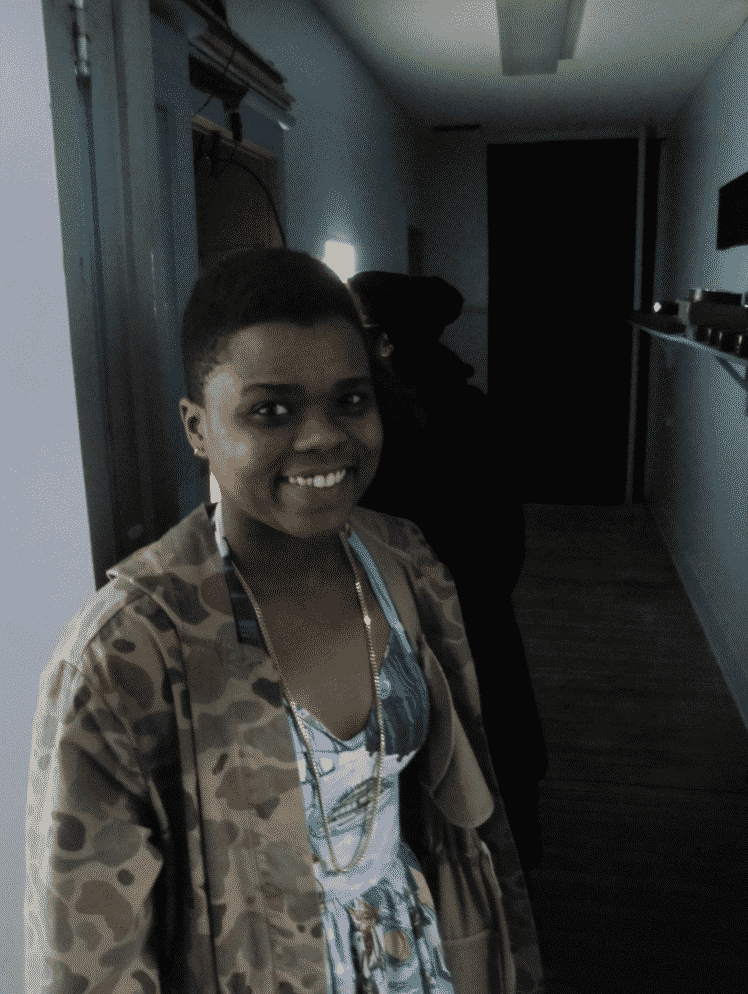 Room with projectors by Rin Johnson audio by Michael Valinsky.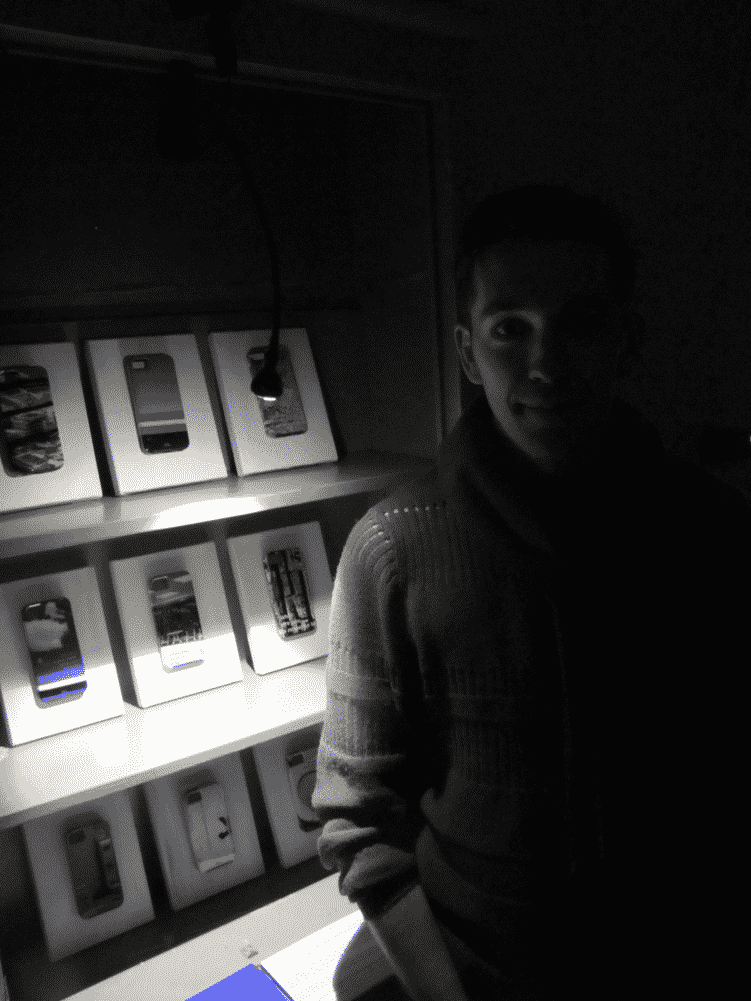 Iphone cases by Collin Munn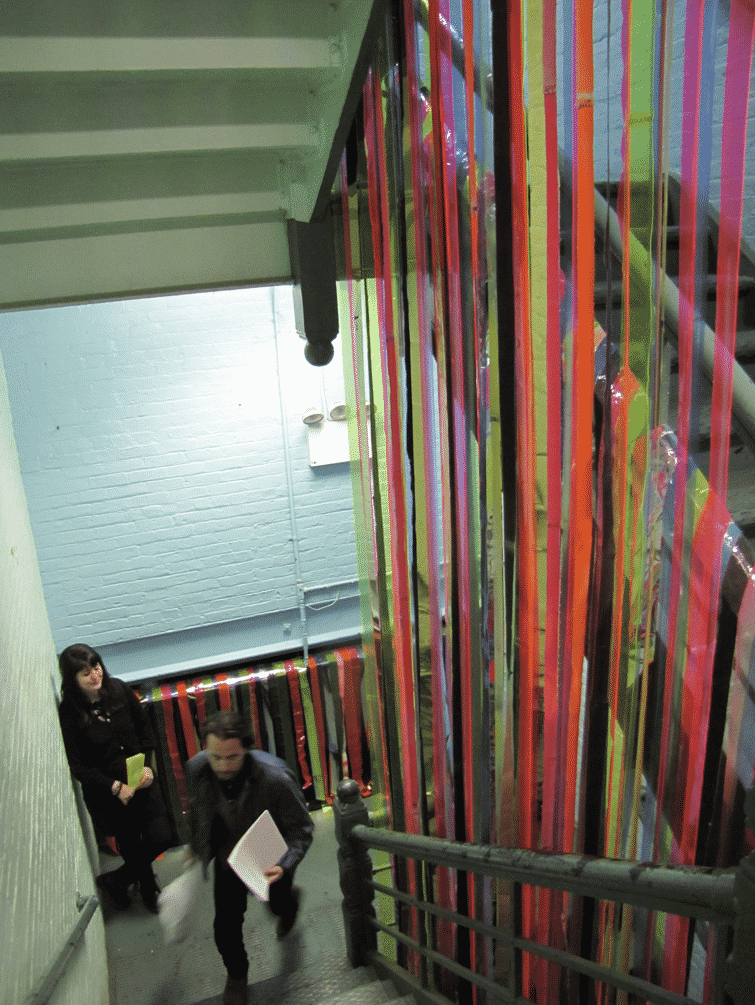 I asked three staircase docents if they knew who made these streamers and none of them had a clue.  One said the girl with the yellow purse who was just here.  One said the girl with the green purse who was just here.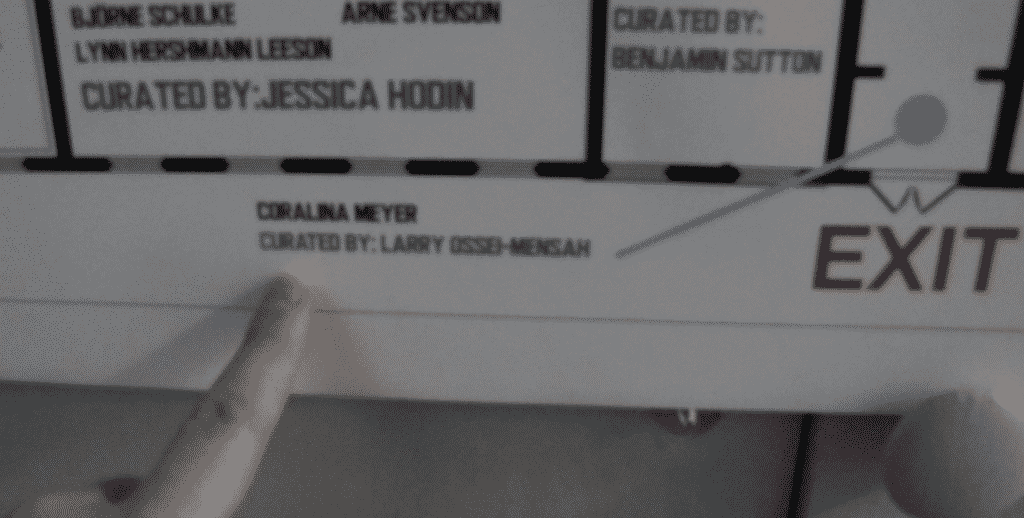 It wasn't until I found a map.  Coralina Meyer.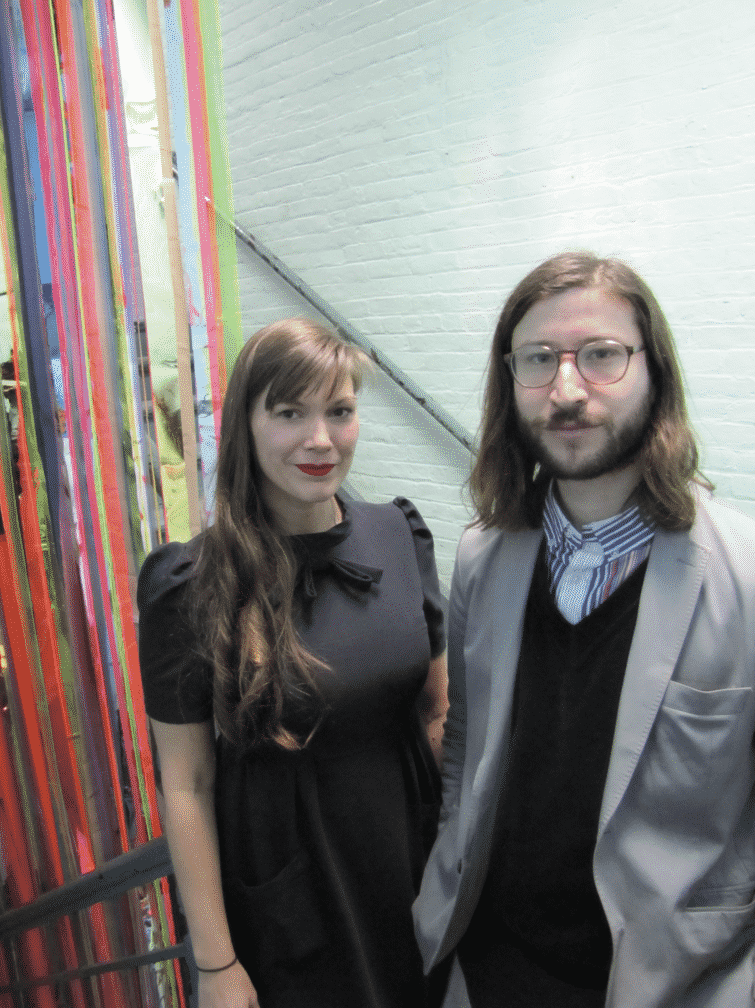 Founders of the Spring/Break Art Fair, Ambre
 Kelly and 
Andrew 
Gori.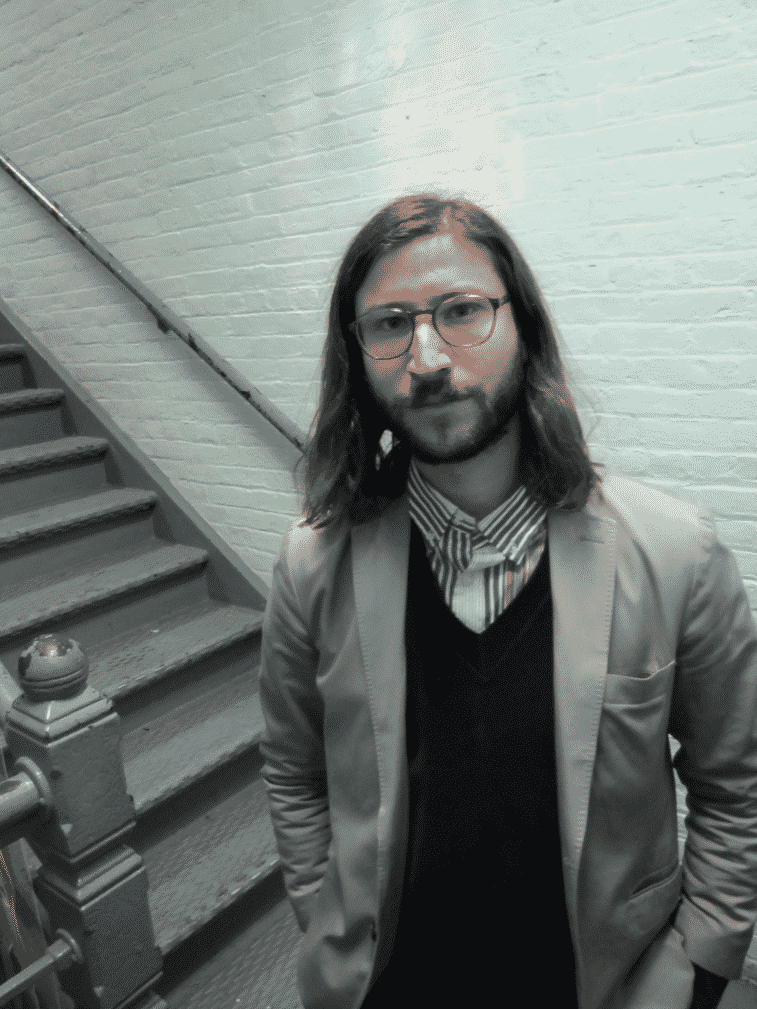 Andrew Gori.
Art by Alex McQulkin which was a collaborative piece she did with her mom.  She commissioned her mom knit a pussy riot mask for her.  She then wore the mask, took pictures of it, and then drew the mask.  This drawing is the end result.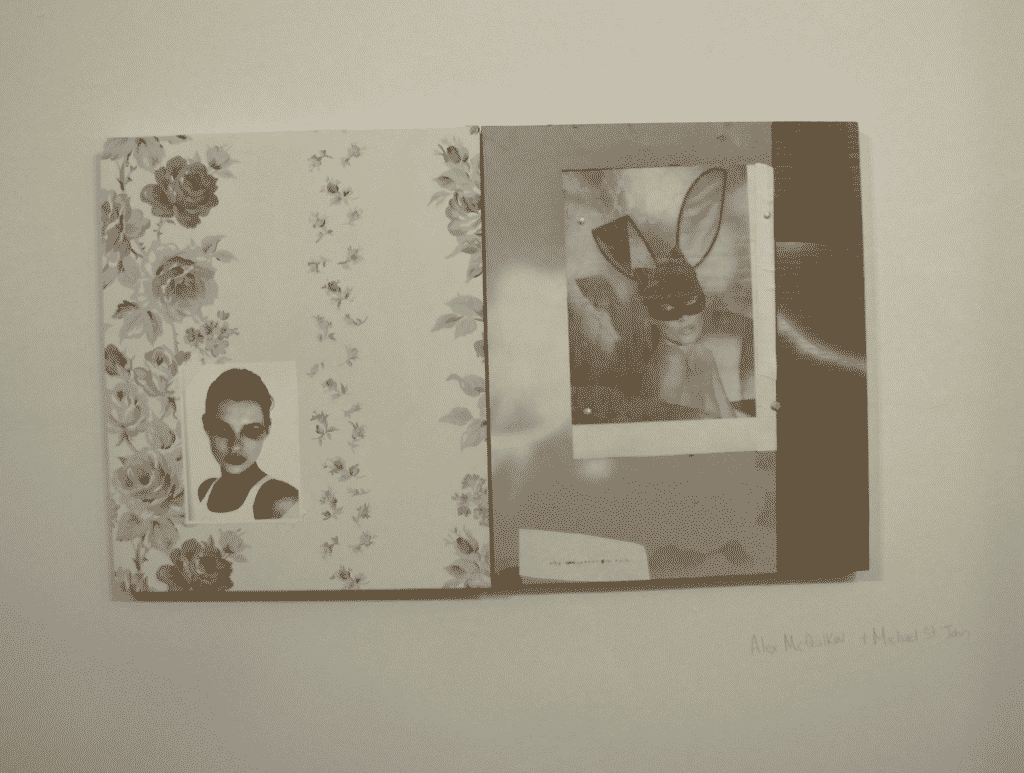 Art by Alex McQulkin & Michael St. John.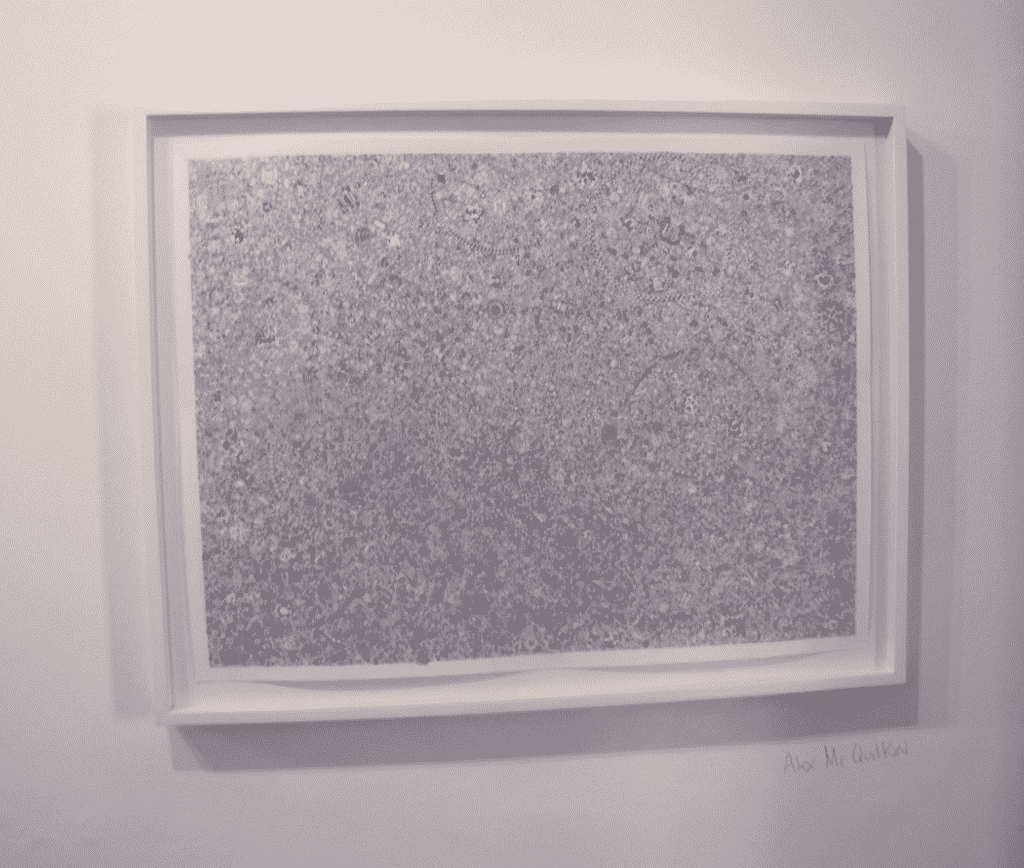 This is a piece made by hand cutting out individual diamonds from Sotheby's catalogs and pasting them together.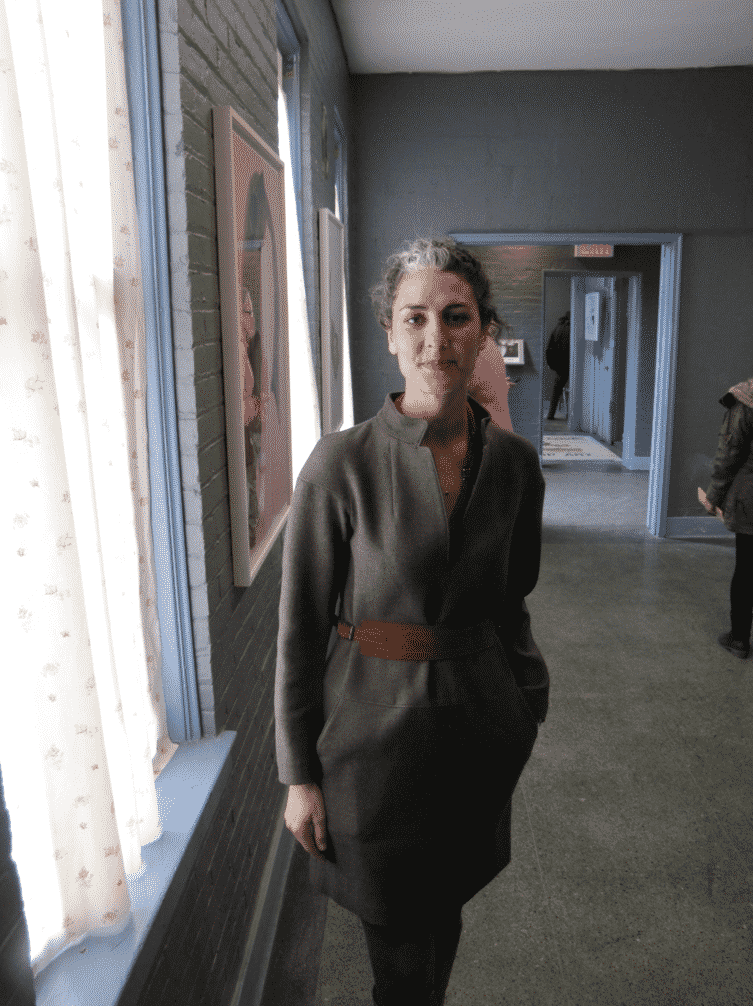 Curator Marina T. Schindler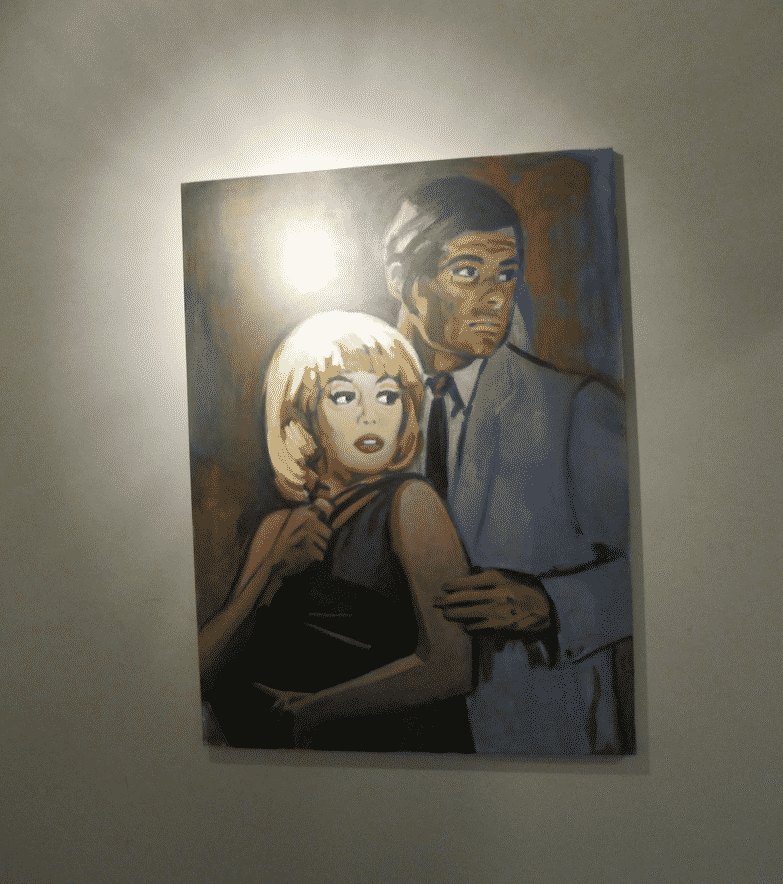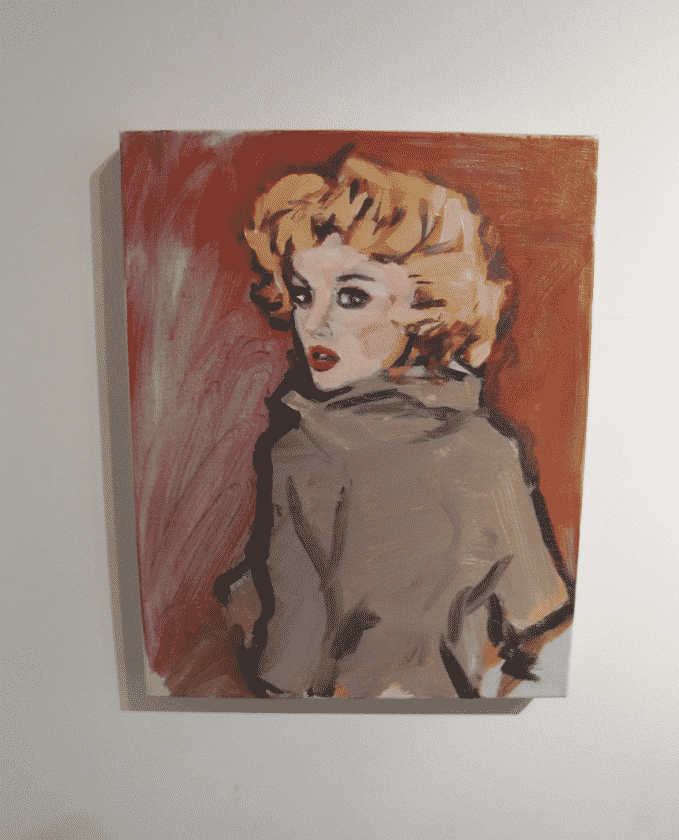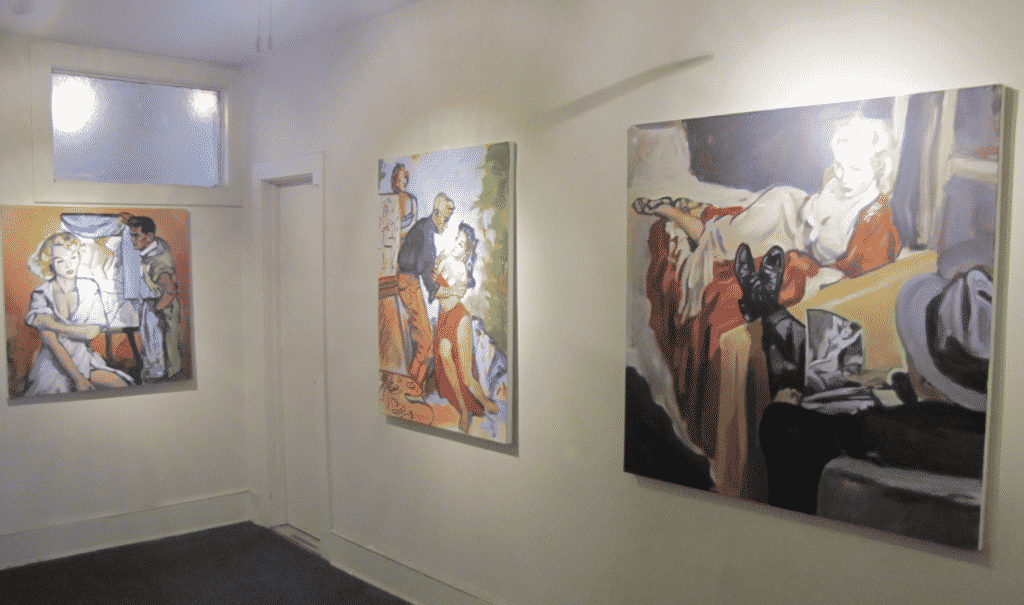 Pin-up style art by Walter Robinson, curated by Ambre Kelly & Andrew Gori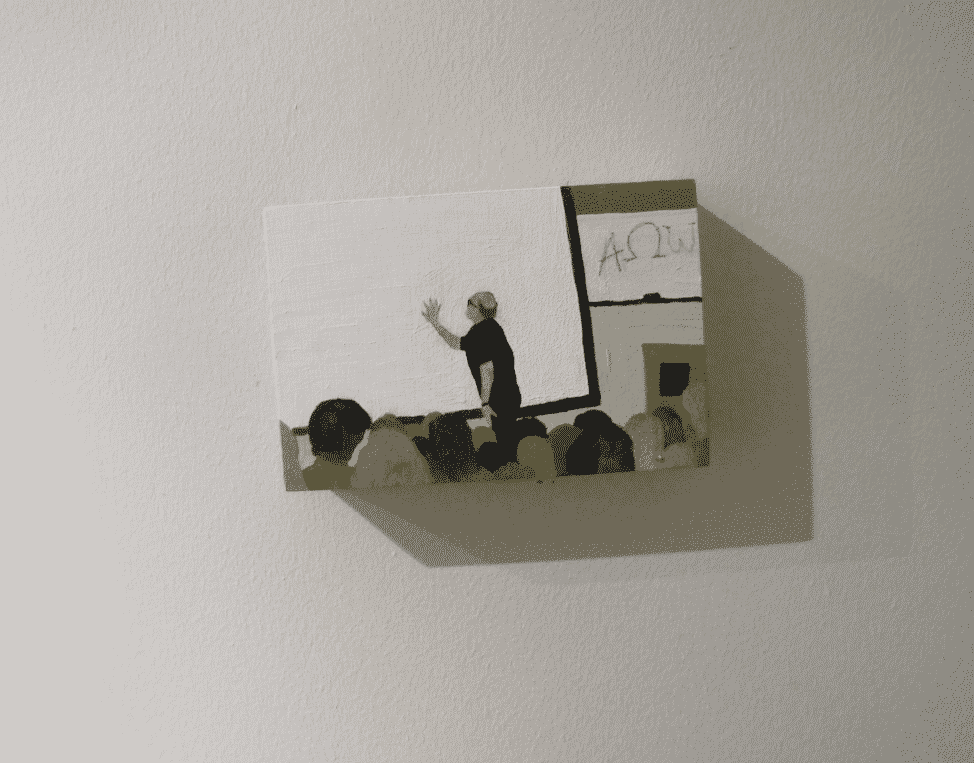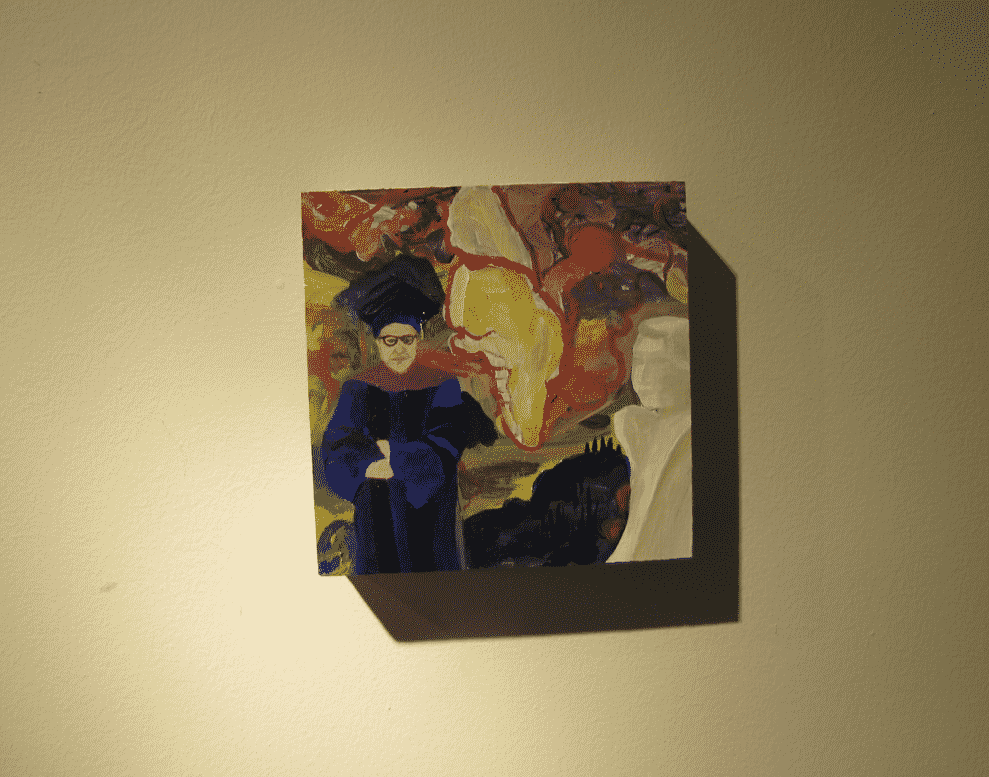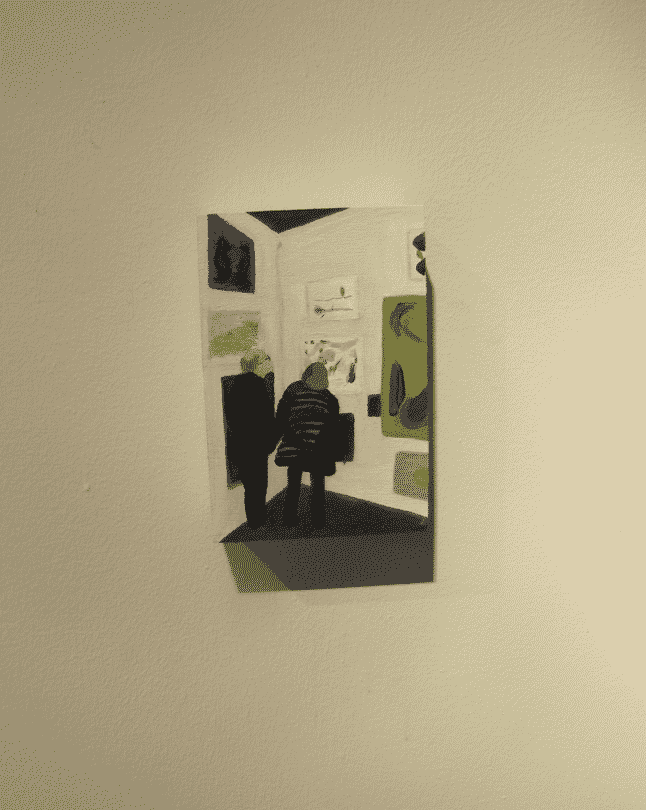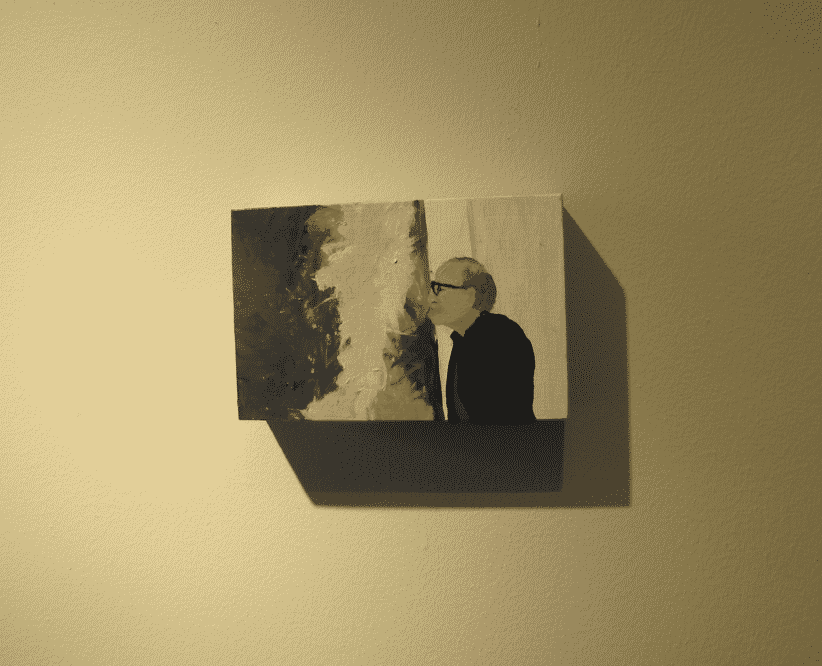 Wall of small pieces depicting Jerry Saltz doing things, by Ambre Kelly, curated by Andrew Gori.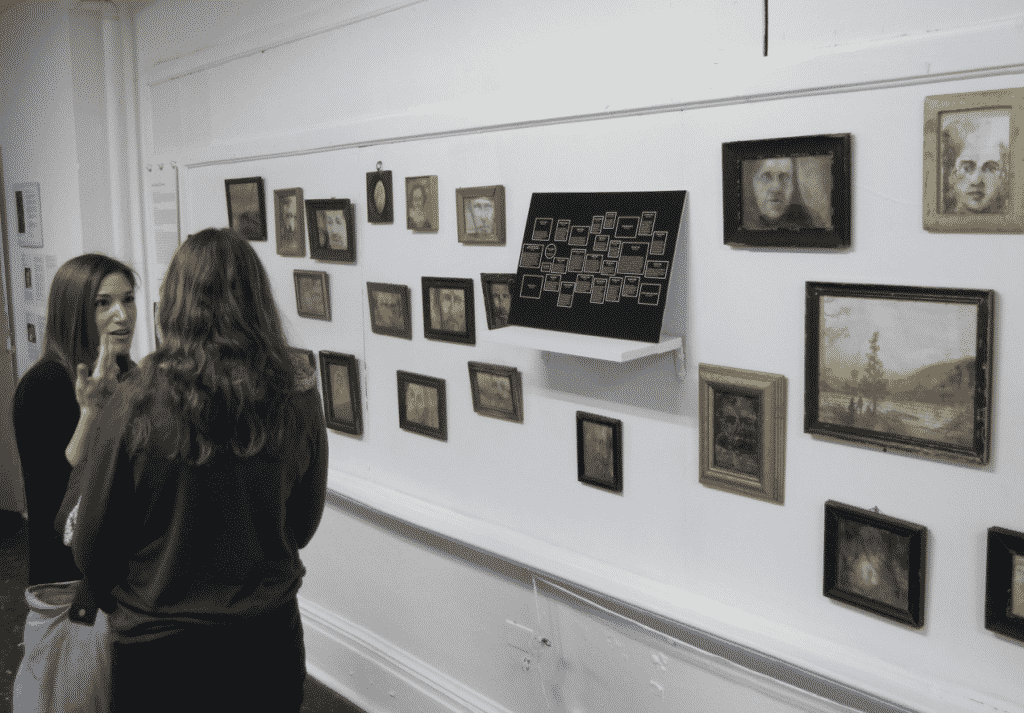 The next room I photographed parts of Liminal Reclamations curated by Tracy Causey-Jeffery and Amy Kisch.
We Are Made To Endure, Portraits of the Donner Party by Robert Saywitz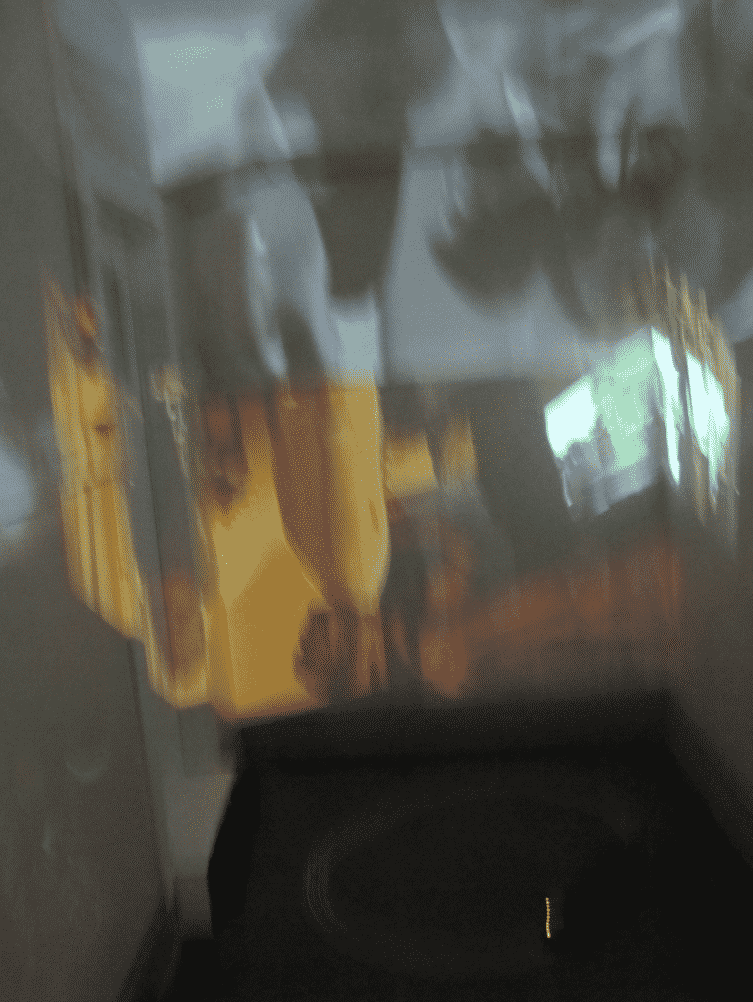 A room playing all of Woody Allen's Oscar Nominated films while a toy train goes in a circle referencing recent allegations.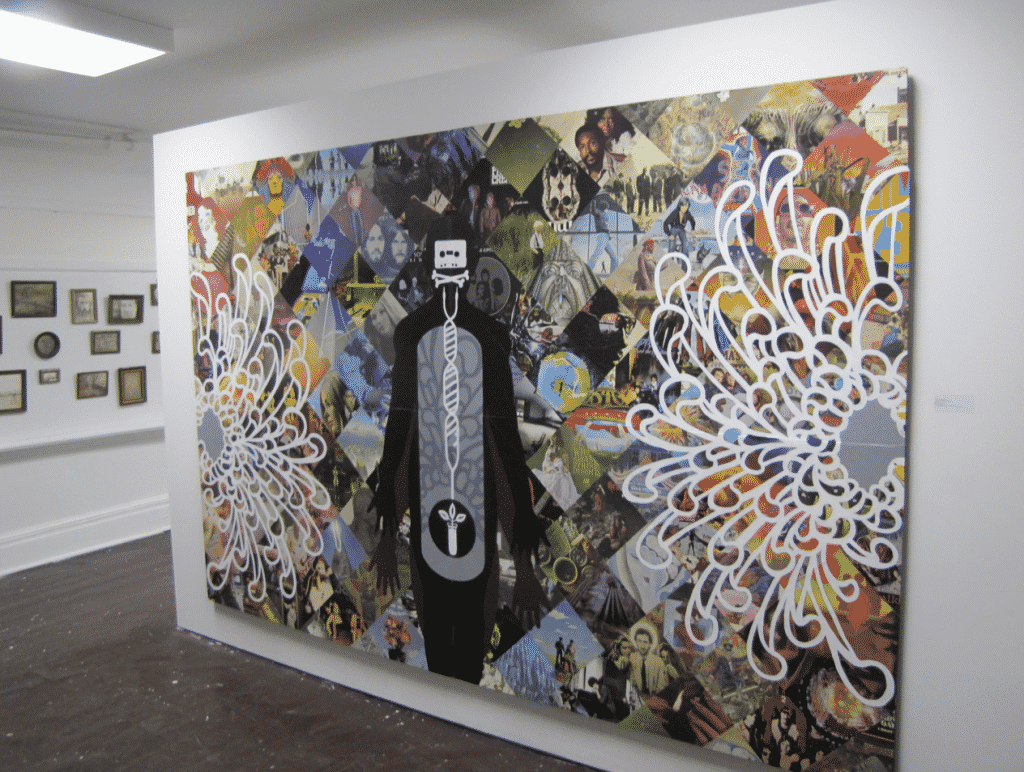 As well as A Universe in My Throat, 2012 by Kevin Bourgeois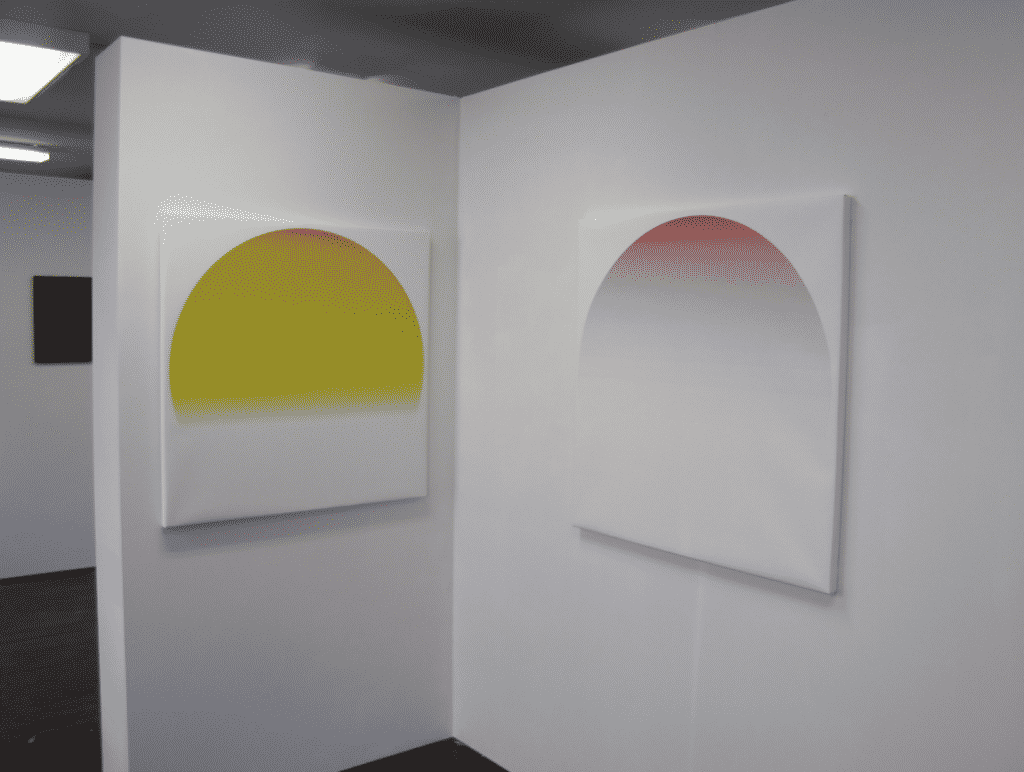 Golden Coin by Patrick Meagher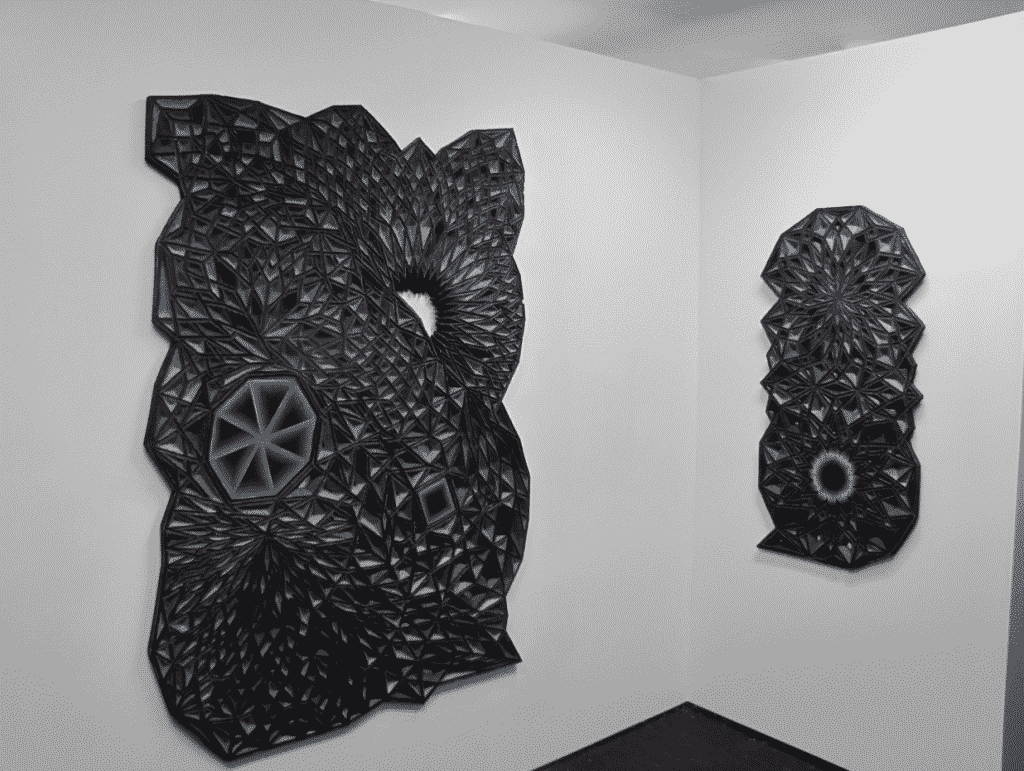 Nightfall by Devin Powers.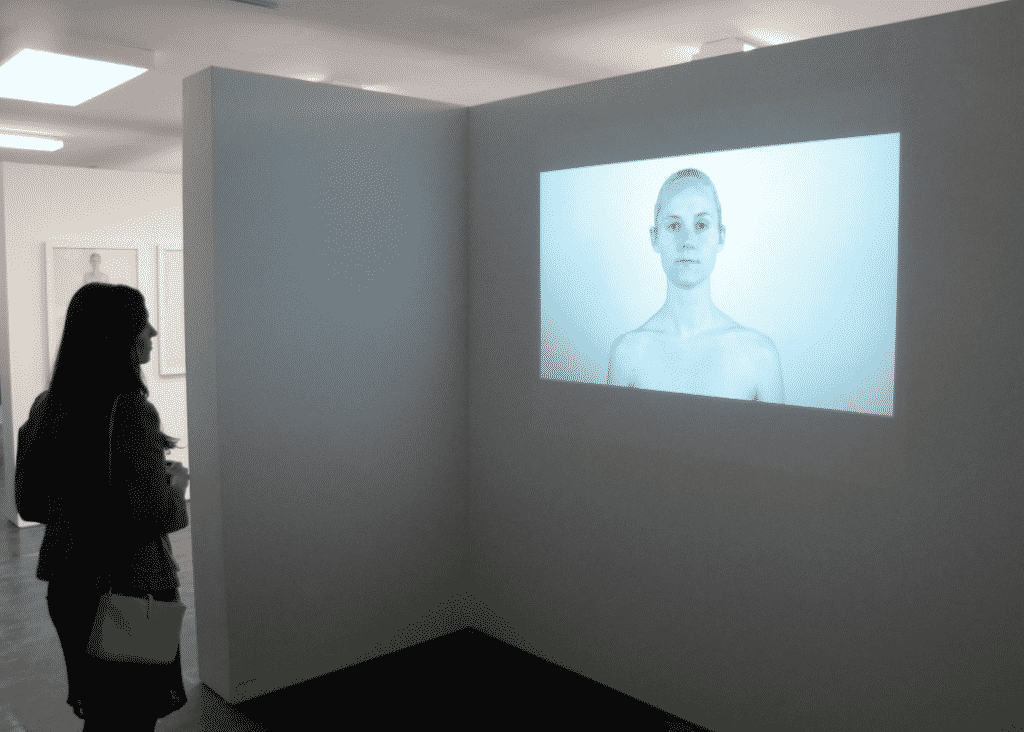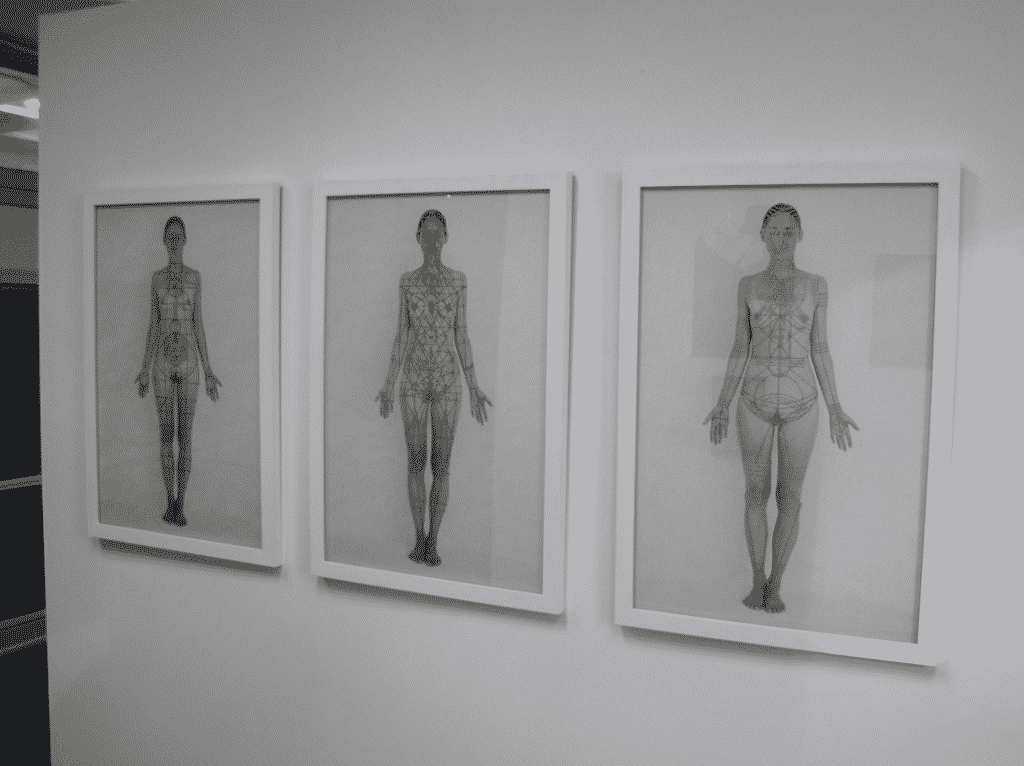 Photo and video pieces by Rachel Garrard
Private Drive-In.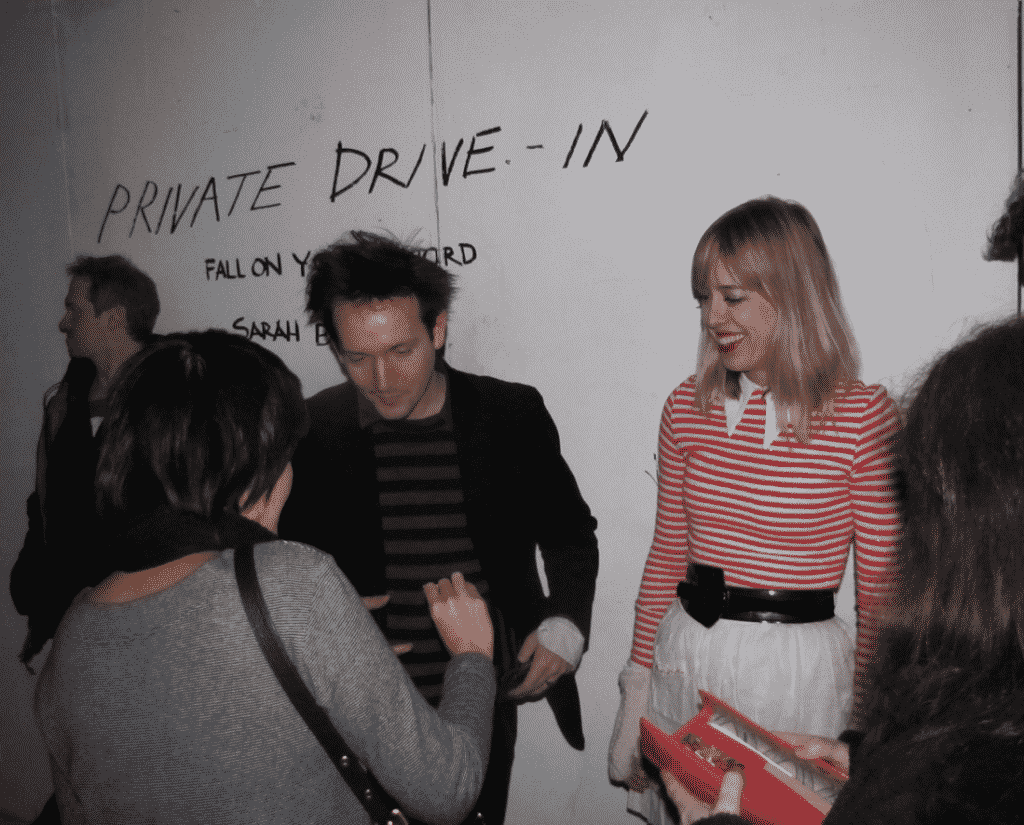 By artists Fall On Your Sword and Sarah Bereza (pictured above).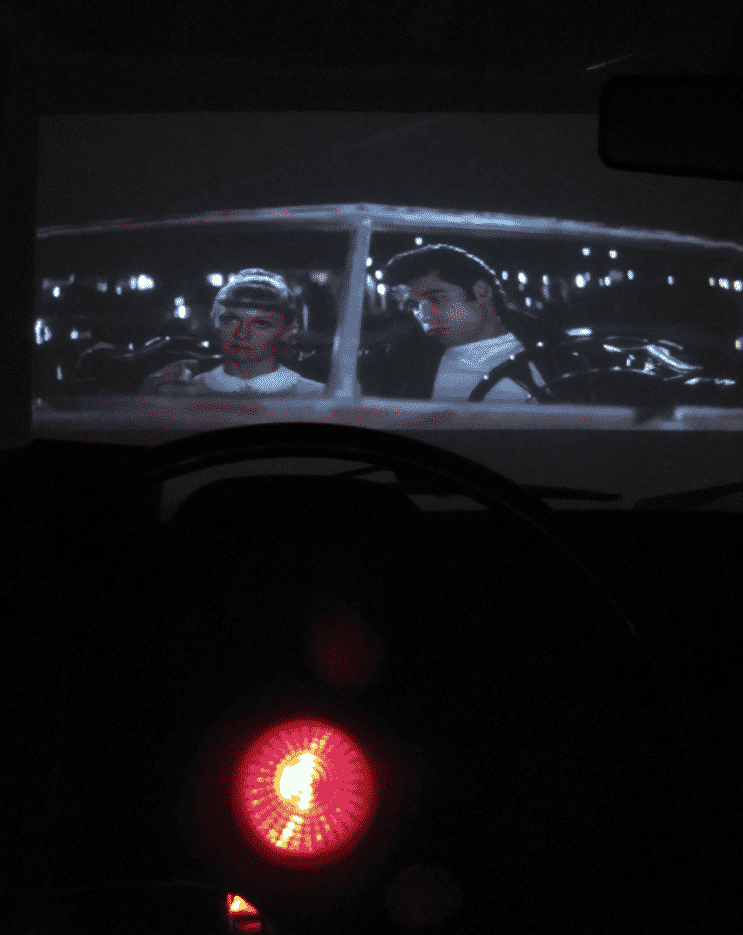 Inside the bug.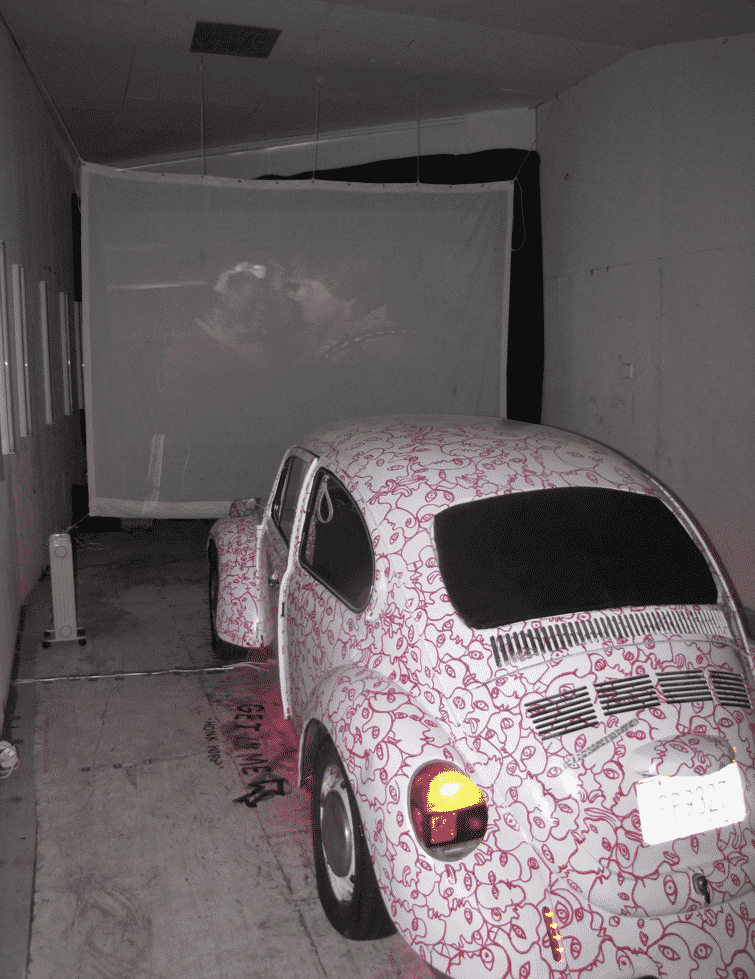 I blew out the shot with a flash so you could see the paint work on the car by Sarah.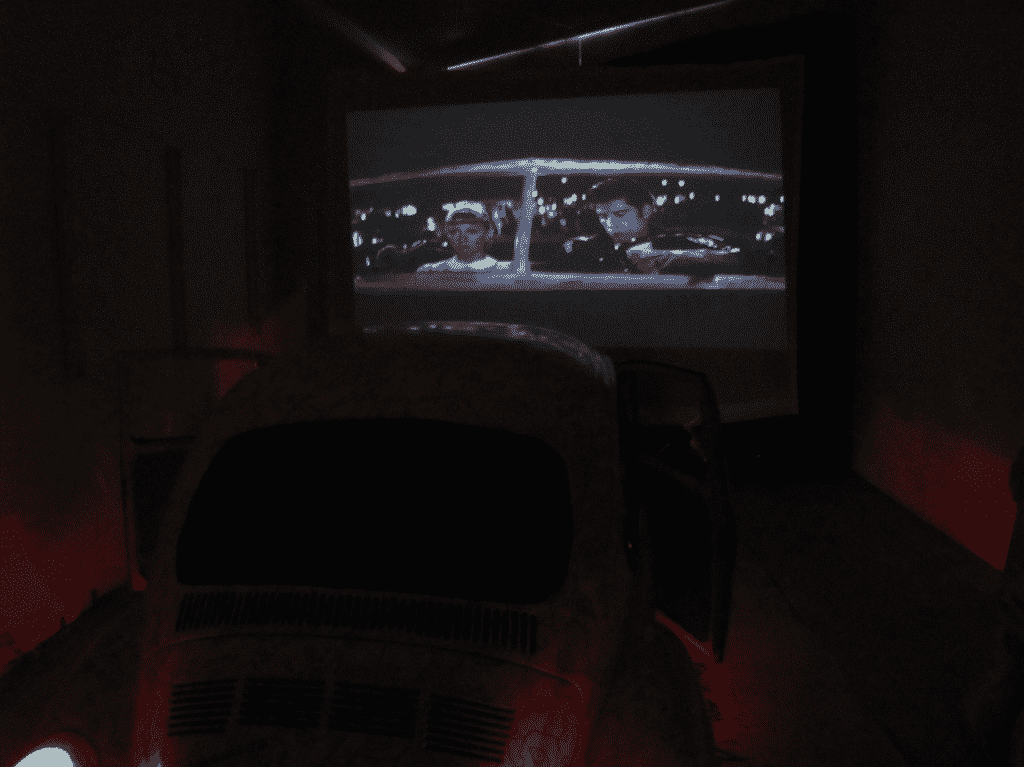 Sit in the bug and enjoy a superfast loop of scenes from movies that take place in the front seat of cars, including this scene from Grease, as well as that famous 1955 Back To The Future scene with Marty McFly and his teenage mom.
Spring / Break Art Show is located at Old School, 233 Mott Street, NYC and costs $5
All work from the show can be purchased online at SpringBreakArtFair.com
Thursday, March 6 –  Sunday, March 9
Noon – 8pm Daily
Written and Photographed by Cojo "Art Juggernaut"