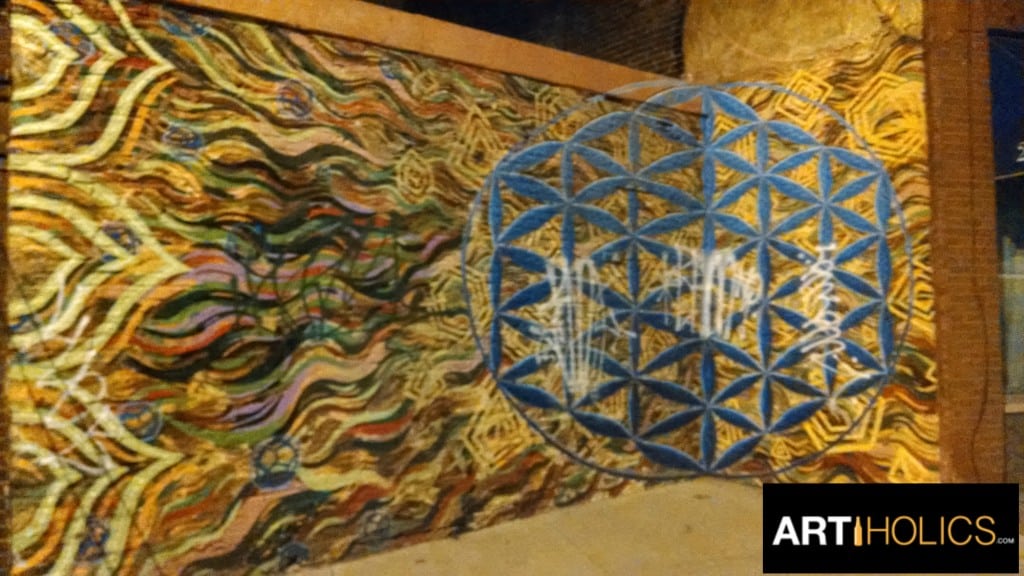 Philadelphia, PA – Monday, March 17, 2014
Mural by Josh Smith a.k.a Le Josh on Girard Ave.
As all eyes were focused on NYC for Armory Week, I decided to focus my attention on that which is not in the obvious in my own back yard of North Philadelphia, for a Philly First Friday Art Crawl of a slightly different color.
Most people prior to the night told me I should go to the traditional Center City First Friday Art Crawl, which I have been to a million times for openings and have done that First Friday trek to death. But, not this time. I'm expanding my Philly horizons.
Since it's March, I was told not to expect anything. It seemed like everyone had a reason for me not to go on the path I felt inclined to. But, anyone who knows me will tell you, I define my path and will do as I want.
So, I headed out…
My evening began at 5pm, which was an hour earlier than most places were starting. 1st up was to a Pre-Opening for Workshop PHL, located at 11 West Girard.
I met a woman by the name of Kelly Malone, who's space it was. She shared with me her intentions of her new space, which is focused on, "providing classes for sewing, screen printing, gardening, photography, business, brewing, home projects, pickling, chocolate, cheese making & much more."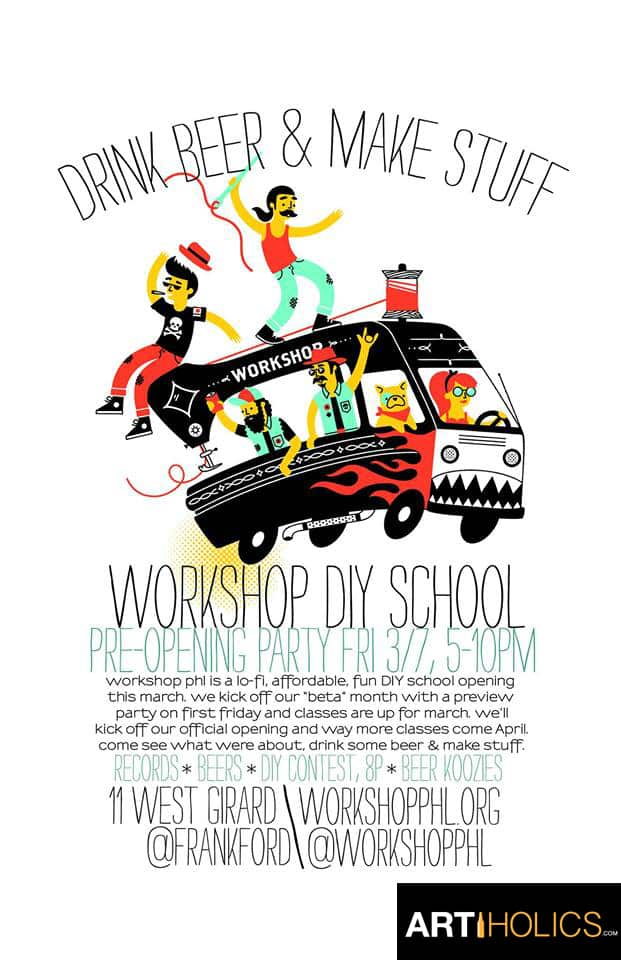 You can find out more info at www.workshopphl.org
I hung out for a short time, and spoke with some people from the community who were there. But, since it was a pre-opening, I felt compelled to journey off to places having a full opening.
Next, I headed north, into Olde Kensington to a space located at 2111 E. Susquehana St., just a few blocks from where I've been residing called,
YELL Gallery.
Right when I entered into this space, I was very impressed with the feel of it. There were the typical white walls with works on them. But, there were exposed wood beams and wooden benches, which just gave it a more intimate feel and added to the whole experience.
I met with owner, Mukethe Kawinzi, who's space is geared towards showcasing local artists and helping to contribute to an interconnected community.
Her current exhibit called, "Inclusion/Exclusion: The Poetics of Cartography, which is inspired by the work and words of Denis Wood.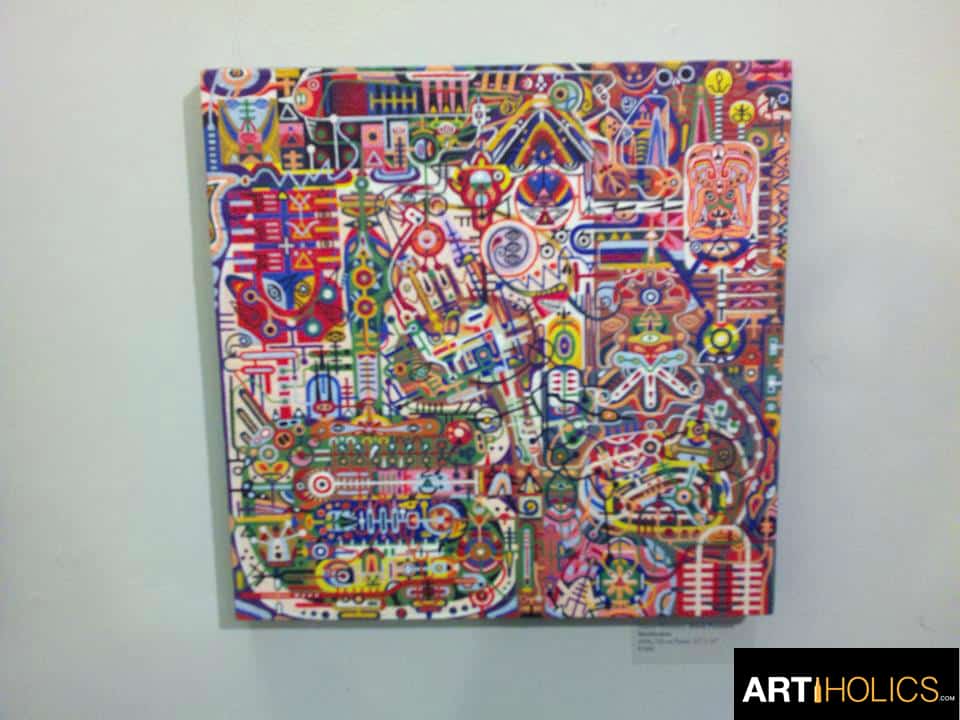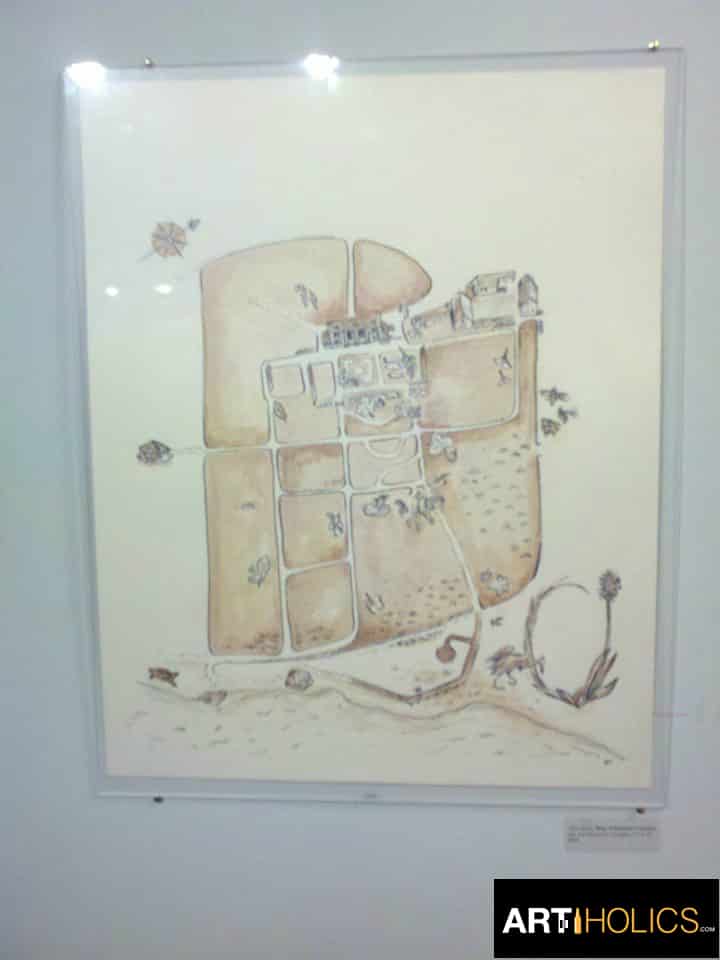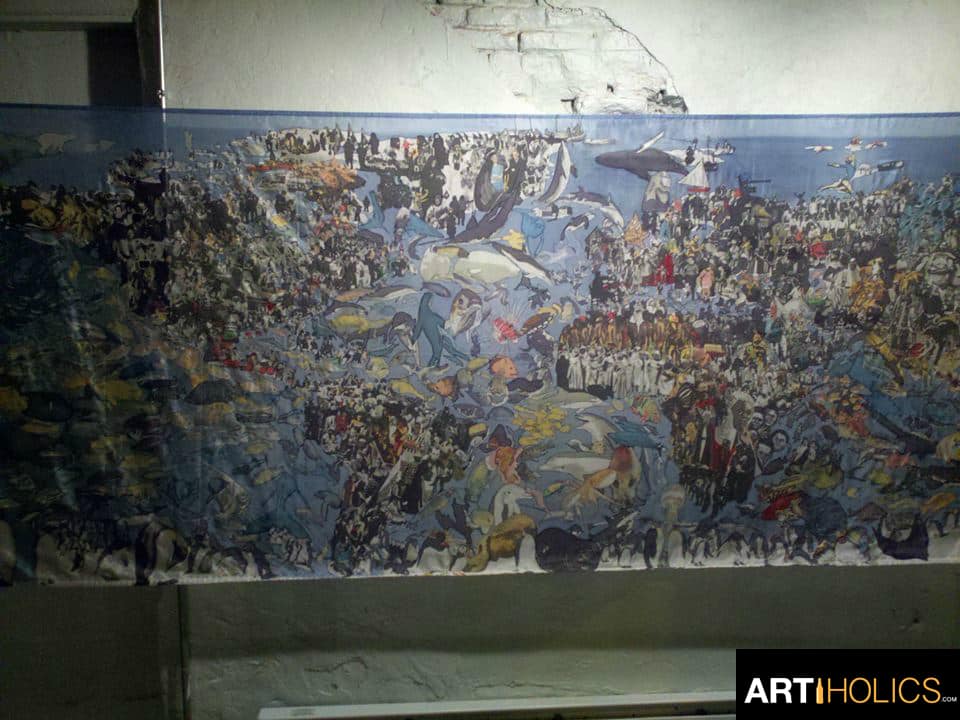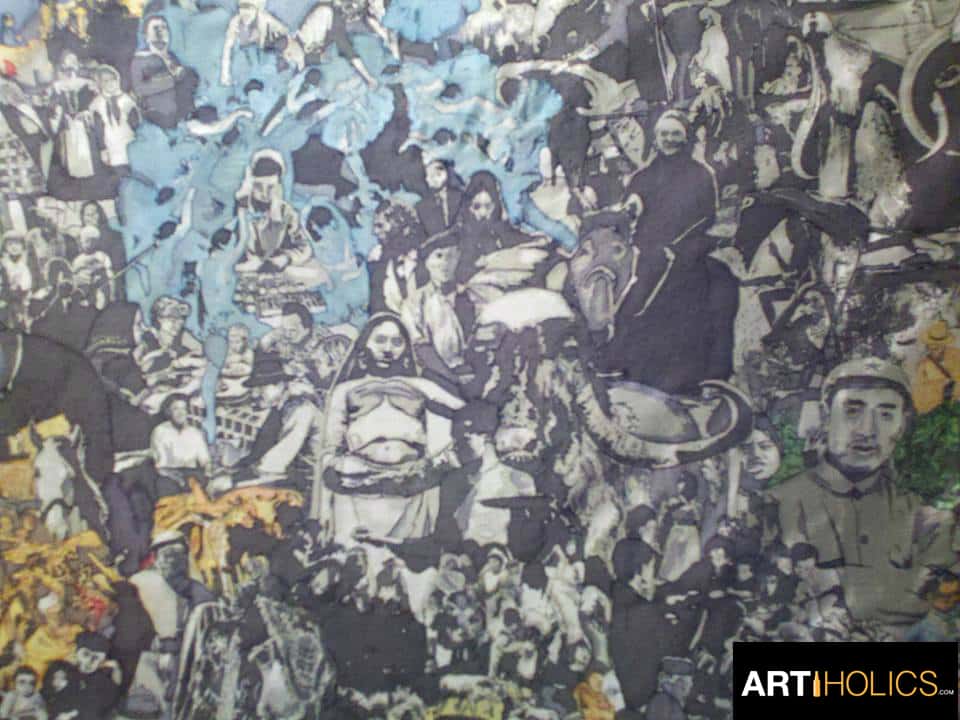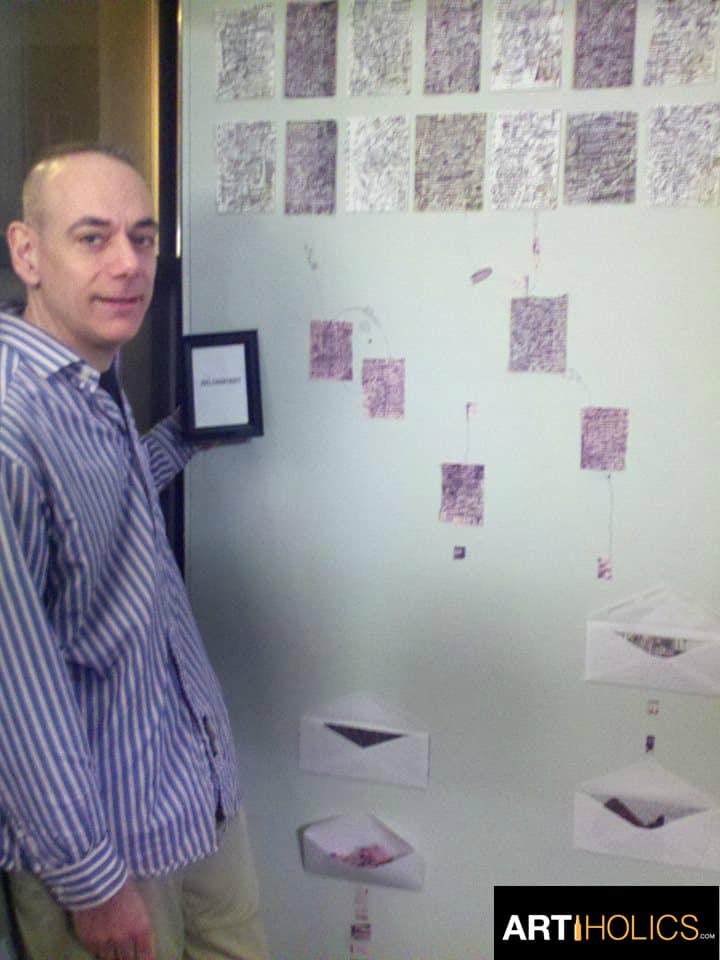 Joel Chartkoff with his artworks
Artists Presented:
BrailleStreetArt (Sonia Petruse and Austin Seraphin),
Emily E. Erb,
Joel Chartkoff,
Alina Josan,
Sarah Kelley,
Nilé Livingston,
Dan Shurley,
Kristin Smith
Shawn Thornton.
You can find out more about this space at www.yellgallery.com (I highly recommend checking them out)
After a few glasses of wine and several conversations, I headed deeper into the neighborhood to Frankford Ave.
Here, I came to what is called Space 2033, owned by Jess Marino. Jess is very active in the community, hosting events that span from seasonal celebration workshops to meditation to support groups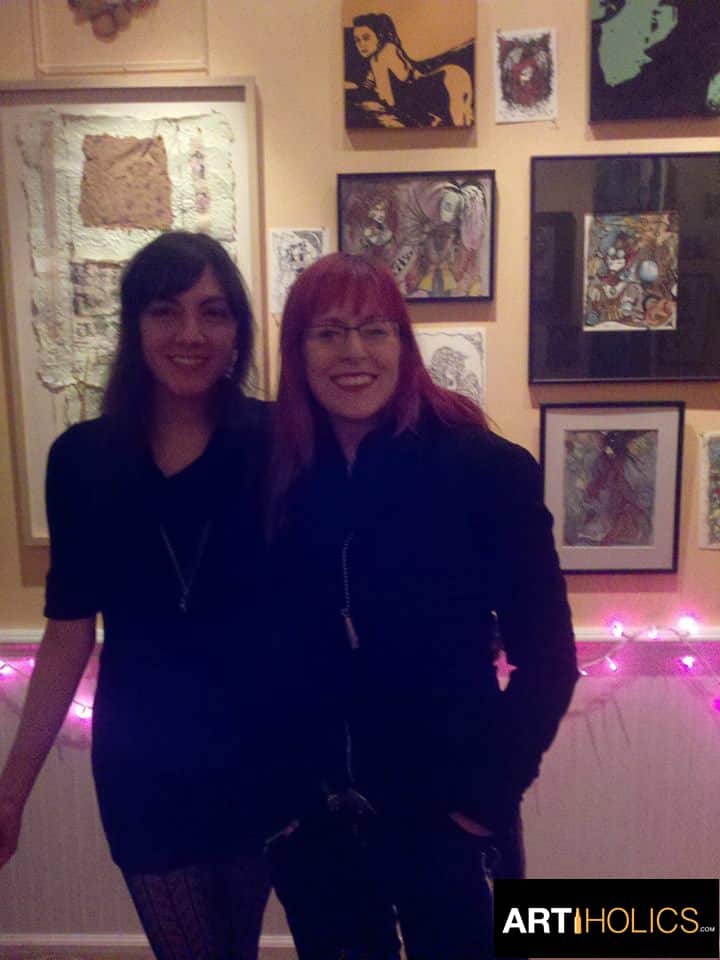 Jessica Marino with artist Kimberlee Traub
This evening she had put together was a showcasing that she described as, "textural", "gothic", and "of rebirth", which was the 2nd part of a 2 month exhibit. All the artists involved were women, including the DJ.
Artists Presented:
Kimberlee Traub
Jes Gamble
Jamie Paige
Lesley Haas
Dj-Dentana
more info at facebook.com/space2033
Moving on…..
At this point, I was going to head around a few other places on my list. But, I was brought up to another spot, further into the community. This place was located above Lehigh St. on Frankford, right to a spot where many bodies are found on a regular basis called, Frank's Kitchen.
Here, I found art scattered around with an interesting mix of the locals, having a good time in an industrial building, which is available for artists to rent, with usage of tools and equipment. Also there, was an old school photo booth, taking pics that develop onto glass.
Many of the people there were gathered outside, hanging around a fire barrel. Out here, I had several interesting conversations with artists, train hoppers and puppeteers.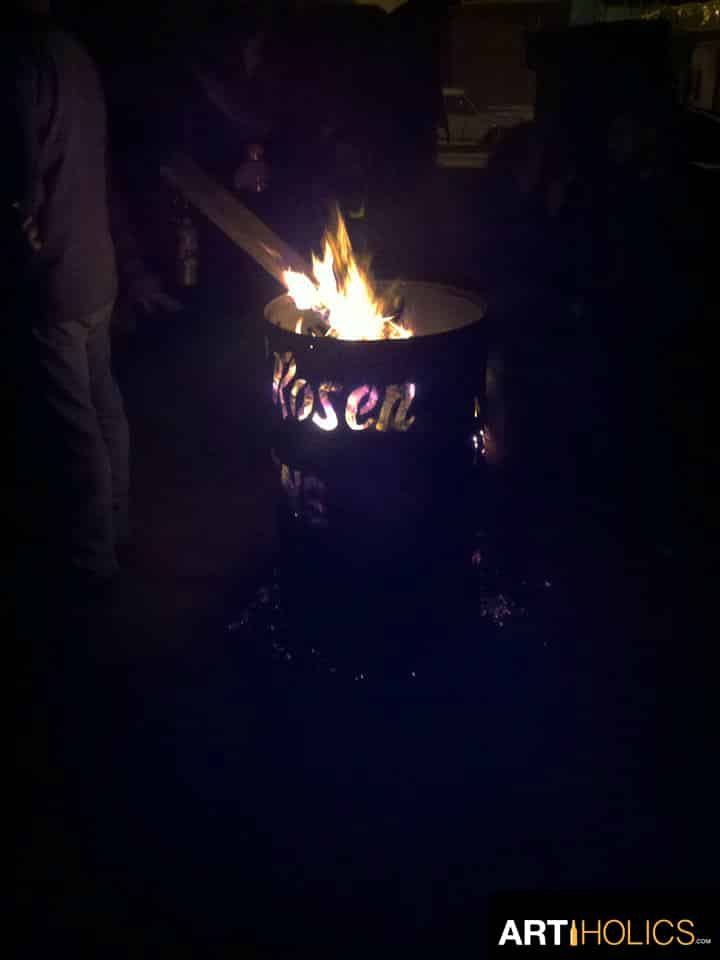 Unfortunately, I did not discover who were the artists showing here. But, here are some pics of their works…
It was definitely a well spent evening, discovering what is existing in other neighborhoods, besides the expected paths in Center City.
I look forward to what else I will find off the beaten path….
Written and Photographed by Randy Melick