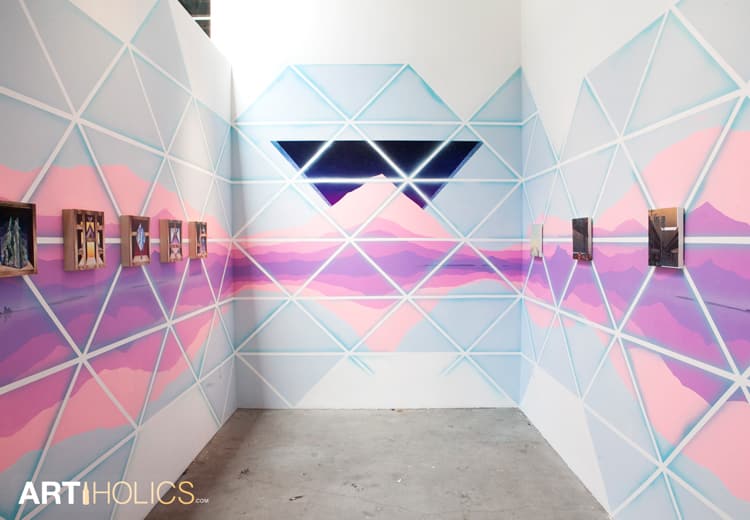 San Francisco, California – Monday, June 2, 2014
Artists Robert Minervini and Adam Friedman have given this city a many-layered sky/landscape, unique for its multiple twists on perspective.  The installation opened on May 10th to a huge crowd at White Walls Gallery in San Francisco. For the show, curator Sven Davis asked the artists to create an installation to accompany his large curatorial project called Space//Squared.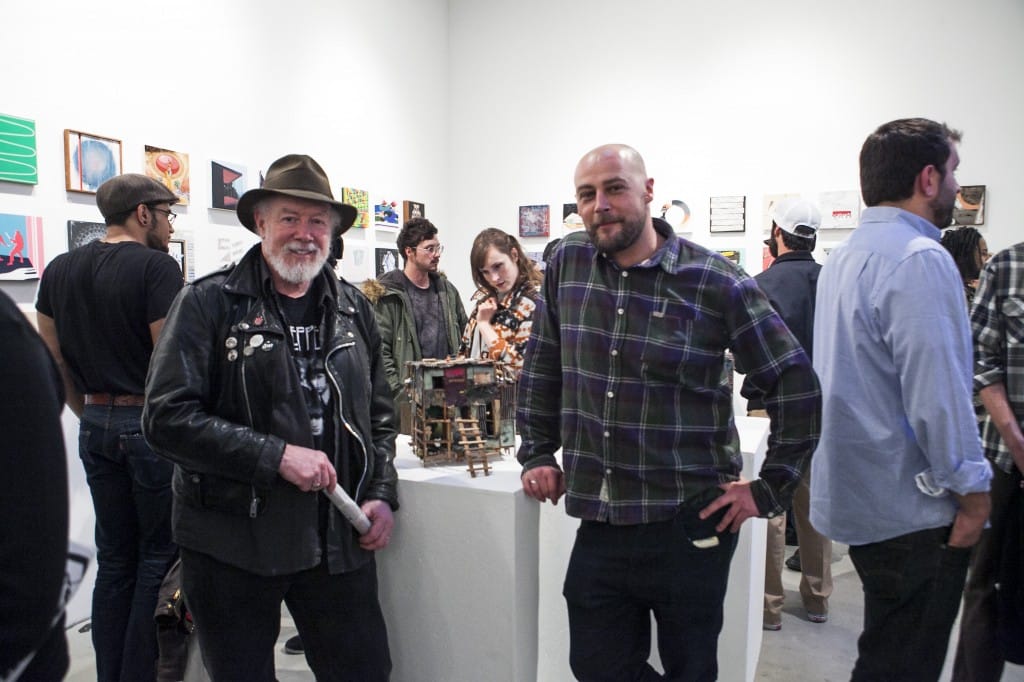 The group show includes over 100 artists. Each participant was asked to interpret and visualize space and form under the constraint of a 10″ x 10" canvas board.  Minervini and Friedman's site-specific installation is meant to augment the theme of the Space//Squared by using elements of architecture and nature on a larger scale.
[youtube https://www.youtube.com/watch?v=MhZQE52exW4&w=560&h=315]
See the artists at work in this time-lapsed video, created by Adam Friedman.
The collaborative installation is set in a narrow space and spans three walls. Even on opening night last weekend when large crowds traveled through the installation, sometimes parking for long periods in the space, I felt refreshed by the spacious grid and its constant, well-measured pattern. It was sort of like looking at art in a bright white room verses a room with dark blue walls.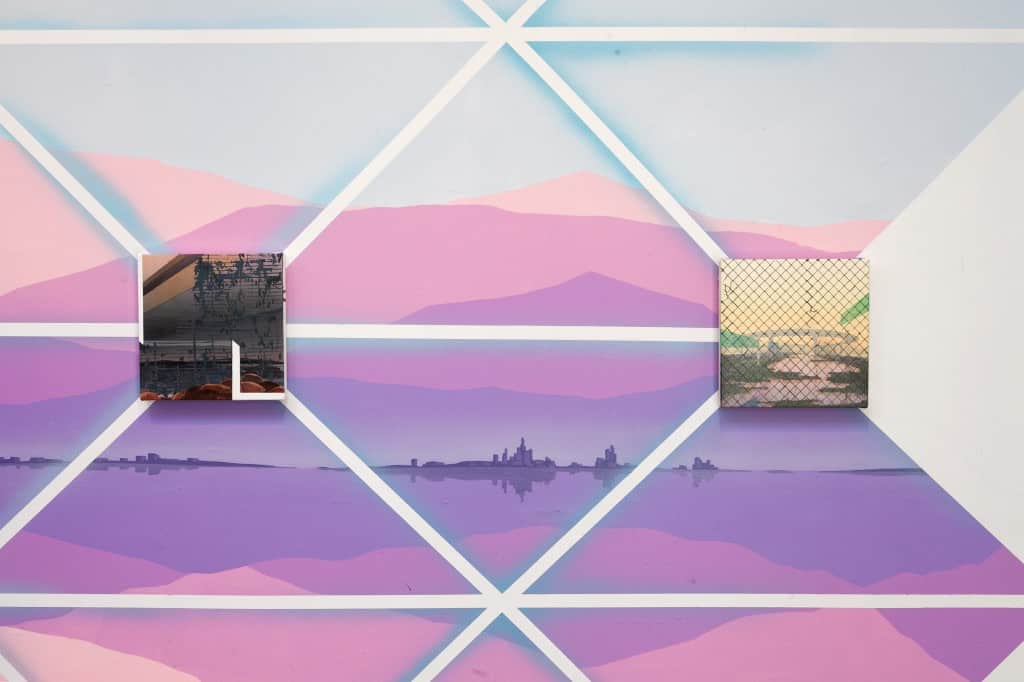 Minervini and Friedman give us an indistinct landscape, highlighted towards the middle by a pink and purple glow.  A shadowy, distant cityscape runs across the horizon, while a diamond grid made of thick white lines that are bluish around the border, covers the landscape. That grid creates the illusion of a layer, much like a glass plane.  We might be looking out from the inside of a geodesic dome.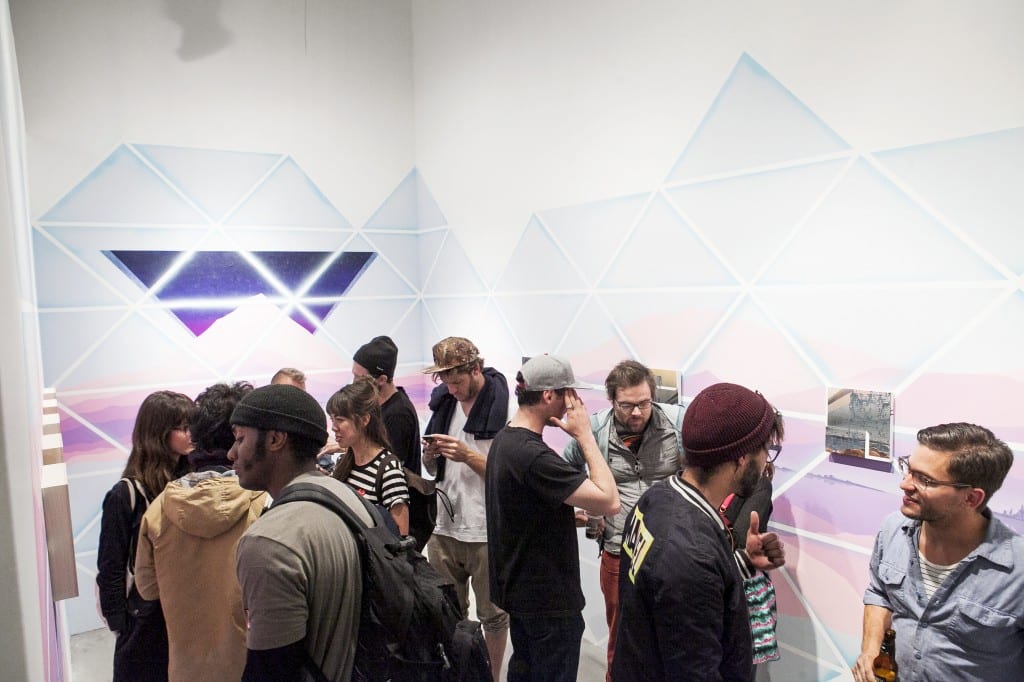 At the furthest wall, the artists capture a triangular window (up-side-down; the bottom angle is cut off by a mountain peak from the pink landscape) that reveals a starry nighttime sky neatly sliced from the middle of the pink and purple scene.   To complete the installation, and to connect with the other parameters of Space//Squared, both artists installed five 10 x 10" paintings within the space. The small pieces reflect some of the same colors and shapes from the installation. Friedman's paintings appear like Wunderkammers windows (also known as Cabinets of Curiosities) concerned with neat incisions into landscape elements or the psychedelic layers of mineral rocks.  These windows might look out into a starry sky or a wavy seascape.  Together, Friedman's images feel like puzzles.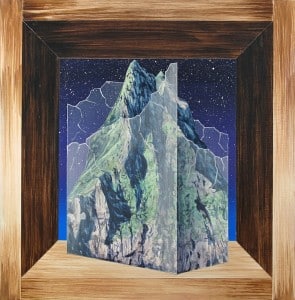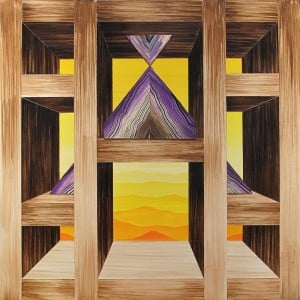 In Minervini's set of paintings, the focus lies on sensitive layers created by both man-made and natural elements.  I.E. a peach-colored sunset is depicted behind a rotting chain-linked fence; or in another piece, Minervini paints a mammoth highway bridge separated from the viewer because of another wiry fence in decay.  The weedy vegetation climbing the fence, which also takes on the same color of the fence, creates a sense of combined disintegration:  Man and Nature rot away together, as a team.
In comparison to his cohort, Friedman's work feels more celebratory.  Minervini's images reveal something more mournful. Both feel exploratory, and together, they present curious and mesmerizing twists on Sven Davis' concepts.  For a lively show, catch their installation and the dozens of other participating artists in Space//Squared at White Walls. The show runs until July 5th.  Simultaneously, White Walls is showing 4 other exhibits:
Alphabet Show: Ever Letter Counts   •   John Felix Arnold III – Pilgrimage  •  Jorge Rodriguez-Gerada  •  Helen Bayly – Give Me What I Can't Have
Robert Minervini lives and works in San Francisco.  Currently, he is working on a residency with the Facebook Analog Research Laboratory, where he will construct a large mural.  Adam Friedman's practice is based in Portland, Oregon.  He is working on a large commission for the Capital One Collection. One of Friedman's paintings will be featured on the GNU 2014-2015 Snowboard line.  Sven Davis is an arts collector based in the U.K. , where he manages an architectural practice. He writes for Arrested Motion, an online publication on contemporary art. Photo credit goes to Brock Brake for his smashing work.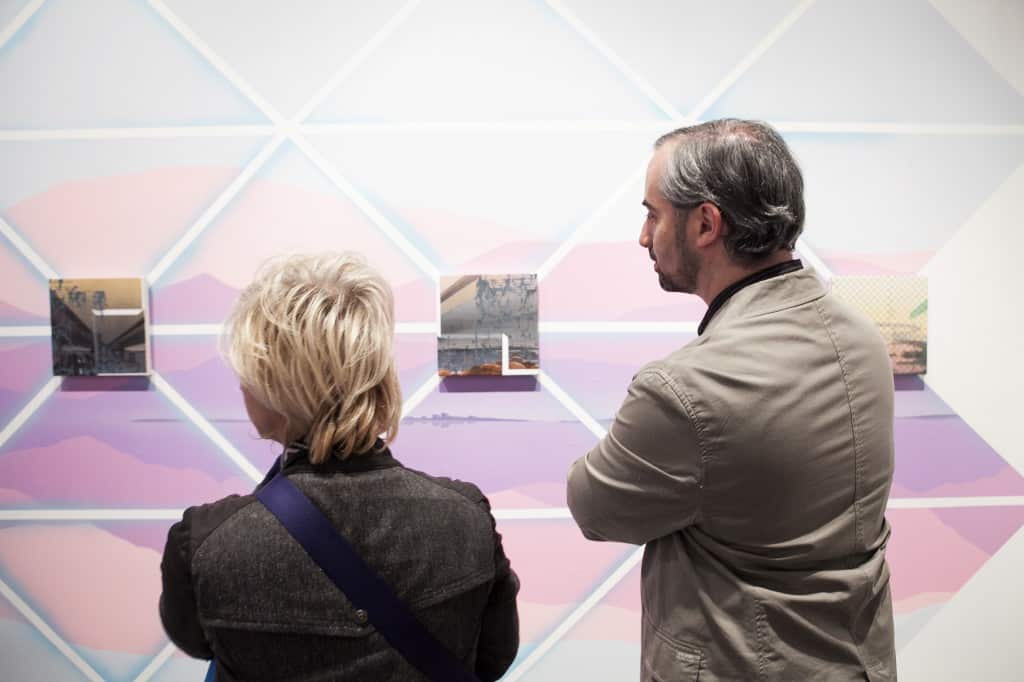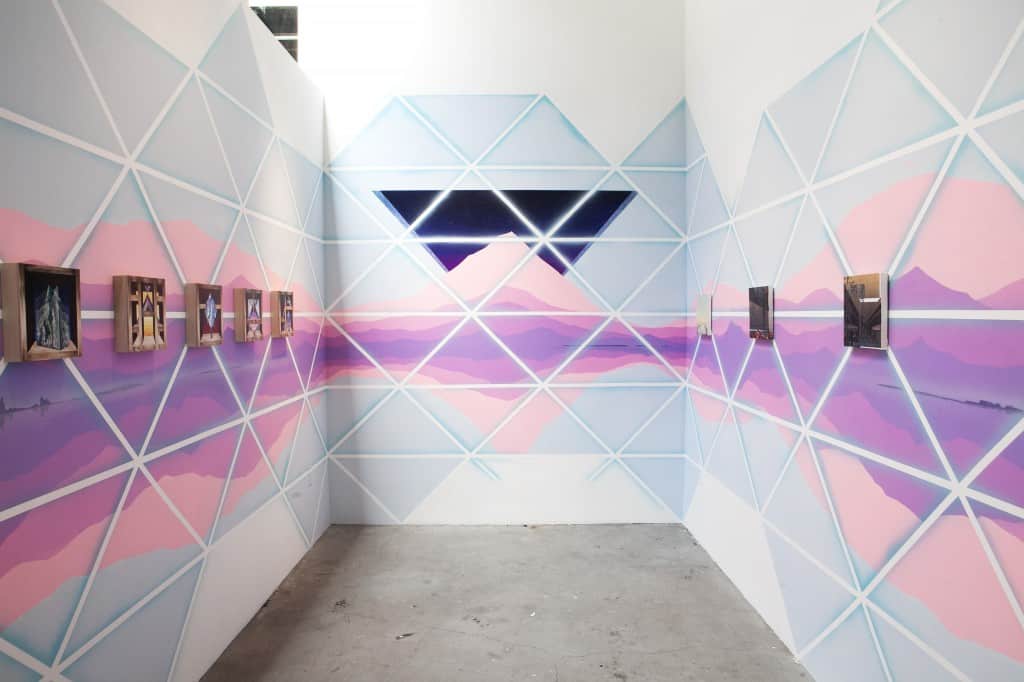 White Walls Gallery is open Tuesday through Saturday from 12 PM to 7 PM. Look for the gallery at 886 Geary Street, between Hyde and Larkin in San Francisco. Their current shows opened on May 10th and will close on July 5th.
Written by Audrey Tran.