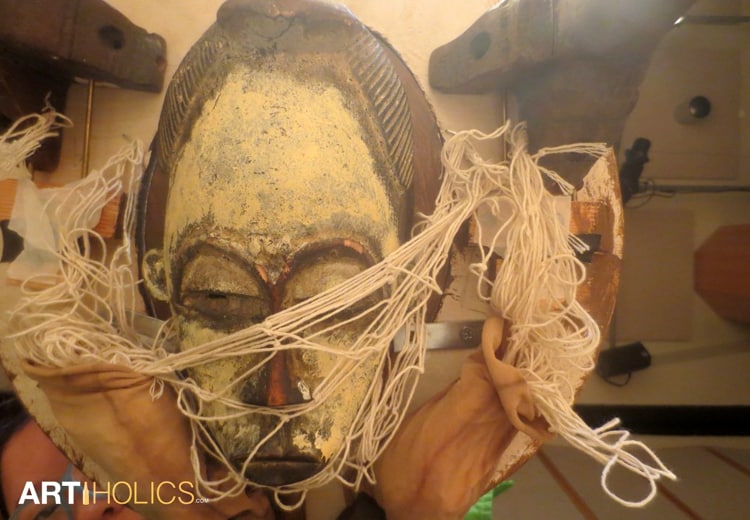 New York – Wednesday, April 23, 2014
On Monday March 17th, at the Segal Theatre, artist and director Theodora Skipitares presented her new work. Trained as a sculptor and theater designer, she is based in New York. Skipitares has been creating personal solo performances since the late 1970's. Her work features realistic, life-size puppet figures, as well as miniature ones, becoming the performers in large scale works that include live music, film, video, and documentary texts. She was recently featured at The Whitney Museum's Rituals of Rented Island: Object Theater, Loft Performance, and the New Psychodrama, Manhattan.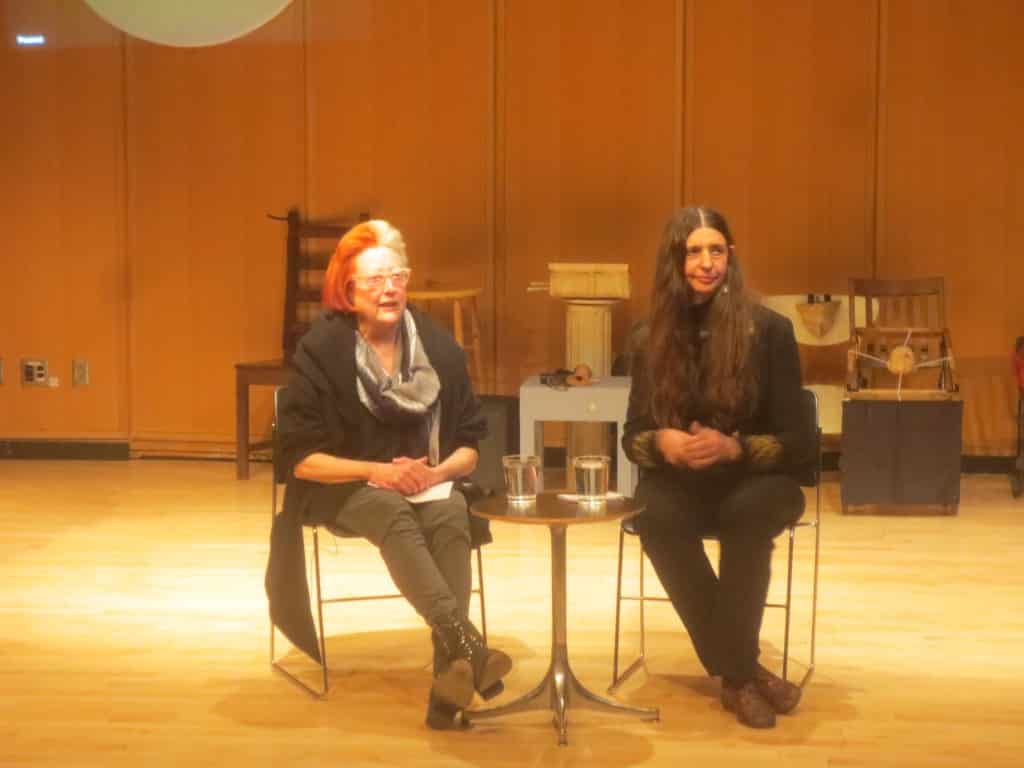 Martha Wilson and Theodora Skipitares.
Raised in a strict Greek household in suburban California outside of Oakland, Skipitares spent her teenage years fashioning costume extensions of her own body. Dresses made of found objects and of natural origin, dresses comprised of 3,000 walnut shells, or 90 pounds of glass, twigs, and fresh fish.
She would paint her face with acrylic and baby oil, sneaking out of the house with her sister, driving into town to perform two minute abstract pieces on sidewalks and in parks, with the engine running, she would run back to the car, driving home before their parents found out they had even left the house.
Her screenings for the day included Trilogy: Iphigenia, Odyssey, Helen, Queen of Sparta, The Traveling Players Present the Women of Troy. An excerpt from her new work, The Chairs, was performed.
In attendance was also living legend, Living Theatre's founder Judith Malina to answer a few audience questions, followed by a conversation with performance artist Martha Wilson. Wilson made a great point on why performance is distinct from theater and it's actors. Performance is born of activism and dada.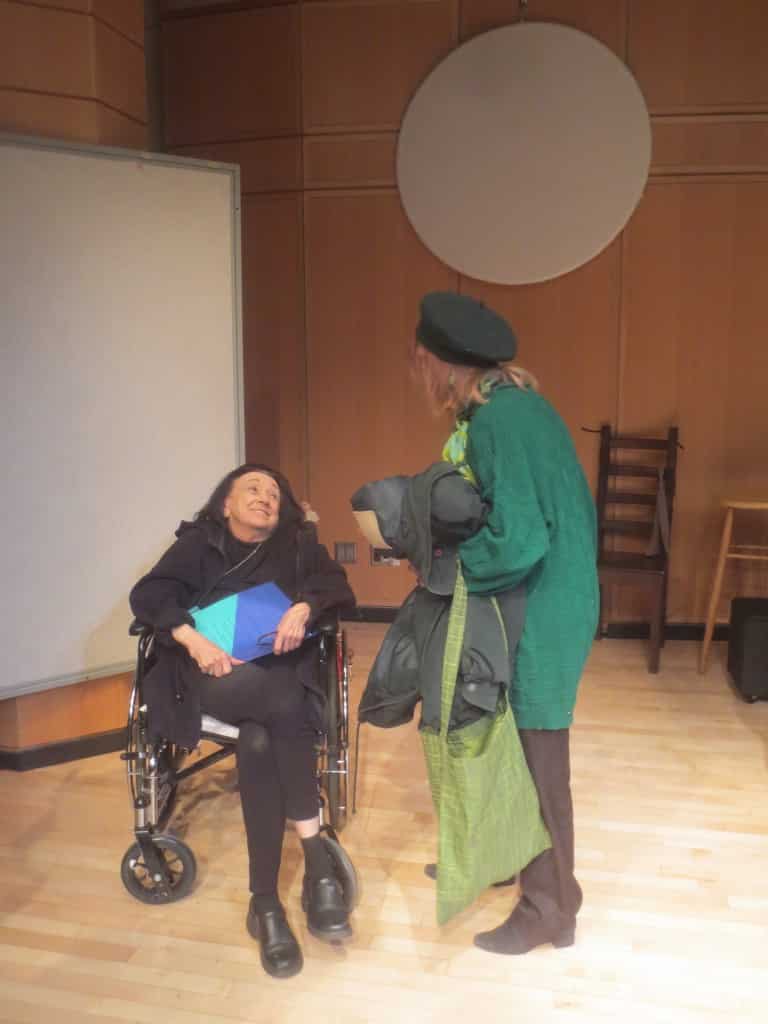 Judith Malina
The performer is there with you, taking into account that today it is freezing outside and windy, we aren't pretending the fourth wall closes one off into England on a rainy day at the turn of the century. You and I are in the same room, if I eat paint, it is paint. You can't fake this. With an actor it is corn starch and food coloring, and it is someone else's directed passion, not your own condition.
In her new performance, the main character is told through the perspective of a spirit possessed Dinka mask. It transforms before the audience, hidden within the top of a table. In real life, the Dinka people themselves live in a country setting. They are monotheists, connecting to Nhialic, who speaks through spirits whom temporarily possess the believers to communicate through them.
Jane Catherine Shaw
The Dinka share an animus belief, that power comes from nature, and that which takes part in their world. In 1983, a religious & social conflict with the Dinka led to a war erupting against the Arab Muslim colonial government in Khartoum. The Dinka lead Sudan People's Liberation Army revolted against the government in. A civil war ensued, lasting over twenty years, taking the lives of several thousands of Dinka, and non-Dinka southerners. Later, a civil war with the Nuer, killed many thousands more.
Skipitares is a multi-media artist, revolving around the use of handmade objects worn on the body. Taken by ideas of activism, she moved away from autobiography, to examine social and historical struggles.
She introduced intimate three dimensional representations of herself into these performances, embodying these as puppets. Skipitares is a Fulbright Fellow, and is currently an Associate Professor at Pratt Institute in Brooklyn, New York. Skipitares has received a UNIMA Citation for Excellence in Puppetry, a Guggenheim Fellowship, a Rockefeller Fellowship, and a McKnight Playwriting Fellowship.
Written and photographed by Betty T. Kao