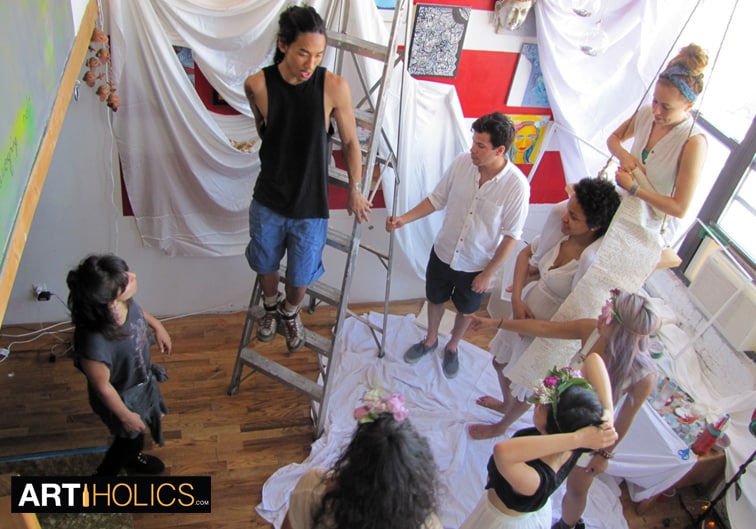 Bushwick, Bklyn, NY – Saturday, June 8, 2013
During the Bushwick Open Studios I opened a door and found myself in a poem come to life.  Experimental performance group 3i performed an original piece titled "Story of Am" and will be performing it again today and tomorrow on Governors Island as part of FIGMENT NYC.  Figment NYC is free, and all weekend long at Governors Island.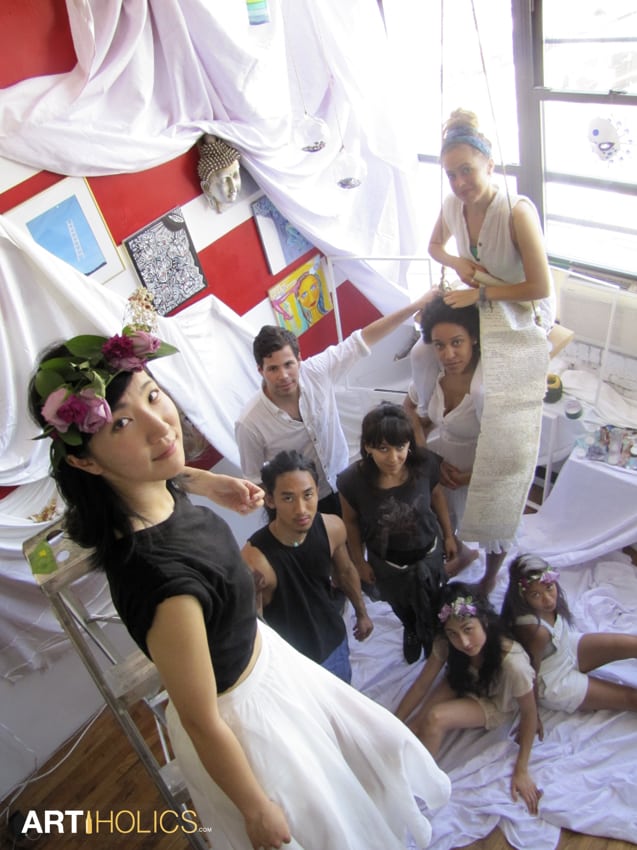 Left to right: Yo-e Ryou, Chase Chualong, Harry Spencer (white shirt), Zoe Rappaport, Rebeca Huntt, Libby Mislan.  On the floor: Yurie Collins & Jen Chantrtanapichate.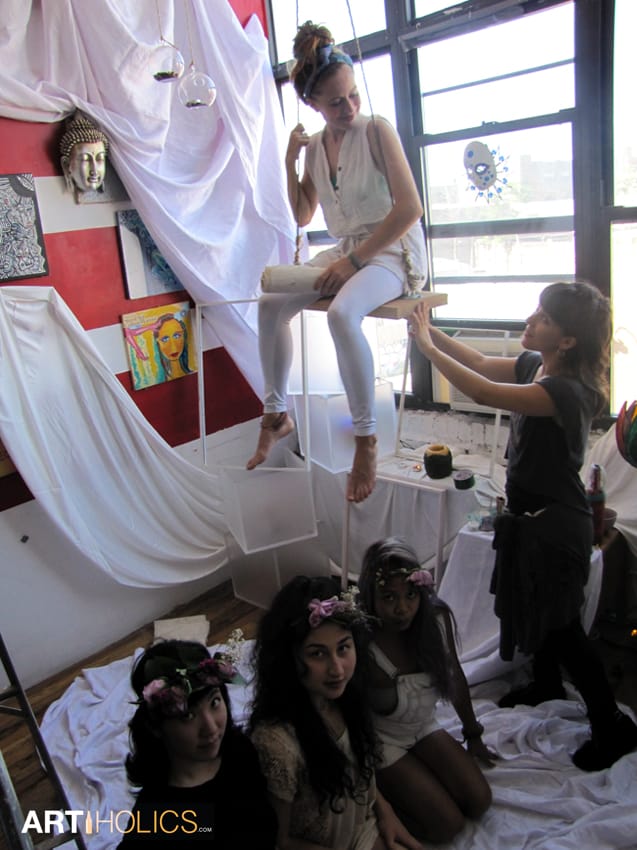 They will be there from 10am to 6pm and will be performing it three times a day (both Saturday June 8 & Sunday June 9). The majority of the time when they aren't performing, visitors will have the opportunity to engage in healing arts practices, individually and in community.
During the open studio they allowed me to do a photoshoot of them after the performance.  It was really hot in there, and climbing the ladder to a higher and hotter elevation just made it more interesting.
I had performer (and graphic designer) Yo-e Ryou climb a second ladder to add some cool foreground to the shot which worked out really well. After the shoot Chase Chualong offered me some dandelion tea which was delicious.
Jen Chantrtanapichate offered some aroma therapy.  This involved sliding a crystal over the flower I felt most connected with.  I chose the white one that was wilting.  This corresponded with a scent she dabbed on my wrists. Being that I have yet to evolve beyond bar soap, deodorant, and AXE body spray this was interesting to me.
I felt a little like Odysseus in the land of the Lotus eaters and had a hard time pulling myself away from this studio, but there was much more to see.
Five minutes later I was in another room a few doors over listening to poetry.  Nothing is commonplace during Bushwick Open Studios if you are open to anything.  I did find myself sniffing my wrists every so often throughout the rest of the day.  It was hot as hell out, so it was either that or smell my own sweat, and with that being the other option, the flower scent was a welcome relief.
Written by Cojo "Art Juggernaut"