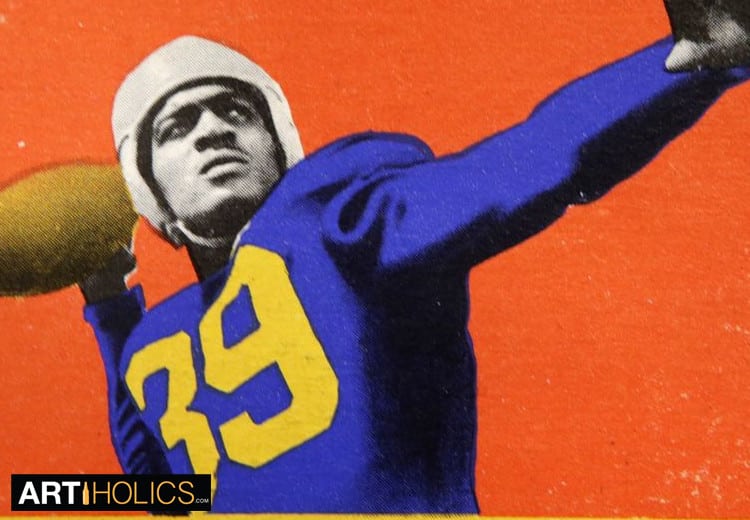 New York – Tuesday, February 4, 2014
In the entire 140-year history of The Metropolitan Museum of Art in New York, they have never exhibited a Pop-up Museum, until now. A "Pop-up Museum" is a concept developed in the 1990s, which is generally defined as a short term institution existing in a temporary space. These temporary museums exhibitions are finding increasing favor among more progressive museum professionals as a means of direct community involvement with objects and exhibitions.
To be seen as a progressive step for the Met, I considered it to be a strange choice- they chose vintage football trading cards. Of course the logic behind the exhibit is that it opened in coincidence with the Super Bowl happening just over the river.
If you are a printmaking or photography buff, you may find it is also interesting to witness some early American printing, photography, and lithography techniques and methods.  The feature image at the head of the article used colors that pop – the complimentary relationship between orange and blue, which shows that there was an artistic touch behind the execution of the cards. As an art lover, you may find the content of football to be society's opiate, but you will see the exquisite origins of America's commercial publishing industry.
The show engages a different crowd than the usual art lover. It's a show that satisfied the fans that were building up that Super Bowl fever, in which they could excite themselves even more as they marvel at some of the oldest vintage football trading cards currently on public display. Chance are you will NEVER have an opportunity to see this kind of history again, unless you have the rare position of inheriting these valuable cards. Now that the Super Bowl is over, fans get to indulge just a little bit more with their football fix.
The installer, when mentioning the show said, "For the first pop-up museum in history at the Met, it is an interesting choice to put playing cards from the 1920s on display, so that when tourists come to the display they can see what their parents and their grandparents saw."
One of the rarest cards, a Harvard player named Dunlop, is worth somewhere between $15,000 and $20,000.
The Show is called Gridiron Greats, opened January 24 and runs till February 10, 2014, Sunday–Thursday: 10:00 a.m.–5:30 p.m. Friday and Saturday: 10:00 a.m.–9:00 p.m.
Written by Andrew Kaminski