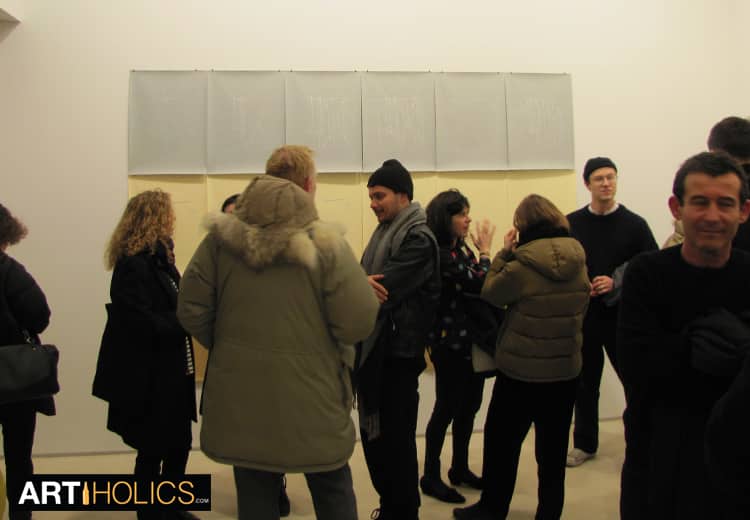 New York – Monday, January 27 – Sunday, February 2, 2014
Artiholics.com Presents: NYC Gallery Going Art Opening Picks For This Week.
I spent the past week in Atlantic City floating nude in the various Ceasars spas (cold, tepid, and hot) in serious blizzard denial.  With a space pen and a rainproof explorer notebook in hand I was an idea jotting bathtub dynamo.  Dozens and dozens of pages of ideas and notes poured out, all of which I will have to sort through over the coming days and weeks.
I did only once manage to pull my pruney white butt out of the tubs and brave the negative digit temps to tour the burgeoning art scene with one of only four resident AC artists. The locals are trying desperately to build a community there, and the groundwork has already begun to be laid.
Although luxury and relaxation are grand, I am glad to be home in NYC, and I would like to think the studio cats missed me while I was gone.  Now that the city has dug itself out, let's go see some art!
– Cojo
6:30 pm – CoolNY Dance Festival ($)| White Wave – 25 Jay St., BK
8:00 pm – Draw-mania! 25 | $15 | Otto's Shrunken Head – 538 E. 14th St. NYC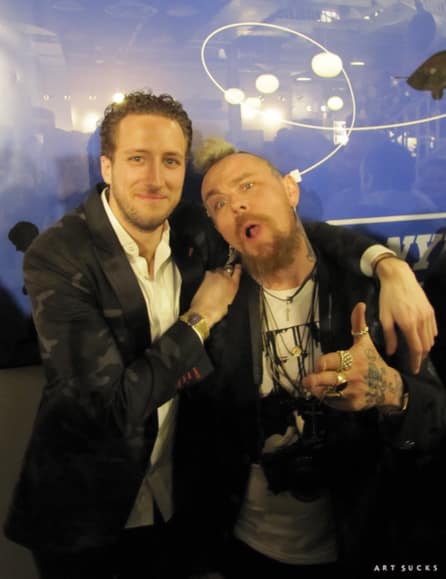 Tuesday, January 28, 2014

6:00 pm – Art Mash V | Bumble and bumble – 415 W. 13th S., 8 Fl. NYC
6:30 pm – Mars & Mercury | American Museum of Natural History – NYC
6:30 pm – Essam artist talk | SVA – 133 W. 21st St. Room 101c, NYC
6:00 pm – Alfredo Gisholt: Canto General | CUE – 137 W. 25th St., NYC
6:00 pm – MIA in MIA Wrap-Up | Lyons Wier Gallery – 542 W.24th St. NYC
6:30 pm – Social Exchange: Artist's Reception $ | MoMA – 11 W. 53rd St. NYC
7:00 pm – Mark Tribe lecture | SVA – 136 W. 21st St. Room 418f, NYC
9:00 pm – Matthew Silver's Circus of Dreams | Bizarre Bushwick – 12 Jefferson St. Bushwick, BK
6:00 pm – Kaiju Art Exhibition Closing Party | Resobox – 41-26 27th St., QNS
6:00 pm – James Weber | Imagine Gallery – 555 6th Ave., NYC
7:00 pm – Dylan J Clarke | The Living Gallery BK – 1094 Broadway, BK
7:00 pm – Introductions, Art Beasties | Brooklyn Fireproof – 119 Ingraham St., BK
7:30 pm – Art Battles opens 'The Vault' | 229 West 43rd – 229 West 43rd, NYC
8:00 pm – Track 1 Group Show | Exit Room – 270 Meserole St.. BK
8:00 pm – Fairytale Project | Rabbithole Projects – 33 Washington St.. BK
6:00 pm – Osamu Kobayashi & Bjorn Meyer-Ebrecht | Storefront Ten Eyck – 324 Ten Eyck St., BK
7:00 pm – Portfolio 8: Walls Spoke : Ben Godward | Centotto – 250 Moore st., apt#108. Bushwick, BK
8:00 pm – 1st People's Choice of 2014 | Greenpoint Gallery – 390 McGuinness Blvd., BK
10:30 am – Frank Lloyd Wright and the City $ | MoMA – 11 W. 53rd St, NYC
2:00 pm – "Slow Art" a talk by Jennifer Samet | Nancy Margolis Gallery – 523 W. 25th St., NYC
5:00 pm – Omens of Climate Change | Westbeth Gallery – 155 Bank St.,NYC
5:00 pm – Slang Reflections | Yes gallery ltd. – 147 India St., BK
2:00 pm – Residency Open Studios | Queens Museum – NYC Building, Flushing Meadows Corona Park, QNS
3:00 pm – The Islands of New York | Queens Museum – NYC Building, Flushing Meadows Corona Park, QNS
4:00 pm – Bob Holman: a gathering of sorts – Poetry $ | Outlet Fine Art – 253 Wilson Ave., BK
6:00 pm – Disorderly Conduct | Gallery Molly Krom – 53 Stanton St., NYC
Written by Cojo "Art Juggernaut"