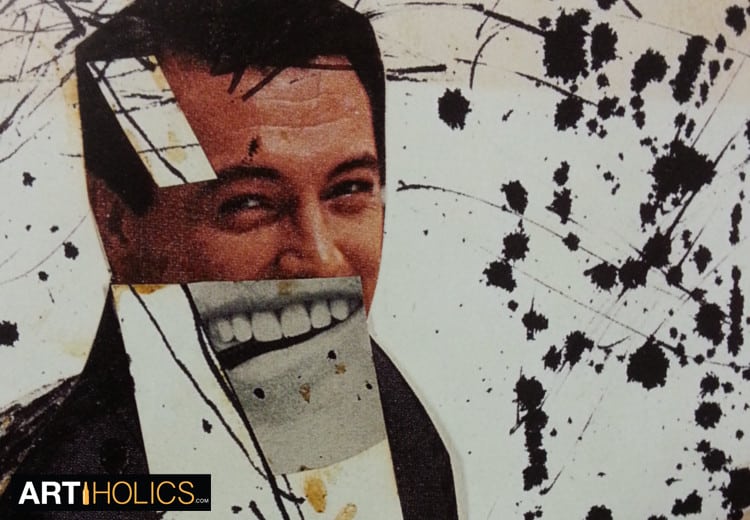 New York  – Tuesday, March 4, 2014
Forty four never before seen works by Jean-Michel Basquiat are now on sale through Christie's from March 3-17, 2014. The works are being held on the twentieth floor of Rockefeller Plaza, at Christie's showroom in midtown Manhattan. The press was able to get a sneak preview of the Basquiat exhibit on Friday, February 28th, where we met the collector, Alexis Adler.
Adler was Basquiat's intimate partner from 1979 to 1980, where they shared a Lower East Side apartment. Adler gained many scribbles, notes, poems, a notebook, sketches, a painted radiator, objects, xerox prints, a painted door, to name just some. Basquiat was only 19 when he made the works presented in this show, but his work had already started maturing to the point where it would later sell for millions.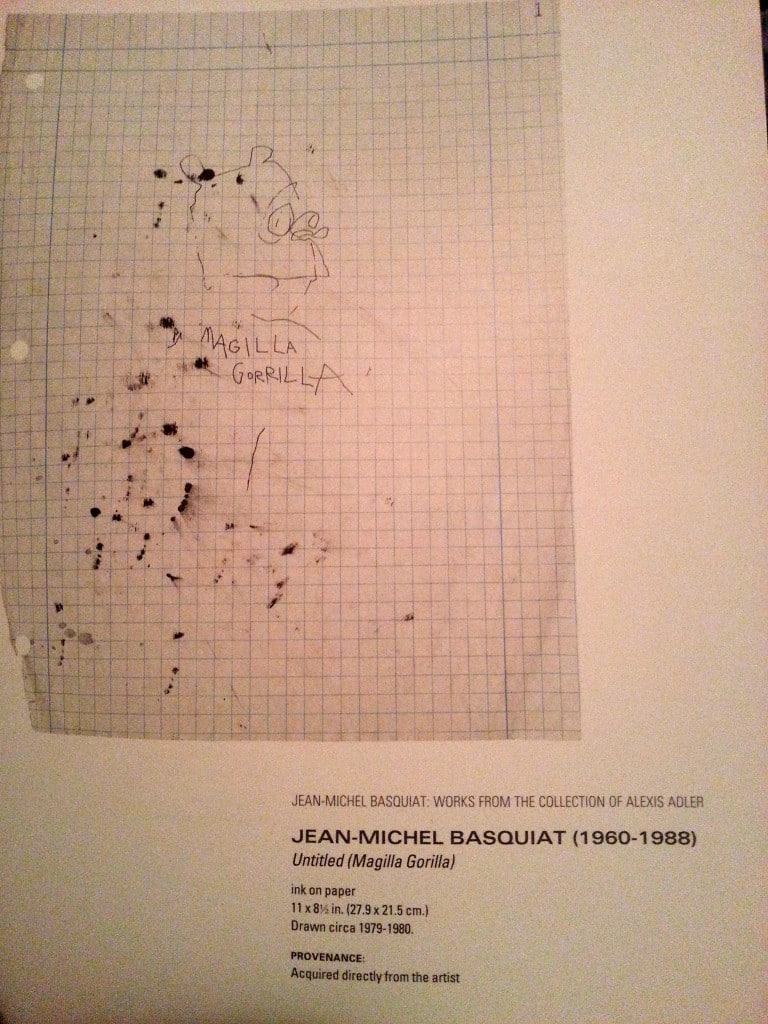 My professor from City College, Colin Chase, said he crossed paths with Basquiat at one point, and it he was like seeing "a shooting star." So how was Jean-Michel like a shooting star? What made him so spectacular? Apparently at his time, many people that knew him, knew he would be great.
"He always knew that he had something, and that was his drive… he just had this spark. It was in his eyes," says Alexis Adler,( as quoted in P. Hoban, Basquiat A Quick Killing in Art, 1998, p. 48.)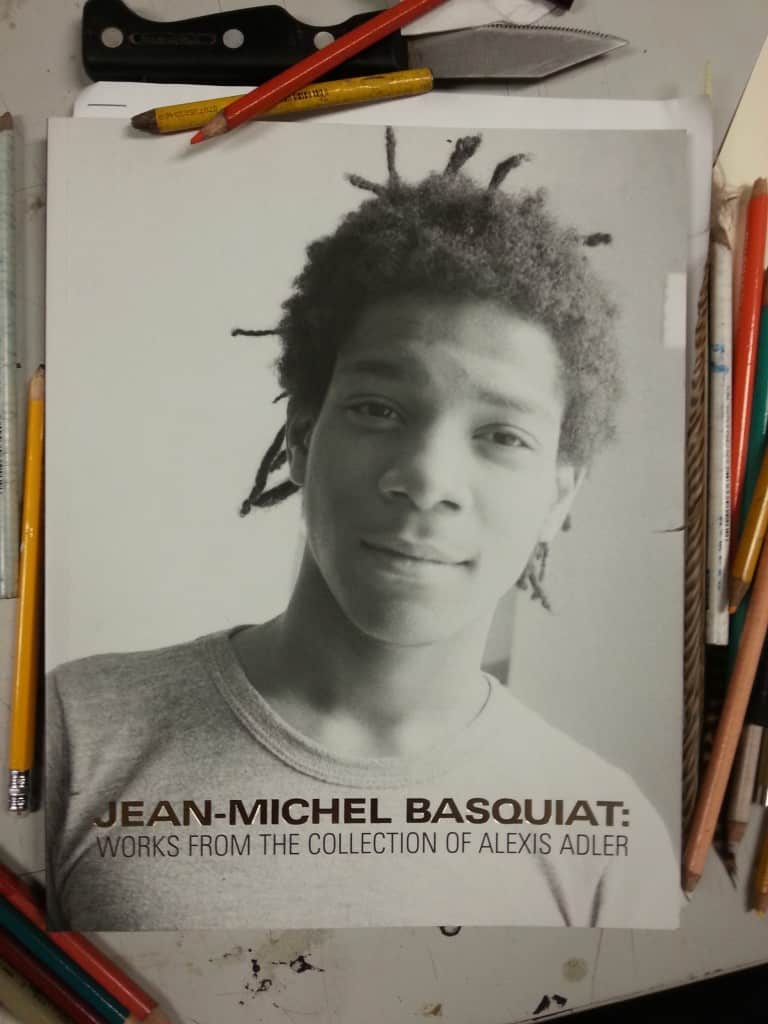 Basquiat's art had a profound impact on the art world partially because he was relevant to the times he was working in. In the late 1970s, when he first made an appearance in the Lower East Side in Manhattan, his graffiti tags, which were in so many places according to news media at the time, coalesced hip hop, post-punk, and street art movements.
By the 1980s, he was exhibiting his Neo-expressionist and Primitivist paintings in galleries and museums all over the world. In 1992, the Whitney Museum of American Art held a retrospective of his work. Basquiat used social commentary in his paintings as a means of shining light upon deeper truths about the individual. His work was outspoken on attacking power structures, systems of racism, while his poetry and his language were sharply political and made a direct criticism of colonialism, and he made a support for class struggle.
Basquiat's art focused on dichotomies, such as wealth versus poverty, integration versus segregation, and inner versus outer experience. He merged text with image, appropriated poetry, drawing and painting, abstraction and figuration, and historical and contemporary critique. He had a lot to say, and it made things even more compelling that this extremely intellectual, yet rebellious individual was black, and played a major seat of power in the Art world.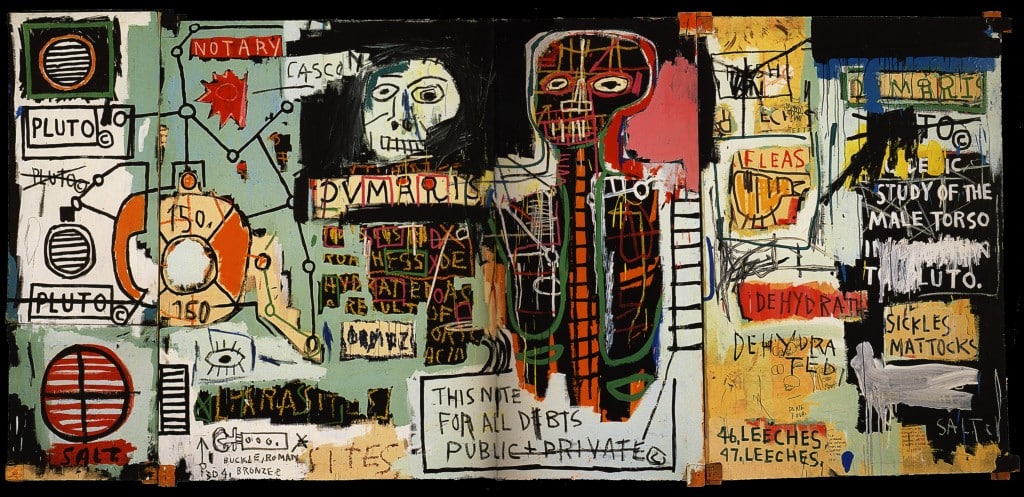 This is a work from 1983 called "Notary." As viewers, we can see that Basquiat could tap into some kind of channel, that allowed him to make work of urgency, impulsivity, layering, symbolism, exquisite color palette, and once you stare at the painting for a while, you start to read into its social commentary. This painting was not in the collection at auction at Christie's, but it shows Basquiat's work at its height.
So what is special about this collection that Basquiat made when he was seeing Alexis Adler? This work reveals the beckoning of Basquiat's extremely valuable and prolific career. He had mastered his mark making, his technique by the early 1980s. The collection of Alexis Adler is a collection of the beginning of his repertoire, the beginning of him forming his rich vocabulary. He was starting to find his voice, and he was painting and drawing on everything and anything he could put paint and make marks on.
When Christie's curator, Jonathan Laib, asked Alexis "What motivated your decision to publicize your collection and provide interviews in the spring of 2013?" Alexis responded:
"Every year or so I've had an inquiry. Every year an art dealer or somebody would just call me up out of the blue, and say I'm doing this story about Jean-Michel Basquiat, and I understand you knew him, and so I'd talk to them. It would happen about once a year. And then we went to the Gagosian show, and somebody from ArtInfo spoke to a friend of mine who was also there. And they found out that I knew him, or had a collection, or whatever, and call me up. I've always wanted to share the artwork. Shows would appear, and I was like, "I wish I could get some of his artwork seen, or shown."
I had been to a panel discussion at the New School with my son when he was there. He's since graduated. And it was a panel with Al Diaz, Michael Holman, and Annina Nosei, and Alan, Michael, and I are close friends. The room was packed out with young people mostly who really wanted to learn more about Jean. And so I was like, wow, this is really interesting and cool that so many young people are interested in his art.
The idea of sharing my story, as well as sharing my art became more appealing. But really, it's about his art. I'm really excited to be able to have the show at Christie's, as well as share the artwork with other people so they can enjoy it. I've been enjoying it for a long time."
The sweatshirt in this photo is going to be sold, starting price of $10,000. Basquiat hand painted it himself.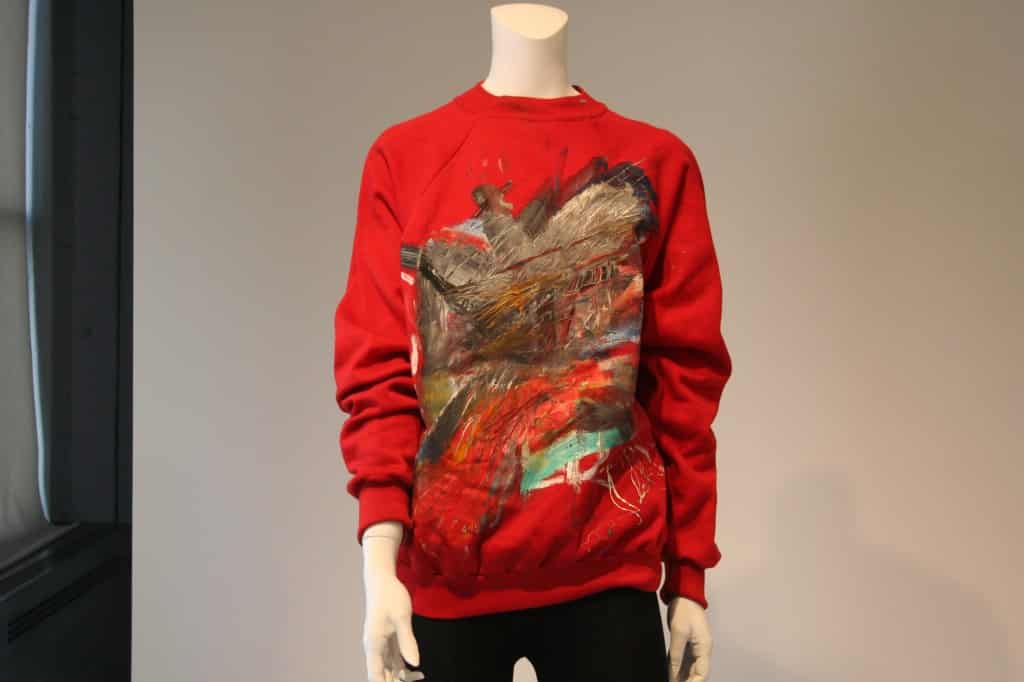 This sweatshirt is priced between $7,000 and $9,000.
Untitled (Olive Oyl), 48 X30 inches is priced at $400,000 – $600,000.  Representative of his former life of graffiti in NYC streets, he you can see the spontaneity of the paint strokes in the lower left hand corner of the painting. Basquiat combined references to American cartoon character Olive Oyl from Popeye, with the white picket fence. This piece foreshadows Basquiat's strong style that was later to come.
The show offers a never before seen glimpse into the mind of a very profound mind, and extremely talented artist.
The show is up March 1-28,2014, at 1230 Avenue of Americas, 20th floor, New York, NY, 10020
Written by Andrew Kaminski