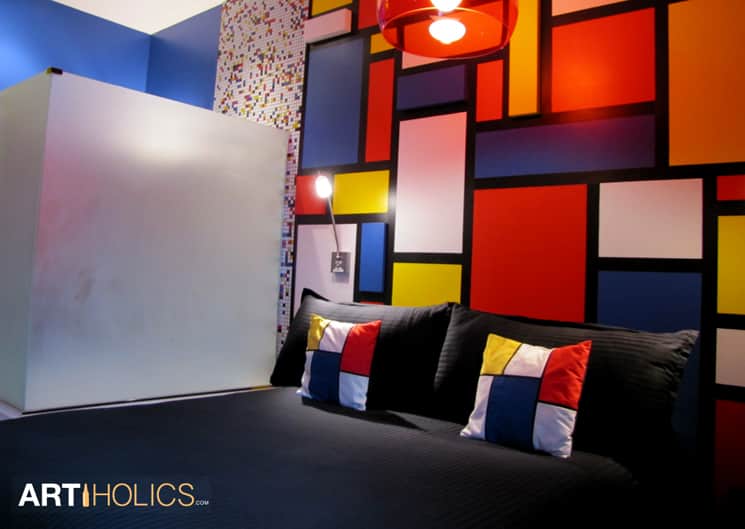 Roxbury, NY – Saturday, April 6, 2013
Have you ever thought about how cool it would be to stay in a hotel room that was designed around the work of your favorite artist? How about a hand painted room that immerses you in the world of your favorite film, cartoon, or TV Show?  In Europe, across Asia, and even in South Africa there is a really cool trend happening now: Boutique Art Hotels.  For people who are sick of staying in drab, beige, hotel rooms while traveling abroad, you now have an entirely new and revolutionary option.
Luckily for us, it's starting to catch on in the states. I decided to make it a mission to find cool Art Hotels either in the five boroughs, or within driving distance of Manhattan.  I will travel to these hotels, stay in them, take pictures, meet the locals, and check out the area's art scene.
This is the first in a series of articles I'm going to write about East Coast American Art Hotels you can actually drive to, have a fun art-themed weekend get away, and make it home before work on Monday (all without breaking the bank).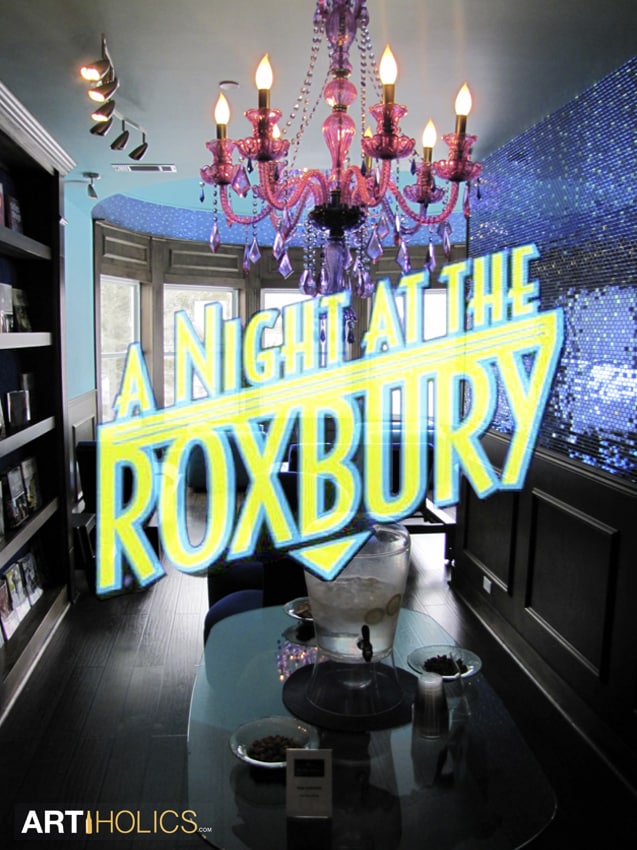 The Roxbury Motel
2258 County Road 41,
Roxbury, NY 12474
607-326-7200
At about a two and a half hour drive from the city, this is a perfect weekend getaway.   The Roxbury Motel is an unexpected slice of contemporary art and design, boasting dozens of uniquely themed custom painted and or sculpted rooms, all discreetly housed in two large spired white and chartreuse buildings nestled on the side of a babbling brook in the sleepy mountain town.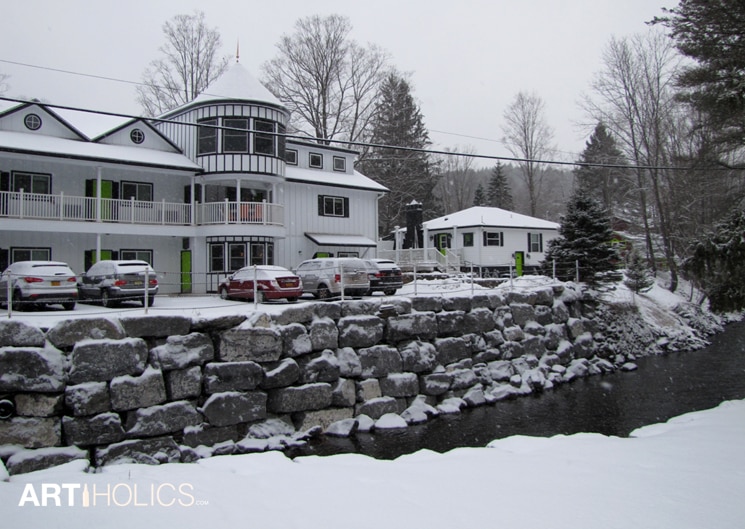 Roxbury, NY is a small out of the way village hamlet in the Catskills, one of the few places still somewhat "off the grid."  The GPS can't find the hotel on the map, and the entire township of Roxbury (as of the time of this writing) has no cell reception.  Molly & I both have 4gLTE smart phones (Verizon + AT&T), and neither worked.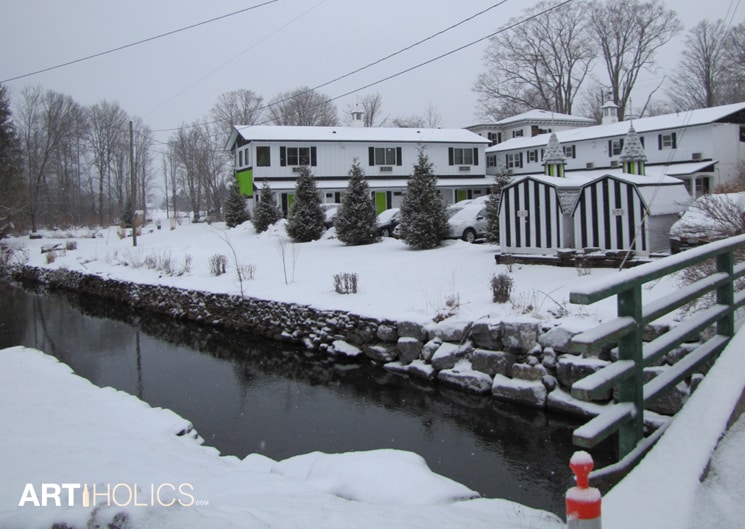 It really is a place to relax, check out of reality and the daily grind, becoming intentionally technologically incommunicado is more freeing than you might imagine.
Located just forty minutes from Woodstock, Roxbury has an interesting art community of its own, as well as the overlap of artists showing work in the neighboring small artsy towns of Margaretville and Fleischmanns which each have more art galleries and thrift stores than banks, supermarkets, or restaurants.  Do you remember a simpler time when there were no chain stores?  I don't, but that still exists here.  Roxbury itself is the home to The Orphic Gallery and the Eight Track Museum, the Roxbury Arts Group, and WROX, Roxbury's eclectic radio station, and The Public Lounge.  All of these are within a five minute or less walk from the motel.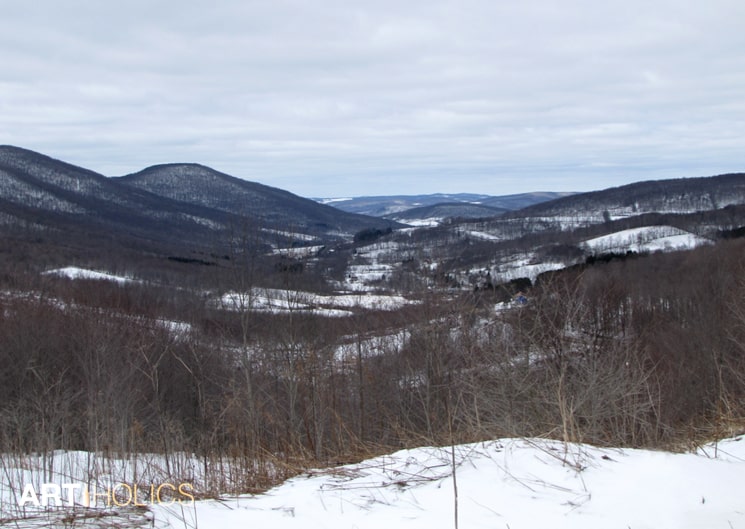 View From The Top  Of Roxbury Mountain.
With various ski resorts just short drives away (the nearest is Plattekill 10 minutes away), you'll have a huge variety of things to do.  It's no wonder artsy celebs like Alan Cummings, Edie Falco, Kelsey Grammer, and Yoko Ono all have been rumored by the locals to have vacation homes in Roxbury.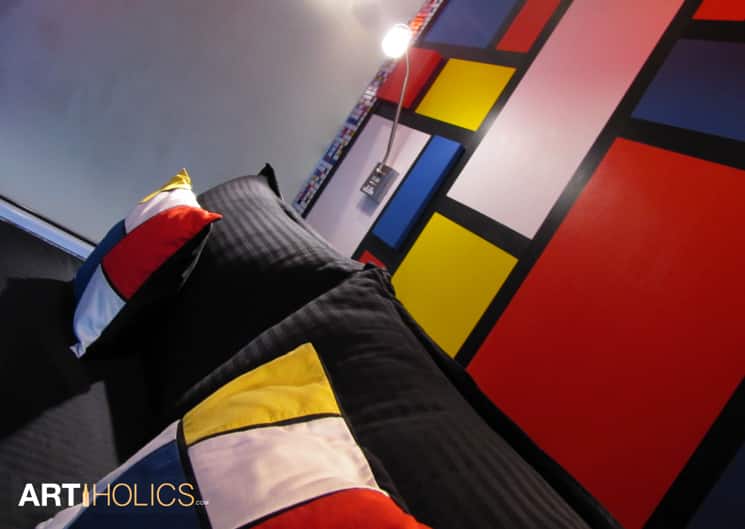 But if you are like me, you will take the time to get some good rest, pampering, take in the views, breathe some mountain air, and discover the local art scene.  Also if you are like me, and you want to live inside a Mondrian Painting, you will be checking in to room 15,  The Partridge Nest.  It's based on the Partridge Family Bus…

Which any art student will know, is based on the Neo-plasticism paintings of Dutch artist Piet Mondrain.

Mondrian Composition II in Red, Blue, and Yellow.
Let me give you a tour of the room.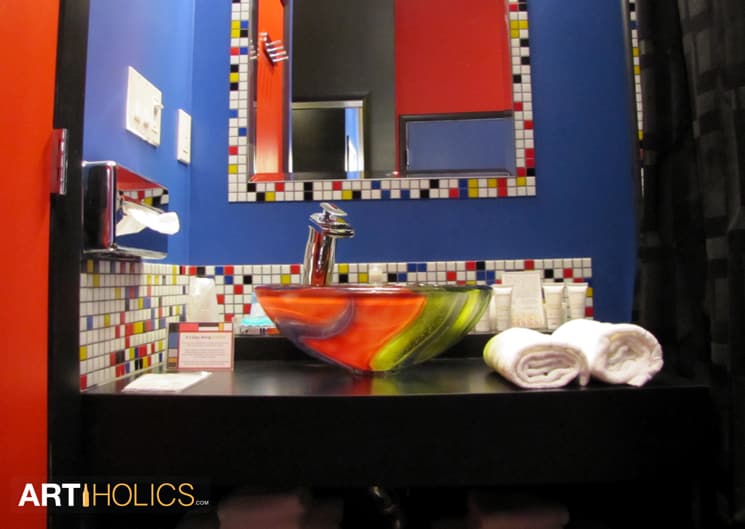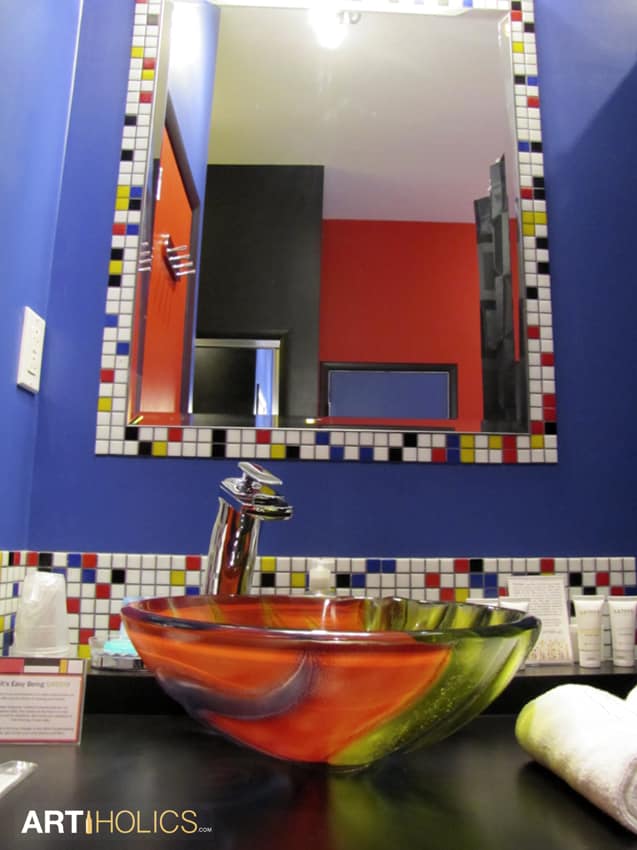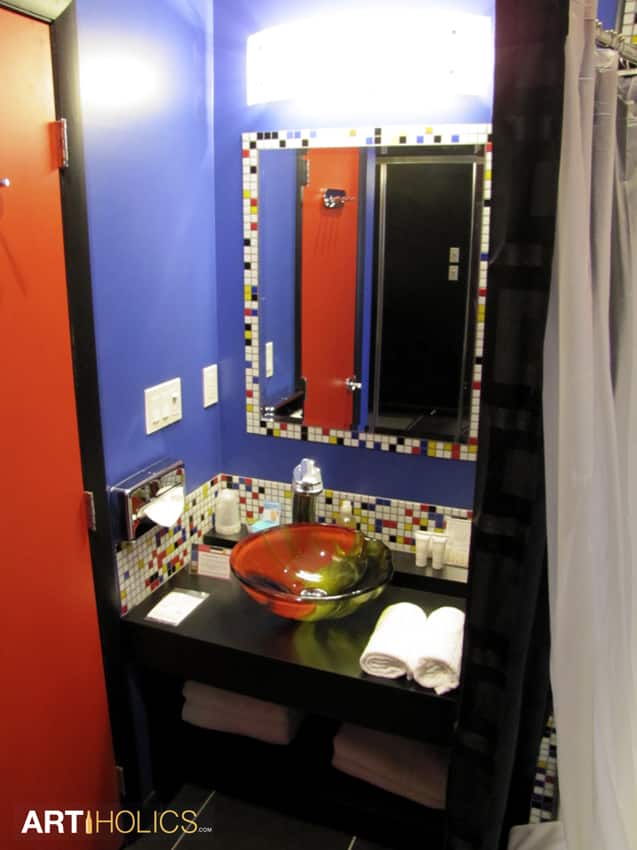 Although the sink wasn't linear, the color scheme and translucent natural patterns worked with the overall design of the room.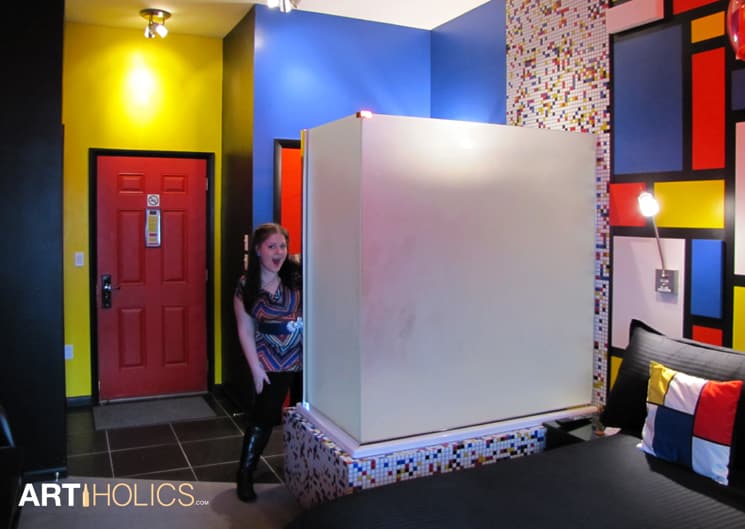 The  bath tub / shower is right next to the bed, but the tiling and large rectangular semi-opaque frosted windows make it seem like part of the painting. Here Molly demonstrates it's opacity.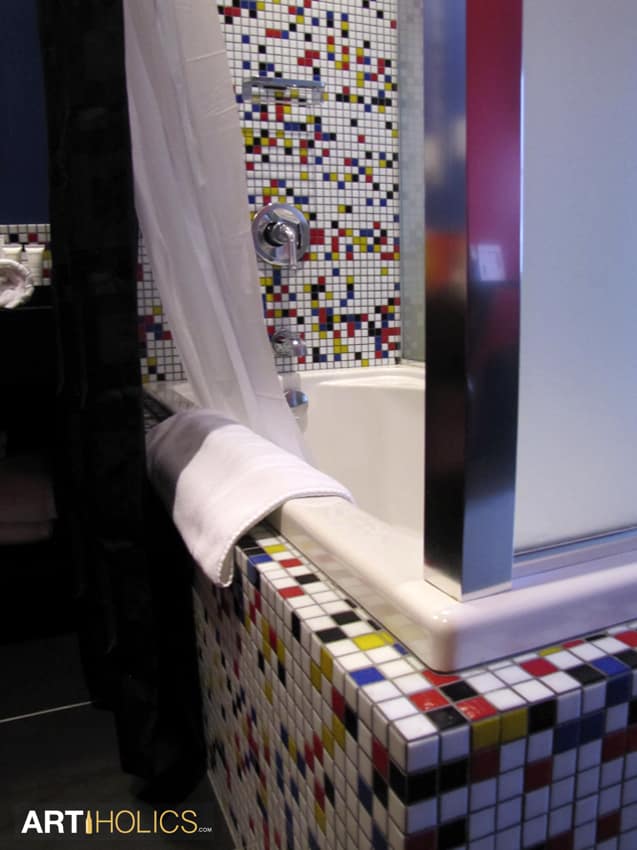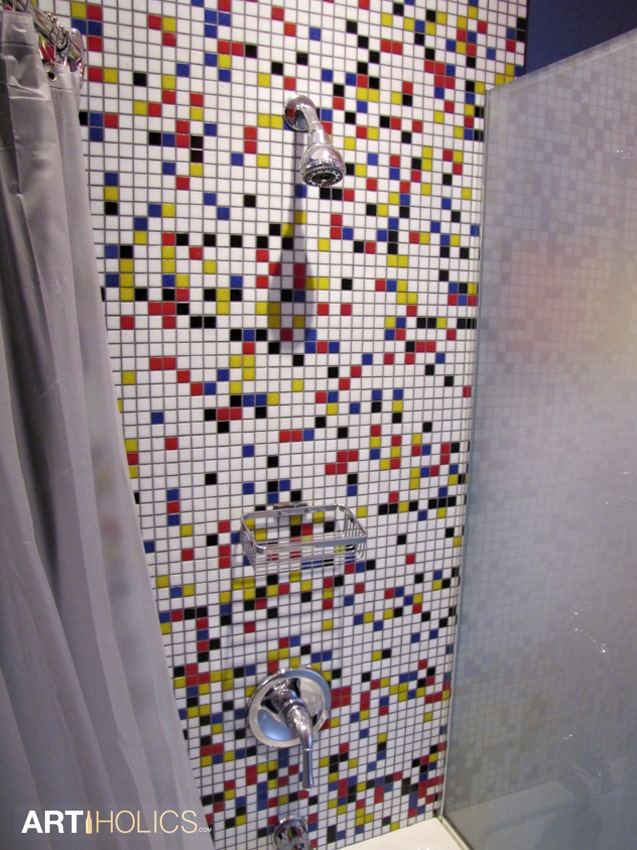 The interior of the tub was just as wild.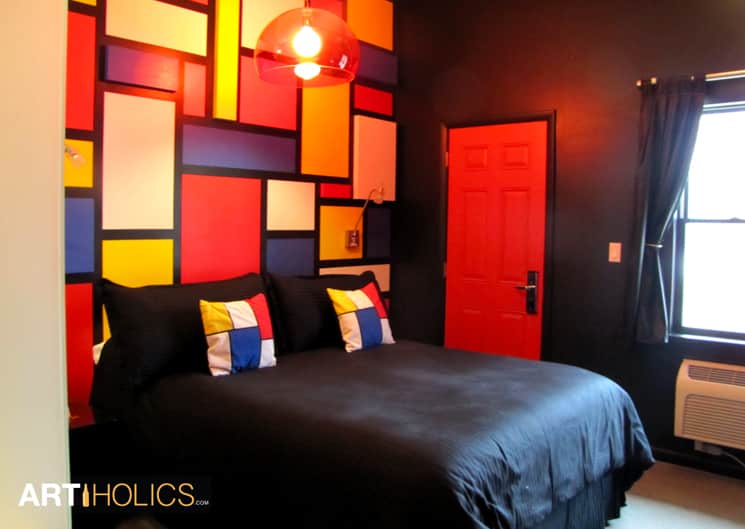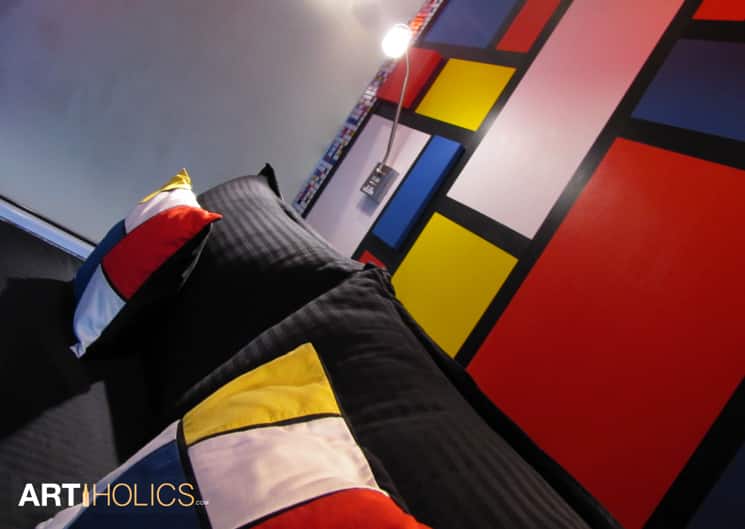 Hope you are a fan of primary colors, because Mondrian was.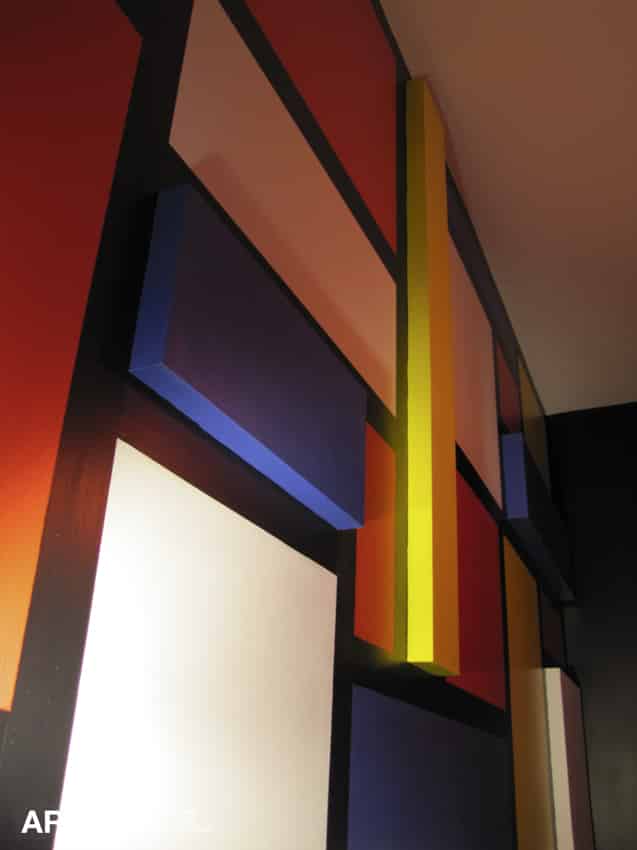 We were surprised to find that some of the color fields on the wall at the head of the bed had dimension to them.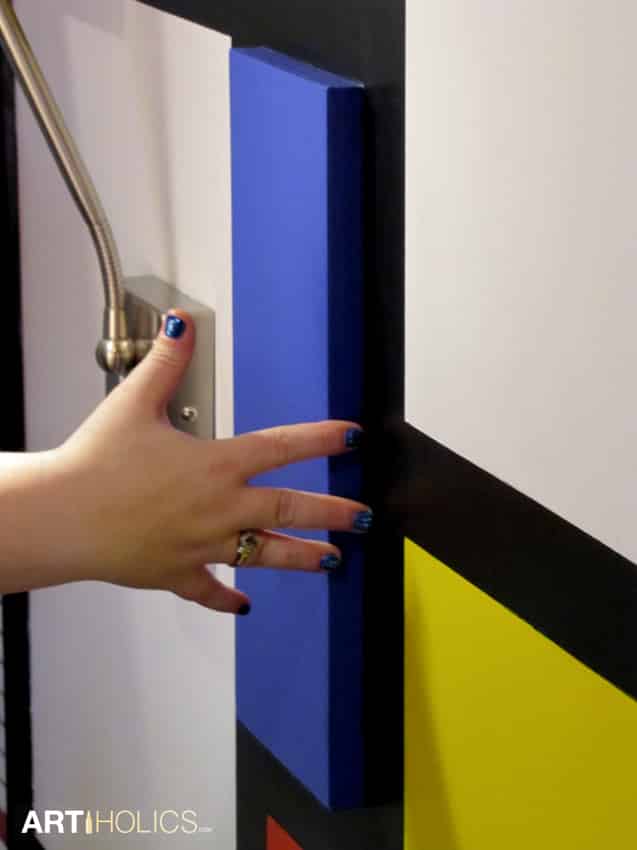 Molly painted her nails bright blue in honor of the colors.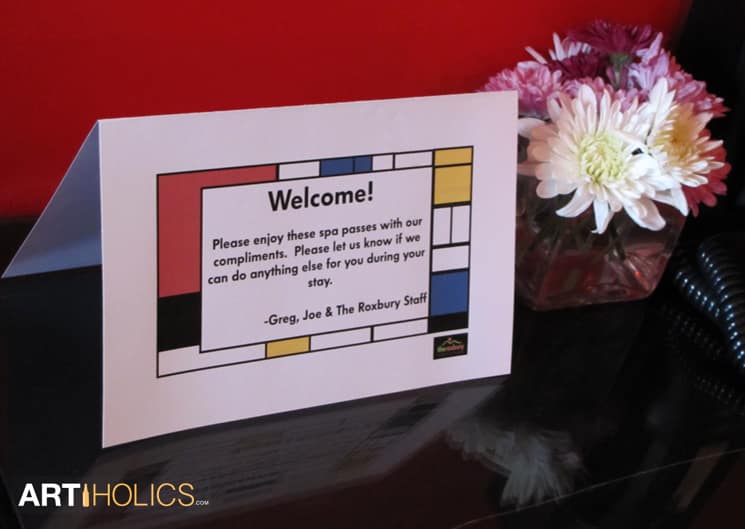 They really thought of everything here, the custom placard is printed with the Mondrian theme framing the type.  I assume they probably do this for every theme room, matching it's individual theme.  Brilliant!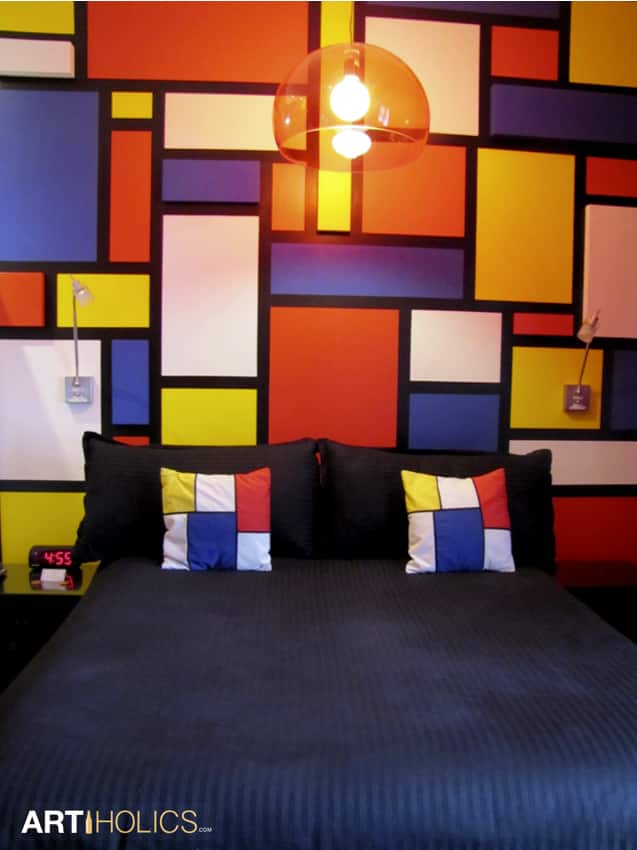 As you can see from the clock, we checked in a little late on Friday afternoon.  We stayed till Sunday so we could get an honest, insider review of what it's like to stay here, as well as be able to tour some of the other themed rooms after the rest of the guests had checked out.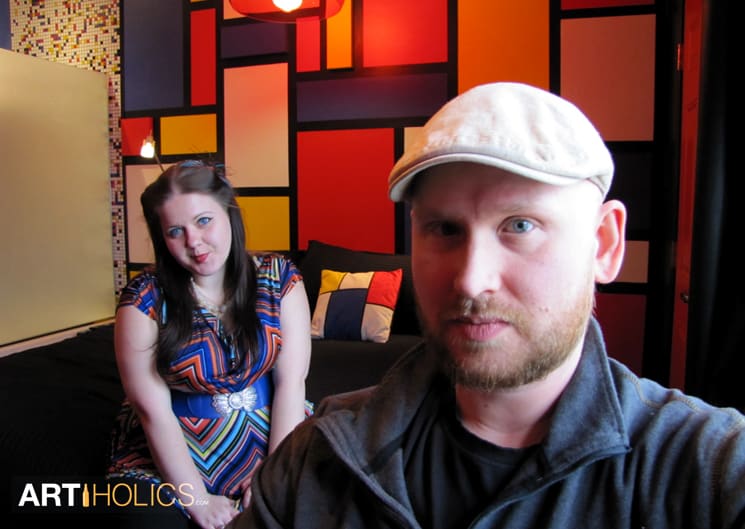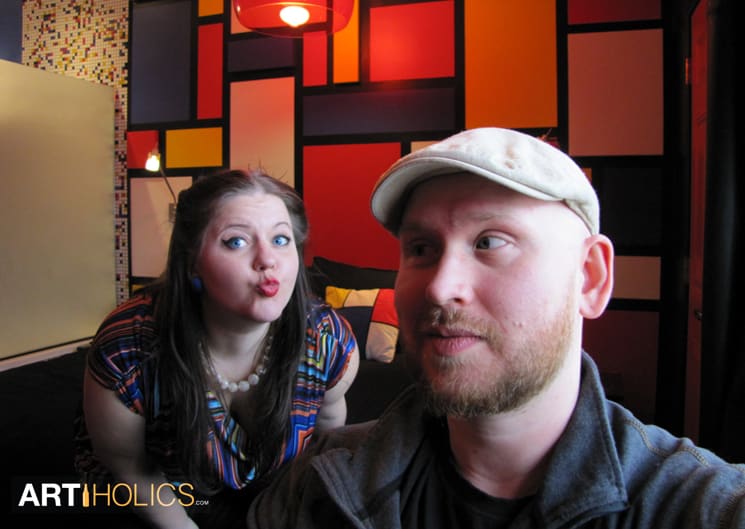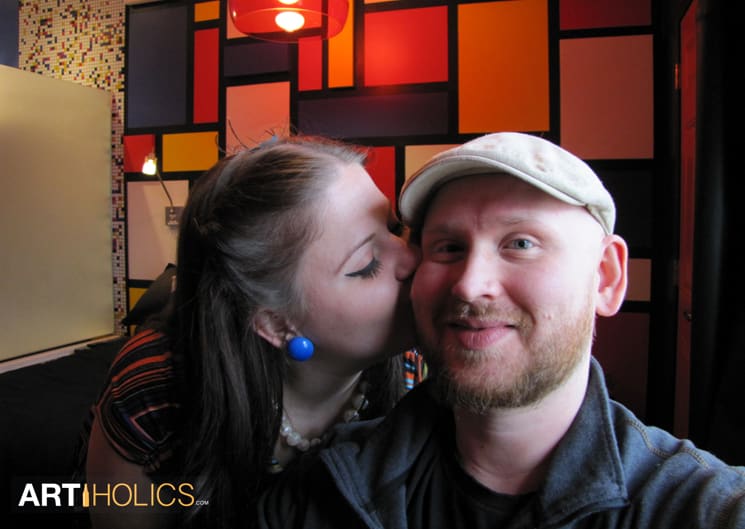 Never a dull moment in the Mondrian room.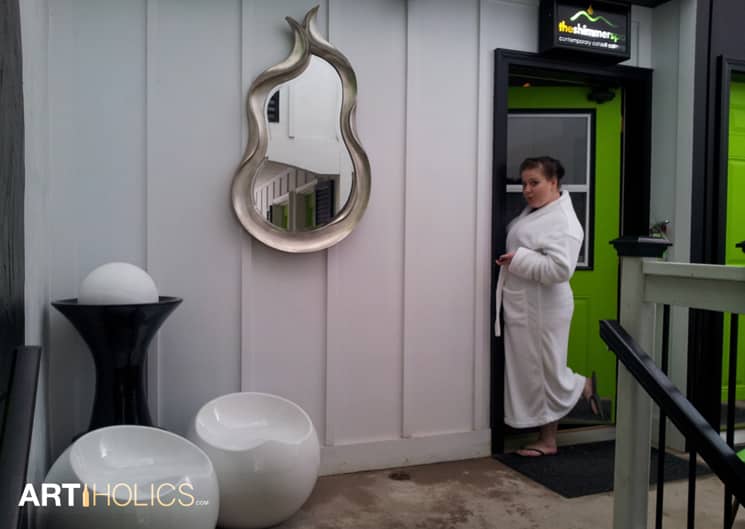 If you are staying at The Roxbury Motel, for $20 more per person you get an all access pass to The Shimmer Spa for your entire stay.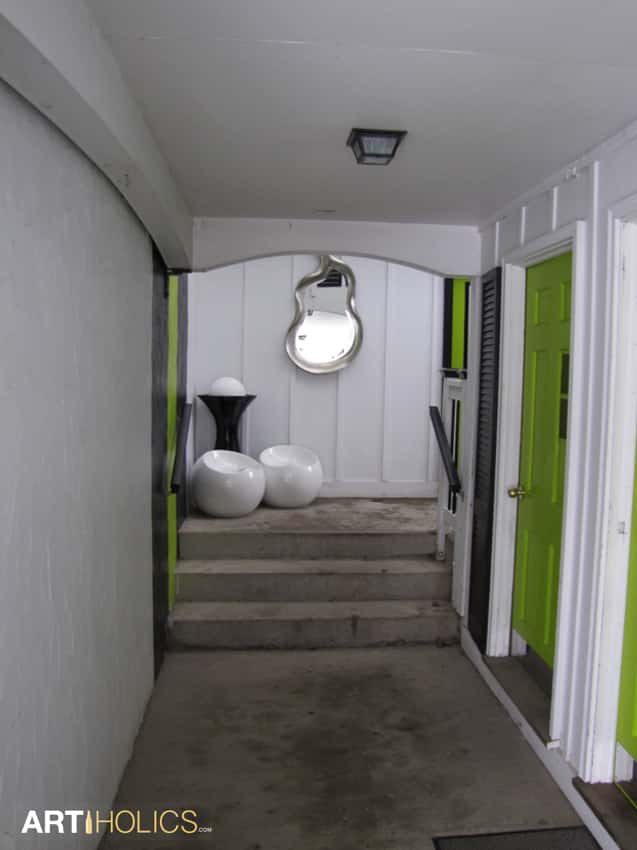 There are two spas, one in the older building, and one in the newer.  Both are part of The Shimmer Spa, and are accessed with the same swipe card.  White Robes and shower slippers are provided.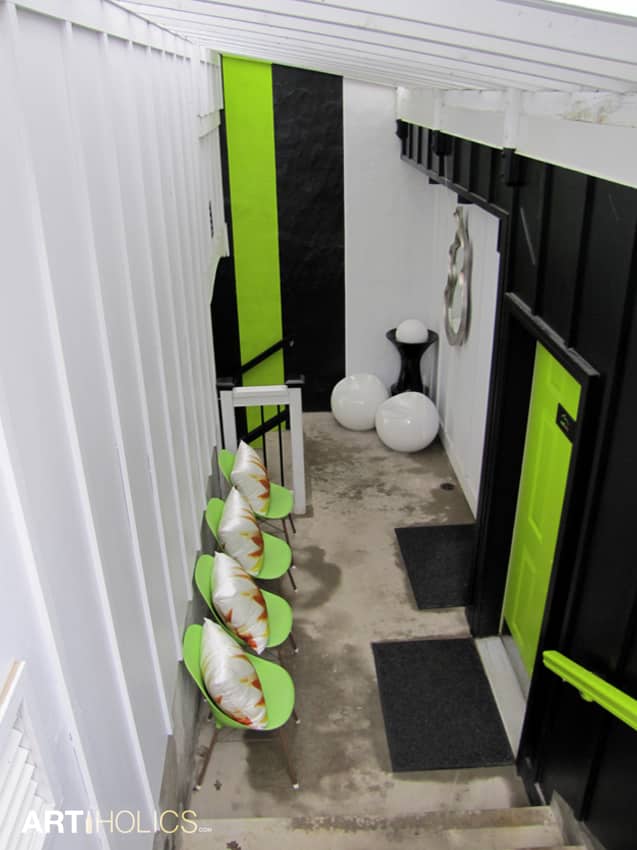 From the top of the stairs by check-in looking down on the spa entrance.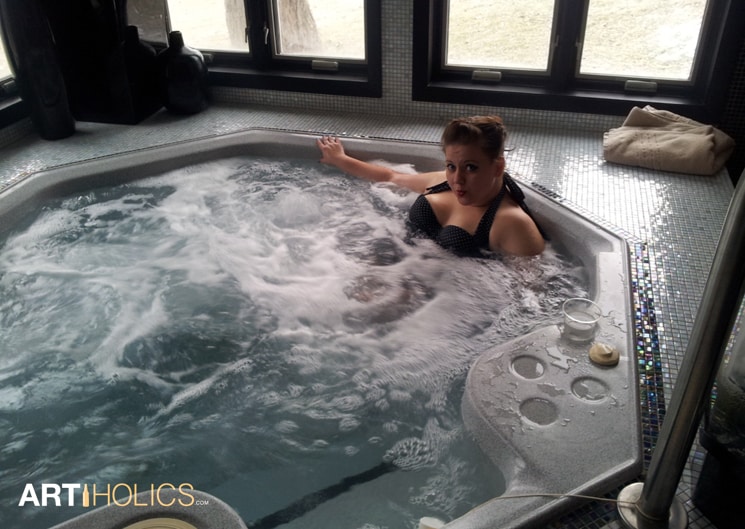 We did the initial photoshoot of the room when we arrived (before it would get lived in) and then headed over to The Shimmer Spa in our building which has a Jacuzzi, sauna, and shower lined with river rocks.  The Jacuzzi as you can see has two of it's walls looking out to the yard.  We went from Jacuzzi to shower, to sauna, back to shower, to Jacuzzi, to Sauna over an over for about two hours without any other guests coming in.  Had the place to ourselves, even though the hotel was booked up.  Maybe everyone else was out skiing.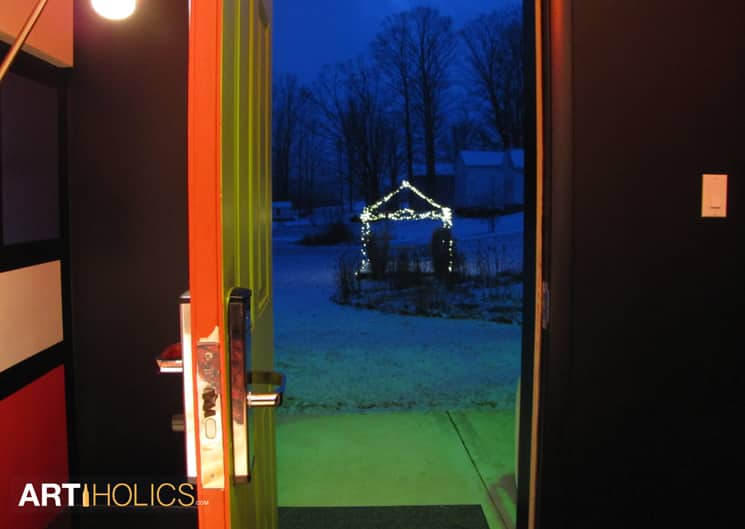 We were going to stop in at the check-in lounge to browse their DVD selection, they do have the entire AFI Top 100 Films in available to borrow for free, and all the rooms have DVD players, as well as cable & flat screens, but we were too content to make the walk over.  After it got dark, we headed back to the room I opened the back door to see the gazebo lit up beautifully in the middle of the snow covered field, it had been snowing steadily since we arrived.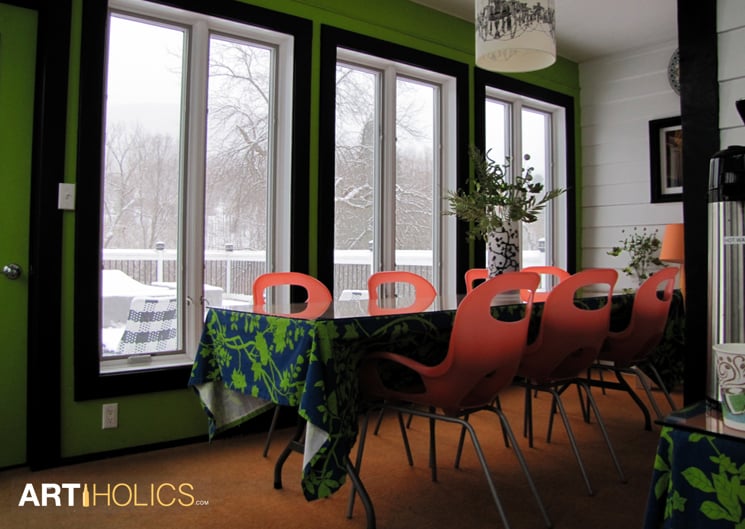 The next morning we woke rested and headed up to the check-in building for continental breakfast. I had a few conversations with some of the other guests.  Some were there with their entire family, there was a guy and his son on a skiing trip, a lot of couples.  One funny thing I found when talking to them is that all of us had lived within 10 blocks of one another in Park Slope at one time in our lives, yet none of us live in Park Slope now, very odd.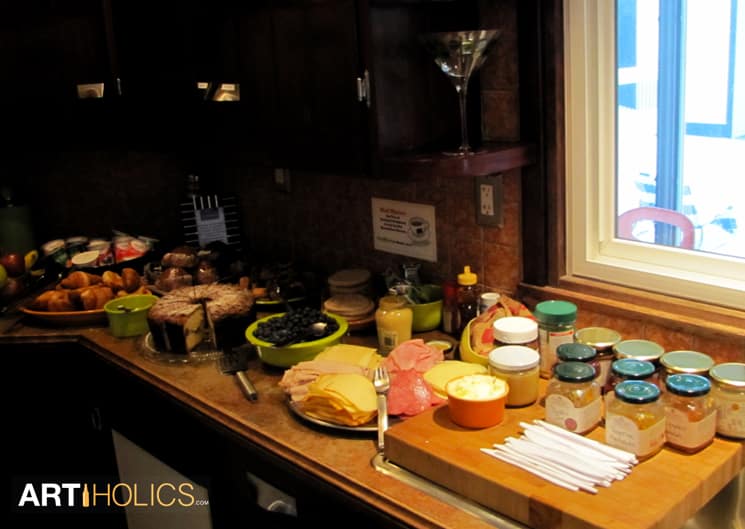 What a spread!  Jams of many flavors, and multiple styles of chocolate spread.  To Nutella and beyond!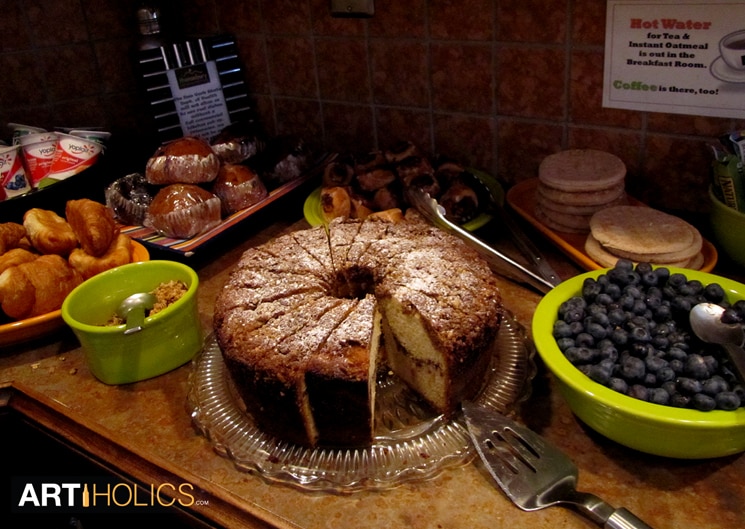 Fresh fruit, croissants, pastries, granola, cereal, yogurt, muffins, coffee, fresh juice, you name it.
We headed over to The Shimmer Spa North, in the other building.  Self serve carafes of lemon water were in every room of the spa, and not counting lemonade, I drank more lemon flavored water in one weekend in Roxbury than I have in my entire life.  There were also little dishes of almonds and pomegranate cookies, as well as some mixed nuts.  Be careful of the wasabi peas in the mixed nuts, they are green, and will explode fire in your mouth. I checked out the library and relaxation room.  It is robes and bare feet (or flip flops) in the spas; they are clearly marked as shoe free zones.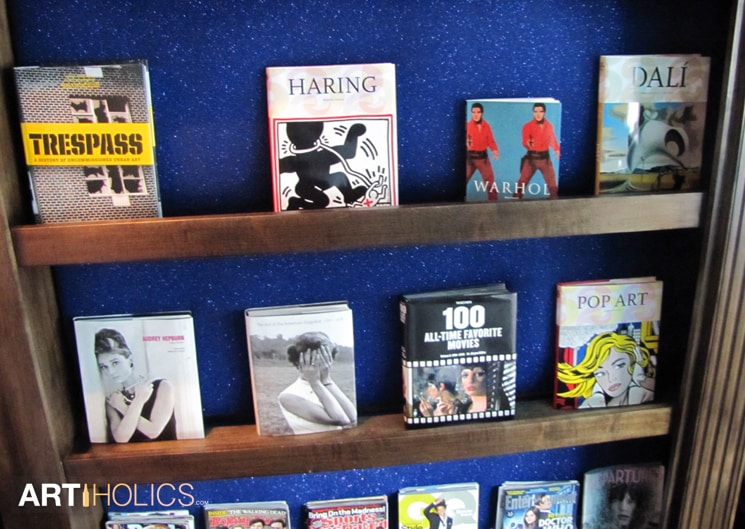 Their library looked a lot like any artist's book collection, or the SVA school library.  I decided on a book.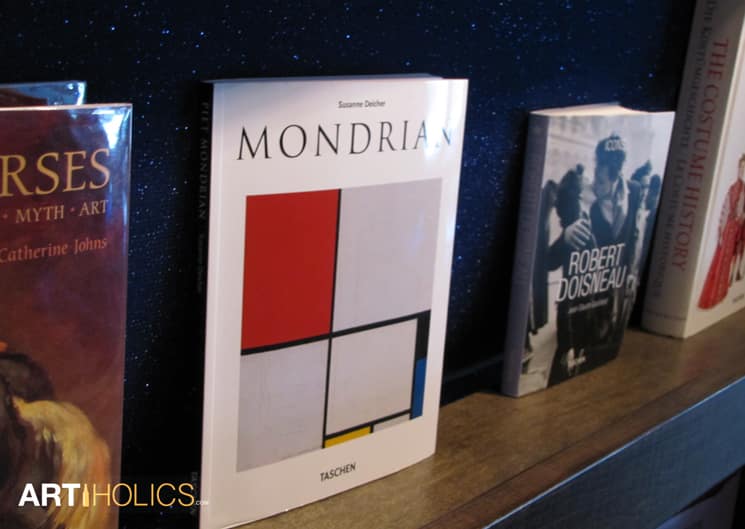 Considering we were staying in the room, it only made sense to read up on him a bit.  I got the full docent led tour of MoMA's Mondrian Retrospective back in 1995, so I had some background already, but that was almost 15 years ago, and since I was in full immersion, I figured it wouldn't hurt to bone up.
If you've ever seen pictures of Piet Mondrian's Paris Studio, he was already taking color fields from his paintings and incorporating them onto his walls.  Basically living and working within one of his own paintings.  Which is exactly how room 15 feels.  You feel like you are living inside a Mondrian piece.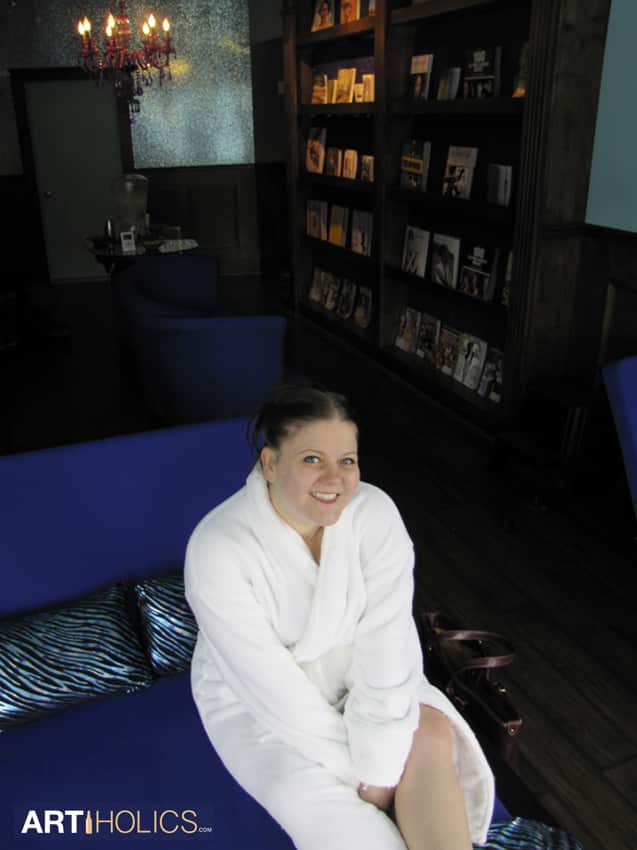 Molly had booked a massage. She got her intense rub down, while I hit the Green Steam. The Green Steam is a steam room made of 100% recycled car windshield glass. There is also a cold shower in the steam room so when the heat was overwhelming you could stand in the cold shower while fully surrounded by steam. A sensation I have been trying to replicate in my own bathroom shower my entire life, but could never pull it off like this.
One thing I have never seen in a spa before is they have consistent music throughout. It's the Sirius XM Spa Channel, which somehow in an environment like this it puts you in a meditative state. Like a mild buzz. There was a speaker somehow built into the wall of the steam room. I've never seen that before, and makes a world of difference. I always have loved steam rooms, but they do get a little boring, because unlike a sauna, it's too steamy to read in there, but the music made a world of difference and relaxation.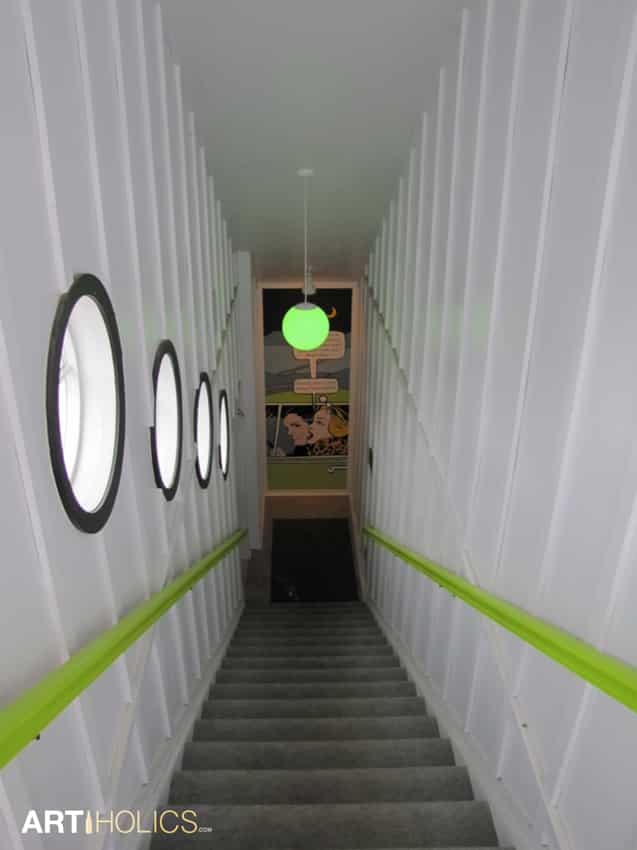 Everywhere you turn there is art in this place. Whether it's decorative windows, or large murals. This one was a spoof of a Lichtenstein by an artist who signs his name WISH with a little star before "Wish"…try googling that.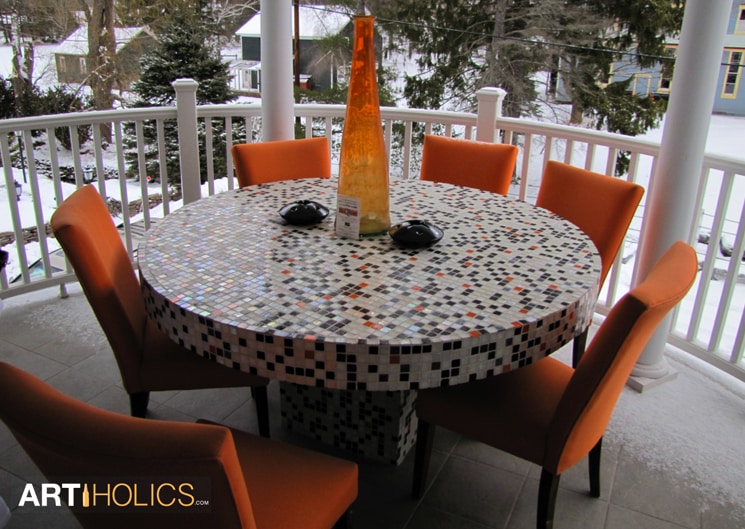 Outdoor seating outside the spa, a lot of this caters to the non-winter crowds. The hunters, fisherman, hikers, golfers, mountain bikers, horseback riders, atv rides, paint ball , ziplines, canoeing, tubing, and kayaking crowds (Roxbury Attractions). We took a day trip to an art opening in Woodstock, and upon everyone's recommendations had delicious dinner at Peekamoose Restaurant & Tap Room in Big Indian, NY on the way back to Roxbury.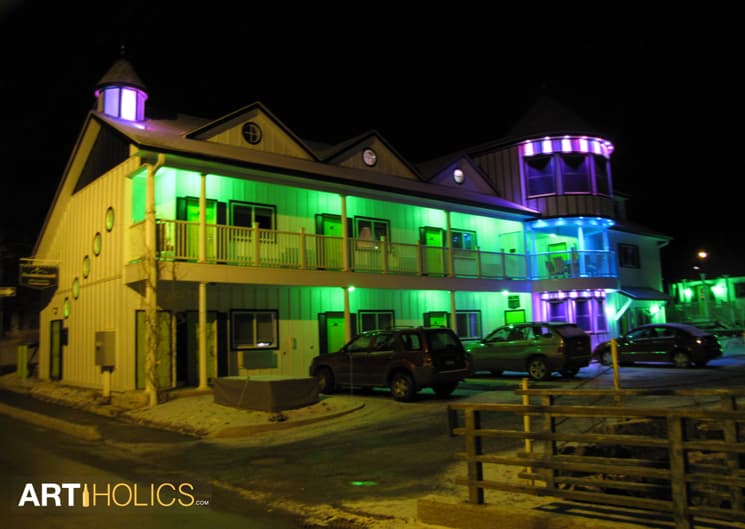 Look how beautiful  The Roxbury Motel lights up at night.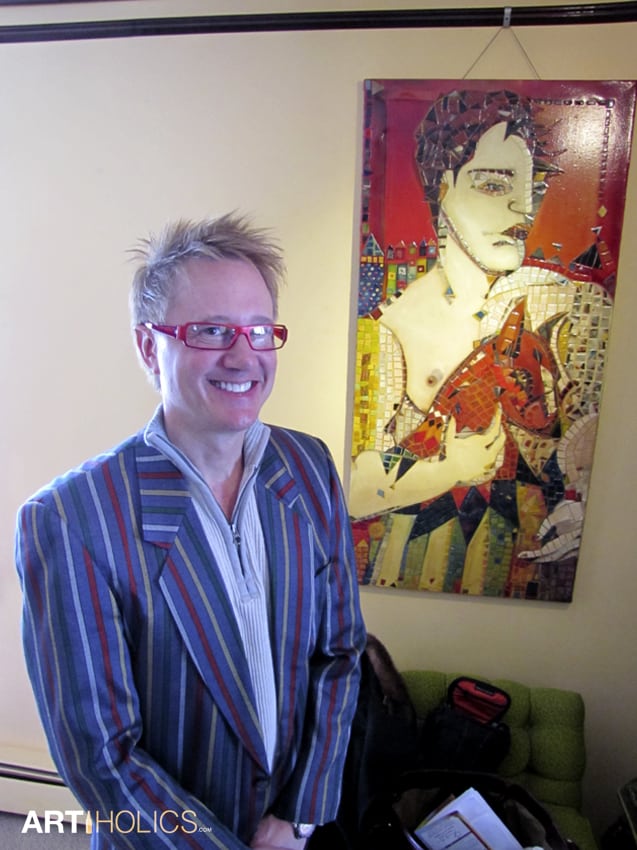 Co-Founder & Co-Owner of The Roxbury Motel, Greg Henderson stands in front of a piece by artist Laura DiNello.

After our final Night in The Roxbury (I titled it "A Night At The Roxbury" based on this crappy SNL flop, but we were actually graciously accommodated by the owners Greg Henderson and Joe Massa for two nights ).  We were given the grand tour of the rooms as well as led around to some of the fine art that decorates the common areas of the motel.
In a former life, the owners lived in Williamsburg, Brooklyn (pre-hipsters). Both were involved in theatre, and in 1999 they moved to Roxbury, opened the motel, and made it into a destination resort from scratch.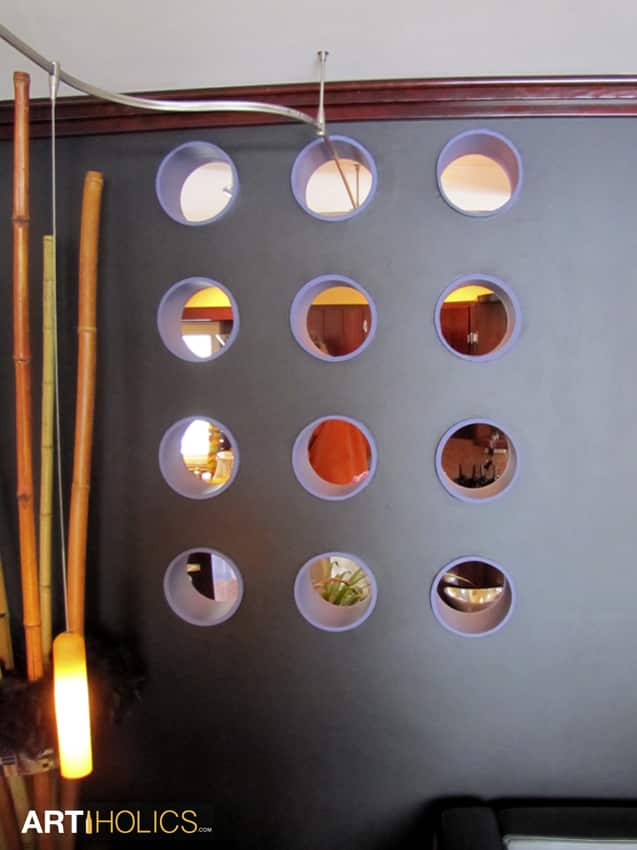 The lounge looks into the kitchen through these circular cubbyholes.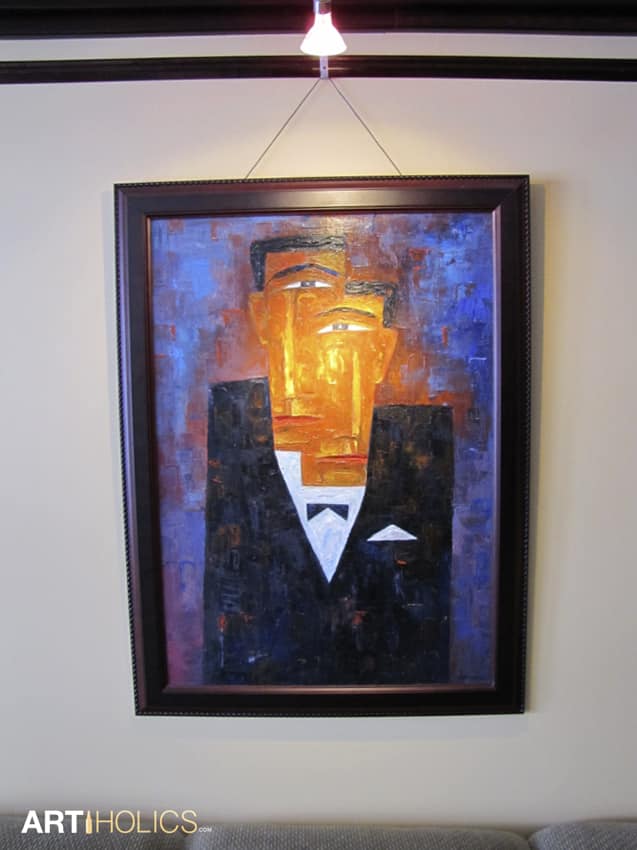 Some of the art in the lounge is from artists and photographers who have work in museums around the world.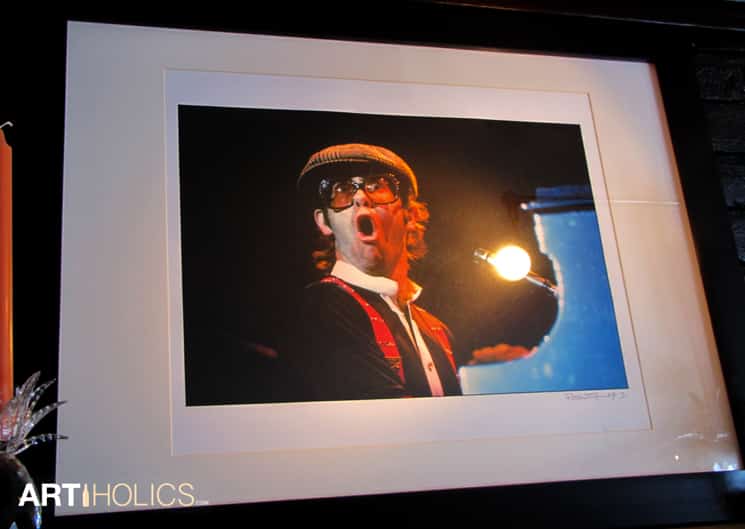 Elton John In San Francisco,  photograph by legendary rock photographer Peter Stupar.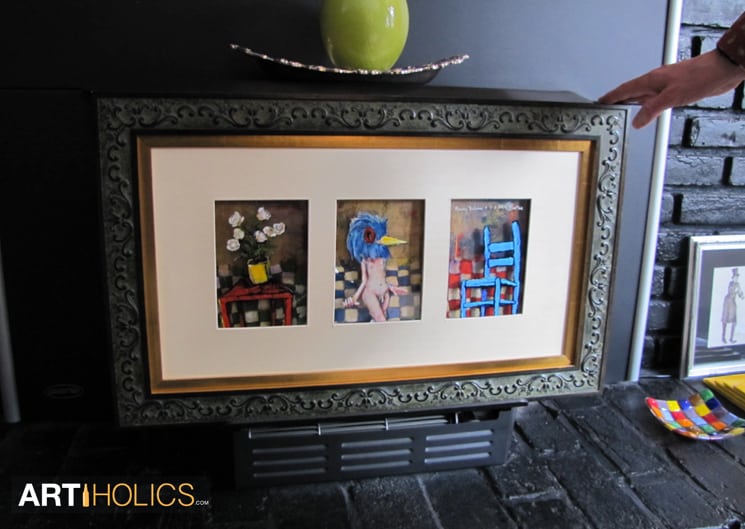 A piece by artist Harry Folsom.
The Roxbury Motel is becoming internationally famous so you have to book in advance, as the rooms are almost always occupied, so we were only given access to the rooms of people who were recently checked out (some were staying through to Monday, so we couldn't see those).  It is weird going into recently lived in rooms, they aren't set up in the full presentation mode, beer and wine bottles are strewn about, money is left on the table for the cleaning staff.  The door is open so bright light reflecting off the snow is coming in, the beds aren't made, in some cases the cleaning staff were in the rooms and I had to shoot around them.  Not as glossy as the photos you will find on The Roxbury Motel's facebook page when the rooms are clean.
Here is a gallery I put together of the quick walk throughs we got to quickly take in and enjoy, of some of the various themed rooms at The Roxbury Motel.
Artiholics Pro Tips:
Get Passes To The Shimmer Spa: Well worth it, but bring your own flip flops. Crossing the street (not that there are many cars) in the disposable flip flops can get messy.  Also go barefoot in The Green Steam, wearing the flip flops on that glass floor is asking for trouble.
Go Mid-Week or off Season:  Cheaper room rates, and more likelihood that you will have at least one of the spas all to yourselves.
Buy Groceries Ahead of Time: If you have any specific items you want to eat, which you would need to get at a grocery store, you will be out of luck if you haven't planned ahead of time. The nearest small store is 30 minute drive, and the nearest actual grocery store is about 50 minutes away.
Plan Your Dinners Ahead Of Time: Restaurants in the area are few, and will book-up fast.  Make sure to know where you will be eating each night, and if the restaurant is open. The AteoAte gourmet food truck will usually park by The Roxbury so you can buy food from them but they open at 4pm and do close down at 8:08 pm, so don't miss the bus, er, truck. They post their daily menu and where they will be online. Breakfast is covered at The Roxbury Motel, but lunch and dinner are up to you.
Bar / Dinner:  The Public Lounge is literally the next door down from The Roxbury Motel.  You can get a $30 for $50 deal on YELP- RIGHT HERE, this will save you some cash on your bar tab, but make sure you show them ahead of time.  We used this, and the entire wait staff was confused and had to refer us to the manager, as we were only the second people to ever use the deal.  I would also say that the food is OK.  If I were to go there again I would sit at the bar, as the table seating isn't romantic, and this seems to me more a bar than a classy night out.  They do have an interesting selection of mixed drinks.  Make your romantic night out at Peekamoose.which seemed to have a 99% NYC clientele.  If you do go there though, oddly enough, you think you are in the mountains and it would be OK to drink their water, DON'T.  The tap water at Peekamoose literally tastes horrible.  It will ruin your meal.  Also, be wary that the food is delicious but savory.  Things you may generally eat in Manhattan, which would be on the sweet side, are cooked amazingly well there, but are not sweet, they are savory.
Cell Service: The spa, lounge, and certain rooms in the hotel have signal boosters and wifi, so you should be able to get reception in the common areas and spas. Some rooms are close enough to those boosters to get reception, but it is a crapshoot. The best bet is to just accept you will be out of touch, and check your messages and texts every so often in a lounge or while you are relaxing in the spa.
Getting To The Roxbury Motel: Take the Directions on Roxbury's Website:  Here is a link to their directions page.  Your car's GPS will not know where the hell this place is, and the website warns you that ahead of time not to follow it.  If WANT to let your GPS get you lost, and you enjoy a long scenic trip up a mountain full of Indian clay splattered roads, then follow the GPS. We did it on the way in, just typed Roxbury, NY in rather than an address (it's a small town, so it's not hard to find the motel once you get there) but it does send you a long way up a mountain that you later realize you didn't have to take, it covers your car in Indian Clay, but we did see a covered bridge, which is something I've only seen in movies and pictures. Also, you will want to either print out the directions, or email the directions from the website to yourself, or paste them to a note within your smart phone. When you get close and lose your signal, you will want that hard copy, because you will no longer be able to just hit the web and pull them up.
Written and Photographed by Cojo "Art Juggernaut"
DO YOU OWN, OR KNOW OF A GREAT HOTEL WITH ART THEMED ROOMS, OR HAND PAINTED ROOMS WHICH ARE IN DRIVING DISTANCE OF NYC?  CONTACT COJO, AND HE MAY BE COMING TO YOUR TOWN!