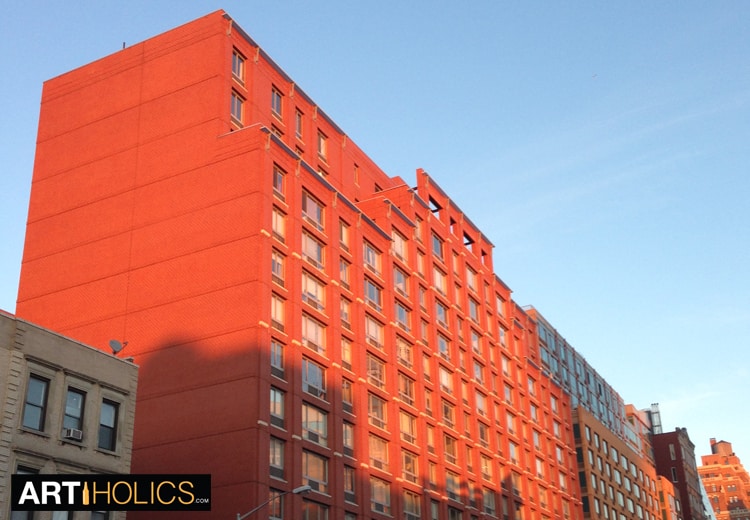 New York – Monday, March 3, 2014
After a couple of weeks of brutal winter weather, we finally got some respite in New York City last weekend with sun and blue skies. The Vitamin D must have gone to my head, and the day I intended to spend at the galleries flew by, leaving me with a mere hour in which to fit a pretty ambitious list of exhibitions.
I did manage to hit quite a few shows before closing time, though, and here I have sorted the wheat from the chaff. If you're brave enough to go out in the cold this weekend, here are the shows you shouldn't miss; the ones to fit in if you're able; and those you can skip entirely. You'll be able to get some quick culture in before taking refuge from the bitter wind at The Half King.
Must see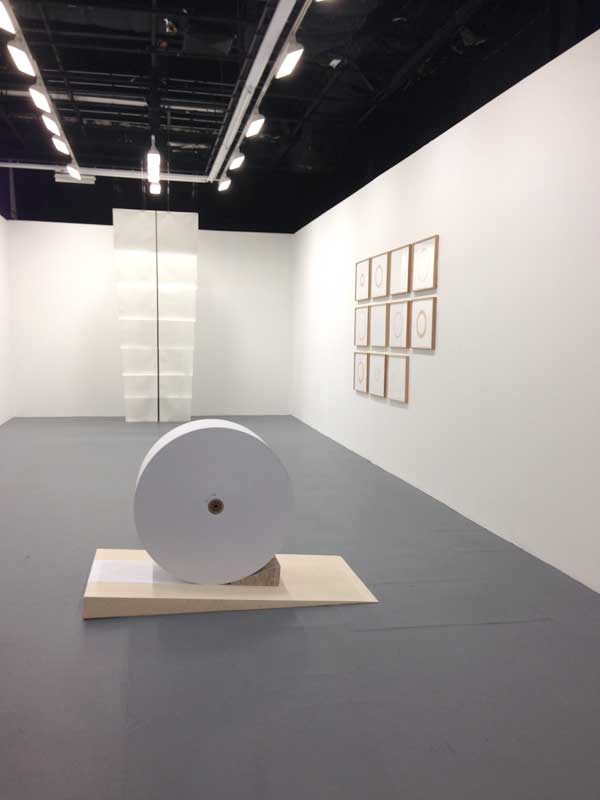 Luke Stettner – this single monument – at the Kitchen
This guy is starting to get a lot of buzz, with a concurrent solo show that recently opened at Kate Werble. The space consists of a series of works in different media that share the same title with the exhibition, "this single monument". I wondered what it is he wants to monumentalize – a person's life? It's an impossible task, it seems. We are the sum of our parts – our own memories, and how we live on in the memories of others. This show is the sum of its parts, unfolding from piece to piece. Closes March 1, 2014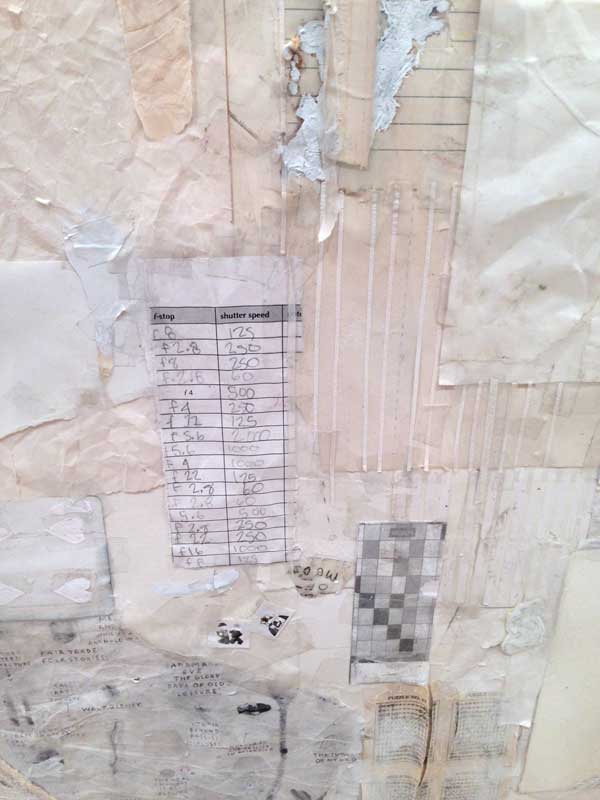 Simon Evans – Edible Landscape – at James Cohan Gallery
If you like found text as much as I do, then you will enjoy this show. There are large, mural sized pieces, as well as more intimately scaled works, all featuring the artists' hand-written snippets of overheard or remembered language and/or scraps of paper found around the city. You can make connections between the things that pop out among the all-over composition, interweaving imagined narratives with one's own recollections. Closes March 22, 2014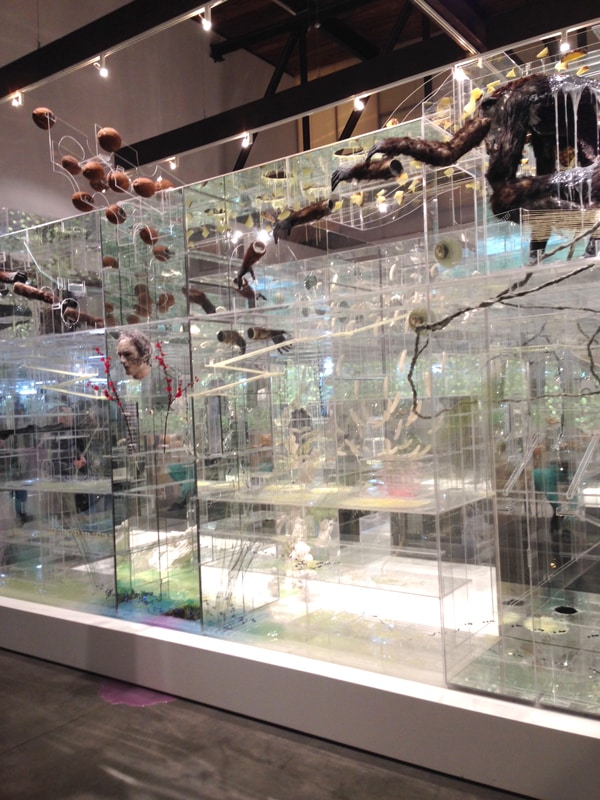 David Altmejd – Juices – at Andrea Rosen Gallery
This was probably the busiest show I stopped at all afternoon. Easily Instagram-able, this sure to be hyped show is worth the hype. It's a Homeric epic unfolded in sculpture, complete with sirens, birds eating organs, anthropomorphic beasts, and crude gods. Closes March 6, 2014
If you have time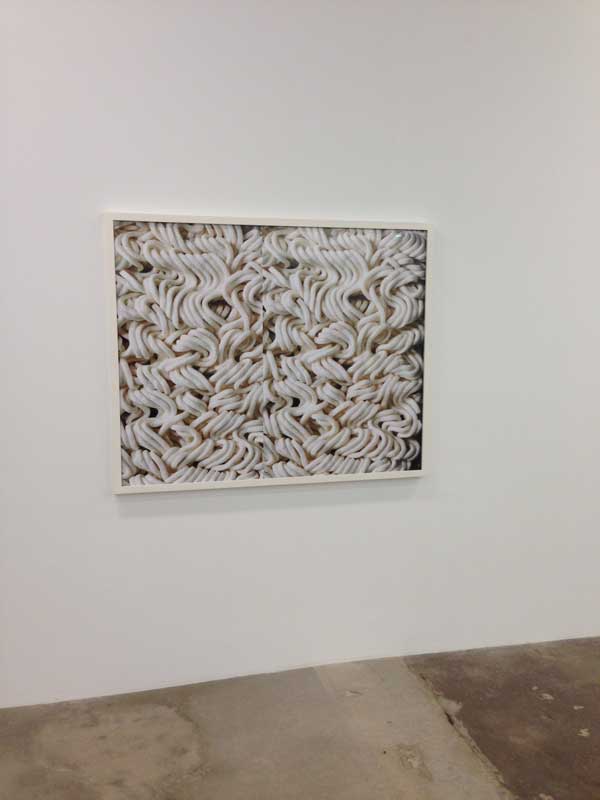 Roe Ethridge – Sacrifice Your Body – at Andew Kreps
Photos of famous models juxtaposed with portraits of food is a pretty funny concept. Ethridge's tableaux, landscapes and images of ramen noodles, trout, and jars of Bonne Maman are stimulating, but the high fashion images – like the Chanel logo or Gisele Bündchen – feel phoned in, a little too similar to his commercial work (which it might just be). Closes March 29, 2014
Group show: Katharina Fritsch, Robert Gober, Jasper Johns, Ellsworth Kelly, Martin Puryear, and Charles Ray – at Matthew Marks
This is kind of a strange group of artists to put together, and makes me wonder if the gallery is trotting out some inventory. It is however a pretty nice collection of works, and each given enough of its own space. Far too often lately it seems like galleries are overloading their space with work. Klaus Biesenbach and Jerry Saltz have been going nuts on social media over Robert Gober's piece, but for me it was the Katharina Fritsch green angel watching over the baby butter stick that was worth my attention. Closes April 19, 2014
Pat Steir at Cheim & Read
Another show that isn't overhung is Pat Steir's new paitings at Chime and Read. Like Barnett Newman's "zips" coming apart at the seams, this show features a group of mammoth color field paintings with a metallic twist. Closes March 29, 2014
Don't bother
Kelly Walker at Paula Cooper
I'm sure I'll be contradicted by other reviewers, but I missed the point of this show. Is it cool Is it good? I don't know. Silksceened paintings featuring VW Beetles and records; some 3-D sculptures of folded papers. I left feeling uninspired. Closes March 29, 2014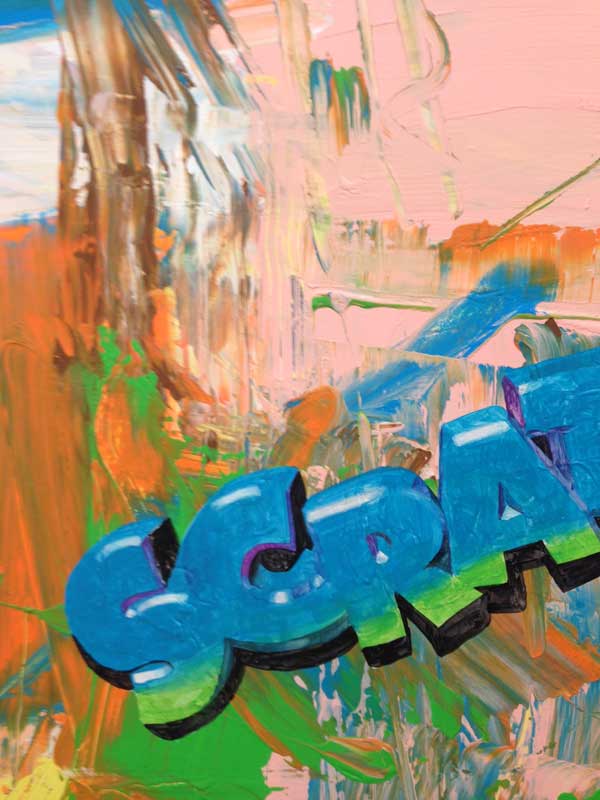 Michel Majerus at Matthew Marks
Same with this one. I think this work will be a hit with certain curators and critics, but it didn't do much for me. Large pastiches of Ruscha, Basquiat, and other post-pop art stars are kind of entertaining, but I felt like I got enough by passing the project room down the block that had paintings about Tron. Closes April 19, 2014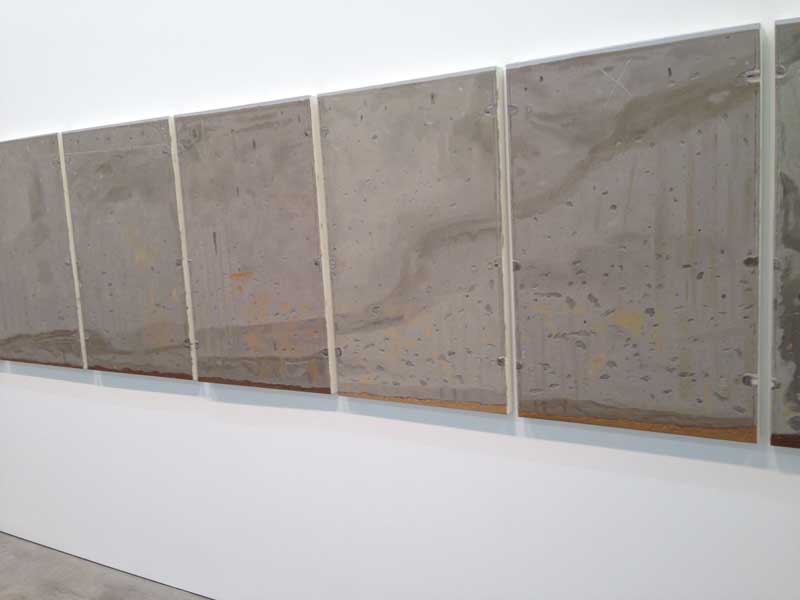 Josephine Halvorson – Facings – at Sikkema Jenkins & Co.
Not until I made it to the back room with video pieces did I get the point of Halvorson's work. The gallery is laregely devoted to trompe l'oeil paintings of surfaces – concrete pantels, white washed doors, brick walls. They're not particularly interesting, but the show comes toghther with video pieces of other surfaces, like bricks and water. They're more effective than the paintings, but overall the show isn't particularly interesting. Closes March 1, 2014
Written and photographed by Rose Edward