by Reginald Amedee
The art of photography is more than just making sure your white-balances match whatever photo you're taking, it is more than just calculating lightning and quantifying your shutter speeds for the best possible picture, it is more than any program that tweaks the fidelity of an image, it is a science of the arts! Photography is about capturing defining moments in undefined space. A picture can mean a thousand words, however cliché that saying is still doesn't undermine the fact that it is very true. When we look at how celebrities are revered in American culture, it makes sense how photography and celebrities feed off of each other. This symbiotic relationship between the art and the artist (usually) was solidified when celebrity photography became a subset of actual photography!
Traditionally, a photographer's portfolio is filled with projects that are abstract or is of certain interest to that person, but with the rise of this kind of photography, it is almost expected of you to have some photos of people who are in the arts. These venerable photographer's portfolios are stellar, but what gives their work that edge is some of the celebrities that they worked with. Let's take a look….
Tony Vaccaro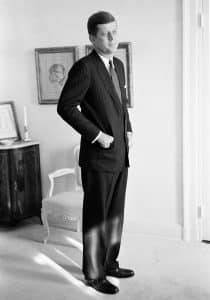 Tony Vaccaro's photography career spans more than 3 decades. His introduction to the craft was in the unlikeliest of places, world war II. His first major assignment was to photograph American ally forces in Germany. His high-quality pictures landed him the opportunity to publish his works in the form of a book titled, "Entering Germany." This picture is of the famed 35th president of the United States of America, John F. Kennedy. Vaccaro captured a pensive JFK looking away from the camera. He described JFK as, "my impression of him was a man of great personal warmth and humanity. We stayed friends until that terrible day in 1963".
David Lachapelle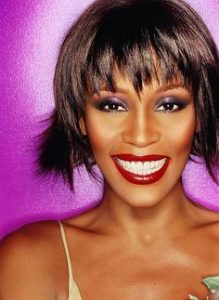 David LaChapelle was noticed early on for his work by the famed photographer, Andy Warhol. His first gig was shooting for interview magazine. At interview, his work with some of the biggest stars in America was positively received, causing him to do work with some of the top editorial publications in the country. French Vogue, Vanity fair, his work has graced the highest echelon of magazine covers. His style is very bombastic, often creating whole sets to accompany the star he is taking a picture of. This photo of the late singer Whitney Houston is loud, with the purple backdrop bringing out her skin tone. Her face is not fully within the frame, but somehow that works for this portrait shot. The camera is close up, showing Whitney's dominant features. Her lipstick is bright red, highlighting the contrast of her teeth. Her bright make up brought out her already defined cheekbones, creating a beautiful symphony of colors. The resulting shot is of a talented/conflicted woman, who's legacy will live on through her powerful music.
John Mazlish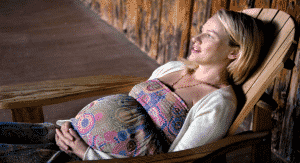 In John Mazlish biography on his website, one of his goals of photography is to capture, "the inevitable, the unpredictable magic of the moment." In this photo, he captures an intimate moment with the actress Emily Watts. The backdrop is intentional, taking a photo of the would be mother in a wooden interior. The cabin like setting creates a more intimate atmosphere, with Emily being the subject of the shot. The picture captures those private moments of a mother waiting for her child to be born. Emily face is a fusion of the joyful bliss of motherhood and the inevitable pains that comes with child birth. Masterfully, John captures this moment of equilibrium.
According to Mariangela Ciccone, Art Director of the John Mazlish Studio: "The images we see of famous people -the so-called "celebrities"- shape our understanding of them. A celebrity is a person who is widely recognized in a society, but being recognized, and therefore famous, is not the only prerequisite needed to be a celebrity; in fact, there has to be a level of public interest in the person in order for him or her to be considered a celebrity."
Andy Warhol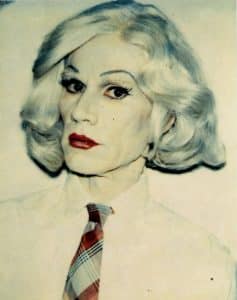 Andy has taken pictures of Muhammed Ali, Mick Jagger, and John Lennon; all individuals who were staples in pop culture. The fact that photographs of himself is just as influential as the stars he took pictures of is an indication of his celebrity. Andy was a visionary, creating art that influenced a generation. He was fearless, in a time that was fear-ridden. Gender norms, sexuality, these concepts are indeed discussed in public forums today, but that was not always the case. Struggling with his sexuality as a child, when he became a staple in the art world, he expressed it constantly. His studio, "the factory" was a haven for people of all sexual orientations. This picture is particularly interesting because he is dressing in drag. Andy's face is a clash of feminine and masculine traits. The light coat of makeup he wore accentuated these features greatly. He dawns a silver wig which brings out his black eye shadow. He channels a small dose of Marilyn Monroe by wearing bright red lipstick. Ironically, the makeup he is wearing matches his outfit. His tie is an interesting contrast from his face because of the implied masculinity of it; ties are often worn with suits which is clothing for men that can represent power. A woman dressing in a tie was uncommon and considered "manly", in a time where women were expected to be subservient to their spouses. Andy was prolific enough to blur the lines of gender in a single photo.
Terry Richardson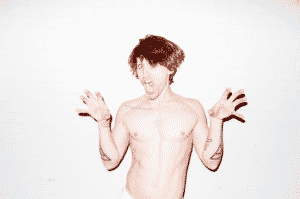 Terry Richardson was raised in New York city. His parents were artists, his mother being an actress and his father was a relatively successful photographer. Having a pretty tumultuous childhood, Terry moved with his mother to Hollywood. There, he went to an arts high school and began his journey into craft. Beyonce, Kate Upton, Madonna, Terry has shot every major icon of this generation. This shot of the actor Jared Leto perhaps encapsulates the frame in which we often see shots of our celebrities. A white backdrop, intense lighting, barely clothed, this aesthetic has been used countless of times. We can accredit this kind of shot to Terry. His minimalist approach to photography infers a kind of gratuitousness that only his shots can convey. His work often blurs the line between art and pornography; while some people believe his work to lean more towards the latter, it is undeniable that he has an influence on the photography landscape of today.