A new interactive public art installation is getting ready to make its way to Manhattan and it's just the kind of stuff that Instagrammers go crazy for, so prepare to see it all over your feed. The immersive installation, named Loop, will bring six large cylinders to the Garment District's pedestrian plazas located between West 37th and 38th streets. The cylinders have lights and musical movies "inspired by 13 fairytales" but all of this is activated via public participation that requires team work, according to Ny.curbed.com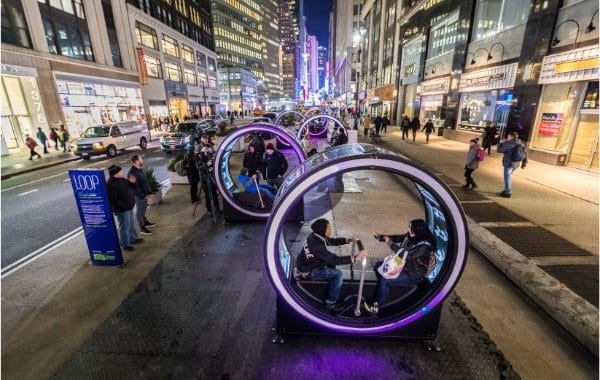 Source: Internet.
LOOP is making its U.S. debut on the Garment District pedestrian plazas on Broadway from West 37th to West 38th Streets, with six cylinders. The installation is free and will be open to the public through March 31st.
Inspired by the zoetrope, an optical toy invented in the 19th century, LOOP creates animated fairy-tale loops. The public can activate the large-scale cylinders by sitting inside and working together to pump the lever. Once the cylinders begin to spin, each will light up and play musical movies that are inspired by 13 fairytales, accompanied by a flickering strobe effect. The speed of the images, frequency of the lights, and tempo of the music are determined by how fast the participants move the lever.
The installation was created by: Olivier Girouard (Ekumen) and Jonathan Villeneuve (concept and execution), Ottoblix (animations), Generique Design (industrial design), Thomas Ouellet Fredericks (electronic design), Adsum Lab (technical support), Jérôme D. Roy (mechanical consultant), and Dominic Thibault (audio programming).  Source: Garmentdistrict.nyc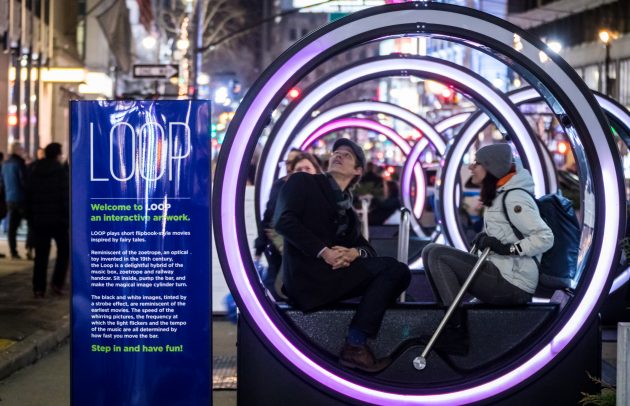 Source: Internet.
"It is wonderful to see that the artworks and installations by artists and creators who work with the Quartier des Spectacles Partnership are providing inspiration for cultural districts elsewhere. We applaud their excellence and boldness," said Mr. Pierre Fortin, executive director of the Quartier des Spectacles Partnership. "The Partnership is known for its innovative character, and it has emerged as a leader in the design and animation of open-air sites. We thank the Ville the Montreal for having decided to invest in programming for its public spaces."
LOOP is part of Garment District Art on the Plazas, a year-round public art program made possible through Arterventions, a subpart of the New York City Department of Transportation's Art Program. Source: Garmentdistrict.nyc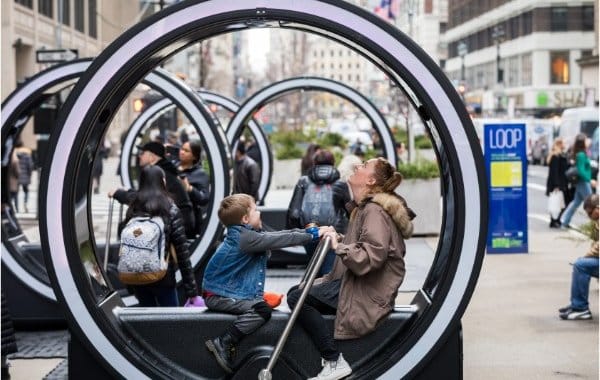 Source: Garmentdistrict.nyc