This week we had the pleasure to chat with the fine artist Ann Ruth from Rolling Hills, CA and we are here to share her inspiring story.
Hi Ann! Please introduce yourself and tell us a little about your background. How did you come to the art field?
Thank you for letting me share my art expressions and experiences. It's been an interesting journey!
I grew up in Southern California and I have two brothers and a sister. My dad is deceased; he was a great man. My mom is very active in all aspects of life. She's an amazing person.
I started painting after I had my gymnastics accident. I tried to do a summersault off a balance beam, I landed on my neck and pinched my spinal cord. I have a C1-C2 spinal cord injury which means I'm unable to use anything from my neck down and normal breathing is impossible. I spent nine months in the hospital learning how to adjust to my new normal way of life. It's a life time of learning. Since I was five when I had my accident, I didn't have any prior knowledge of art.
Thelma Steinberg, a family friend taught me how to paint. She put the paint brush in my mouth and I started painting. We started in junior high school. I had a lot to learn but I throughly enjoyed painting with Thelma.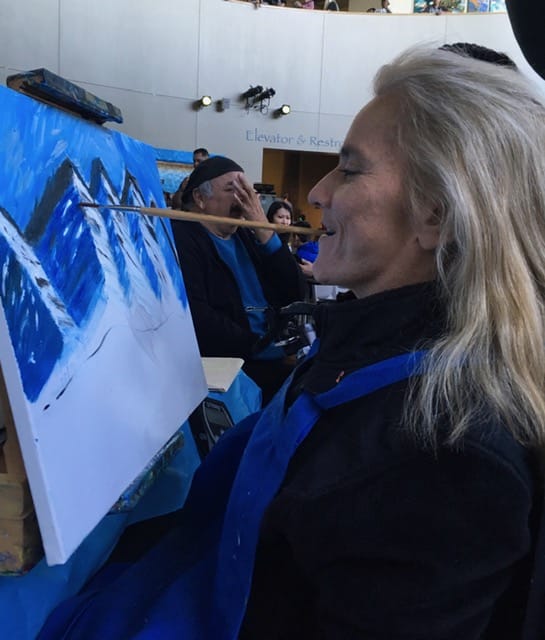 You paint with your mouth. When did you start painting?
Yes, I do since I don't have the ability to paint with my hands. I started painting when I was ten years old, five years after my accident.
Were you painting with your hands before or is it something that came to you after?
No, I didn't paint with my hands before my accident. I was using my hands for every day use and to play tennis, snow & water skiing. We have an active family. 
What do you enjoy about painting?
I enjoy designing, colors, and composition. I call it ARTITUDE, I made this up for myself; it's putting my attitude and thoughts into art and ignoring my to do list and ignoring the rest of the world while I am painting. I noticed when I didn't block out my other responsibilities my mind was distracted and my thoughts were partially about the painting and partially about my other duties. I didn't have my best painting days when I was doing this. This is how Artitude evolved; now my painting time is more enjoyable and I am in the moment.
I find art is healing; it's creative, peaceful, and emotional. Art gives me a positive emotional feeling when the scene is evolving and is becoming the design that I had envisioned. This is not always the case so I do appreciate the days when all of the elements come together on the canvas.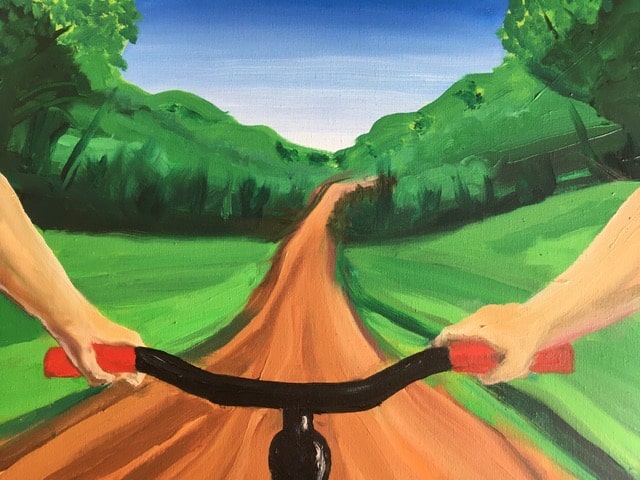 How are you inspired?
I am inspired by the beauty of the world, the natural and man made beauty. True, not all of the world is beautiful but I am encouraged to emphasize the positive attitudes of people and cultures, animals, nature (from the tallest to the smallest forms), the oceans, lakes, and trees. I am inspired by the world around me such as the beauty in a garden, going for walks, the creativity and beauty in people's homes. I see beauty in magazines, books, movies, colors and design in award shows, staging, beauty of the beach, the amazing colors of a sunset, the activities at the park. I love watching people laugh, talk, and interact with one another, seeing the kids play, watching the animals play with each other, the positive energy and activities in a stadium, the space shuttle is extremely exciting to me. Life is art, and when my world doesn't make sense an abstract painting will be created.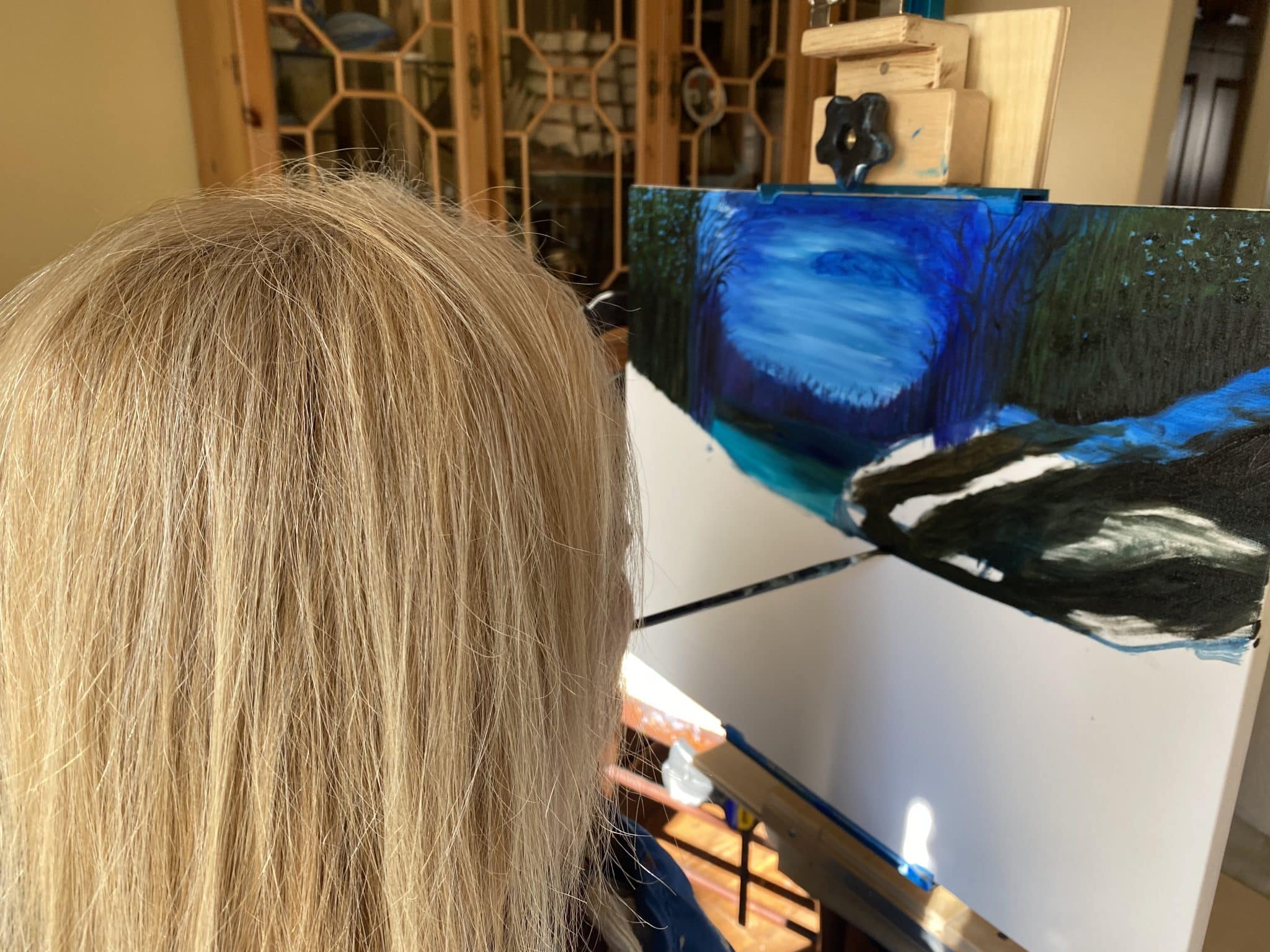 How extensive is the role of Art in your life?
Art plays a very active role in my life. When I am designing and experiencing life, I see art everywhere and I try to capture it in my mind and I'll take a photograph of what I see to reinforce my memory.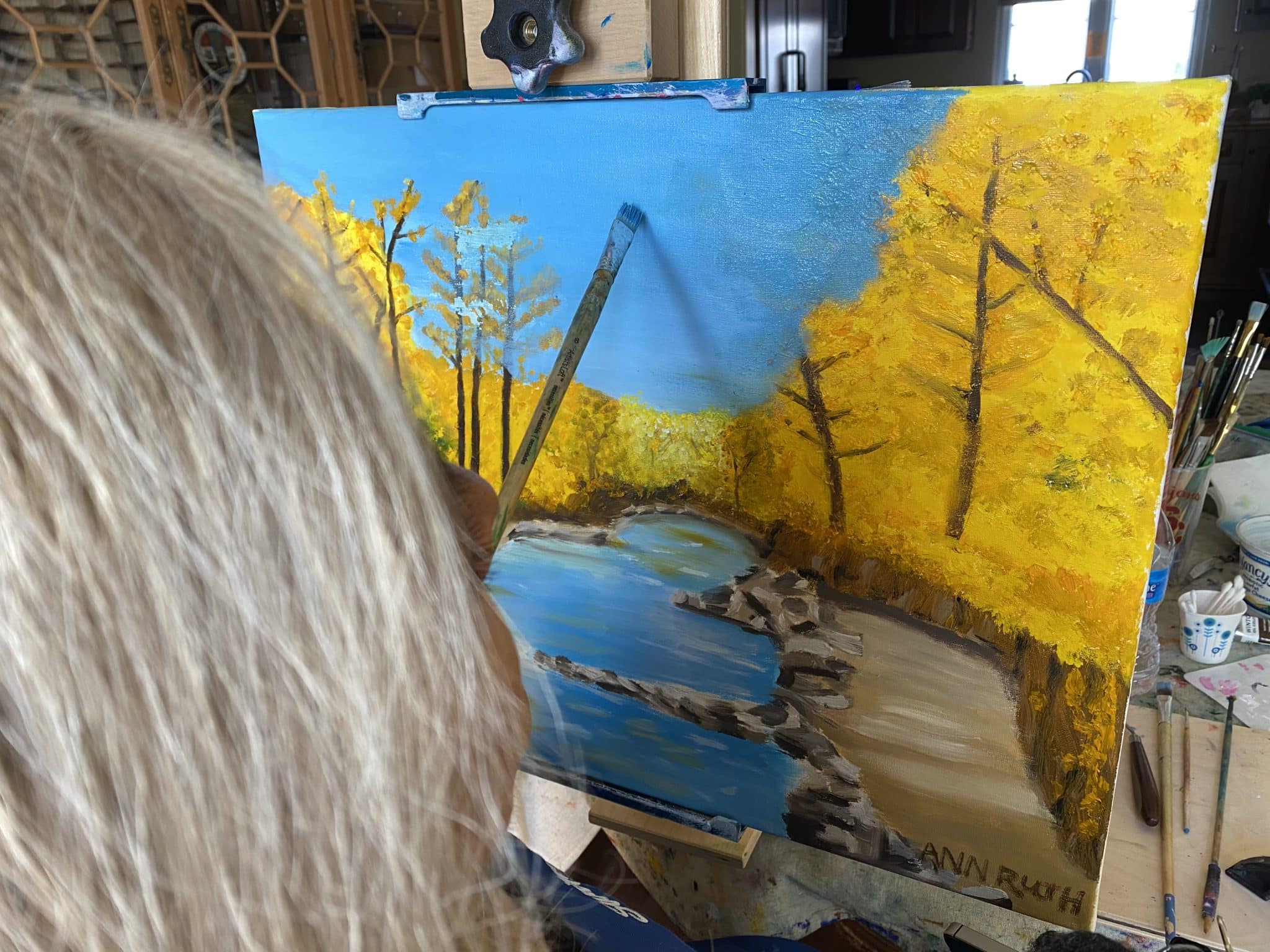 Who is your favorite artist?
Claude Monet. I think he uses vibrant colors and I admire his brush strokes and the movement in his paintings.
Do you have a particular genre that you prefer?
Definitely Impressionism.
How extensive is the field of artists, people who paint with alternative ways other than their hands?
I don't know, but I do know that there are many other people such as I who paint with their mouth, as well as people who paint with their feet. Art is healing and people will do what they have to do to create a painting. It's fascinating and impressive what people can do.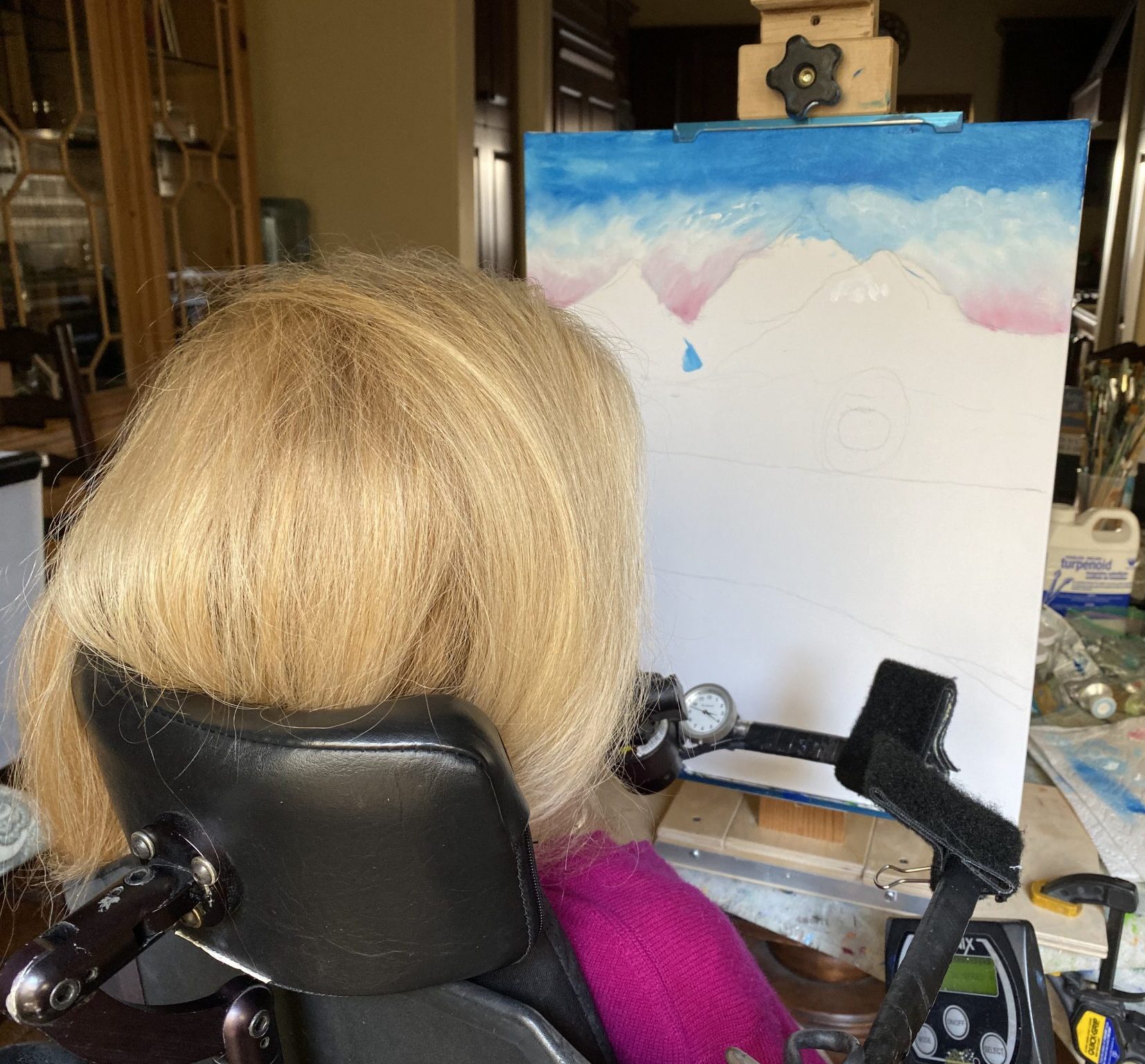 Have you ever felt discouraged or frustrated? What would you say to someone in a challenging situation?
Yes, at times I get frustrated at my situation!!! At times it's difficult not to do something for yourself; it would be so much easier and faster to do things independently of other people. My spinal cord injury, SCI, creates problems: for example, I sit a lot and that can give me pressure sores which are difficult to heal and there's not a lot of options to heal them. It can drive you crazy! I don't wish what I have on my worst enemy.
For me, my mind is critical in handling every situation. I would suggest to other people to have a positive attitude and outlook on life. My motto is "inch by inch life's a cinch, yard by yard it's hard, and mile by mile it's a pile." In essence chew a little of life at a time; this reduces stress and the feeling of being overwhelmed. Try to avoid being angry; it takes a lot of negative energy which is not good for your body. Learn breathing techniques to relieve stress and anger.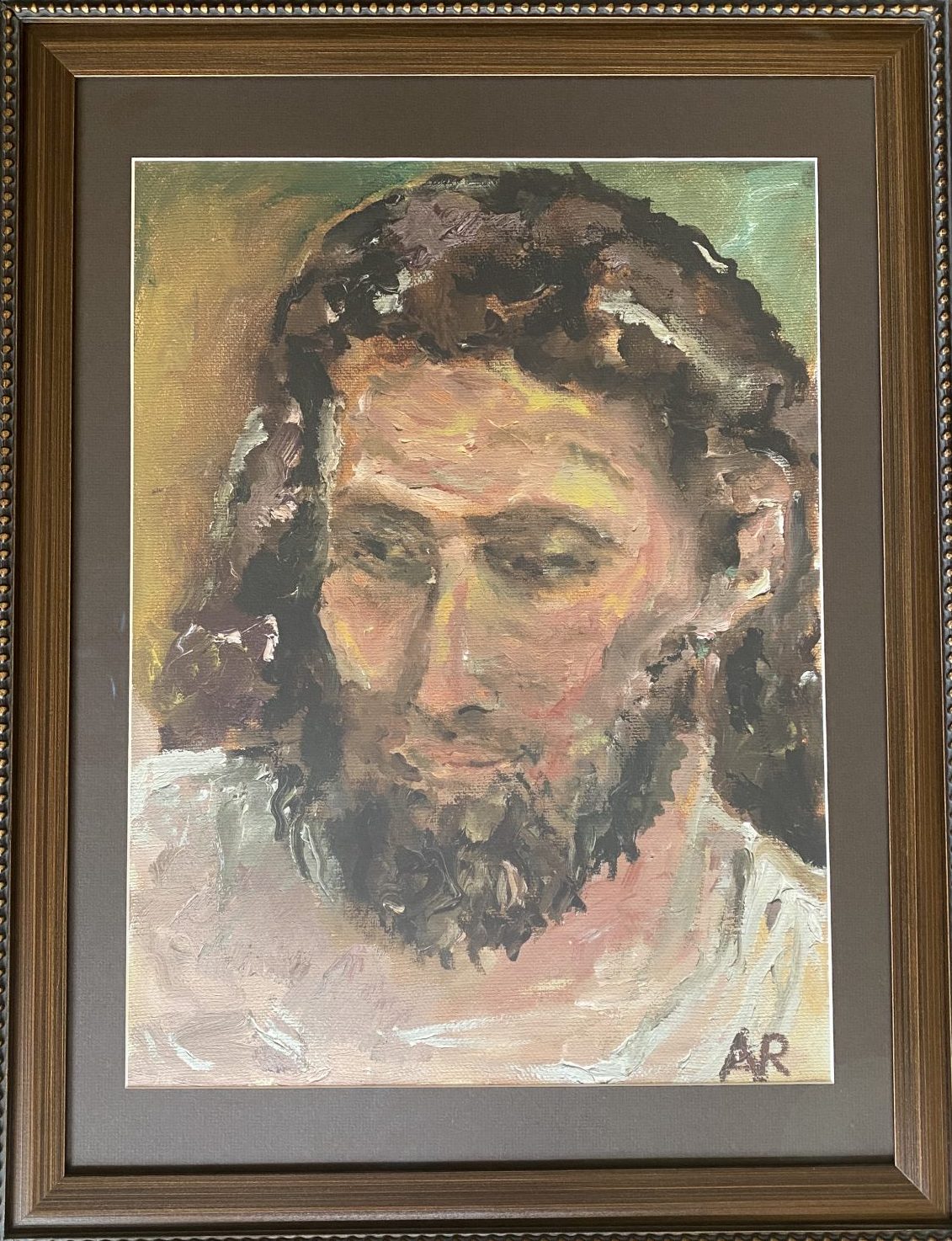 Use your mind to control your emotions, attitude and thoughts. Stay positive and think positive thoughts and be involved in activities that are exciting for you. For example, be involved in writing music, poetry, a script for a play or for Netflix, make a viral video, paint, watch and write about sports and if you are able to be physically involved in sports, then play sports. It's also good to volunteer somewhere, help other people, believe in God, be around good people, be good to other people, take good care of yourself. Keep busy!! Keep your mind thinking about the next positive step. It's fine to be angry for a short time then let it go and move on. Be patient, use your humor to laugh and to enjoy life. Kindness matters! Be grateful for what you can do and for what you have.
Basically accept, adjust, and move forward; this is your new normal. Don't give up and don't give in. If need be ask for help. It might be hard but it's fine, yet don't cry wolf. Lastly "no" whining, screaming or complaining.
What do you think of Art therapy for people?
Art therapy is extremely important.
I know for a fact that art therapy has saved people from depression and suicide. Art gives people a purpose and a way to express their feelings. It's even more important for people who have had an unfortunate accident or a life changing disease. For people who are in rehabilitation, art allows people to think about what and how they are going to paint instead of their situation which often brings sadness and frustration. A person's outlook can go down fast and art can keep their mind in a positive direction.
My friend was an artist before he had a stroke after which he wasn't able to move his right hand, his painting  hand. He was seriously depressed. Thank God he eventually learned to use his left arm to paint. It was hard for him and he missed what he had, yet he was grateful that he could paint again. He is an amazing artist.
Can you cite a specific example from your life when art was helpful? 
Yes, art lets you use your imagination. For a history class the teacher asked me to paint a person in history and to report on what I was painting. I painted Abraham Lincoln and talked about his accomplishments.