The Genesect V Full Art is a part of the Pokemon Fusion Strike expansion pack!
Fusion Strike was the Pokemon company's way of bidding farewell to what was a pretty massive year for the Pokemon company as a whole. They celebrated their 25th anniversary, and we got the special Celebration's set which brought back some memories, and fusion strike had to be on par with these sets in order to create an impact, and it was!
Pokemon Fusion Strike put more emphasis on the Pokemon with the pink color palette like Mew, Espeon, Genesect, Gengar, and many more.
One such card from the expansion is the Genesect V Full Art which has been one of the most sought-after cards from the expansion, so let's deep dive into the card's lore, its themes, the illustration, and last but not the least, the value it holds.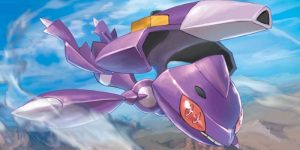 Origins
Genesect looks more like a Digimon than a Pokemon, thanks to its mechanical features, Genesect is a very unique-looking Pokemon. Team Plasma is responsible for the creation of this beast, they found and fossil revied it and created this dangerous mechanical bug to do their bidding.
Genesect is extremely powerful and can shoot from the cannon on its back in four different modes. Not only that, but Genesect can also fly high by getting into its high-velocity configuration.
Trivia
Genesect V Full Art also has an alternate Full art version along with a normal Genesect V. There are three different Genesect cards in this expansion, and we're not complaining at all, this Pokemon has often been overlooked, and now it got the recognition it deserves.
Illustrator
This amazing-looking Genesect V Full Art has been illustrated by a TCG illustrator who goes by the alias, PLANETA Tsuji. They have been churning out phenomenal cards for the TCG for a while now and some of their latest works include the Boltund Vmax and Genesect V from Pokemon Fusion Strike.
Their style is very similar to that of the main series games, almost all their illustrations are Pokemon in 3d. They also tend to add bright outlines to the Pokemon, giving them a glowing look in front of a darker and more vibrant background.
Even the Genesect looks so cool because of how well done its execution is, Genesect is a Pokemon that looks like it came to form a sci-fi movie, and the 3d style combined with the glowing outline and the sci-fi background, make the card very unique.
Value
As of now, the Genesect V is being sold for anywhere between $30-50 depending upon the country, site, and condition of the card. The card looks awesome and will look good in any Pokemon collection. And as it is a full art, the value will often be higher than the normal Genesect V.
Recommended – The art of Pokemon: Ultra Rare Genesect V Alternate Full Art from Pokemon Fusion Strike!