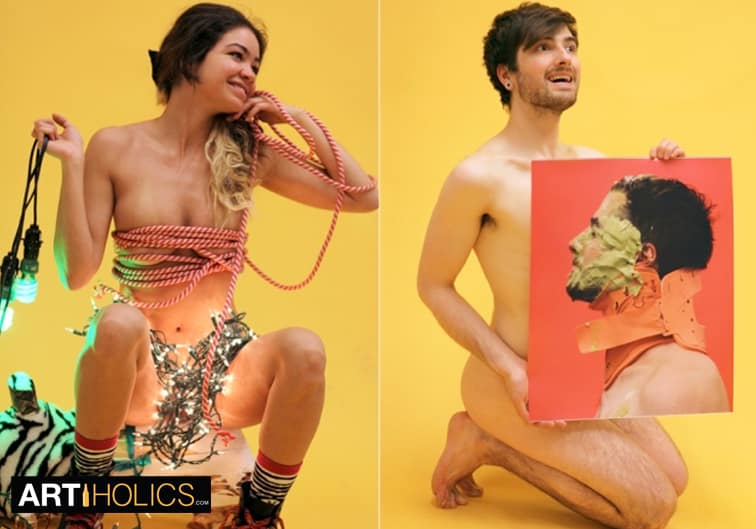 New York, NY – Monday, May 20, 2013
A group of fine art students from the senior class at Parsons The New School For Design have decided to shoot their senior portraits wearing their nothing but their art.  Luckily for us, they are all in pretty decent shape.  Living in New York City as an art student has it's advantages, one of which is *not being able to afford food (*some may not see this as an advantage).  I remember when I was in art school at SVA I had a friend who was dating a girl from Parsons who Moonlighted as a stripper.  Since then I have always associated Parsons with attractive female artists, an unfair bias, but a good one.
The calendar project is the brainchild of artist Robert Hickerson and Tara Long (pictured above).
Hickerson encouraged other students to pose for this project holding works of art in front of them, covering the naughty bits.  The works they were holding were pieces from their senior thesis projects.  As momentum for the calendar, grew 30 of the 48 students in the BFA Fine Arts Department showed up to pose for portraits.  This leads me to believe the other 18 are either self conscious or hideous.  30 to 18 is an overwhelming majority ratio, the percentage of extroverted / beautiful people in this bunch is hugely skewed towards attractiveness, which does not correlate with the American standard,  Again backing up my totally unscientific hypothesis that  "Parsons is full of hot chicks."
Dominique Suberville poses with her painting, "Cigarettes"and Ariela Kader poses with her piece, "Patterns of Consumption: Coffee."
Jeesu Kim (l.) and Zoe Alexandra Ciupitu
Monica Pages poses with her piece, "Insidious" while Julia Galeano poses with her painting, "Honduras."
Kathryn Chadason (l.) (AKA August 2014 in the calendar) volunteered to make the website for the "Nudie Calendar" (which I have yet to find) with her painting "Grandma." Classmate Leila Ehtesham with "sand and a tire."
Images Copyright of Parsons BFA Fine Arts
Considering only 1% of art students actually make a living in the art world, there is a good chance most of these people won't be brand names in few years, but thanks to this project they will at least have left behind their impressive "bodies of work."
The Parsons BFA Senior Thesis Show is May 21 from 6-8pm at
25 East 13th St. in New York City.
Written by Cojo "Art Juggernaut"


Read more: https://www.nydailynews.com