"My Hero Academy: Jet Burn" is set to ignite excitement in the world of the MHA Collectible Card Game. This highly anticipated expansion is not just about introducing new cards; it's a testament to the love and dedication of the MHA community.
Among the many fantastic cards in this expansion, one that's caught our attention is the Mt. Lady. Today, let's take a closer look at this card and explore what makes it special.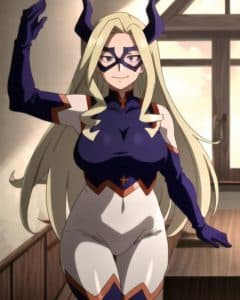 Before we dive into the world of "Mt. Lady," let's talk a bit more about the "Jet Burn" expansion itself. UVS Games is pulling out all the stops to make this expansion a game-changer. It's not just about fresh card designs; it's a comprehensive overhaul of the game, introducing new mechanics and strategies that promise to breathe new life into every card battle.
The MHA community couldn't be more excited about this fresh start. Read more about it here – UVS Games: A New Era for Universus Collectible Card Game
Community Outreach
One of the heartwarming aspects of "Jet Burn" is UVS Games' way of showing their gratitude to the MHA community. They're not just developers; they're fans too.
To honor the passionate influencers and fans who have kept the MHA fandom thriving, UVS Games is giving these dedicated individuals the chance to reveal special cards to their audiences. It's a beautiful way to connect with the community and share the excitement for MHA.
Illustration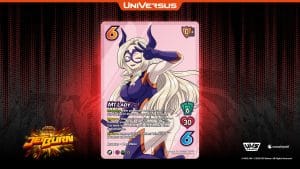 Now, let's talk about "Mt. Lady." In the world of My Hero Academia, Mt. Lady is a hero with a commanding presence. Her quirk allows her to change her size, growing to enormous proportions when the situation demands it.
She's a hero who knows how to strike a cute pose, and it's become her signature move. With her larger-than-life personality and powerful abilities, she's a fan favorite and a symbol of strength.
The "Mt. Lady" card in the expansion captures her essence perfectly. The illustration shows Mt. Lady doing what she does best – striking a cute and confident pose.
It's a nod to her personality and the way she embraces her role as a hero. The card design complements her character beautifully, making it a delightful addition to any set.
Value
Now, let's get to the numbers. The estimated market value for the "Mt. Lady" card falls in the range of $20 to $25.
And this is a conservative estimate, female cards tend to do very well, and Mt Lady is a fan favorite, so the value might go even higher!
Recommended – Endeavor III from My Hero Academia: Jet Burn revealed!