The Kamui Woods II is a part of the Jet Burn expansion!
My Hero Academy: Jet Burn is not just another expansion; it's the one that fans of the MHA Collectible Card Game (CCG) have been eagerly waiting for. This expansion promises to shake things up in the world of card battles and bring fresh excitement to the game.
Among the exciting cards featured in this expansion, one that stands out is "Kamui Woods II." Today, let's delve into the world of Kamui Woods and explore what makes this card so special.
Community outreach and new changes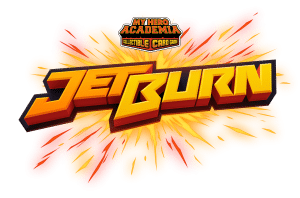 But before we get into the details of Kamui Woods II, let's talk a bit more about the "Jet Burn" expansion itself. UVS Games, the creative minds behind this expansion, have left no stone unturned in their quest to revamp the game.
They're not just updating card designs; they're introducing entirely new mechanics and strategies that promise to breathe new life into the game. It's like getting a fresh start in the world of MHA card battles, and fans couldn't be more excited.
Read more about it here – UVS Games: A New Era for Universus Collectible Card Game
One of the heartwarming aspects of this expansion is UVS Games' recognition of the MHA community. They're not just here to sell cards; they genuinely appreciate the dedicated fans and influencers who have kept the MHA fandom thriving.
As a token of their gratitude, UVS Games is honoring popular MHA influencers by giving them special cards to reveal to their eager audiences. It's a beautiful way to connect with the community and share the love for MHA.
Kamui Woods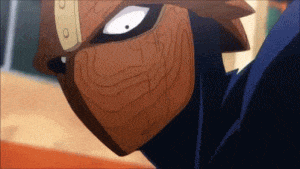 Now, let's shift our focus to "Kamui Woods II." Kamui Woods is a hero with a commanding presence in the world of My Hero Academia. Known for his wood-based quirk, he possesses the ability to manipulate wooden objects with precision.
Kamui Woods exudes a sense of strength and determination that makes him a force to be reckoned with. He's a true hero, always ready to swing into action to protect those in need.
Illustration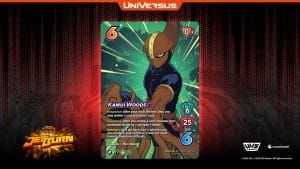 The "Kamui Woods II" card's illustration perfectly captures the essence of this hero. In the image, Kamui Woods swings into action using his wooden vines, showcasing his agility and power.
What makes this card visually striking is the dynamic movement portrayed. It's as if Kamui Woods has sprung to life from the pages of the manga or the frames of the anime.
The green background contrasts beautifully with the brown hues of the hero, creating a lush and vibrant card that's sure to catch the eye.
Value
Now, let's talk numbers. The estimated market value for "Kamui Woods II" falls in the range of $5 to $10. However, collectors and enthusiasts should keep an eye out for potential rarer versions of the card within the expansion. These rare finds can add an extra layer of excitement to your card collection and may even hold greater value in the future.
Recommended – Endeavor III from My Hero Academia: Jet Burn revealed!