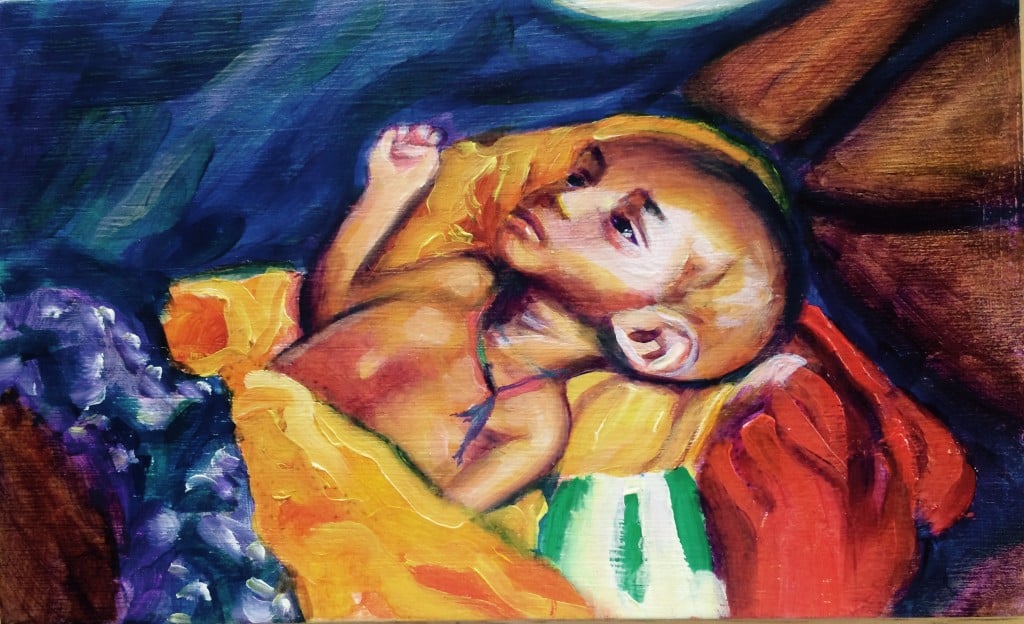 Prayer Piece by Margaret Garcia
San Francisco CA – Monday, November 30, 2015
On Saturday, December 5th,  Prayers from Los Angeles will launch as a collaboration of artists aiming to cultivate positivism and healing within the communities of East L.A. and beyond. Though we usually associate prayers with religion, the concepts surrounding this event feel more closely related to political art. From the community, the organizers of Prayers are asking, "What weighs on your conscious?" And will you also share art pieces that deliver those ideas or concerns in a communal art exhibit? Primarily, this art exhibit and music benefit will focus on the universal ability of all people to foster hope and relieve the emotions that come from watching atrocities all across the world in addition to those that fall very close to home.
Artist Margaret Garcia lives, works, and teaches in Los Angeles. She has been aiding this initiative for four months and will also exhibit "Prayer Pieces" alongside works from other artists at Casa 0101 on the day of Prayers. Below, Garcia shares her insights, emotions, and the politics that inform her paintings.
Artiholics: Can we talk about the initial ideas that were discussed for the artwork in this exhibit?
Garcia: There was a show I did in which I created "Fire Paintings." I was focusing on different fires while thinking about climate change, the drought, and ecology. I was painting fires for a while. And I then became a little more introspective. Started doing miniatures that I thought of as homages to Vermeer. I love the spiritual quality of his work. I wanted to create these little paintings that whisper to you. They felt more intimate, and more focused. At the same time, I started looking at images of all these children in the world. It can be hard for me to absorb, so sometimes, the only thing I feel I can do is to direct it into a painting. And I wanted to invite other people to bring their own prayers.  It's similar to something we do in the Mexican Catholic Church, but I don't want this event to be about one religion.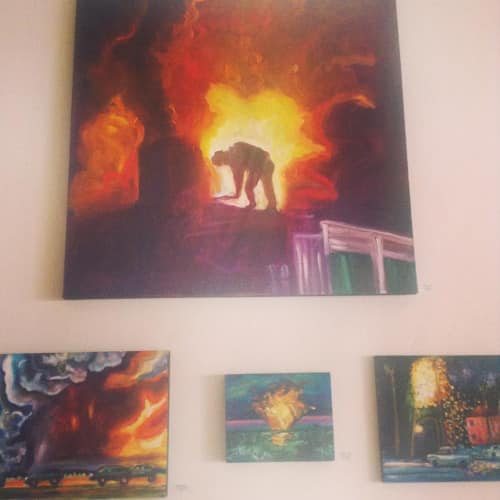 Fire Paintings by Margaret Garcia
Artiholics: When I read about your different projects, I came across the terms, "People of Culture." I really liked it. It felt broad and opening.
Garcia: I'm not sure if I said that or if someone else did, but I agree with it too.
Margaret Garcia in front of her studio in L.A. Photo credit to Robert W. Middlebrook.
Artiholics: How did you begin to work with the other artists who will exhibit work at Casa 0101 on the day of Prayers?
Garcia: I met some of these artists through the Stamp Project, and I continued to work with them. Though we are not an organization, artists that were apart of this Stamp Project have much in common and are concerned with contributing to the welfare of the World. Sometimes we're not always recognized, but we create and feed the positive side of what we want to expand. Some of these artists, like Ester Petschar, Bonnie Lambert, Stu Rappeport, Dolores Carlos joined me for a Bernie Sanders portrait show last weekend: These Artists Are Seriously 'Feeling The Bern'
I got the idea from a stamp that was produced by the International Workers Association, The Apple of My Eye. Originally I did that piece as an embossment when I was in High School, because of the Vietnam War and the influences of Sister Corita Kent. It is a black & white image of an eye with a dove and a peace symbol.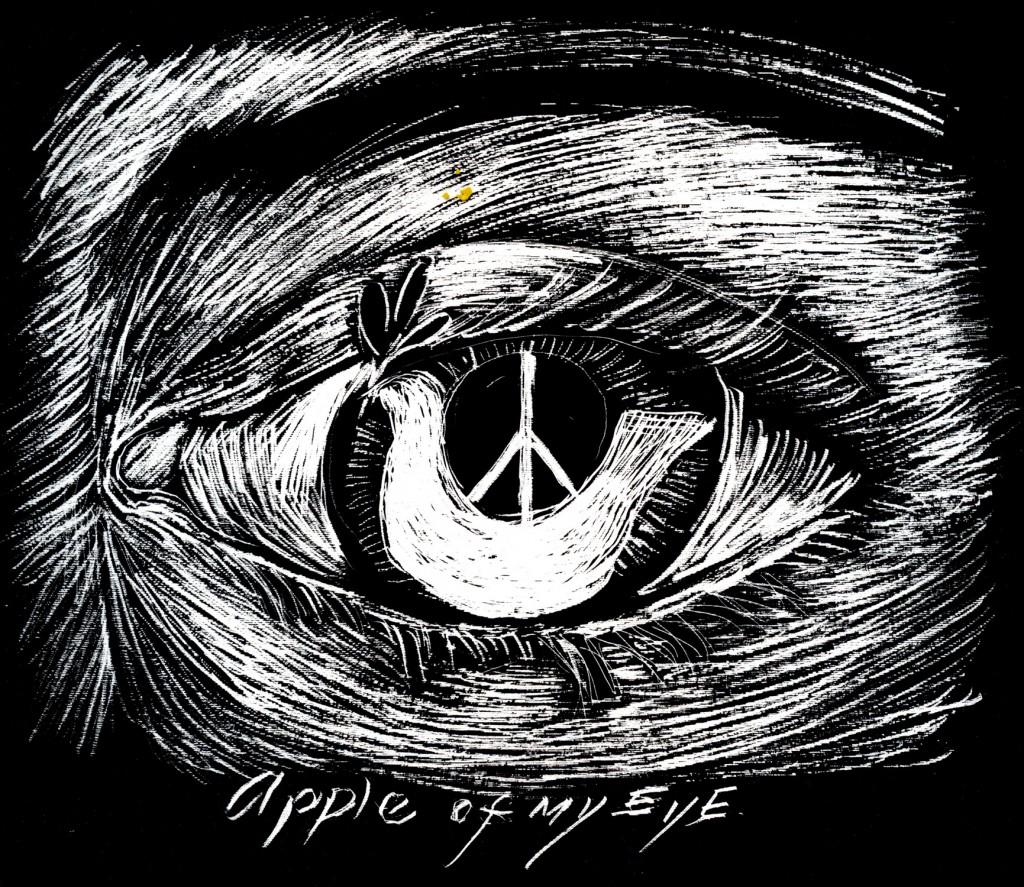 In the Stamp Project, I asked artists to respond to the questions, "What are you about? What is your cultural contribution?" About 100 artists participated. They came all the way from New York, Israel, San Francisco, Texas, Sacramento, New Mexico … They produced small prints, all black and white.  And here's what I intended and what I love and that I'd really like to advocate. In the Stamp Project, there were no fees, no donations, not even a non-profit involved –it was just artists. We can do our own work and we can own it.
Artiholics: How have people reacted to the artwork that you are showing on the day of the event, the Prayer Pieces?
Garcia: I was posting them on Facebook for a while, and people would say, "Oh they're so strong, and they're so beautiful." I don't think they'd be so strong if they were large pieces. I think that there's this focused, concentrated energy because they are small. It gives the person the ability to hold it in your hand, or stand very close to it. You could be intimate with it. You could give it your energy. When working big, you have freedom and it can be expressive, but it's harder to work small. If you're working on a miniature, you have to paint on target.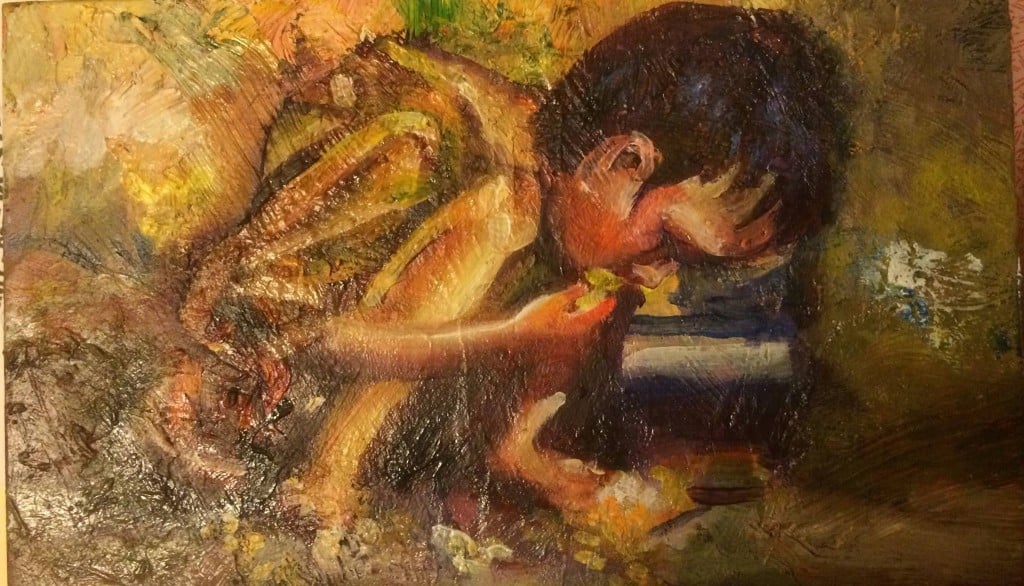 Prayer for a Child on the Streets, Margaret Garcia
Artiholics:   When you have to bring a difficult subject into a piece, such as an image of suffering, you have to visualize it, edit, and just spend time working on the image—how does this affect you?
Garcia: I cry very easily. I have a memory of coming home one day and finding my father sitting in front of the TV, and he was weeping. He was inconsolably weeping. I asked what was wrong and he said, "They're killing the children in Rwanda. How could they kill the children in Rwanda? Why are they killing the children in Rwanda?" We get to a point where we acknowledge how precious life is. The older you get, the more you recognize how precious it is.   And then you see all this egocentric, megalomaniac energy in the world that comes to no avail.
I don't want to hear what you're against. I want to hear what you're in favor of. What's your cultural contribution?   If you're just against something, you'll never defeat it. You can't just be against war, you have to be in favor of peace. You have to provide the alternative. That's what these 'prayers' are about." It's about the goodness of these children, of these people. I don't want to give energy to these things I abhor.   If you can hold somebody up, you have hope—you have a chance.
Prayers from Los Angeles will debut on Saturday, December 5th, 2015.  The events will consist of a community art exhibit, a music concert, and a group art show involving Margaret Garcia, Heriberto Luna, Shea Stella, Rodrigo D. Manzano, Javier Herrera, Brett Doran Photography, & the Circle of Women Artists of the Stamp Project: Creating Cultural Currency.  Musical performances will include Latin Grammy nominated Demain Galvez of Centavrvs & Los Dorados, Sound Ministry Gurus music production collective w/ Derek O'Brien & Stan Dewitt, Extra Fancy (Acoustic Set) w/ Brian Grillo Songs by Corrina Carter, Nataasja, & glam folk songwriter Jellykka. Production & documentation by Loaded Bomb Records & Productions. 
Much thanks to Nataasja Saint-Satyr for coordinating this interview.
Written by: Audrey Tran