This week we met the Artist Corie Mattie from Los Angeles, CA and we are thrilled to learn more about her artistic practice.
May I ask you what name you are known by? From where do you originate? How do you describe yourself as an artist?
My name is Corie Mattie. I am also known as the LA Hope Dealer. I grew up in New Jersey – South Jersey, right outside of Philadelphia. I describe myself as an "outsider" artist. I did not go to school for art or to pursue an art career. I don't have much contact with mainstream art or the art world. 
What kind of art do you do? What is the meaning/purpose behind your art?
My art touches mostly on humanity issues – problems we are all facing as the human race. However, I want my work to bring positivity and motivation to peoples' individual problems as well.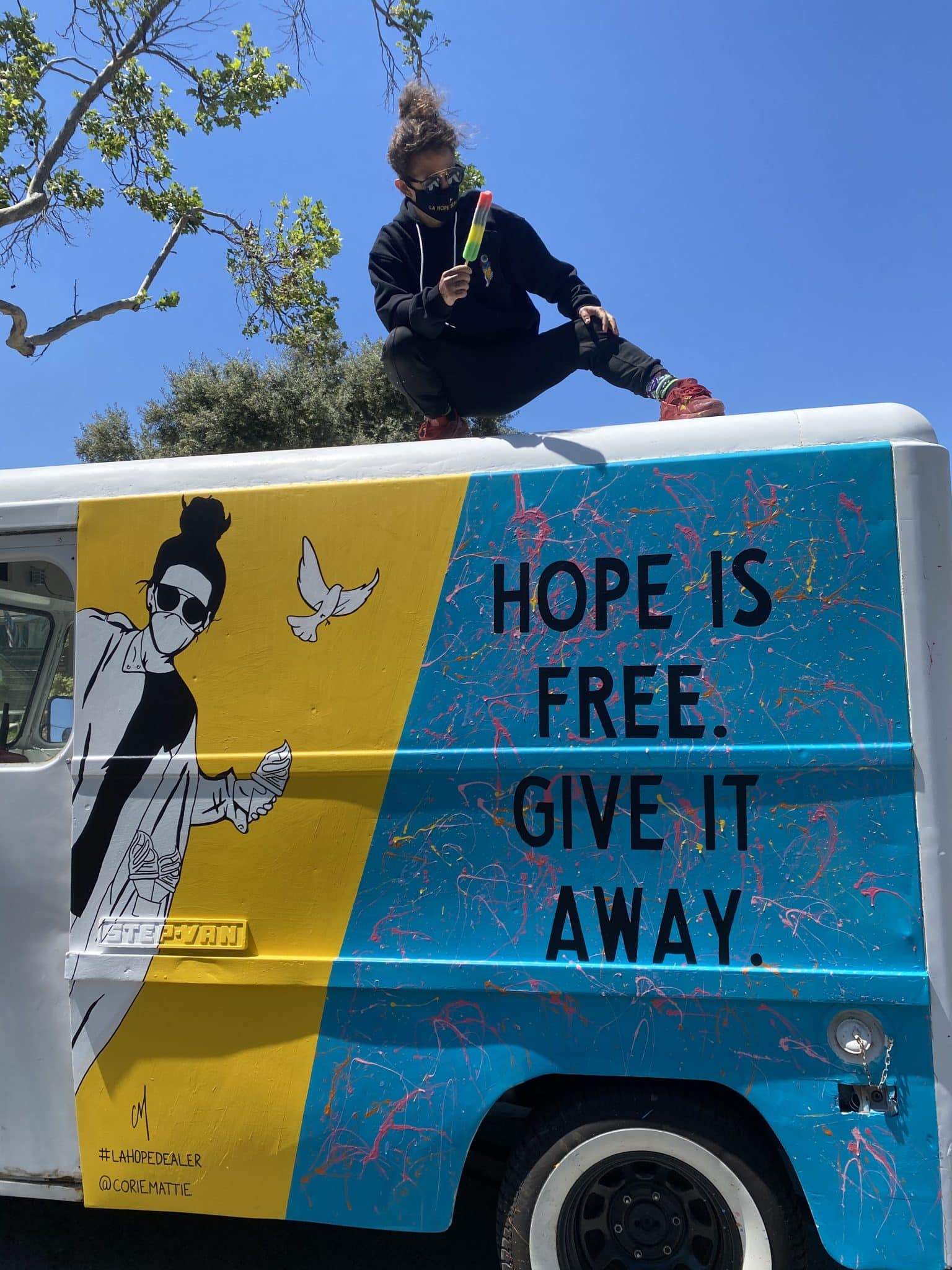 How would you describe your art? How have others describe your works?
Others have described my work as a mix between stencil and pop art and I would agree. I usually use a bright color for the background (yellow) and draw images in black and white (stencil-like but mostly never stencil).
What are you doing during quarantine to stay creative?
I am using this time to express my voice and my creativity. I try to bring awareness and positivity through my work during such a negative time. I have done over ten murals in the last few months. Painting is my outlet while providing people with some sort of art remedy during a difficult and unprecedented time.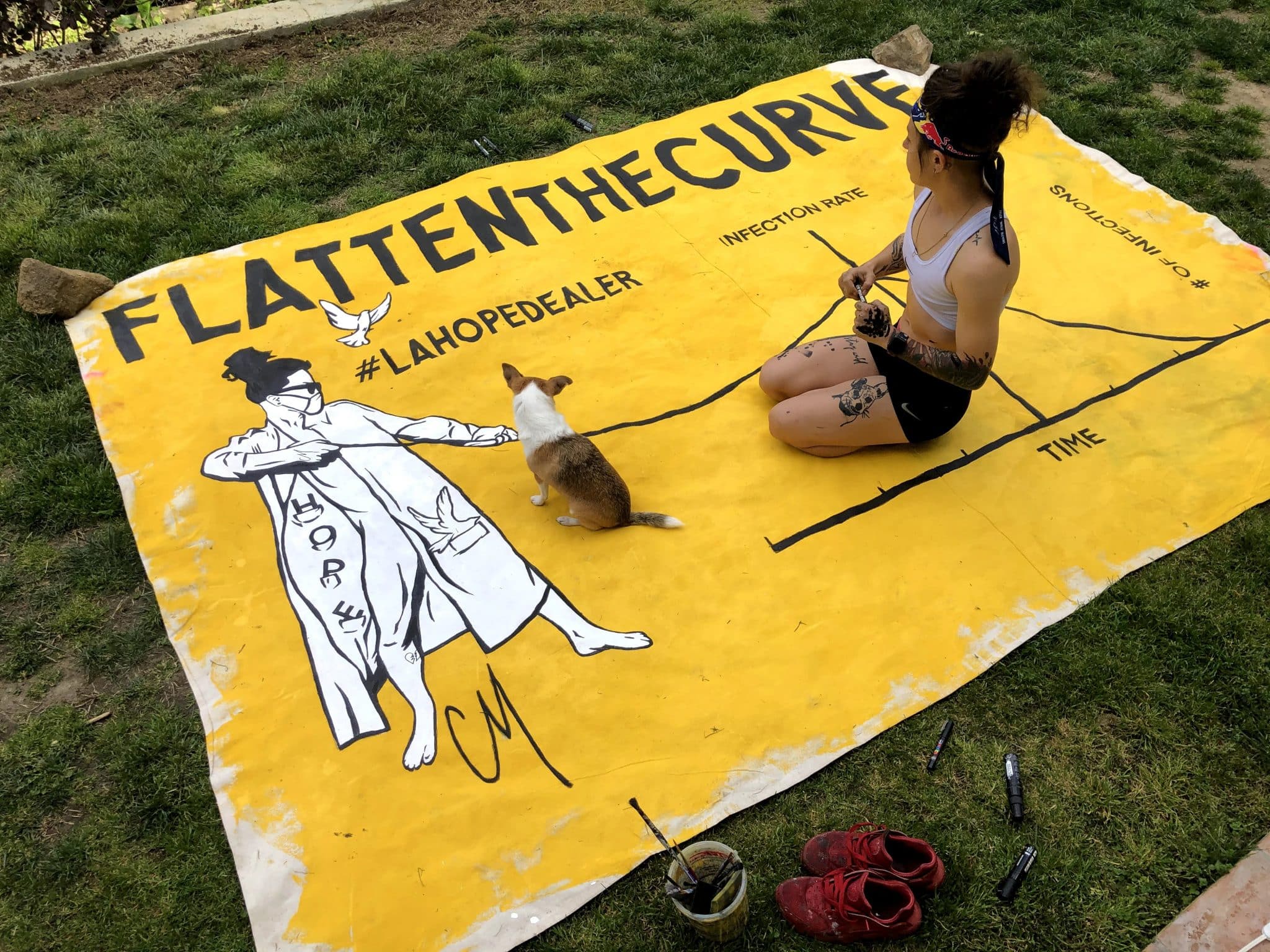 You placed dozens of yellow works across Long Beach and Los Angeles. Tell us more. How do you find the inspiration, what inspired you to start working on the project?
I originally had the "hope dealer" idea written down in my phone from a list of ideas. Once the pandemic hit and I saw how hard it was hitting humanity mentally and physically I decided to bring the character to life. My brother is a doctor – he is someone I have always looked up to and respected. He helped me with some of the concepts – so while he potentially deals with the pandemic hands on I take my art to the streets to bring awareness.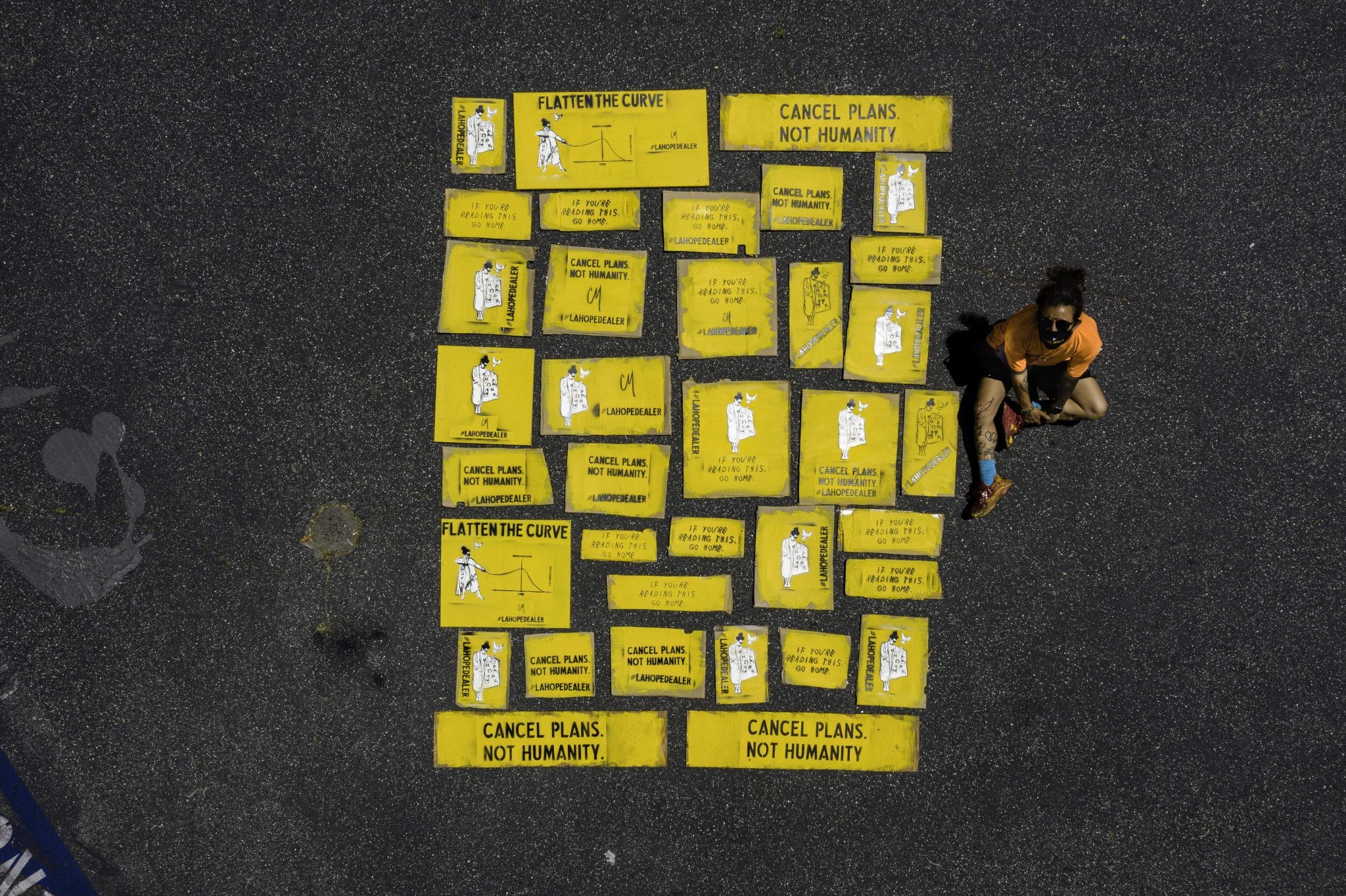 Following this pandemic theme, did you do any murals as well?
I have done some murals not related to the pandemic. One about following your heart and taking the path less traveled and also one recently touching on the topic of racism. It's important that I address current issues that society is dealing with so they can relate and connect with my work.
How did people react to your undertaking of this colorful yellow works all over LA?
Almost everyone has reacted positively regarding my yellow works around LA. I think the color tends to stand out and have a warming effect on viewers. It puts images in a more positive light and I think that's what society needs right now.
Your work has been distributed all over the country. Please tell us more about your many distributions.
I didn't want this just a Los Angeles movement. I wanted the LA Hope Dealer to be a global movement. So I decided to start shipping my pieces all over the country and now the world. I want people to feel involved and apart of something bigger than them. It allows people to express their creativity and spread a good message where I can't right now. The more people involved the better. So far pieces have popped up in New York City, Philadelphia, Boston, Miami, New Orleans, Cleveland, Chicago, Detroit, San Francisco, Phoenix, Tucson, and now Ireland, France and Spain.
When did you create the project LA Hope Dealer and would you describe it?
The LA Hope Dealer came to fruition during this pandemic. It serves as a beacon of hope for people – a nod to keep going and be strong for ourselves as well as for humanity.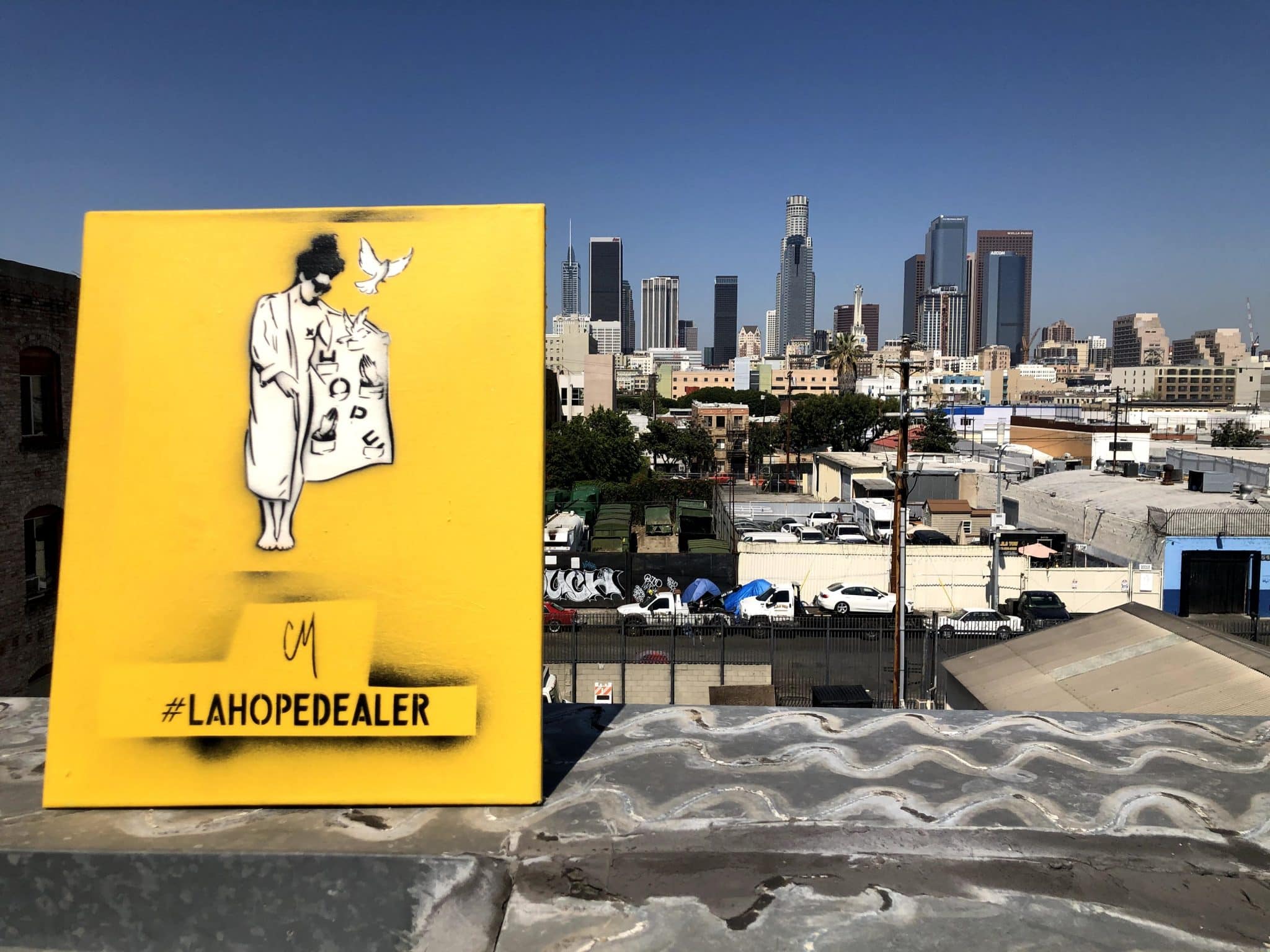 How do you think  the current situation with the pandemic has influenced the art world in your community in LA?
I think it allows artists to express their emotions and feelings through art while connecting with viewers. We are all in the same boat facing a different storm, so artists touching on Covid-19 have an opportunity to challenge, reassure, and address how everyone is currently feeling. 
What are you currently working on?
I am currently working on pieces related to racial issues. 
One of your quotes " After the plague came the Renaissance", would you please tell us the meaning of that to you?
Just like during the Black Plague in the 14th century, a period of strong artistic expression is underway. Sometimes you can't describe a situation or feeling with words, so that's where artistic expression becomes more relatable and valued. Since this is a global issue, pandemic-related pieces are appealing to a wider range of viewers, in an unprecedented way. These pieces convey universal truths across cultures, values, age, gender, situations, etc. Artists have the chance to challenge, justify and comfort the feelings we may be experiencing, while providing clarity and reassurance during such a confusing and weird time.