New York City – Tuesday, November 12, 2013
If  you've never seen the art doc THE DEVIL AND DANIEL JOHNSTON about the artist / musician who created his own genre of music which has been covered by some of the world's best bands, add it to your que ASAP.   His insane life of art, recording cassettes over and over manually…as in, pressing record, then singing and playing the songs in order,  over and over for each cassette he would make, and hand drawing the cassette cover (because he didn't access to a two cassette capable machine).
Followed by his dark slide into madness spurred by a bad acid trip at a butthole surfers concert.  It is one of the best documentaries I have ever seen.  The cinematography is so crisp, the story plays out brilliantly.  I have seen thousands of documentaries and dozens of artist specific documentaries and this film is what they all should aspire to.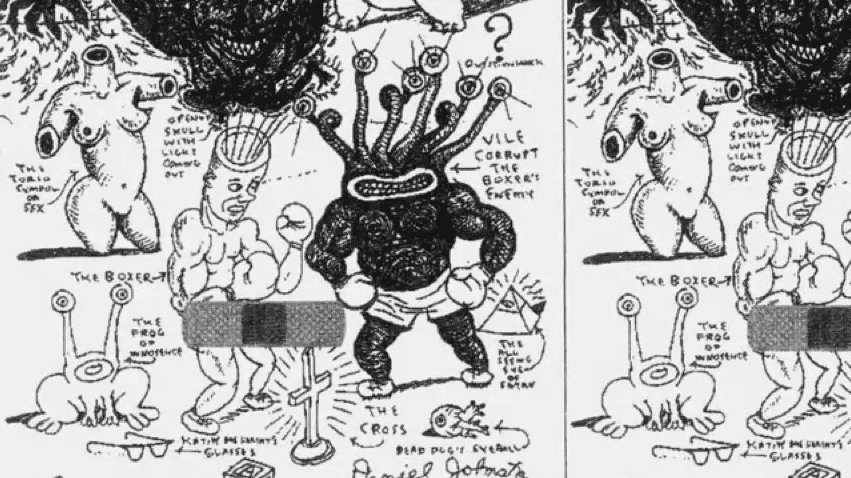 All this being said, a group of filmmakers are collaborating with Daniel Johnston to create a psychedelic short film narrative mashing-up interviews with Daniel talking to his younger self, and his art and music coming to life.  The bar has already been set pretty high.  But this may just be the follow-up documentary fans of the original have been waiting for   They trying to raise $35,000 on Kickstarter to fund this project.  At the time of this posting they have raised $3,331.
The rewards are pretty great, including original Daniel Johnston drawings for $500, or for just $500 more a commissioned Daniel Johnston portrait of yourself.
"It's been a fun seance, but if it goes any further, believe me…we could go crazy." – Daniel Johnston
Written by Cojo