Electric jolt is a part of the My Hero Academia UniVersus set and features Denki Kaminari!
The My Hero Academia card game has gained a lot of momentum lately and has become one of the most popular card games in a short amount of time. The first set, UniVersus came out earlier this year and has some of the best cards, and the resellers are demanding really high prices.
This was bound to happen as My Hero Academia itself is a pretty popular franchise. It has become one of the most popular shounen anime. The characters from the show are prevalent, so it is no surprise to see the cards featuring these characters being sold for large sums of money.
Recently promo cards for the UniVersus set have been going viral. One card from the lot is Electric jolt featuring Kaminari. Let's shed some light on the card and see why bit's fetching such a massive amount!

Origins
The Stun Gun Hero, Denki Kaminari, is one of the most popular from Class 1-A at UA High school, which is considered the most prestigious hero school in all of Japan and the world. Kaminari is training to become a Pro Hero one day!
As the name suggests, Electric Jolt has electric powers; the electric powers give him the ability to electrocute any enemy of his. he can amass a lot of energy and send out electric shocks in every direction indiscriminately! The only problem is that if he overuses this ability, his brain literally short-circuits, leaving him in a dumb state for hours!
Trivia
The 2022 Regional license Exams were a competition where certain players were given a promo card. There were 6 promo cards and an alternate art card; the player was given a promo card out of the 6 featured above!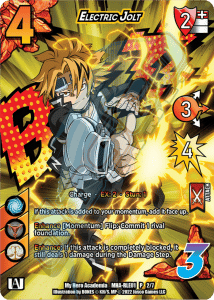 Illustration
The card features Kaminari in all his glory, shooting electric shocks like he's known for. If Kaminari saw this card, he'd be really proud of himself!
The yellow and black background makes Kmainari look like the center of attention in the card. He can be seen sending out his electric shocks and the text in the background describes what it sounds like. The vibe of the card is very comic book-like and is one of the reasons why the card is so popular at the moment.
Value
The card is being sold for a whopping $120 and is expected to only increase as the cards are in limited quantities, and once most of the collectors get hold of it, there is no way they're selling it, causing the supply to go down.
The price might also fluctuate depending upon the card's condition, and the time you read this. But for now, the card looks like a great pick to have in your collection.
Recommended – Specialist of sound from My Hero Academia UniVersus