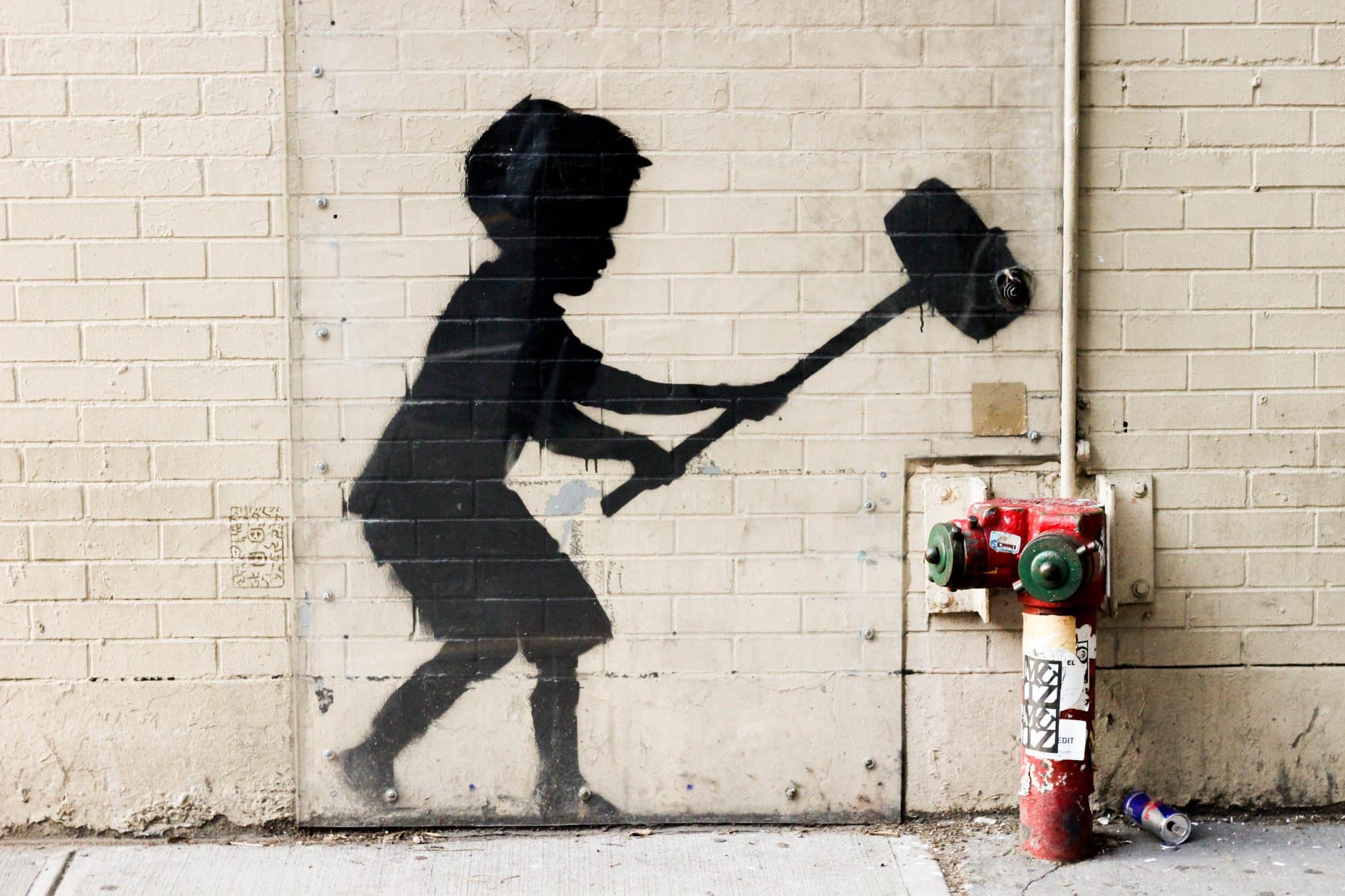 New York City is a city that breathes art in most of its corners, and it is known as the city that never sleeps and where dreams come true. New York City is where art cannot only be found in its famous museums, but also in its streets. Walking through the city could lead you to multiple and diverse forms of art, from installations, murals, paintings to monuments, you name it and probably you can find it in the well-known and appreciated street art in the mist and heart of the city.
A city that is full of attractions but also it is in itself a massive attraction to many visitors and locals. Walking through New York City has become in many cases a free for all access pass to a giant and singular urban museum of architectural wonders, music and other cultural experiences. New York City is a clean and open canvas for many artists, performers, and creators to display and share their talent with everyone willing to pay attention. Street art is mostly for everyone, and is an accessible way to convey art, to provide an experience to all visitors and viewers, and a spectacular way of doing art.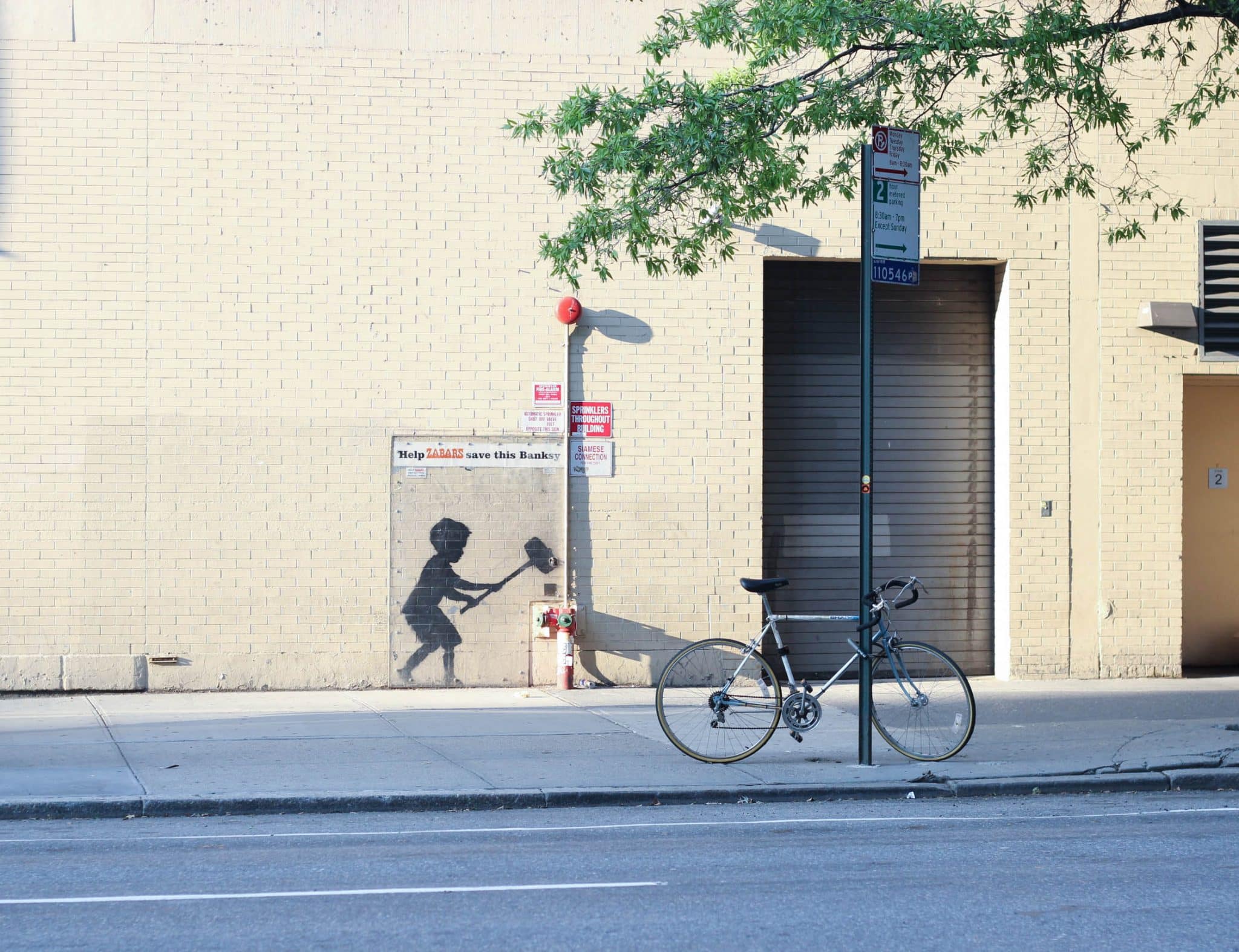 Banksy is the famous British street artist, known for his mysterious and anonymous identity, and for his popular graffiti paintings around many countries in the world. His urban street art and interventions in the art community have gained him recognition, his style is a signature that he has developed over the years with each of his pieces and displays. Banksy has attracted an interest in his street art and in the meaning of it, making it an experience for his followers, admires and critics. The inclusion of his fans in his way of doing art, and the chase to discover his latest creation or intervention is what has made him a symbol of the rise of street art. The use of cultural, urban and mundane objects and spaces as part his artwork, the graffiti form of painting and the inappropriate feel of it has gained him an audience that appreciates his irreverent style and his mysterious message sometimes implicit and at other times difficult to identify.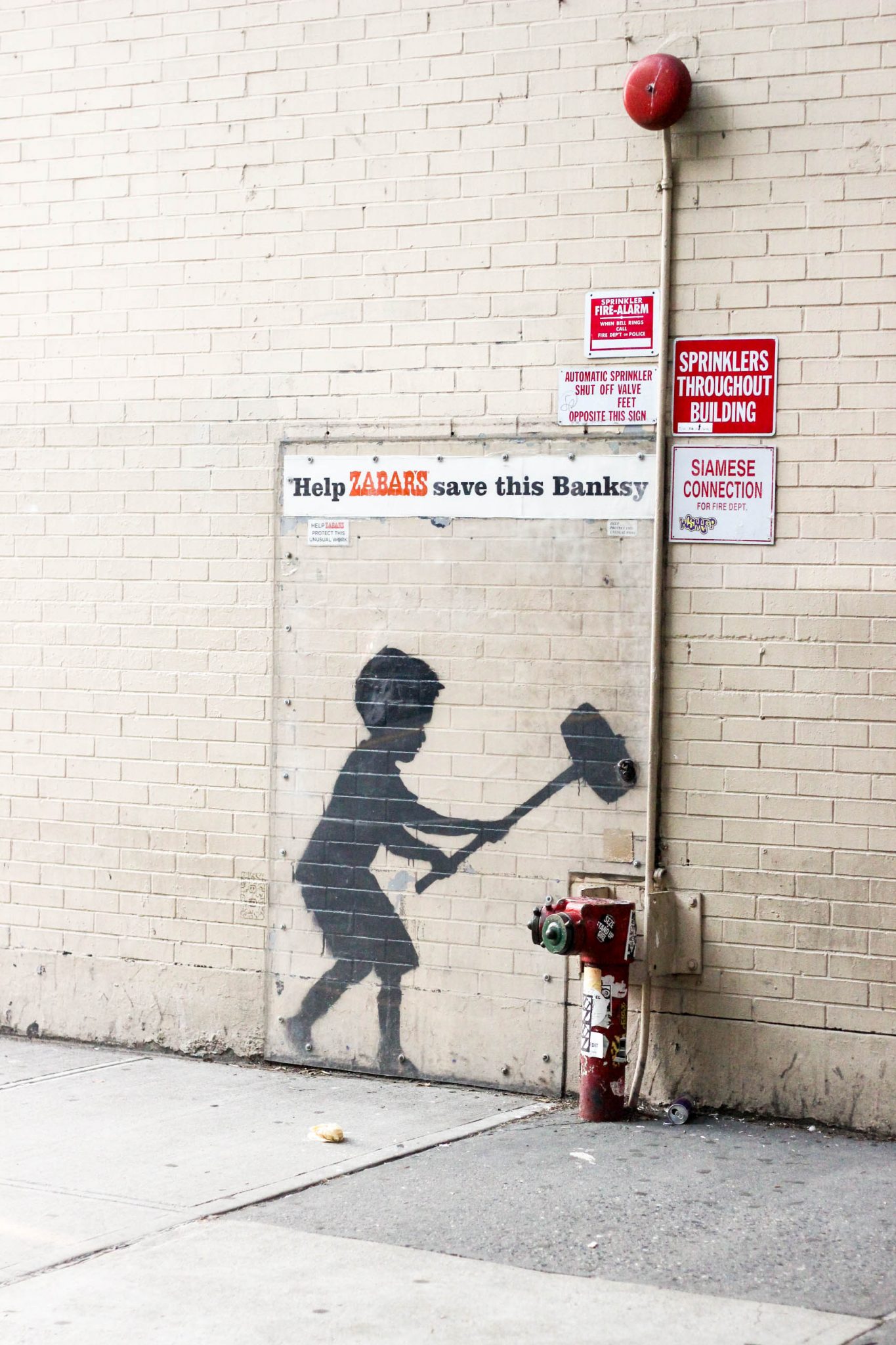 The Hammer Boy, located on 79th Street and Broadway in Manhattan on the wall of the DSW store, is one of many Banksy's street art pieces left during October 2013, when the artist created a few art pieces around New York City, in over a 31-day period. Some of those pieces were removed, but the Hammer Boy was preserved by the local business, owner of the store, where it was found it. Now covered with Plexiglas to protect the art over time and from other forms of damages, Hammer Boy has become a point of reference for tourist, visitor and Banksy fans.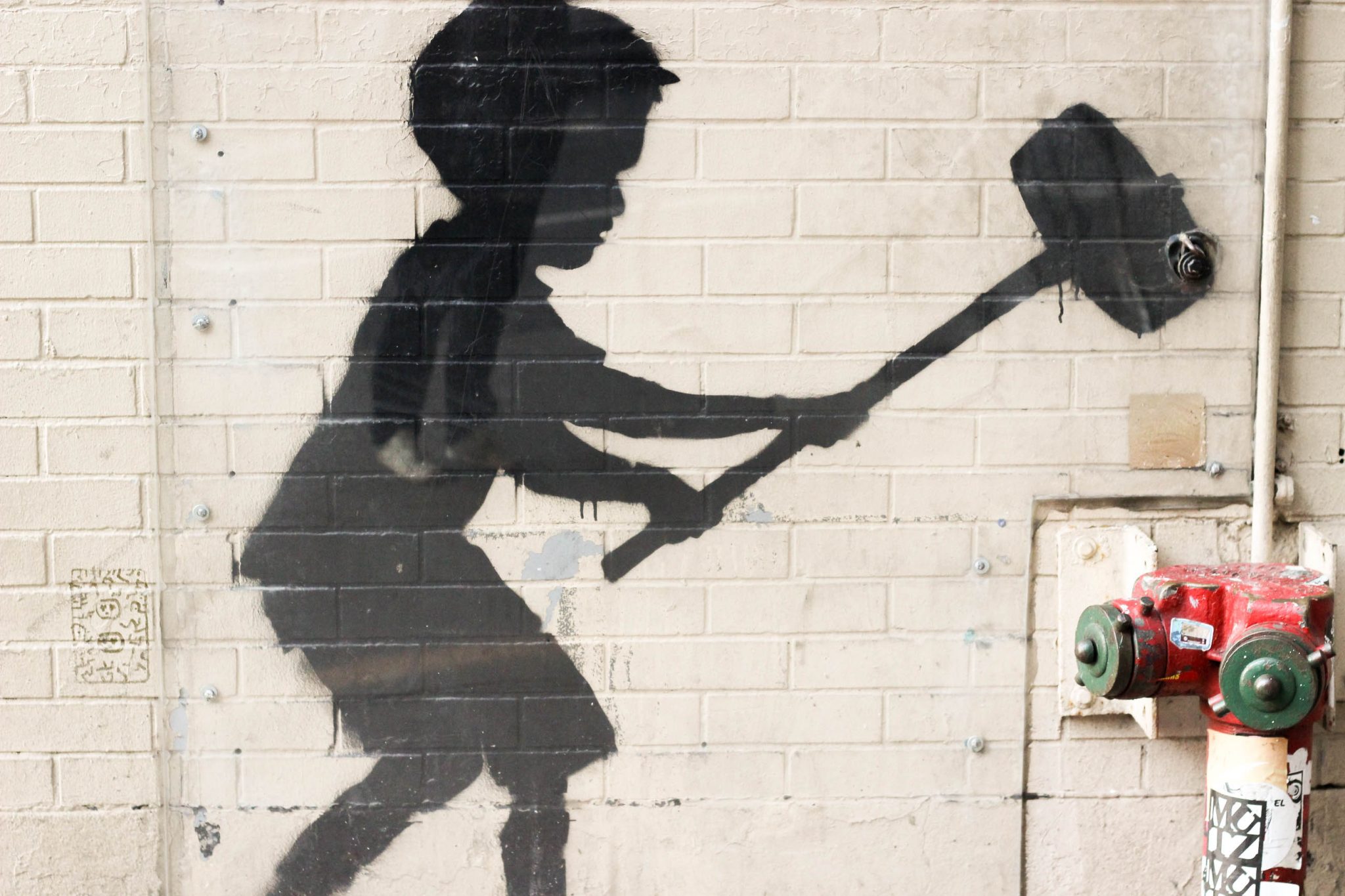 The simplicity and the use of his surroundings are signs of the artist's work found in the Hammer Boy. A simple black silhouette of a child holding a hammer painted in a stencil, imitating for many the popular carnival game, where a person uses a hammer to hit a level, the contrast with the brick beige wall and the black color of the silhouette makes it stand up to the viewer. The use of the hydrant, the pipe and the signs on the wall are a demonstration of Banksy's style of using artless and ordinary objects.
Graffiti and the definition of it as a form of street art, art or  just simple vandalism is a topic of discussion and evaluation, but what is not up for discussion for many is the inspiration and appreciation street art provides to those looking to transform mundane objects, spaces and lives into better and more artistic expressions. Street art challenges the artist and everyone that admires it to see the world with a different and more artistic eye.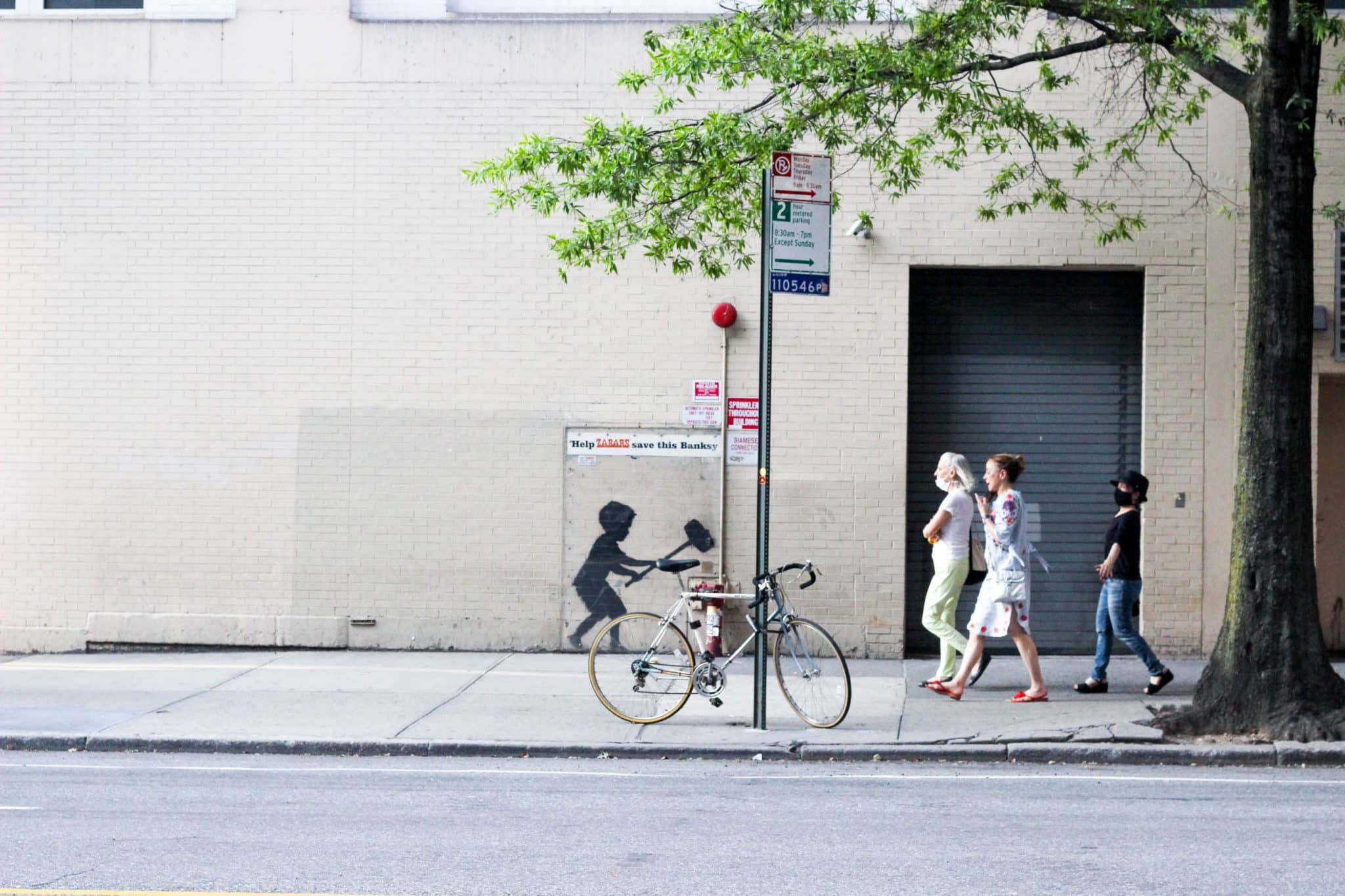 New Yorkers are coming out of a difficult quarantine due to a virus that has impacted the city in unimaginable ways but has strengthened its spirit and determination. The love of their city is ingrained in what it represents and provides not only to its local population but to the world. Art is subjective but also is encouraging, inspiring and healing, having these options accessible by a simple walk or a simple train ride, for many is what helps and keeps this city alive. Discovering and re-discovering these little gems throughout the city is a way to get back into a new normal that people are still trying to discern and grapple with. Soon Museums will open again and inside door activities will be available, but for now and for all those who value seeing and finding art in the monotonous and daily life, street art is a way to enjoy art and life in these difficult times.
The Hammer Boy is a simple, very accessible piece of art that is not only a representation of its creator, but also a fit in a city that love, speaks and inhale art. You can find Banksy's Hammer Boy art piece on 79th Street between Broadway and Amsterdam, on the wall of the DSW store. It is worth a visit.