Himiko Toga (XR) is a card from the My Hero Academia League of Villains expansion pack, which came out just a few days ago!
Initially, MHA fans weren't quite sure what to make of the Collectible Card Game. But boy, oh boy, has it proved them wrong! With each new expansion, the game has just been getting better and better, and delivering more amazing cards than ever before.
And speaking of amazing cards, we have the killer and crazed Himiko Toga taking center stage with the Himiko Toga (XR). She's the favorite villainous waifu from My Hero, and this card is currently all the rage! So, why is this card so popular? Stay tuned, as we're about to break it down for you. Let's go!
Toga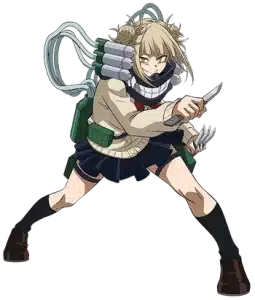 Himiko Toga is one villain who you don't want to mess with in the My Hero Academia universe. This crazed antagonist has wreaked havoc as a member of both the League of Villains and the Paranormal Liberation Front.
With her killer looks and murderous tendencies, Toga has become a fan favorite in the MHA community. And let's be honest, who wouldn't want to be on the side of the bad girl?
But don't let her cute appearance fool you. Toga is as dangerous as they come, and she's not afraid to use her powers to get what she wants. So, if you see her coming at you with a syringe, it's time to run for the hills!
Trivia
As mentioned above, Toga has dozens of cards to her name; here are some of our favorite ones from this expansion:
Illustration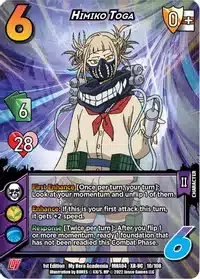 The Himiko Toga XR features everyone's favorite murderer in her villainous outfit. This is one of the few cards where she appears in her mask, which may not seem like a big deal, but it's a unique touch. Even when standing still, you can feel the crazy vibes that Toga harbors as she stares right at you, pointing her needle in your direction.
The card's background ensures that Toga stands out and pops right out of the card.
Overall, it's a decent illustration, not as good as The Rushing Stab XR, but a solid pick nonetheless. After all, you can't go wrong with having Himiko Toga on your team, especially if you want to strike fear into the hearts of your opponents.
Value
As of writing this blog post, this card is being sold for around $20 across different reseller sites. The price may vary depending upon the condition of the card. As for the future value, who knows, it might just skyrocket in value like a rocket ship made out of diamonds and gold.
But then again, it might just plummet like a lead balloon. Only time will tell. One thing is for sure, though – if you're a fan of Himiko Toga and My Hero Academia, then this card is a must-have for your collection.
Recommended – Art Of My Hero Academia: Needle Stab (XR) (Himiko Toga) from MHA League Of Villains!