The All For One (XR) is the shiny new addition to the My Hero Academia League of Villains expansion pack, which dropped a few days ago. This card features the baddest villain in the MHA universe, the Thanos of MHA, if you may.
With a lot of buzz surrounding it, we thought it'd be fun to take a closer look at the card and its illustration. So, let's not waste any time and jump right in!
All For One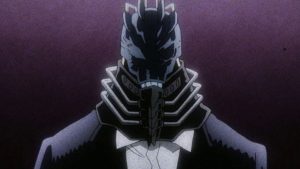 All For One (aka "Mr. Steal Your Quirk") is the top dog of the My Hero Academia villain world. He's got it all: power, influence, and a sweet villainous outfit that screams "I mean business." He's also got a bit of a sibling rivalry going on with his younger brother, and he's not content until he's taken his brother's Quirk for himself.
But he's not just a one-man show – he's the mastermind behind the League of Villains, and he's been busy grooming Tomura Shigaraki to take over the family business.
Trivia
The expansion features a lot of cards with All for one, here are some of our favorites:
Illustration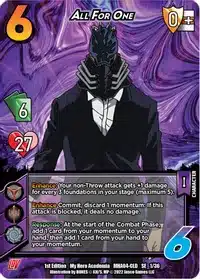 The All For One (XR) is the official character card for the biggest villain in My Hero Academia. Do I really need to tell you why it's so coveted? But just because a card is valuable doesn't mean it has a good illustration, and sadly, in the case of this card, it's true.
The villain is seen standing still in the card, and even though the background blends right in, giving the villain an ominous presence, it lacks what some of the other All For One card have.
The other cards feature this madman going all out, punching All Might, so obviously, they have better illustrations. However, the hype around this card is still pretty strong, so it's worth checking out if you're a collector.
Value
At the time of me jotting down this article, this card is going for around $20, which is a lot when you consider that it was being sold for $5 just a few days ago. So, the price is on the rise!
Recommended – Art of My Hero Academia: Tomura Shigaraki from My Hero Academia League Of Villains!