The All Might (XR) card is a part of the League of Villains expansion for the My Hero Academia CCG. This expansion hit the shelves just a few weeks ago and has been selling like hotcakes ever since.
Initially, there was much skepticism within the community about a MHA card game, but with the insanely illustrated cards, everyone seems to have changed their minds. The All Might (XR) card, featuring the mightiest of them all, has been particularly popular, and we're here to answer why.
So, without further ado, let's dive right into it!
All Might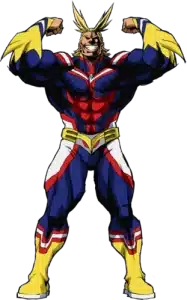 Meet Toshinori Yagi, aka All Might, the legendary former #1 Pro Hero who was hailed as the Symbol of Peace across the world. Nowadays, he's sharing his hero expertise by teaching Foundational Hero Studies at U.A. High School.
He was the top dawg of the Hero world for a log time, however, after using up all his One For All power to defeat All For One, All Might had to retire and bid farewell to his reign as the world's top hero.
Trivia
The League of villains expansion features a lot of cards featuring All Might, here are some of our favorites:
Illustration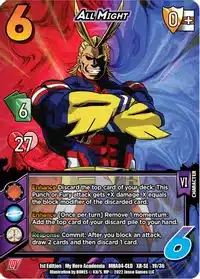 The All Might (XR) might not be the flashiest card around, but it certainly gets the job done. Our hero is shown standing there with a cheesy grin on his face, while the background is a delightful mix of blue and red, just like All Might's costume.
The beauty of this card is in its simplicity, the colors contrast perfectly, and All Might looks fabulous. It's a great card that any collector would be thrilled to add to their collection.
Value
As of writing this blog post, the All Might card is currently selling for around $15 on reseller sites, with some people even asking for $20. The price may vary depending on the card's condition, so keep that in mind. As for its future value, it looks promising.
There are many All Might cards in this set, including flashier ones, but this card's simplicity is what makes it a classic.
It could very well remain relevant in the future, but let's not get ahead of ourselves. It's all just speculation, and predicting the future value of a card is like trying to predict the weather – unpredictable!
Recommended – Art of My Hero Academia: Ultimate Combination (XR) (All for one) from My Hero Academia League Of Villains!